September 2012
Shipston Junior Band Seeks Recruits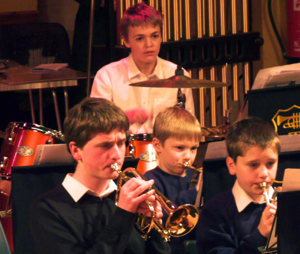 Shipston Town Band's Junior section has been offering youngsters the chance to play brass instruments for years and it's now looking for more budding musicians to join the crew.
This is often where young people get their first chance to try a brass instrument and where talent is nurtured until players are ready to move on to one of the senior bands. Shipston's Junior Band is open to anyone wishing to take up a brass instrument and welcomes new players of any ages.
Helper, Heidi Ellis, said "Our last few beginners have just moved up to join the junior band section so we are keen to encourage some new recruits to along and join us. We teach how to read music and the band will lend an instrument free of charge to anyone who is interested in learning."
The band meets on Monday nights in the band room alongside the allotments. Complete beginners can come along at 6.30pm for half an hour's tuition and stay on to join in with the rest of the band as they feel more confident.
Older children that already play an instrument are also encouraged to join – there are vacancies in the bass, horn and trombone sections for those that fancy trying a bigger instrument. The Junior Band gets involved in local events and recently performed to an excellent standard during the Shipston Proms.
If you or your child would like to have a try, contact Tim Wilson on 01608 665013 or go along at 6.30pm on a Monday night to find out more.
Neighbourhood Plan Lauch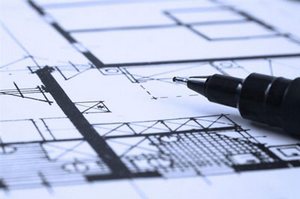 The creation of a Neighbourhood Plan to guide development in Shipston is set to begin this month, with the launch meeting taking place from 4pm to 8.30pm on 24th October at the Townsend Hall. The meeting will provide an opportunity to share information about why the Town Council has decided to develop a Neighbourhood Plan, what the process will involve, the timetable for completing it and information about how residents and local businesses can take part.
It is essential that the plan is developed in a fair and collaborative way and it will therefore be overseen by an impartial and independent steering group. The aim is to end up with a plan that is accepted as part of the Local Development Framework, giving Shipston a genuine voice in the planning process.
Town Mayor, Fay Ivens, said "planning has become an incredibly emotive issue in Shipston. This plan is not about debating specific applications – it is about reaching a collective view on what is needed for Shipston. I encourage everyone to get involved to help deliver a plan which meets the needs of the whole community."
Youth Club Re-Launched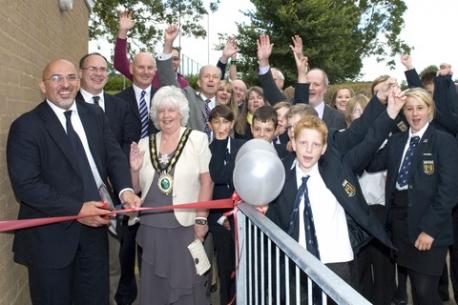 Shipston youth club saved from closure by members of the community has celebrated its relaunch.
Local youngsters were joined by Stratford MP Nadhim Zahawi, town mayor Fay Ivens and supporters to mark the new era of Shipston Youth Club on Friday afternoon. The future of the club looked bleak after Wawickshire County Council announced it would be withdrawing funding as part of £3.5 million cutbacks in its youth services budget.
But supporters determined to maintain the club formed their own volunteer management committee to take it over and have been working tirelessly – with support from Shipston High School – to raise funds. Reverend Daniel Pulham, chairman of Shipston Youth Club management committee, said: "I have been involved for the past 10 years and we've got the best building and equipment we have had in at least a decade.
"It's a great place for young people to go and spend time." Over the summer the club building, on Darlingscote Road, has had a £35,000 refurbishment funded by the county council.
It has also had repairs to the pool table, a new data projector funded by Shipston Rotary Club and a new table tennis table. The club offers two junior clubs, for year sevens and eights, which meet from 7pm to 9pm on alternate Tuesdays during the school term, as well as a senior club for year nine and up that runs from 7.30pm to 9.30pm on Wednesdays.