October 2014
Housing report provides insight into Shipston's record growth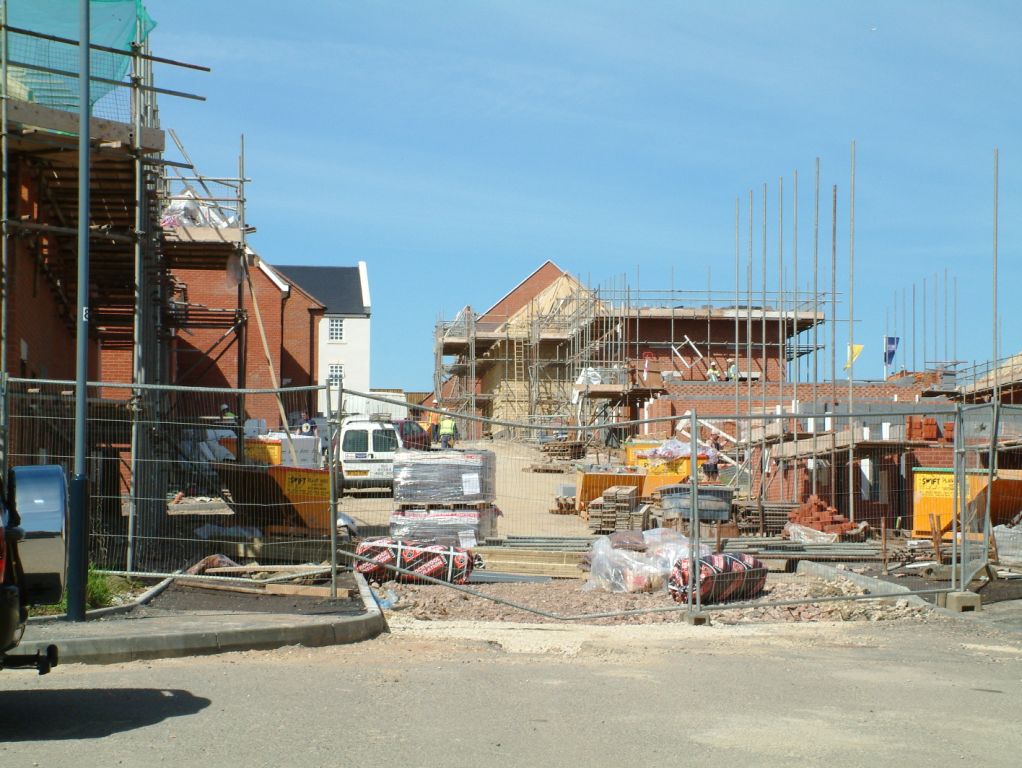 Figures presented by the Neighbourhood Plan team at the October town council meeting paint a startling picture of rapid housing growth and population change in Shipston. Presented alongside the results of an independent survey into current housing needs, the figures suggest that Shipston will continue to grow more rapidly than the county and national average, with a larger percentage of the population being over 65 when compared with other areas.
The Neighbourhood Plan's Housing Group has analysed household and population figures over time in order to try and predict likely changes over the next 20 years.
Statistics show there has been a significant increase in population since World War II. In addition, the average size of households has reduced from three people per house to two as single adult households become more prevalent.
Shipston's under 16 population has been declining as a percentage of the total population. The median age in Shipston is older than those of the district, county and country as a whole which has implications for health and transport needs.
Using a combination of historical data and national population trends, the NP team believes Shipston could be heading towards a third of the population being 65+ by 2021.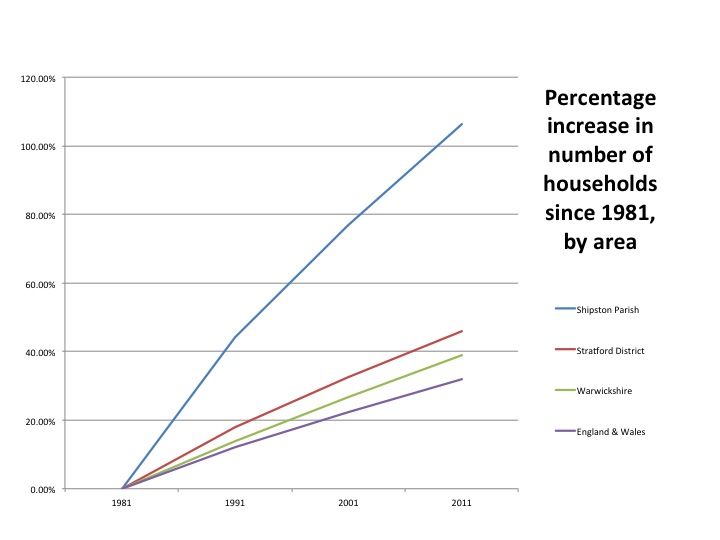 The team also demonstrated that the rate of housing growth in Shipston is much higher than in other areas, with over 100% growth in the period from 1981 to 2011. Taking into consideration the permissions already granted, this sharp growth trajectory looks set to continue, with the number of households rising to 3000 by 2021 if the current development proposals under review go ahead.
Ed Jackson, Housing Group representative, said: "With the expected demographic changes, we need to think carefully about the infrastructure the town will require. Health and transport needs are particularly key, but we may also need to be considering small scale practical changes such as dedicated parking for mobility scooters in the town."
Alongside this analysis, Warwickshire Rural Community Council conducted an independent survey into housing needs in Shipston. The survey found that there was a current need for approximately 50 houses of varying sizes to meet local demand, of which 24 would be local market housing, 24 housing association rented and two shared ownership. How and where these homes could be found will be considered as part of the Neighbourhood Plan.
Mayor, Philip Vial, said: "We are grateful to both Warwickshire Rural Community Council and the Neighbourhood Plan team for providing such informative reports. Our town has faced considerable pressure from developers in recent years and there is no sign of a let up with ASL submitting a new application in mid October for 95 houses on a new site on the Campden Road.
"Not only do we need to work together as a community to ensure future development is appropriate and sustainable, we need to address current and future infrastructure needs to ensure we meet the changing demands of existing residents."
Local charities receive a windfall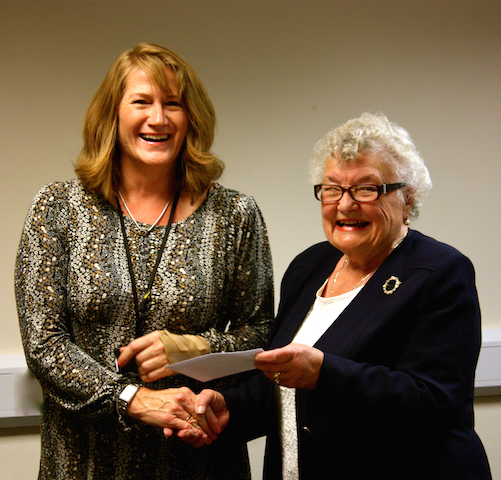 Former Mayor, Ronnie Murphy, was delighted to present Warwickshire Air Ambulance Service (WAAS) with a cheque for £1,150, and Queen's Avenue Park Action Group with a cheque for £300 at the October council meeting. The funds were raised during her time as Mayor through three events, a ladies afternoon tea party, charity cricket match and a fashion show.
Commenting on the presentation, Ronnie Murphy said: "It is wonderful to be able to support these two important charities. I thoroughly enjoyed all three events and would like to thank all those who supported our fundraising efforts."
Former Mayor, Ronnie Murphy, presents Tracey Wright of WAAS with a cheque