2022
Marianne Westwood elected Mayor of Shipston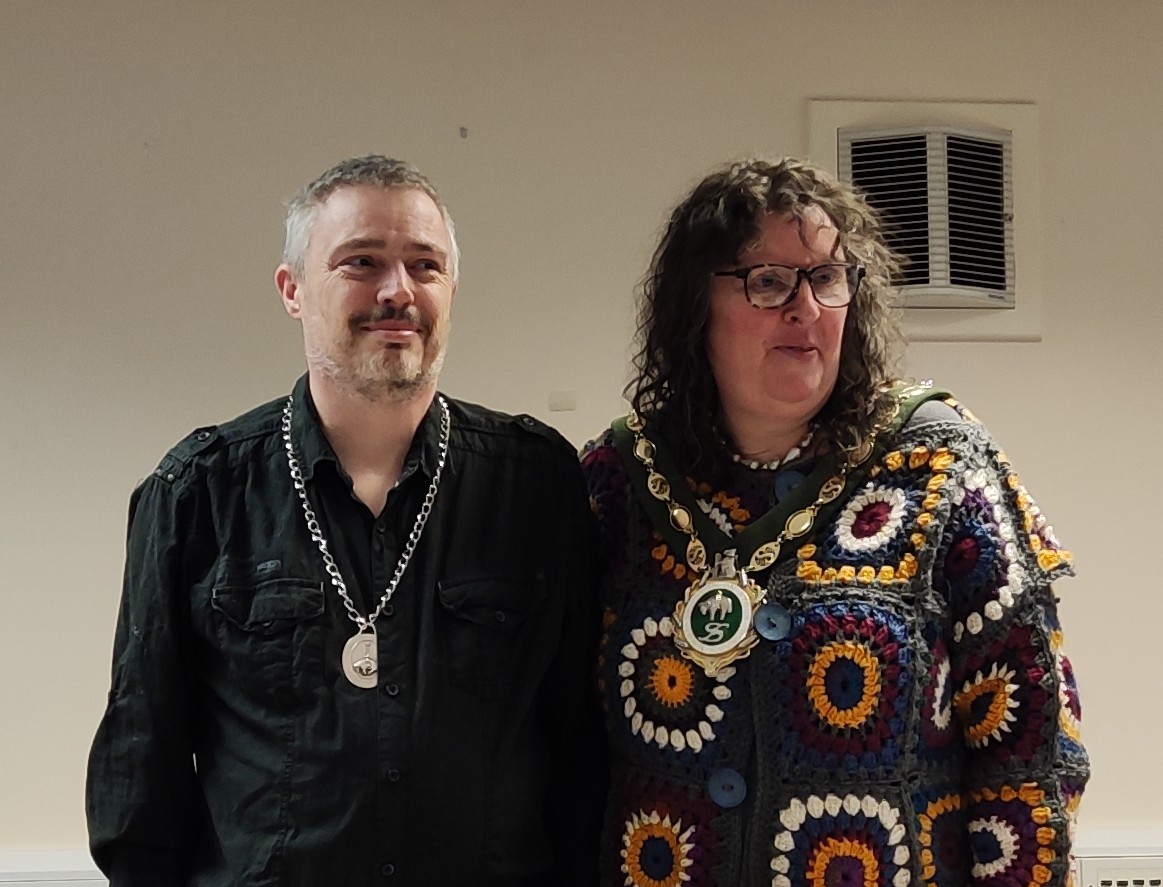 At the Annual Meeting of the Town Council on 9th May, Cllr Marianne Westwood was elected as Mayor for the 2022-23 municipal year. Her husband Eddie Mott, will serve as the Mayor's consort.
Could you be one of Shipston's new Councillors?
Shipston Town Council currently has a number of town Councillor vacancies and would like to hear from anyone interested in becoming a community leader by representing the views of Shipston residents.
We are looking for people who would like to become more involved in influencing and shaping the future of our town by improving the environment and services available in Shipston and the surrounding area. Shipston Town Council is an elected body of Councillors, including a Mayor and Deputy Mayor, who are supported by a town clerk and assistant. It is the first tier of government providing services on behalf of the residents of the town.
Please feel free to contact any of the current Councillors (see page 15) to discuss what is required for this role and how you may be able to volunteer around your current commitments and/or contact the Town Clerk to register your expression of interest including details of your skills, interests and passions.
David Birch receives Shipston Award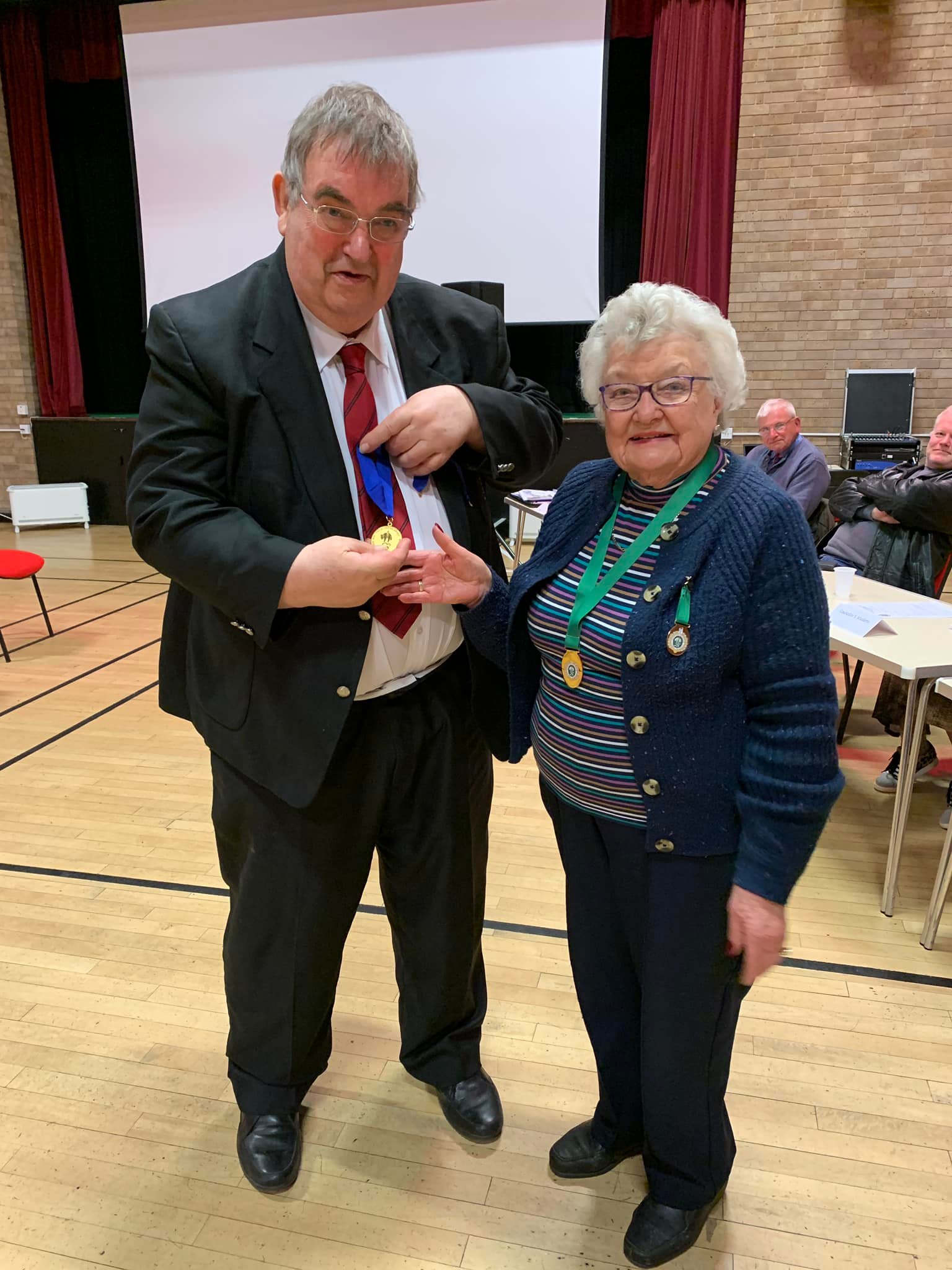 David Birch, Secretary of Shipston Town Band was presented with the Shipston Award at the Annual Town Meeting on 12th April. Councillors unanimously supported David's nomination in recognition of his many years of involvement with the town band and his role in conducting the junior band.
In addition to organising the Town Band's Christmas charity concert, David is also instrumental in delivering various other events including performances at care homes and the hospital on Christmas Day.
Cllr Ronnie Murphy, who is also the President of the Shipston Town Band, presented the award to David.
Shipston Yarn Bombing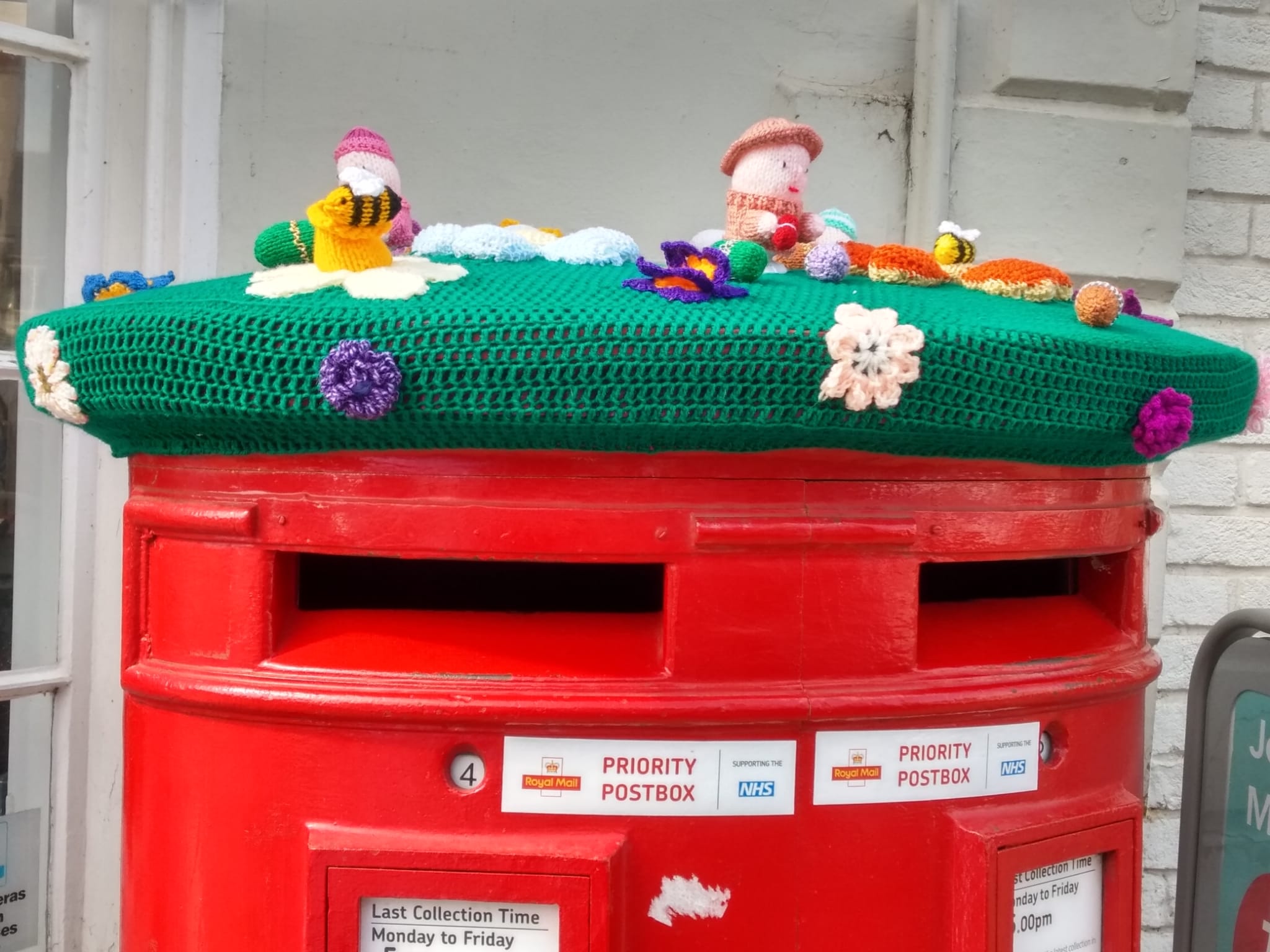 Ahead of the Easter weekend, the town was once again transformed thanks to the efforts of the Shipston Yarn Bombing Group, comprised of some dedicated members of the Shipston Knitting and Crocheting Group.
Beacon to mark The Queen's Platinum Jubilee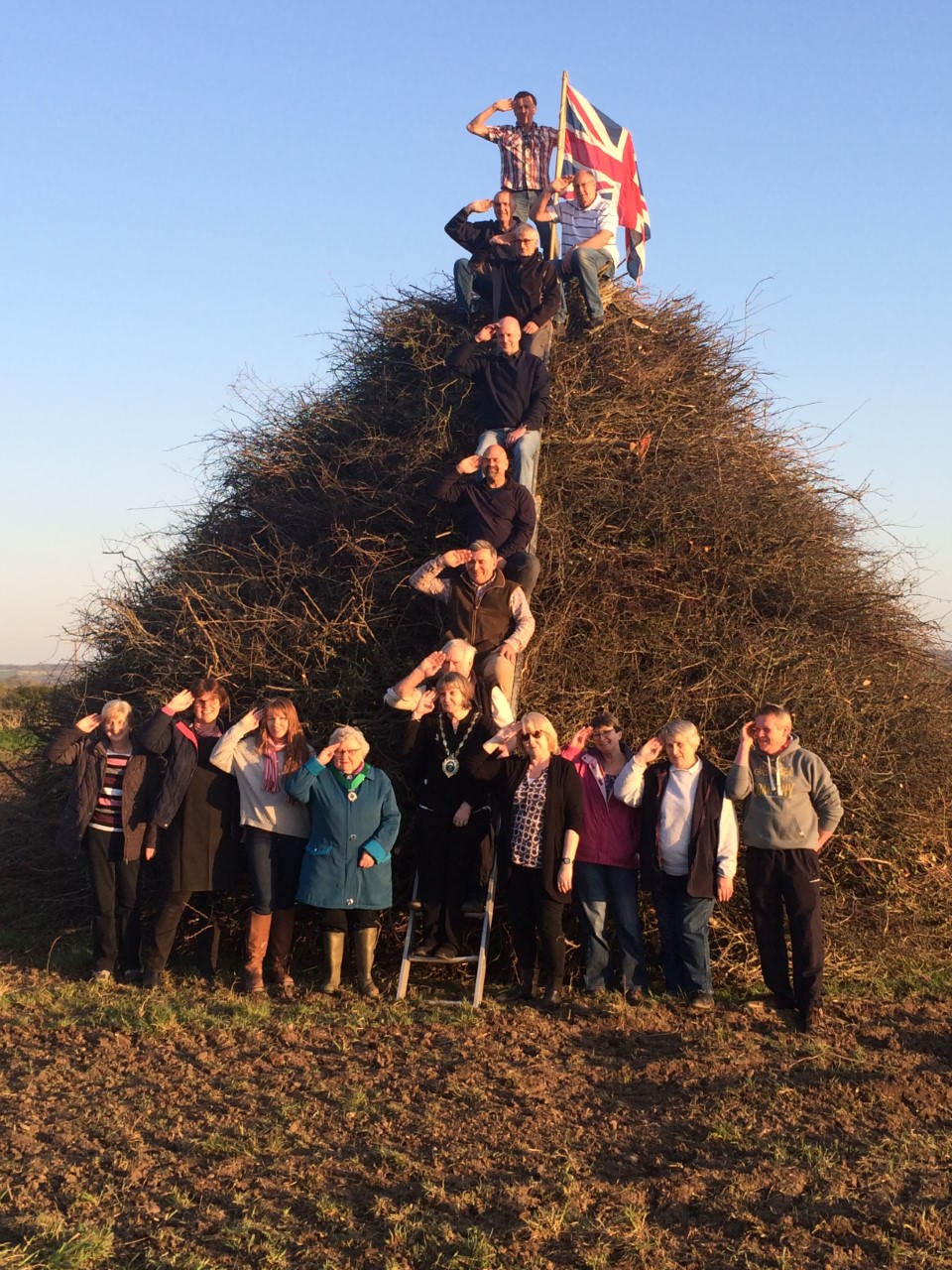 Shipston will be joining communities up and down the country in with the lighting of a beacon at 9.45pm on 2nd June 2022 as part of The Queen's Platinum Jubilee celebrations.
As part of a nationally coordinated programme, thousands of town criers, along with Pearly Kings and Queens, traditional and Northumberland pipers, buglers and choirs from communities across the four corners of the nation and the Commonwealth will be lifting up their voices to play and sing specially commissioned music prior to the lighting of over 1,500 Platinum Jubilee Beacons. This continues a long tradition of lighting beacons to mark significant royal celebrations.
These activities will be taking place across the UK and wider Commonwealth:
2pm Town Criers and Pearly Kings and Queens will read a Proclamation heralding the lighting of the beacons.
9.35pm Traditional and Northumbrian pipers and pipe bands will play Diu Regnare, a unique tune specially written for the occasion by Pipe Major, Stuart Liddell, the world's leading piper.
9.40pm A special bugle call called Majesty will be sounded.
9.45pm The beacons are lit and community choirs will sing Song for the Commonwealth, which has been written and composed by Lucy Keily, from Australia and Vincent Atueyi Chinemelu from Nigeria.
Details of the music which will feature on the night, and a list of all those taking part can found on
www.queensjubileebeacons.com within the Guide for Taking Part.
Crisis in Ukraine

Shipston Town Council is deeply disturbed at the events in Ukraine and we offer our deepest sympathy to the people of Ukraine. As a town council, we condemn this aggression and call upon President Putin to call off this assault. We know that residents will be worried for family and friends in Russia and Ukraine and want them to know that they have our sympathy, compassion and support.
We are aware of local residents who are arranging help for those affected and also of local events to raise funds to support the crisis.
Please contact us if there is any specific support we may be able to offer or if we can assist by sharing information to residents.
Ellen Badger redevelopment receives planning permission
Stratford-on-Avon District Council has granted planning permission for the first phase of new integrated healthcare facilities at the Ellen Badger Hospital site.
As well as bringing together the hospital and medical centre on the same site, the planned new development will offer a range of services including a Health and Wellbeing Centre and create shared spaces for community nursing teams and Shipston Home Nursing. There will also be outpatients and treatment rooms for physiotherapy, specialist nurses and other health professionals including mental health clinicians
Hilary Kelly joins Town Council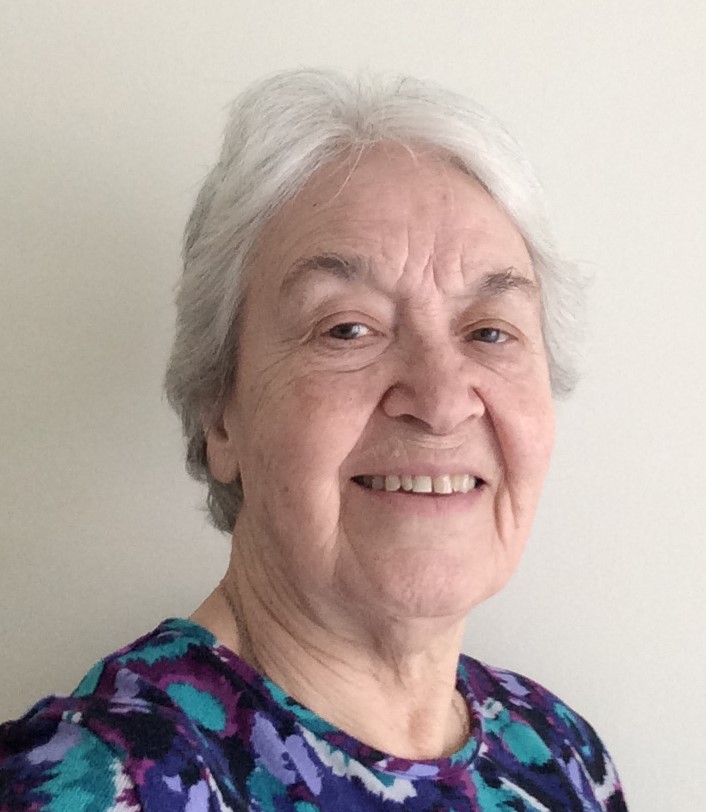 At the March meeting of Shipston Town Council, Hilary Kelly was co-opted to fill the last remaining vacancy on the Council.
"My husband Paul and I moved here from Cornwall nearly 13 years ago, mainly to be closer to family," said Councillor Hilary Kelly.
"Since then I have become increasingly involved in town life, being an early member of the monthly litter-pick, volunteering with Holiday at Home and for some years helping with the children's Holiday Club.
More recently I have taken on responsibility for the churchyard behind St Edmund's Church to try to increase wildlife diversity.
I am passionate about our planet and the damage caused to it by the climate crisis, and I hope to serve the people of Shipston as a councillor to the best of my ability."
Town Council Budget 2022-23

At its January meeting, the Town Council unanimously supported the Finance Working Group (FWG) recommendation to request an annual precept of £276,000 for the 2022-23 budget year. This is an increase of £16,000 over 2021-22 levels, however Ian Cooper chair of the FWG was keen to point out that the increase fully reflected the increase in the number of contributing properties in the Town, and there would therefore be no increase to the average "band D" Town Council element of the Council Tax bill.
The growth in the town over the past few years has necessitated increases in resources for the Town Council, and the budget for 2022-23 includes a provision to strengthen our admin team as well as adding to the level of service that we provide.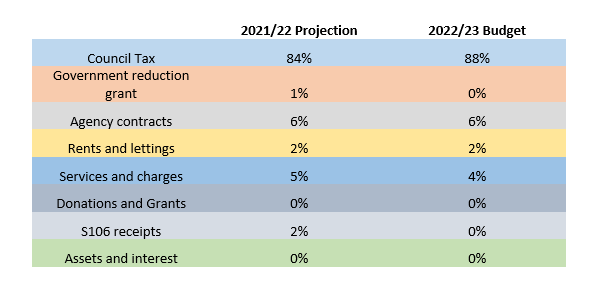 The Town Council is maintaining its strong support for organisations that support local community initiatives and which aim to provide identifiable benefits to the community. In addition, the Town Council has set aside money to provide for carrying out larger projects that are required to either protect, maintain or improve the assets of the town. Specifically, there are playground facilities and equipment that will need to be replaced or repaired, we will need to carry out repairs to the Cemetery Chapple and lodge, and we are looking to support projects to improve the Sports Club building, which is under the Town Councils responsibility.
The Town Council will continue to support those community organisations that provide benefits to our local community through grant awards, including Shipston Proms, who will be back again this year and the Town Band, who continue to support town events. Grants have also been recommended for Shipston in Bloom, Community First Responders, Shipston Angling Club, the WI and VASA, as well as funds to assist in the repair of the clock on St Edmunds Church.
We are presenting a challenging budget, with new projects and maintenance at levels not seen before for Shipston, and the hope that it will make a real difference for the Town.
 Town Council invests in new Queens Avenue play space
At the Town Council meeting on 14th February, plans to install new play equipment which will be installed at the Queens Avenue play area were approved.
The General Purposes Working Group led by Cllr Pete Cox has been working hard to remove unsafe equipment and meeting contractors to discuss new equipment for this area, exploring the potential for further improvements.
The Town Council are keen to hear from residents about how the rest of this space can be used and any further improvements that could be made to the park. Councillors are determined to provide a safe and secure space for everyone to use that will be cost-effective to manage and resilient in all weathers.
 20mph petition presented to County Council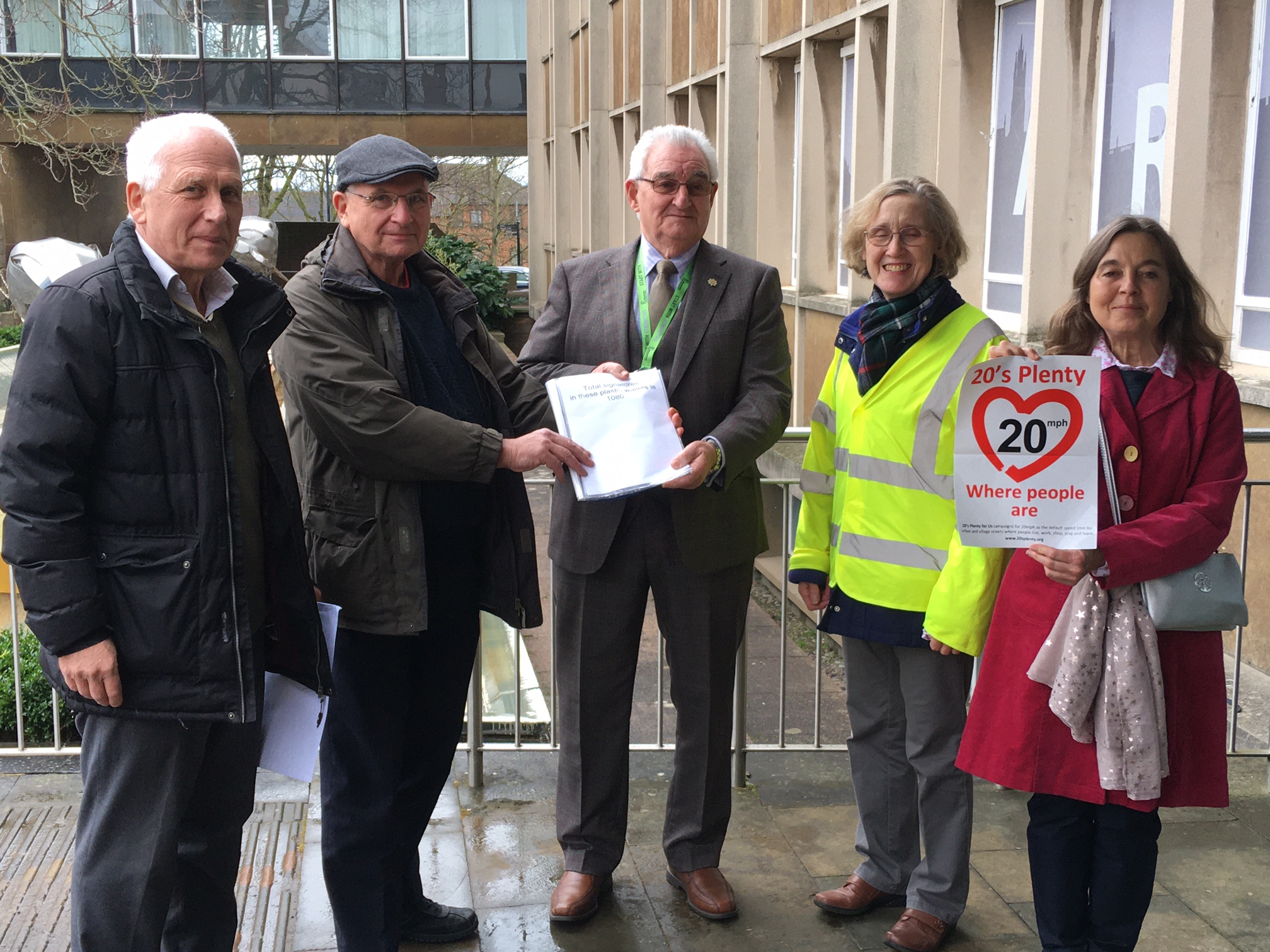 On 9th February, a delegation from Shipston's 20mph Campaign Group presented Cllr Wallace Redford, Warwickshire County Council Cabinet Member for Transport and Planning with a petition signed by 1,080 people from the town.
The petition requests the County Council implement a 20mph speed limit in Shipston subject to discussions with Highways Engineers.
Speedwatch Co-ordinator Jacey Jackson, said: "It was a positive experience talking with Cllr Redford, knowing that Cllr Barker is also taking an interest. Data from Automatic Speed Surveys on London and Stratford Roads are currently being analysed. Early indications are that they, together with data gathered since 2017 by the Shipston Community Speedwatch Team, support the petition for slower speeds through Shipston."
Shipston Town Councillor John Dinnie, said: "Additional traffic calming and enforcement measures would also help to bring down speeds and make Shipston a more pleasant place to walk and cycle."
 Shipston Town Band ensure festive cheer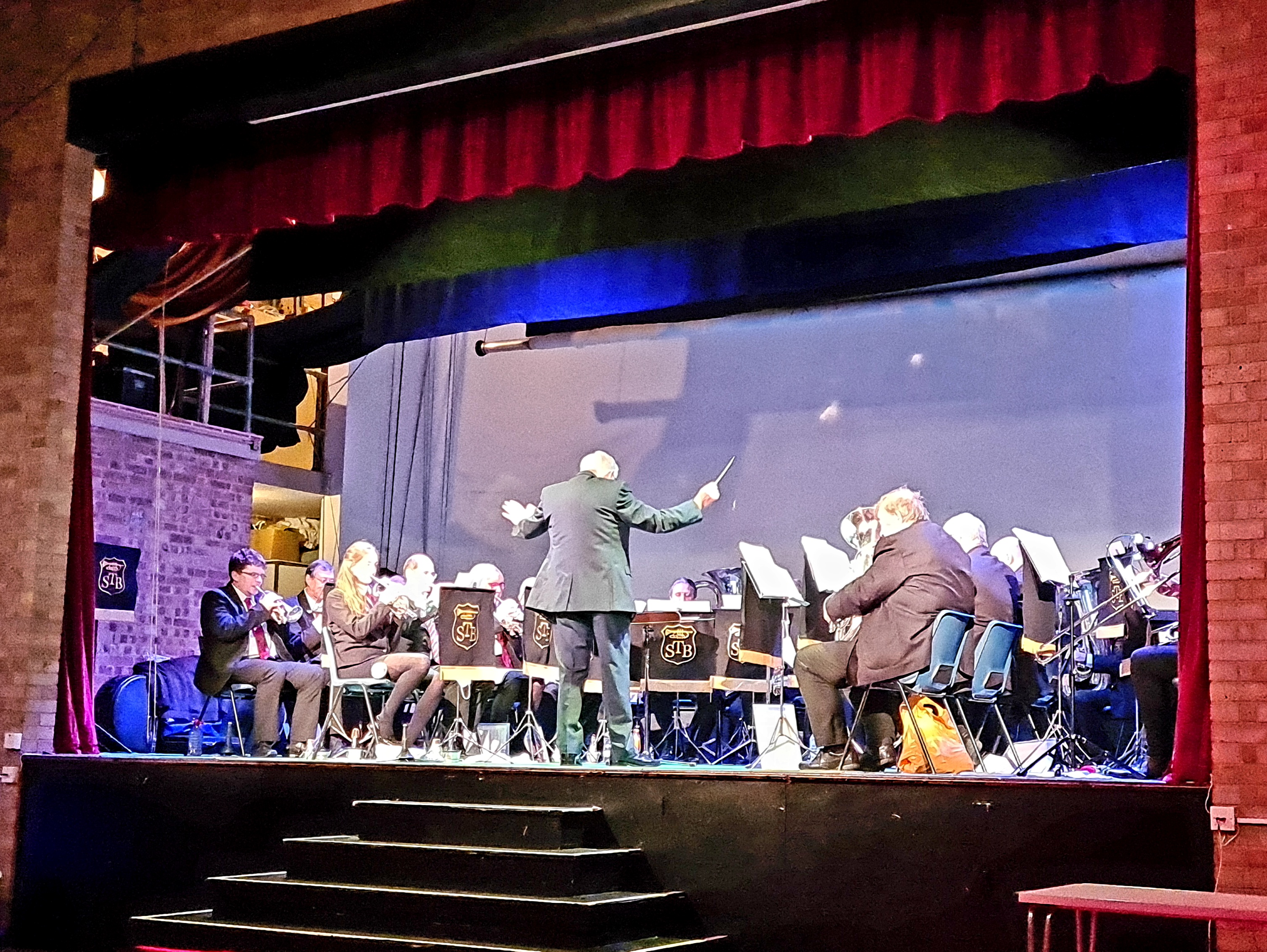 The Town Band managed to complete all of its Christmas engagements despite the challenges presented by the pandemic. The Christmas Concert at the Townsend Hall where the band was joined by Anne Hume with her Christmas readings was successful, although was sadly attended by a reduced audience.
The weather was kind and the band was able to serenade residents whilst walking around the streets on three nights. In addition, the band played for the Town Carol Service and drew some very appreciative crowds on Christmas Eve when the band played carols in the square. It was great to see so many youngsters playing, directed by their leader Stephanie Wilson. Later in the evening, the band supported carol singers in Luddington and Quinton where the torrential rain caused the carol sheets to disintegrate mid-performance!
On Christmas morning, the weather was much more pleasant when the band, supported by Mayor Ian Cooper, visited Low Furlong, Townsend Hall and Ellen Badger Hospital. During the Community Lunch at the Townsend Hall, the band played outside, before later visiting Kath Roe, widow of the band's former long-serving principal cornet Ken Roe and presenting her with flowers.
It wasn't just Shipston that was treated to some spectacular performances. The band also played in other local towns including Stratford, Moreton-in-Marsh, Chipping Norton, Banbury and Wellesbourne.
Shipston Community Christmas
The Shipston Community Christmas was back again this year having had to cancel last year's event due to the pandemic. Found and organiser, Tessa Hince, provided the following report.

This year saw us take one small step back to normality and it was lovely to (legally) gather back at the hall on Christmas Day. We decided we would give people options and let them decide if they felt comfortable coming to the hall or if they would prefer a home visit. This seemed to work well with a fairly even balance between those that joined us for tea, coffees or a glass of something at the hall, and those that enjoyed a visit from one of our volunteers at home.
We supported around 70 people which included people from Brailes, Tredington, Illmington, Stourton and Great Wolford, and we also delivered around 10 food hampers to families in Shipston struggling at Christmas.
This year our food parcels had a starter and main course from The Castle at Edgehill, delicious desserts from Bex Scott, handmade Christmas cards from Shipston Primary school and gifts donated by the community. Each of our guests also received a bag of Christmas gifts ensuring that everyone that joined us had something to unwrap on Christmas Day. We would like to say a huge thank you to everyone that made these possible. We're always overwhelmed by the generosity displayed by Shipston people.
Lots of the volunteers also come down to join in the fun, sometimes because they find Christmas a bit hard otherwise, so it's a warm, welcoming place for everyone to come for any reason.
This year we also received financial support from the Stour Valley Lions which means we could cover the costs for the meals and Townsend Hall hire so we didn't need to fundraise for cash donations. We really appreciate these though as it does mean we can continue to run the event year on year so a huge thank you to those that contributed. It is quite expensive to run even with the many donations we receive from you. The Castle at Edgehill gave us a 50% discount on their takeaway meals which was such an amazing and kind thing to do.
The Townsend Hall have had to apply a charge to us for use of the hall of £400 this year, so we will have to raise the necessary funding. The event costs us around £1500 each year. If you feel you would like to make a financial contribution to our cause, then you can contact us on 07498 558149.
We also want to say a huge thank you also to our volunteers and drivers, North Cotswold Brewery, Richard & Lou at The Richard Harvey Collection and the Cotswold Distillery.
Shipston Community Christmas has grown considerably over the last five years and therefore we have been able to expand our support further. Previously we have advertised ourselves as a charity to support people who find Christmas a lonely time. What we really aim to do is help anyone that finds Christmas a struggle and are looking for some help to ease the pain that this time of year can bring. We've got plans for a toy collection to help struggling families, to provide more food hampers, and to help with lunch for anyone that needs it.
 Santa's Christmas tour of Shipston courtesy of Rotary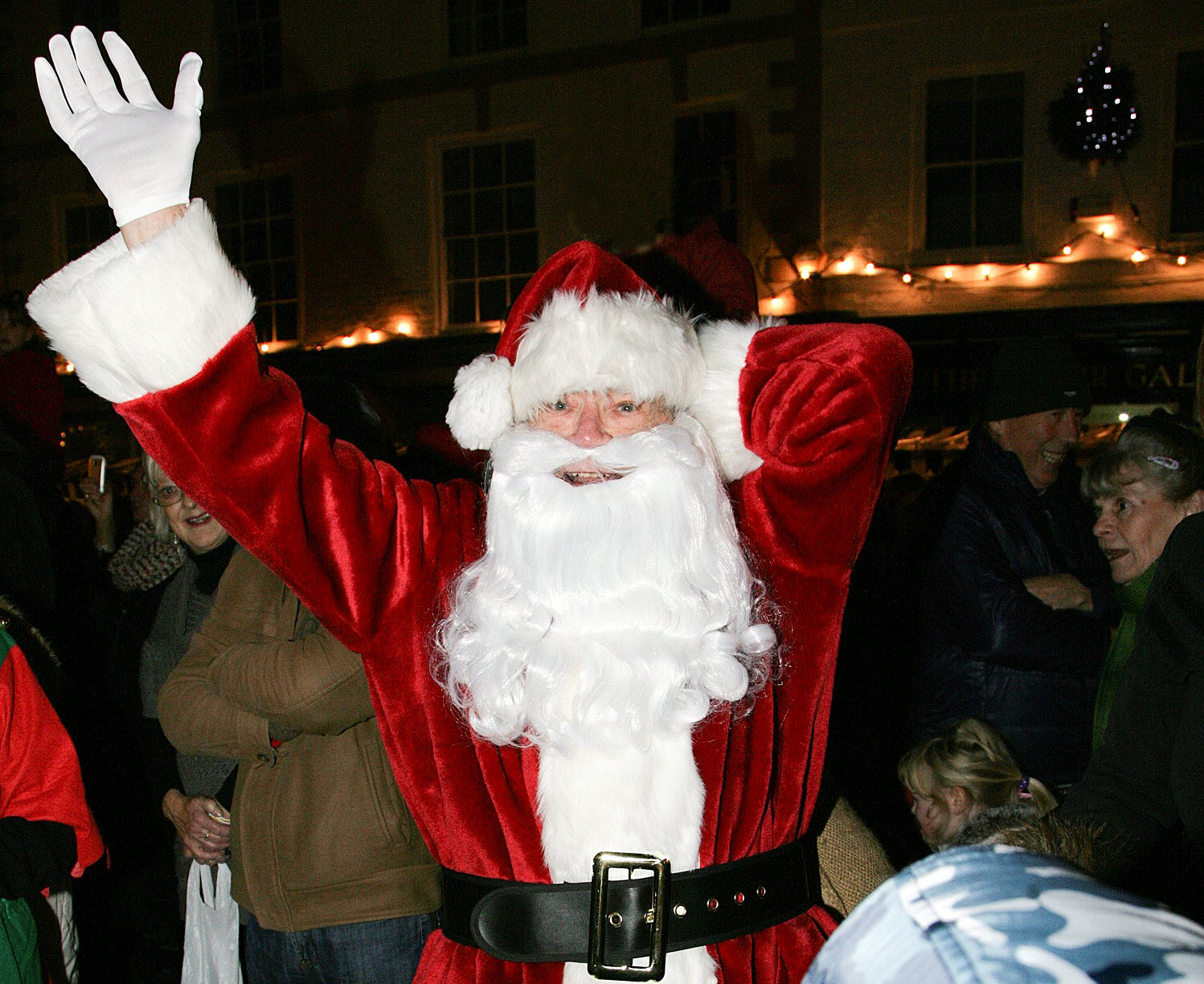 With the support and the generosity of local businesses, Shipston Rotary took Santa in his new sleigh around the town during December where he and his helpers enjoyed greeting many excited children and their families. With six nights and a Saturday town collection, our local community helped to raise over £1,600 for the Rotary Charity Fund – a tremendous achievement considering the Covid restrictions facing the Rotarians.
The sleigh and Santa's grotto, constructed from materials supplied by the Shipston branch of Building & Plumbing Supplies, was fitted on the back of a fully liveried pick-up vehicle supplied by Unity Cross Roads Garage in Tredington and the sleigh was all lit up with Christmas music playing.
Although Santa was limited in what he could do this year, he still made lots of friends as he strode majestically ahead of the sleigh waving to the children. Everyone, not just Shipston parents and children, was as generous as ever making their donations to Rotary Charities.
A big thank you to everyone who supported Shipston Rotary in a year of great difficulties for us all. Despite the challenges, thanks to the amazing generosity of the people of Shipston, Shipston Rotary had a very successful lead up to Christmas.
The Santa runs, the Tree of Life, the bicycle raffle, the trolley dash and the Saturday town centre collections raised a remarkable total of £3,279.96 for Rotary charities and good causes.
The Stour Health and Wellbeing Partnership
The Stour Health and Wellbeing Partnership is a community-led partnership set up to support residents in Shipston and the neighbouring villages to live longer and better.
It began in December 2019 and became a Charitable Incorporated Organisation (CIO) in November 2020. The Partnership has developed strong working relationships with over 50 organisations and individuals involved in the area, including: Warwickshire County Council, Warwickshire Public Health, Healthwatch, Stratford on Avon District Council, Shipston Town Council, VASA, South Warwickshire Hospital Foundation Trust, Timebank, Friends of Ellen Badger Hospital, Shipston Medical Centre, Barnardo's and a wide variety of other groups and organisations in the Stour area.
The purpose of the Partnership is: 'To improve the health and wellbeing of all residents in the Stour area through better partnership working'
The Partnership's vision is: 'To bring together in partnership organisations and individuals across the Stour Valley to support every resident at all stages to have a better quality of life and live longer by improving health and wellbeing'.
The Partnership aims to develop and implement a comprehensive health and wellbeing strategy focused on the recommendations of the Joint Strategic Needs Assessment (JSNA) and other surveys. Members are in the process of prioritising the health and wellbeing needs of the Stour community and developing proposals, projects and initiatives to address those needs. COVID and its aftermath have added to the challenges facing the Partnership and the community.
The Partnership works through an Executive committee which is comprised of the chairs of five Work Streams - Mental Health, Children and Young People, Healthy Ageing, Transport and Environment and Climate Change – and representatives of other organisations. The Executive Committee is responsible to a Board of Trustees. This Board is registered with the Charity Commission.
There are already early signs of the benefits which will be achieved from partnership working examples include the revival of the Shipston Dementia Friendly Committee and the launch of the `Dr Sue Pritchard Memorial Challenge'