January 2022
 Shipston Town Band ensure festive cheer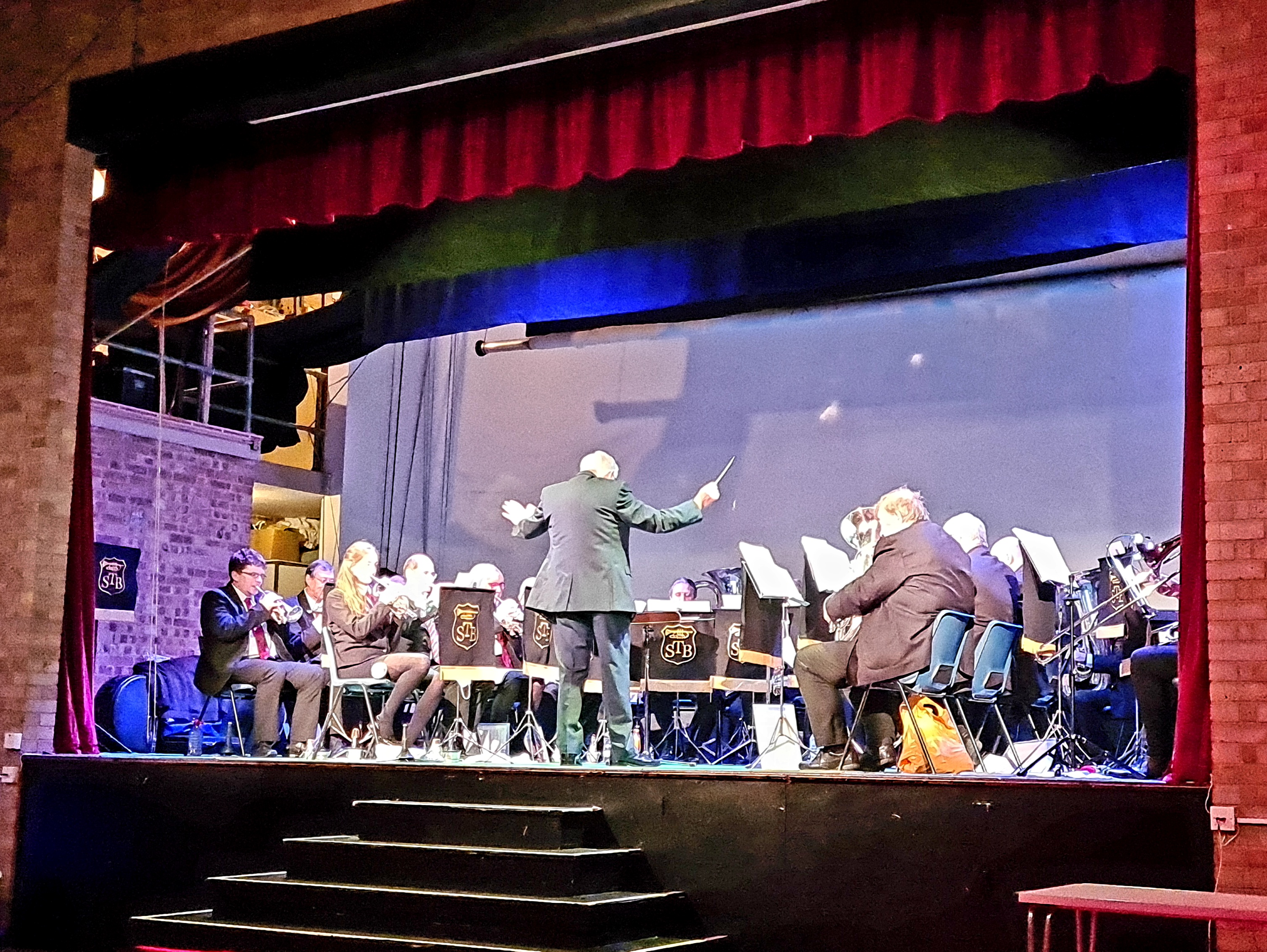 The Town Band managed to complete all of its Christmas engagements despite the challenges presented by the pandemic. The Christmas Concert at the Townsend Hall where the band was joined by Anne Hume with her Christmas readings was successful, although was sadly attended by a reduced audience.
The weather was kind and the band was able to serenade residents whilst walking around the streets on three nights. In addition, the band played for the Town Carol Service and drew some very appreciative crowds on Christmas Eve when the band played carols in the square. It was great to see so many youngsters playing, directed by their leader Stephanie Wilson. Later in the evening, the band supported carol singers in Luddington and Quinton where the torrential rain caused the carol sheets to disintegrate mid-performance!
On Christmas morning, the weather was much more pleasant when the band, supported by Mayor Ian Cooper, visited Low Furlong, Townsend Hall and Ellen Badger Hospital. During the Community Lunch at the Townsend Hall, the band played outside, before later visiting Kath Roe, widow of the band's former long-serving principal cornet Ken Roe and presenting her with flowers.
It wasn't just Shipston that was treated to some spectacular performances. The band also played in other local towns including Stratford, Moreton-in-Marsh, Chipping Norton, Banbury and Wellesbourne.
Shipston Community Christmas
The Shipston Community Christmas was back again this year having had to cancel last year's event due to the pandemic. Found and organiser, Tessa Hince, provided the following report.

This year saw us take one small step back to normality and it was lovely to (legally) gather back at the hall on Christmas Day. We decided we would give people options and let them decide if they felt comfortable coming to the hall or if they would prefer a home visit. This seemed to work well with a fairly even balance between those that joined us for tea, coffees or a glass of something at the hall, and those that enjoyed a visit from one of our volunteers at home.
We supported around 70 people which included people from Brailes, Tredington, Illmington, Stourton and Great Wolford, and we also delivered around 10 food hampers to families in Shipston struggling at Christmas.
This year our food parcels had a starter and main course from The Castle at Edgehill, delicious desserts from Bex Scott, handmade Christmas cards from Shipston Primary school and gifts donated by the community. Each of our guests also received a bag of Christmas gifts ensuring that everyone that joined us had something to unwrap on Christmas Day. We would like to say a huge thank you to everyone that made these possible. We're always overwhelmed by the generosity displayed by Shipston people.
Lots of the volunteers also come down to join in the fun, sometimes because they find Christmas a bit hard otherwise, so it's a warm, welcoming place for everyone to come for any reason.
This year we also received financial support from the Stour Valley Lions which means we could cover the costs for the meals and Townsend Hall hire so we didn't need to fundraise for cash donations. We really appreciate these though as it does mean we can continue to run the event year on year so a huge thank you to those that contributed. It is quite expensive to run even with the many donations we receive from you. The Castle at Edgehill gave us a 50% discount on their takeaway meals which was such an amazing and kind thing to do.
The Townsend Hall have had to apply a charge to us for use of the hall of £400 this year, so we will have to raise the necessary funding. The event costs us around £1500 each year. If you feel you would like to make a financial contribution to our cause, then you can contact us on 07498 558149.
We also want to say a huge thank you also to our volunteers and drivers, North Cotswold Brewery, Richard & Lou at The Richard Harvey Collection and the Cotswold Distillery.
Shipston Community Christmas has grown considerably over the last five years and therefore we have been able to expand our support further. Previously we have advertised ourselves as a charity to support people who find Christmas a lonely time. What we really aim to do is help anyone that finds Christmas a struggle and are looking for some help to ease the pain that this time of year can bring. We've got plans for a toy collection to help struggling families, to provide more food hampers, and to help with lunch for anyone that needs it.
 Santa's Christmas tour of Shipston courtesy of Rotary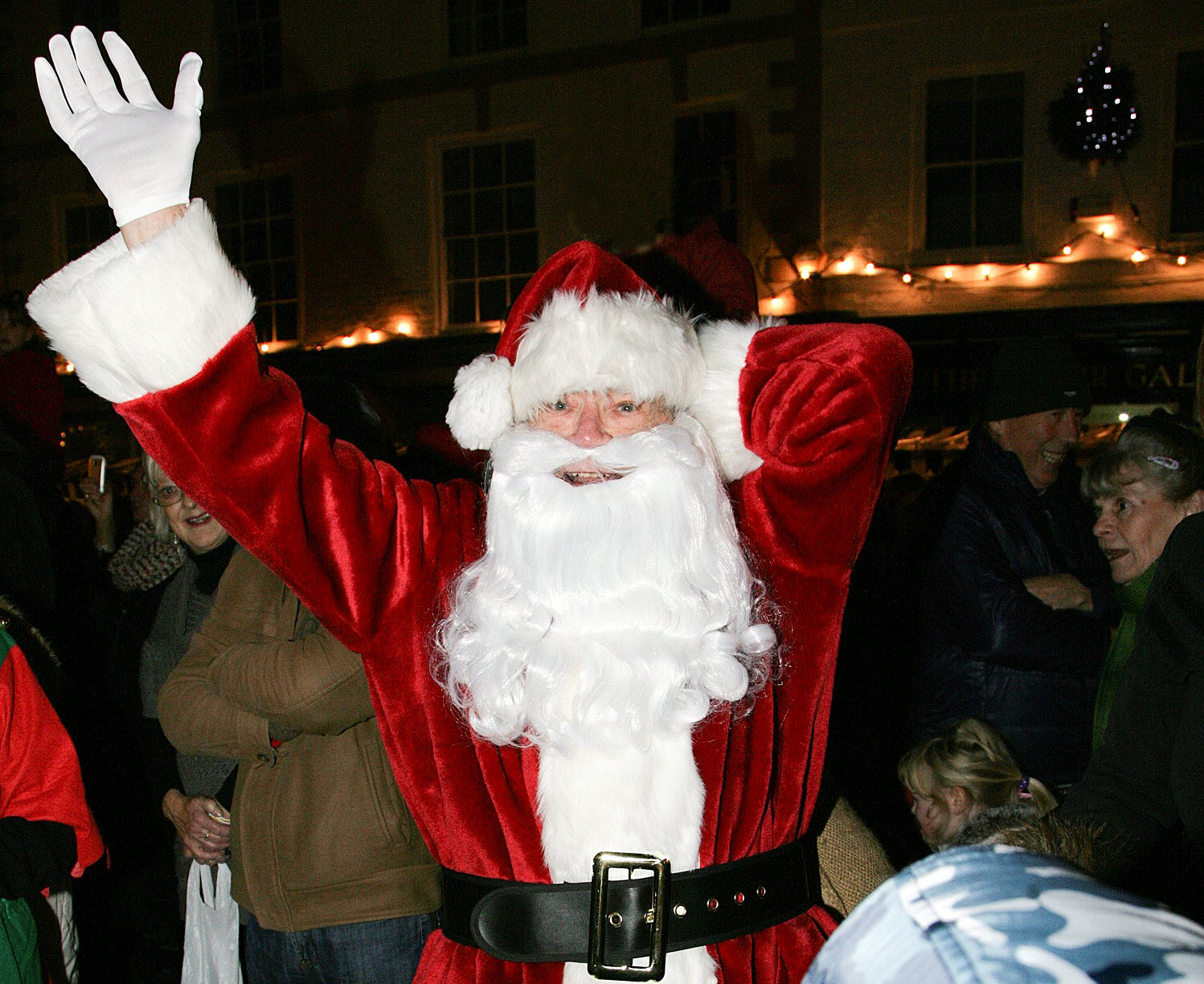 With the support and the generosity of local businesses, Shipston Rotary took Santa in his new sleigh around the town during December where he and his helpers enjoyed greeting many excited children and their families. With six nights and a Saturday town collection, our local community helped to raise over £1,600 for the Rotary Charity Fund – a tremendous achievement considering the Covid restrictions facing the Rotarians.
The sleigh and Santa's grotto, constructed from materials supplied by the Shipston branch of Building & Plumbing Supplies, was fitted on the back of a fully liveried pick-up vehicle supplied by Unity Cross Roads Garage in Tredington and the sleigh was all lit up with Christmas music playing.
Although Santa was limited in what he could do this year, he still made lots of friends as he strode majestically ahead of the sleigh waving to the children. Everyone, not just Shipston parents and children, was as generous as ever making their donations to Rotary Charities.
A big thank you to everyone who supported Shipston Rotary in a year of great difficulties for us all. Despite the challenges, thanks to the amazing generosity of the people of Shipston, Shipston Rotary had a very successful lead up to Christmas.
The Santa runs, the Tree of Life, the bicycle raffle, the trolley dash and the Saturday town centre collections raised a remarkable total of £3,279.96 for Rotary charities and good causes.
The Stour Health and Wellbeing Partnership
The Stour Health and Wellbeing Partnership is a community-led partnership set up to support residents in Shipston and the neighbouring villages to live longer and better.
It began in December 2019 and became a Charitable Incorporated Organisation (CIO) in November 2020. The Partnership has developed strong working relationships with over 50 organisations and individuals involved in the area, including: Warwickshire County Council, Warwickshire Public Health, Healthwatch, Stratford on Avon District Council, Shipston Town Council, VASA, South Warwickshire Hospital Foundation Trust, Timebank, Friends of Ellen Badger Hospital, Shipston Medical Centre, Barnardo's and a wide variety of other groups and organisations in the Stour area.
The purpose of the Partnership is: 'To improve the health and wellbeing of all residents in the Stour area through better partnership working'
The Partnership's vision is: 'To bring together in partnership organisations and individuals across the Stour Valley to support every resident at all stages to have a better quality of life and live longer by improving health and wellbeing'.
The Partnership aims to develop and implement a comprehensive health and wellbeing strategy focused on the recommendations of the Joint Strategic Needs Assessment (JSNA) and other surveys. Members are in the process of prioritising the health and wellbeing needs of the Stour community and developing proposals, projects and initiatives to address those needs. COVID and its aftermath have added to the challenges facing the Partnership and the community.
The Partnership works through an Executive committee which is comprised of the chairs of five Work Streams - Mental Health, Children and Young People, Healthy Ageing, Transport and Environment and Climate Change – and representatives of other organisations. The Executive Committee is responsible to a Board of Trustees. This Board is registered with the Charity Commission.
There are already early signs of the benefits which will be achieved from partnership working examples include the revival of the Shipston Dementia Friendly Committee and the launch of the `Dr Sue Pritchard Memorial Challenge'