October 2017
Shipston Town Council objects to retirement housing scheme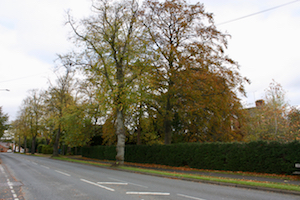 Shipston Town Council has opposed an application to build a new retirement housing scheme at South Lynn Gardens off London Road, citing a number of planning objections.
Churchill Retirement Homes is proposing to demolish the existing building on the 0.31-hectare site, and replace it with 33 retirement apartments, together with new vehicular access, communal facilities, car parking and landscaping. This represents approximately 42 new residents with an average age of 79 years.
The proposal suggests that 14 car parking spaces will be adequate based on similar schemes elsewhere, and cites good bus services and easy pedestrian access to the town and medical centre. However, councillors have identified a number of discrepancies in the proposal, as well as an optimistic view of the time taken to walk to local services.
The application has been met with vehement opposition from a number of local residents, many of whom attended the town council meeting to voice their concerns.
Shipston Town Council's objections include the dominating nature of the proposed building, inadequate car parking and associated impact, the lack of public transport to support this type of development, and inadequate access to the town. In addition, concerns have been raised about the additional load on the medical centre.
Town Mayor, Dan Scobie, said: "In our view, this proposal is completely inappropriate. The number of dwellings proposed for such a small site is a real concern, with the associated impact this will have on infrastructure and quality of living."
The town council has submitted a comprehensive objection which can be viewed on the district council's e-planning portal at www.stratford.gov.uk. However, councillors would like to remind residents of the importance of registering their own views on this and other planning proposals.
Councillor and member of the Planning Working Group, Martin Ferrier, said: "Whether you are for or against this or any other planning application, it is extremely important that you register your views directly via the Stratford District Council website to ensure the town's voice is heard."
Low Furlong marks official opening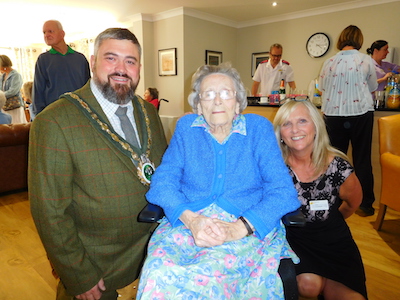 September saw the official opening of Low Furlong Care Home on Darlingscote Road. The brand new, purpose built 68 bed residential home replaces the original home which was demolished to make way for a more modern, privately-run facility.
The new Low Furlong, run by Runwood Homes Senior Living, offers support for a wide range of elderly care needs, including provision for those living with dementia. The building provides high quality accommodation, including quiet and 'retro' lounges, a central patio area and bedrooms with ensuite facilities. In addition to private accommodation, the home has a number of local authority-funded places.
Mayor, Dan Scobie, cut the ribbon to open the new home, accompanied by care home manager, Teresa Wilson, residents and guests.
The Mayor said: "I am very impressed with the facilities and positive atmosphere that is evident in this new home. Low Furlong has a long track record of providing care to elderly residents in Shipston and I'm delighted to see the home back up and running in its new guise."
Care home manager, Teresa Wilson, said: "We were really pleased to see so many people attending our opening and wishing our residents and our team well."
The residents of Low Furlong will continue to be supported by the League of Friends of Shipston Hospitals, many of whom have returned to the home having moved out temporarily while the building works were completed.
To find out more about Low Furlong, please call the manager on 01608 662005 or email manager.lowfurlong@runwoodhomes.co.uk.