November 2017
Shipston's draft Neighbourhood Plan is submitted to Stratford District Council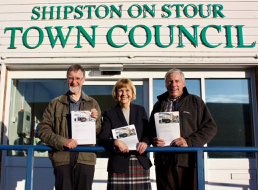 Shipston Town Council has formally submitted Shipston's draft Neighbourhood Plan to Stratford District Council for independent examination.
The draft Neighbourhood Plan has been developed by a team of community volunteers over the past four years, with support from Shipston Town Council. The wide-ranging plan covers the period from 2016 to 2031, and looks at a broad range of planning issues including housing, infrastructure, the environment and the local economy.
Commencing today, 2 November, Stratford District Council will run a final six-week consultation on Shipston's draft Neighbourhood Plan, before submitting it for independent examination to ensure the plan meets legal requirements. Assuming it withstands scrutiny, a final plan will be prepared, incorporating any required amendments. Shipston residents will then decide whether to adopt the plan via a local referendum.
Town Mayor, Dan Scobie, said: "Submitting Shipston's draft Neighbourbood Plan to Stratford District Council represents an important step in our journey towards having an adopted plan for Shipston, which will help guide future planning decisions in the town.
"On behalf of Shipston Town Council, I would like to sincerely thank the volunteers that have worked so hard to achieve this milestone - we are extremely grateful for their commitment to this vital project."
In response to public feedback, Shipston's draft plan has been developed to address:
Housing growth, including affordable housing
Improved infrastructure, particularly traffic management, parking and effective flood defences
Sustaining and conserving the vitality, usefulness, and heritage value of the town centre
Better social, welfare and sports facilities, including healthcare, schools, youth facilities, and meeting the needs of an ageing population
An improved environment promoting health, wellbeing and access to open spaces
Making the town more suited to local needs and ensuring those changes are sustainable.
To respond to Stratford District Council's consultation on the draft plan, please visit: https://www.snapsurveys.com/wh/s.asp?k=150953705801
Residents can view hard copies of the draft plan at New Clark House or Shipston Library. The plan is also available to download at www.shipstonnp.org.
Your town needs your help to tackle a foul problem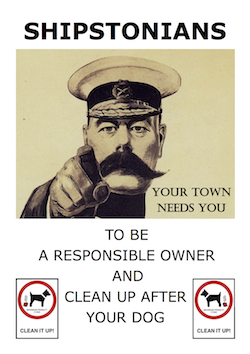 The amount of dog mess being left on pavements is on the increase as the nights are drawing in. Action is needed now to tackle the problem.
Volunteers are being sought to work together on a campaign to rid Shipston of this foul and unnecessary issue.
Mayor, Dan Scobie, said: "As a dog owner myself, I know how easy it is to clean up after your pet – there are no excuses."
The council is keen to get your input on how best to encourage people to pick up after their pet. Ideas already under discussion include volunteer dog wardens, creative publicity campaigns and naming and shaming repeat offenders. The town council is also looking into the possibility of empowering volunteers with issuing on the spot fines.
If you've had enough of watching where you walk, please contact the Town Clerk to find out how you can help be part of the solution.
For more information, please email clerk@shipstononline.org or call 01608 662180.