February 2021
 Healthwatch Warwickshire survey about planned Health and Wellbeing Centre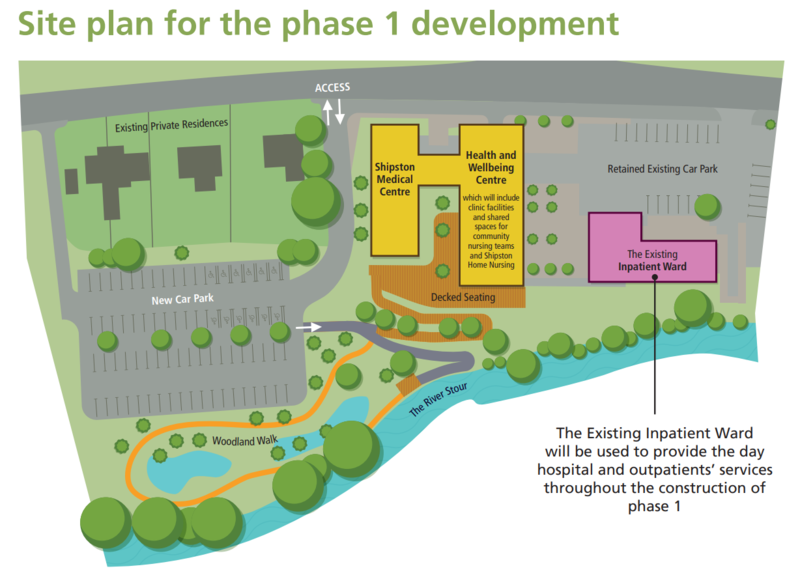 South Warwickshire NHS Foundation Trust has been working with Shipston Medical Centre to develop a facility that integrates healthcare for the residents of Shipston and the surrounding villages. Phase 1 of the development will create a new GP surgery, a health and wellbeing centre with clinic facilities, integrated shared spaces for community nursing teams and Shipston Home Nursing, as well as a new car park and landscaping. This will be in addition to the outpatients, the day hospital and physiotherapy gym. For more information please visit: https://www.swft.nhs.uk/our-hospitals/ellen-badger-hospital/ellen-badger-hospital-development-plans
The Health and Wellbeing Centre will support the health and wellbeing needs of the community in Shipston and the surrounding villages, by delivering conventional healthcare alongside activities to address social factors. It will offer opportunities to learn, connect, get active and give something back.
The survey from Healthwatch Warwickshire allows residents to help to develop and shape the Health and Wellbeing Centre. Healthwatch Warwickshire is a local independent organisation that works to collect patient and public experiences of health and care.
Complete the survey online at https://www.surveymonkey.co.uk/r/7RZXBXZ, organise a telephone interview by calling 01926 422823, or collect a paper copy from Shipston Medical Centre.
Rotary donate £1000 for school laptops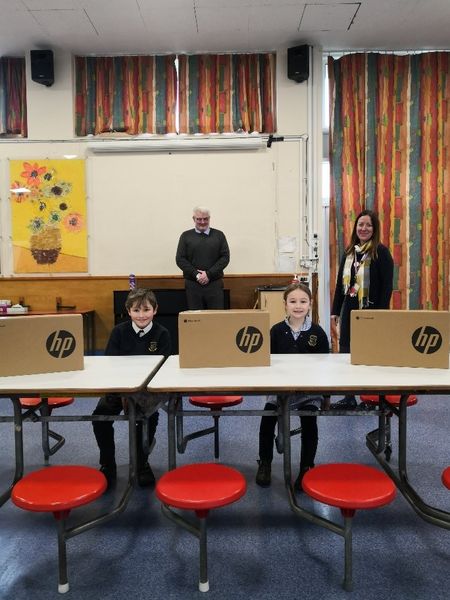 In its latest act of generosity, Shipston Rotary has donated £1,000 to Shipston Primary School to enable the school to purchase laptops, broadening access to online home learning.
Glyn Roberts, Head of School at Shipston Primary School, said: "Throughout all of the past difficult year, and especially over the past week since Lockdown was announced, we have been overwhelmed by the generosity of our wonderful community. The help that you have given to provide laptops to ensure that all of our children can access online home learning is amazing and extremely humbling.
"We have already been donated some laptops raised through donations and are hugely grateful to the Rotary for their continued support which now includes a donation of £1,000 towards purchasing more laptops.
"The support of our community means so much to us in school, not just in helping us to continue to deliver the very best education to our children that we possibly can, but also in reminding all of us in school that we are all it together. It is moments like this that we hold on to and give us the strength to know that we will get through these times. Thanks again and stay safe."
Photo: Children of Shipston Primary School, Lucy Bosley (School Computing Lead) and Glyn Roberts (Head of School) with some of the Chromebooks donated to the school.
Stratford District Council Garden Waste Subscription Early Bird Offer
From April 2021, there will be a charge for green bin collection by Stratford District Council with an annual charge of £40 per bin. There is currently an early bird offer of £35 for each green bin for a 12-month subscription, available until 28 February 2021.
Householders who pay to have their garden waste taken away will be issued with a non-transferable permit to attach to their green bin.
Those without a permit will have the choice of home composting (discounted bins are available from Warwickshire County Council) or taking their garden waste to a Household Waste Recycling Centre.
Food waste will still be collected on recycling collection weeks for those without a permit who use food waste caddies. Free food waste caddies are available on request by calling 01789 260628 or emailing: streetscene@stratford-dc.gov.uk