October 2020
The Twinning of Shipston with France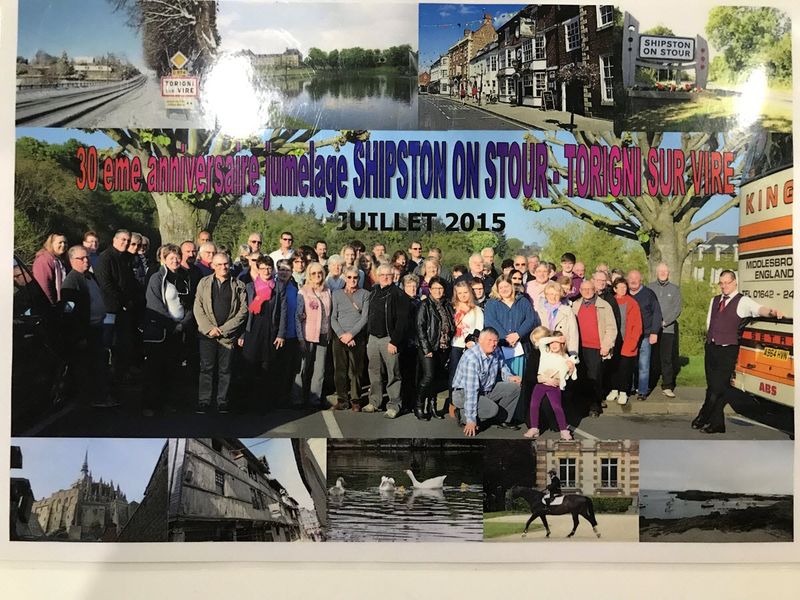 By Diane Neath and Peter Cowley
On 18th April 1985, Shipston-on- Stour was twinned with Torigni-sur- Vire, a town in the Departement de La Manche in Normandy, France. The signing of the Twinning Charter took place at Shipston High School and it was signed by Pierre Dupont (Mayor of Torigni), Christine Hedouin (President of the Torigni Twinning Association) and Brenda Broughton (Mayor of Shipston). Keith McCarthy (then Chairman of the Shipston Twinning Association) and Brenda Broughton were presented with a large framed picture of the Chateau of Torigni which they accepted on behalf of the Shipston Twinning Association. It was to be hung in the council chamber when the offices at Clark House were completed. The following day, the Mayor and Committee of Torigni attended the official opening ceremony of Clark House the new premises of Shipston Town Council along with members of the public, architect John Bradley, builder Dennis Nason and all the craftsmen employed in the conversion of the building. Town, district and county councillors were also present. This was an important occasion as it was the inauguration of the first building owned by the Town Council, who had previously been tenants of the District Council. The building's name commemorated the previous owners of the property, Clark Provision Merchants, who traded from the 1800's to the 1980's.
About Torigni
Formerly crossed by two Roman roads and much like Shipston, it thrived as a settlement because of this position.
One of the strongholds of the descendants of William the Conqueror who was born in nearby Falaise.
The birthplace of Robert of Torigni, an influential 12th Century abbot and chronicler. Robert was godfather to Eleanor of Castile, the daughter of King Henry II of England and Eleanor of Aquitane.
The main historical building in Torigni is the Chateau of the Matignon family, who were related to the Royal Family of Monaco, the Grimaldis. The Chateau now houses the town hall and art gallery.
Torigni and the surrounding area suffered severe war damage during the Battle of Normandy which followed the D-Day Landings in 1944. Torigni was taken from German occupation by American troops on 31st July 1944 but 350 houses were destroyed in the fighting and there were many civilian casualties.
On 1st January 2016 , Torigni-sur-Vire was merged with the communes of Brectouville, Gieville and Guilberville to create the new municipality of Torigny-les-Villes. This new municipality has inherited the twinning relationship and had a population of 4,352 in 2017, which is very similar to that of Shipston-on- Stour (4,500).
About the Twinning Associations
The Shipston-on-Stour Twinning Association and the Torigny-les-Villes Twinning Association arrange alternate visits to England and France each year. Due to Covid 19, the visit to Torigny planned for this year has been postponed until May 2021. The journey is usually made by coach and ferry and a full and varied programme is arranged for each visit.
The Twinning Association in Shipston are a friendly group and welcome new members of any age. You will be guaranteed an enjoyable weekend and with a lot of English speaking hosts in France, please don't be put off if you can't speak the French language. It is an ideal opportunity to experience the food, customs and culture of France. Lasting friendships have been made over the years. Our next visit is planned to take place from 28th to 31st May 2021.
If you are interested in visiting, please email Diane at: secretary@shipstontwin. co.uk or for more general information, take a look at our website www.shipston-torigni-twinning-association.co.uk. Also, please look out for any fundraising events in the future where you can meet members to ask any questions you may have.
Residents speak to council about school traffic and the Ellen Badger
Two parishioners addressed the Town Council during the Open Forum section of the Town Council meeting on 12th October. Lisa Hadland and Hannah French raised concerns about traffic near Shipston Primary School and the redevelopment of the Ellen Badger Hospital respectively.
Lisa explained that measures in response to Covid 19 have compounded existing issues caused by people parking in dangerous locations. She sought support from Councillors for a lollipop person, zebra crossing or other means of providing a safe way for children to cross the road. Several potential solutions were discussed, including sharing the cost of a lollipop person across several schools and encouraging parents to follow an unofficial one-way system when accessing the school. Cllr Ian Cooper and Cllr Fay Ivens both noted that the "footprints" leading to a safe crossing place had been removed when Shipston Lodge was built and Warwickshire County Council no longer installs these measures. The Town Council will discuss the issue at a future meeting after further investigations have been carried out.
Representing the Ellen Badger Hospital League of Friends, Hannah French expressed concern about the revised plans for the hospital. South Warwickshire NHS Foundation Trust has announced that work will now be done in two phases with the second phase dependent on the outcome of a county-wide bed review. The League of Friends has been fundraising and purchased a plot of land based on a single-phase plan that would guarantee the future of hospital services in Shipston. An Extraordinary General Meeting (EGM) of the Town Council may be considered in future to discuss the Ellen Badger redevelopment plans, dependent on the evolving situation.
Town Council aim to identify new use for cemetery chapels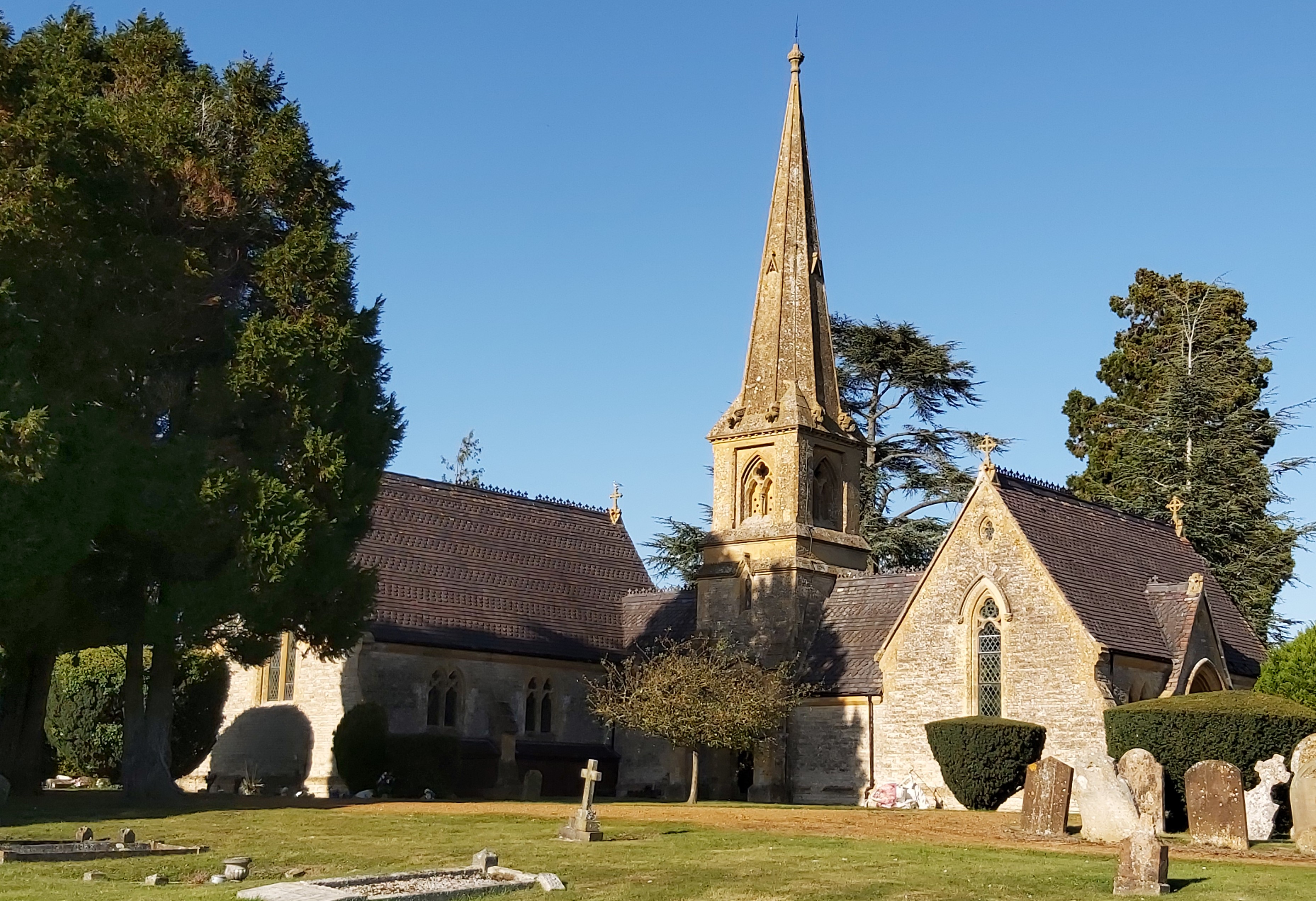 Shipston Town Council is inviting the public to suggest potential new uses for the two chapels in the cemetery, allowing the buildings to be used for community benefit.
The Grade II listed structures were built in the late 19th century and consecrated in 1865. One was designated for use by members of the Church of England, meanwhile the other is nonconformist.
Before any change of use taking place, work will be carried out to ensure that the structures are weathertight.
Anyone with suggestions for alternative use cases should contact the Town Clerk t: 01608 662180 e: clerk@shipstononline.org
Shipston Town Council invites grant applications
Shipston Town Council is inviting grant applications for the 2021/22 financial year, which begins in April 2021. This year grants totalling more than £20,000 were made, supporting a wide range of community initiatives across the town, delivered by voluntary groups and charities.
Cllr Sheelagh Saunders, Town Mayor said: "Each year the community grant scheme does important work supporting existing local voluntary groups and charities. Perhaps in this year of Coronavirus, whose effects look likely to drag long into next year, it is even more important that we look to help those who are finding new ways of supporting our residents who are struggling with unexpected problems that this maelstrom is throwing at us."
The scheme is open to any voluntary group or charity based in Shipston, or those which actively work in the town. Grant applications must be for specific projects, for example, the purchase of equipment or to support a planned event. Typically grants range from £250 to £2,000 for individual organisations, however, larger sums can be made available for some causes.
Closing date for applications is 31st October. Application forms can be requested from the Town Clerk t: 01608 662180 e: clerk@shipstononline.org
Shipston Library is back!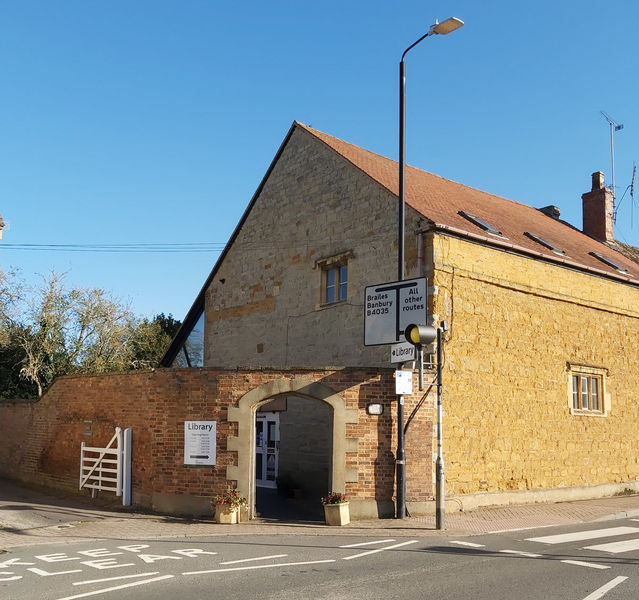 Shipston Library has now reopened and is offering a click and collect service where people can order books online or over the phone. People can also return books that have been loaned.
Quarantining and cleaning measures for returned books will be in place, before they are reused, to reduce the risk of spreading Covid 19. This means that returned items may not be removed from your account for up to 5 days.
Two computers are available for public use in the library and can be pre-booked online or by calling customer services.
The phone number for the library is 0300 555 8171 and lines are open Monday to Thursday 9am to