September 2017
High Sheriff visits Shipston Fire Station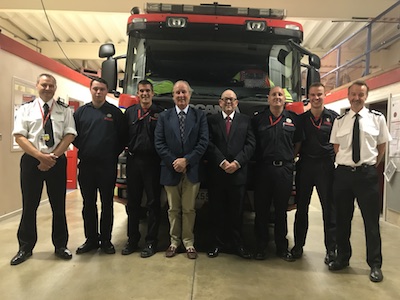 The High Sheriff of Warwickshire witnessed first-hand how firefighters manage serious road traffic collisions in August as part of a role-play exercise on his visit to Shipston Fire Station.
The High Sheriff, Mark Davies, was accompanied by Chief Fire Officer Andy Hickmott and Warwickshire County Council's Portfolio Holder for Community and Fire Safety, Councillor Howard Roberts for his visit, the first a High Sheriff has made to the station.
Mark has had historical family links with Warwickshire dating back over three hundred years, and has lived in Admington, near Shipston for the last twenty five years.
Talking about the visit, Chief Fire Officer Andy Hickmott said: "We would like to thank the High Sheriff for the time taken to visit the station and learn more about what Warwickshire Fire and Rescue Service is doing to keep the communities of Warwickshire safe. It was an opportunity for us to demonstrate what highly skilled personnel we have and how those skills are deployed."
Shipston Fire Station is manned by retained firefighters who work as an integral part of the county's fire service.
Mayor, Dan Scobie, said: "We were very pleased that the High Sheriff chose to visit Shipston Fire Station. We are enormously proud of the work our local firefighters do, not only in tackling fires and collisions, but in educating the public about fire prevention and supporting community events."
Dolls' House nets £1,500 for charity
The Dolls' House that went on sale to raise funds for Shipston Home Nursing has generated £1,500 for the charity.
The house, which caused much confusion when it was advertised on property sales website, Rightmove, was bought by Spitfire Bespoke Homes Ltd to appear in their show home in Barford.
SHN Fundraising Coordinator, Rebecca Mawle, said: "We are thrilled with the outcome of this unique house sale. Thank you to Michael Hawkins at Peter Clarke for his efforts in helping to raise such a fantastic sum."
Introducing the Shipston Museum
"I remember when all of this were fields.."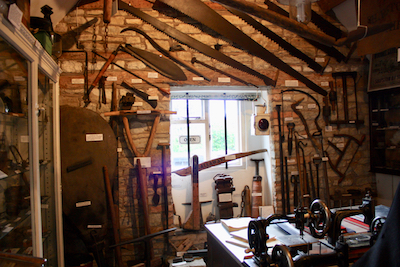 Have you ever wondered about the history of your home and the area you live in? Perhaps your house is where the engine sheds were when Shipston had a railway station? Or maybe you live on land which once saw its dweller dispatched to Australia having been caught stealing chickens? How many of the shops you now visit used to be pubs? And do you know which street used to be called Custard Lane?
All of these facts and many more can be uncovered during a trip to Shipston Museum, which is open to the public on weekend afternoons and by appointment. Curated primarily by History Society founder members, Mike Ashley and Dick Burge, what was the Ashley family games room is now a treasure trove of fascinating facts and finds from the local area.
From a patented 'safety milk bowl' invented in Shipston, to locally-found roman coins, not to mention countless posters, catalogues and newspaper articles, there is plenty to absorb your interest. One of the most popular draws is the comprehensive collection of photographs of Shipston's horse-drawn tramway and railway, which covers most of the Railway Crescent and Tilemans Lane area. The posters offer a fascinating insight into events of the past. The Flower Show poster (pictured top right, with curator, Mike Ashley), promises a live pig to the bowling winner, as well as promoting an 'ankle and shingle' competition and hat trimming for men!
Shipston Museum is very keen to encourage an interest in history among children and already works with the primary school to help bring local history to life. Mike Ashley said: "One of the most rewarding aspects of curating our museum are the times when young children come in and, with a bit of detective work, we're able to find a picture of their great, great grandfather driving a train or similar. The look on their faces is one of pure joy and it's wonderful to play a part in uncovering their family history."
Changing faces in Shipston Town Centre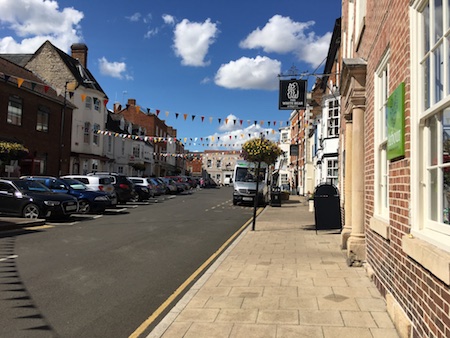 Shipston Town Centre has seen a fair number of changes in recent months, with many new businesses opening as well as some moving on.
Sadly, Rightons Butchers in Sheep Street has now closed. On a positive note, however, Brian Gardner has joined Taylors Butchers, who will be selling lamb from Brian's Tysoe farm.
Elsewhere in the town, new shops and eateries are becoming established. Two shops have opened in the Granville Court arcade, selling ladies wear and home and garden goods, while El Cafe has moved to Sheldons, expanding its menu and opening hours in the process. Following a short period of closure, The Bower House restaurant will soon re-open under the stewardship of a new chef, while the Coach & Horses has launched a new menu, offering authentic pub food. A new kitchen showroom also opened in Sheep Street earlier this year.
Mayor, Dan Scobie, said: "It's always sad to see an established business close and it's a reminder of just how important it is for us to support local shops where we can. Fortunately, we've also seen new retailers opening in the town, adding to our vibrant Totally Locally business community. We wish them all every success."
£2 Million investment in Shipston High School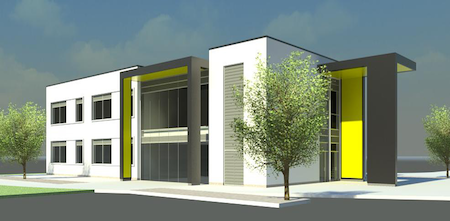 Shipston High School has been a hive of activity throughout the summer holidays as work began on the next phase of the school's expansion.
A two-storey block, featuring nine new classrooms, office space and an improved reception area is currently under construction at the top of the drive, making reception much more visible for visitors. The block will stand alone, adjacent to the existing building, and has been designed to allow staff and students to move around the site safely and easily.
This development, which follows the initial extension completed in 2015, will enable Shipston High School to offer a more contemporary environment to existing students, and provide the space needed to accommodate the recent rise in its pupil admission numbers to 120 pupils in each year group from 2017.

Warwickshire County Council provided a grant of approximately £2 million to fund the new building, in recognition of the need to invest in additional capacity at the school. The build is likely to take about eight months, with a full timetable of lessons expected to be held in the building from September 2018.
Headteacher, Gavin Saunders, said: "We are extremely fortunate to have this new block at Shipston High; in the current climate, this is rare. We are ambitious to ensure we keep developing the school for present and future students, and I am keen to consider how we can further enhance our sports facilities for the school and local community. Ideas and initial plans are already under consideration and we really appreciate the community's interest.
"Coincidently, 2018 is the school's 60th anniversary, so an appropriate time for our next phase to open. We look forward to celebrating our heritage and our future in 2018." Mr Saunders added.
Mayor, Dan Scobie, said: "It is extremely encouraging to see this level of investment in Shipston High School. I would like to congratulate all the staff and pupils for their contribution to making the school such a success story for the town. I look forward to seeing the new building take shape."