December 2020
Developing the Ellen Badger Site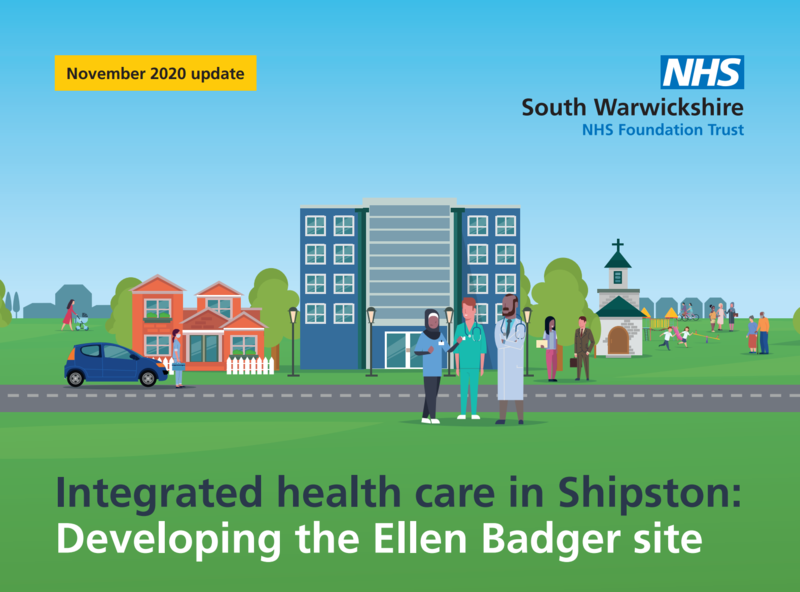 South Warwickshire NHS Foundation Trust has been working closely with Shipston Medical Centre to identify the best option for progressing the Ellen Badger redevelopment. Both parties are fully committed and we are delighted that business cases detailing the costs and project plan have been approved by the Trust's Board and the Primary Care Committee. This is fantastic news that enables us to progress with our exciting plans to achieve an integrated healthcare hub for Shipston and the surrounding villages.
A full update on integrated healthcare in Shipston through the development of the Ellen Badger site can be downloaded here: https://www.swft.nhs.uk/our-hospitals/ellen-badger-hospital/ellen-badger-hospital-development-plans
Back in November 2017, the League of Friends of Shipston Hospitals committed £635,000 to the South Warwickshire NHS Foundation Trust (SWFT) to buy land next to the Ellen Badger Hospital.
We knew there was a moratorium on further maintenance of the hospital and indeed the Fire Service promptly found the existing wards unsafe and required urgent re-arrangements to be undertaken simply to keep beds open in Shipston as a short term arrangement.
Since then we have joined a Project Board with SWFT - and subsequently the Medical Centre - to develop the new hospital.
To our delight, we now hear that the Clinical Commissioning Group has agreed to fund the relocation of the Medical Practice onto the Badger site.
It was always the League's hope that the GPs would agree to join the Badger on the same site to secure much better integration between their service and the inpatient services. This really was the cherry on the new hospital cake!
The League has further committed to enhance the basic hospital development to secure the kind of twenty-first century environment and finish many will have seen in Moreton Hospital with its 22 ensuite individual rooms, out-patients and therapy services.
You will have seen back in late May the published plan for such a development, joining the hospital, GP surgery and a Health and Wellbeing Hub into a building to replace the existing hospital. This was to be done in a single development to minimise cost, delay and disruption.
Since May, however, these plans have changed and SWFT now proposes a two-phase development with the GP Surgery and a Health and Well-being Centre (with a Cafe and meeting spaces) being built first. Later, Phase Two may go ahead if NHS capital is made available for SWFT to build an in-patient hospital with diagnostic facilities, urgent care facilities and other health care resources.
Of course, the League is disappointed that we are no longer planning to replace the hospital at the same time as the Surgery and the Public Health facility. Naturally our concern - as our constitution states - is primarily the future of Shipston's Hospital.
Nonetheless, we are all, SWFT, the League of Friends and the Medical Centre, totally committed to hearing from Shipston's residents and those in the surrounding South Warwickshire villages as to what their priorities for health care are.
The League of Friends preference was based on what we believed was the most efficient and cost-effective way forward, that is; the original plan for a single development phase.
The League must be the servant of Shipston residents, so we need to hear your views: 1) Are you happy with a two-phase solution to this development 2) how important is it to have inpatient hospital care and 3) how would you like it to be organised in a single ward or single ensuite rooms and 4) what do you think the League of Friends money - given in legacies and donations by Shipston residents - is best used for?
Tell us by writing to The Forum, putting your views on Shipston related groups on Facebook or by writing to The Secretary, League of Friends of Shipston Hospitals c/o Wyse House, Halford, CV36 5BT.
This is one of the most important changes that will affect Shipston in the next twenty years, getting your voice heard will never be more important than now.
Remembering in Shipston
This year only a small Act of Remembrance was able to take place to commemorate Remembrance Sunday and Armistice Day. Community groups were still able to lay wreaths at the war memorial during pre-agreed timeslots.