July 2015
Shipston High School sees Headmaster retire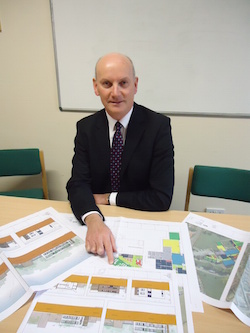 There was barely a dry eye in the school as pupils, staff and governors bid farewell to Jonathan Baker at the end of the summer term. Mr Baker (pictured)was appointed head of the High School in 2004 and has been at the forefront of developments that have seen the school progress significantly.
Over the last ten years, Shipston High School has improved both in popularity and performance. The school is now so sought after, it is frequently oversubscribed and has increased its intake to accommodate over 450 pupils in recent years. In 2010, the High School was in the top 100 schools in the country for the amount of progress pupils made while at school.
While grades and academic success are important, Mr Baker leaves behind him a legacy which puts the overall wellbeing of children at the heart of the school. A firm believer in the importance of teaching confidence, self-reliance and care for others, Mr Baker has seen the "Shipston Spirit" become a tangible asset, which OFSTED inspectors have highlighted in their reports.
Paul Chapman, Chair of the High School Governors said: "We are sad to see Jonathan leave Shipston High after such a long and successful period as head teacher. On behalf of all the staff and pupils, I would like to thank him for his boundless energy, enthusiasm and determination to see the school and each individual pupil achieve their best. We wish him a happy and healthy retirement."
Before retiring, Mr Baker worked with the governors to find an outstanding new head teacher. From September, Gavin Saunders will take up the reins and is looking forward to getting started.
Fabulous foodie plans afoot for the Food Festival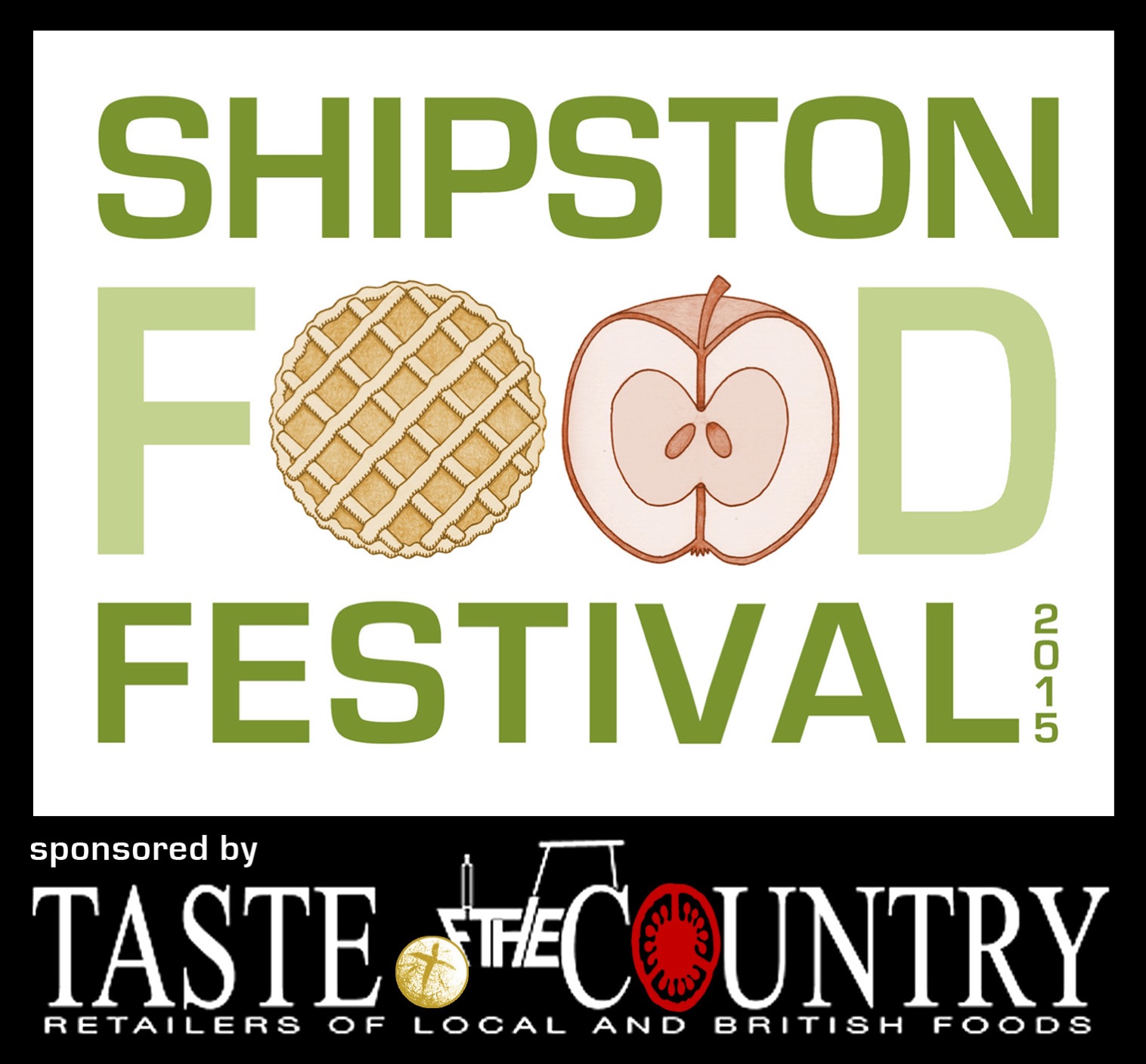 Plans are well underway for what will be the third Shipston Food Festival. Following in the footsteps of the two previous hugely successful festivals, this year it is taking place on Sunday 20th September in Shipston Town Centre. The festival will once again feature a mix of stalls, cookery demonstrations, music and other food-related entertainment.
Fresh from their success at the Last Night of the Proms, aptly named band 'The Peas' will be providing music during the festival, which will be interspersed with expert demonstrations and commentaries by local food heroes including The Cotswold Traiteur, Taste of the Country, Sheldon's Wines, The Cotswold Distillery, and a special mystery guest!
The town will be packed with artisan food stalls selling everything from hot food to specialist ingredients. There will be fun activities for children including chocolate making and the first ever local bake-off challenge for 11-16 year olds – more on that next month.
Joint Organiser, Philip Vial, said: "We're really excited about this year's event. For the first time, the whole festival is being sponsored by a Shipston-based business, Taste of the Country, with additional support from Sheldon's wine cellars. We're extremely grateful to both businesses for their support in making this festival possible and look forward to celebrating the best of what the local area has to offer to food and drinks connoisseurs."
To ensure you don't miss out, keep the date free in your diary and prepare to head to the town centre between 10am and 3pm for good food, music and hopefully great weather! For more details, visit www.facebook.com/ShipstonFood or see next month's Forum.
Shipston Brownies bid a sad farewell to Brown Owl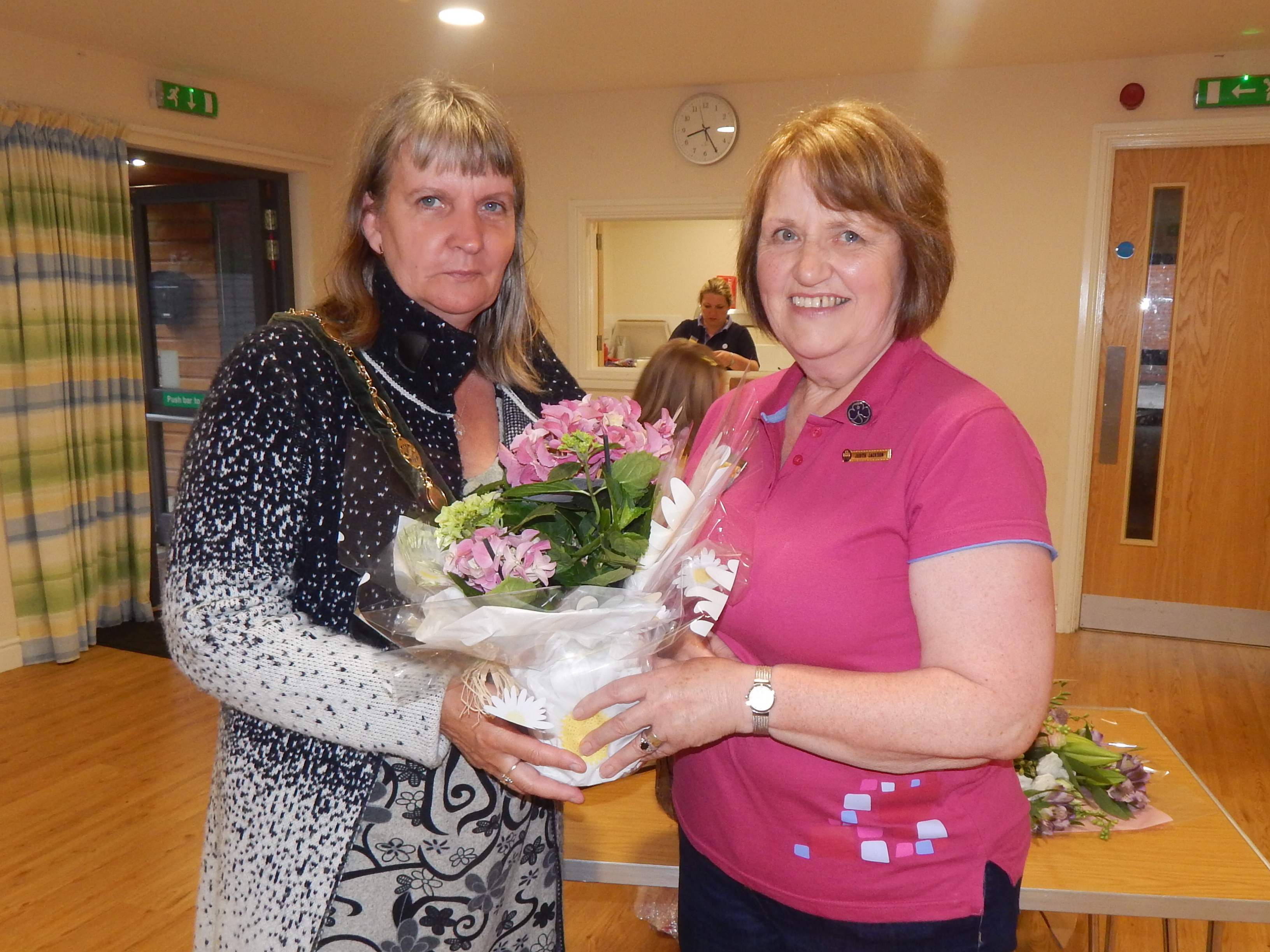 After an incredible 26 years as a volunteer with the girl guiding movement, Judith Jackson, aka Brown Owl, retired from her position as pack leader in July. At a special ceremony held in the Scout Hut, Shipston Brownies said farewell in style, before presenting Judith with thank you gifts.
Judith first started volunteering with brownies 26 years ago, taking on the role of Brown Owl when the then leader left. Since then, she has been responsible for organising a huge variety of activities for her pack and is very popular with brownies young and old. Judith is also a district commissioner for Shipston, Tysoe and Brailes and will continue in this role.
In 2009, Judith was awarded the County Commissioner award. Closer to home, Judith's contribution both to Brownies and other community groups was formally recognised with the awarding of the Anne Sankey Medal in 2013.
Judith leaves behind her a strong pack which will now be led by Lisa Mitchell and Nicola Davies. Both Lisa and Nicola, whose daughters attend Brownies, were keen to ensure the excellent work done by Judith over the years continues. Nicola was a member of Judith's first pack back in 1989 and said: "I have fond memories of those days so I'm honoured to be joining Lisa in taking over from her. Judith has done an amazing job, she's going to be a huge act to follow!"
Mayor, Jackie Warner, presented Judith with a thank you gift and said: "I was delighted to attend Judith's farewell presentation. It is clear how fond the girls are of Judith and she will be greatly missed."
Shipston Town Council paints the town to highlight dog fouling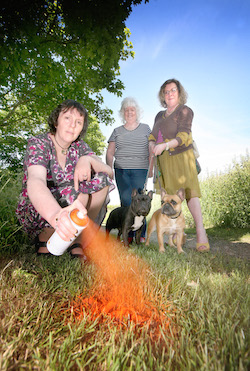 Councillors have adopted creative measures in an attempt to tackle the problem of dog mess being left on streets, footpaths and pavements.
Having researched successful campaigns across the country, councillors and volunteers are now spraying dog mess pink or orange to highlight the scale of the issue, in an attempt to shame owners to pick up after their pets. The neon paint is a biodegradable chalk-based paint that washes off in a few days.
With dog fouling being one of the most commonly reported problems in Shipston, the town council's General Purposes Working Group has been looking at a range of methods to help tackle the problem. Chair of the group, Fay Ivens, said "The vast majority of dog owners are responsible and pick up after their pets. Sadly, the minority are causing an unsightly and unhealthy problem for the rest of us which we're determined to tackle."
With mounds of mess often being spotted just yards from the nearest dog poo bin, councillors are hoping this colourful campaign will result in positive action. In addition, residents are being urged to name and shame those who are not clearing up after their dogs. If caught in the act, dog owners face an on the spot fine and can be prosecuted.
Mayor, Jackie Warner, said: "As a responsible dog owner myself, I cannot see any reason why people shouldn't clear up after their pets. Our Pink Poo campaign is highlighting just how much mess is left around town and I sincerely hope it will motivate people to be more considerate to their fellow residents."
As well as being unsightly, dog mess can pose significant health risks, particularly to toddlers. Dog mess should be bagged and binned in the nearest dog bin, although public bins can also be used.
Photo courtesy of Mark Williamson/Stratford Herald
Prepare to be hooked at this year's Fish n Frolics event
Shipston Angling Club is happy to announce the details of this year's combined Fish n Frolics festival and The Great Annual Duck Race.
Shipston's 3rd annual duck race will be held on 19th July at Shipston Bridge, with the first race starting at 2 pm. There are cash prizes in each race and all the proceeds will be split equally between Shipston Home Nursing and the angling club's 'Fish n Frolics' event.
The main event takes place from Friday 24th July to Sunday 26th July. Local club anglers from Shipston Angling Club will be trying to continue their 100% record in this competitive league series against some top anglers from different areas.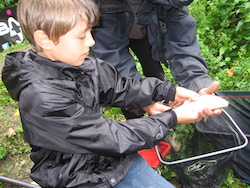 As part of the National Fishing Month, local Shakespeare Superteam angler, Tony Skinner, will be joining Stuart Fleming (the first winner of Fish n Frolics 2013) run Free Fishing Fun Days, where anyone young or old can try their hand at fishing. Licences, tackle and bait will be provided free of charge on the day.
As an extra bonus, professional fly fisherman Justin Connolly from Wales and three top fly instructors, will also be on hand to teach all there is to know about fly fishing, from casting to fly tying.
Live bands will provide a range of music across the three days, while other attractions include a Beer Festival with local ales and a Food Marquee with Spit Roast Lamb on Friday, Pig Roast on Saturday and Roast Beef on Sunday as well as burgers, hot dogs etc. Entry and parking is free.
For more details, check out the events calendar.
Free activities for kids at the Shipston X-Fest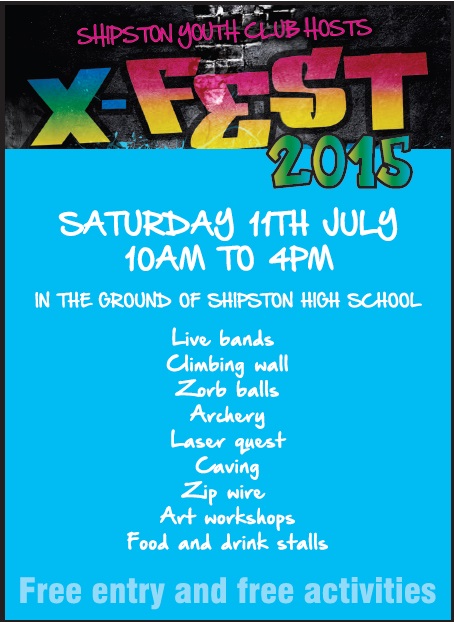 Shipston X-fest, the biennial event run by Shipston Youth Club, is set to provide another day of excitement and adventure for local children.
The X-Fest is a free event, featuring live bands throughout the day, a climbing wall, zorb balls, archery, laser quest, caving, a zip wire and art workshops. All activities are free, although there may be a few collecting tins around for those wanting to make donations to the youth club. Otherwise, all you have to pay for is food and drink, or just bring a picnic and keep your fingers crossed for a dry day.
This will be the fourth X-Fest for Shipston Youth Club, and will be held in the grounds of Shipston High School on Saturday 11th July, 10am to 4pm.
Don't miss this brilliant family event to raise awareness and support for Shipston Youth Club.
Shipston residents have their say on town council communications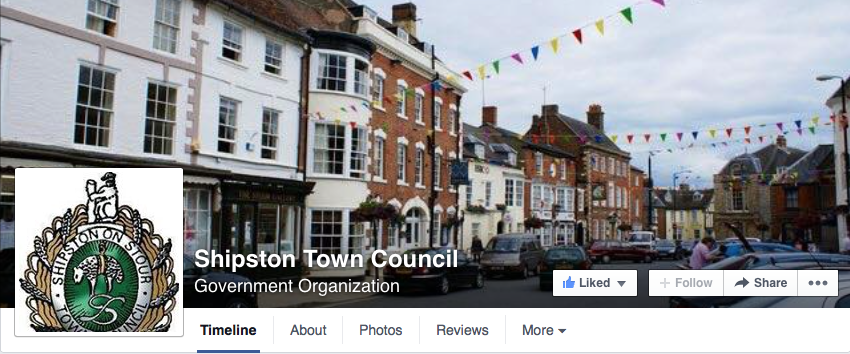 Residents have taken the opportunity to have their say on how the town council communicates via a survey published a couple of months ago.
Over 100 people responded to the survey, which asked people's views on the Shipston Forum, Shipstononline website, and the council's social media pages. Overall, people seem to be generally happy with the way the council communicates and there were some useful suggestions about what sort of thing residents would like to see more of in the future.
The headline results show that people like to access information in different ways, which supports having both a paper-based and online approach to communications. While 43% of respondents look at the website at least monthly, 17% never look at it. Social media is an increasingly popular way to find out more about council news, with more than half of the respondents regularly looking at the council's Facebook site and/or twitter feed and over 90% of people finding the information to be useful.
The Shipston Forum is well received, with 100% of respondents saying that they find it useful and almost three quarters of people wanting it to stay in its current format. Over 70% of respondents read at least two thirds of the magazine and the most popular pages are the news, Town Council news and medical centre updates.
The Communications Working Group is looking at the findings and suggestions in more detail, before making recommendations to the council in the next couple of months. In the meantime, a way forward has already been agreed for social media, with the Town Clerk updating Facebook and Twitter with planned events while two councillors will share responsibility for reactive or time-sensitive posts. If you spot something that you think residents should be aware of, please notify Peter White or Dan Scobie via email (see details on page 15).
To view the website and download electronic copies of the Shipston Forum, visit www.shipstononline.org. Find out the latest news from the town council on Facebook via www.facebook.com/shipston.council or on twitter @shipstononline.
Shipston WWI fallen remembered at new Garden of Remembrance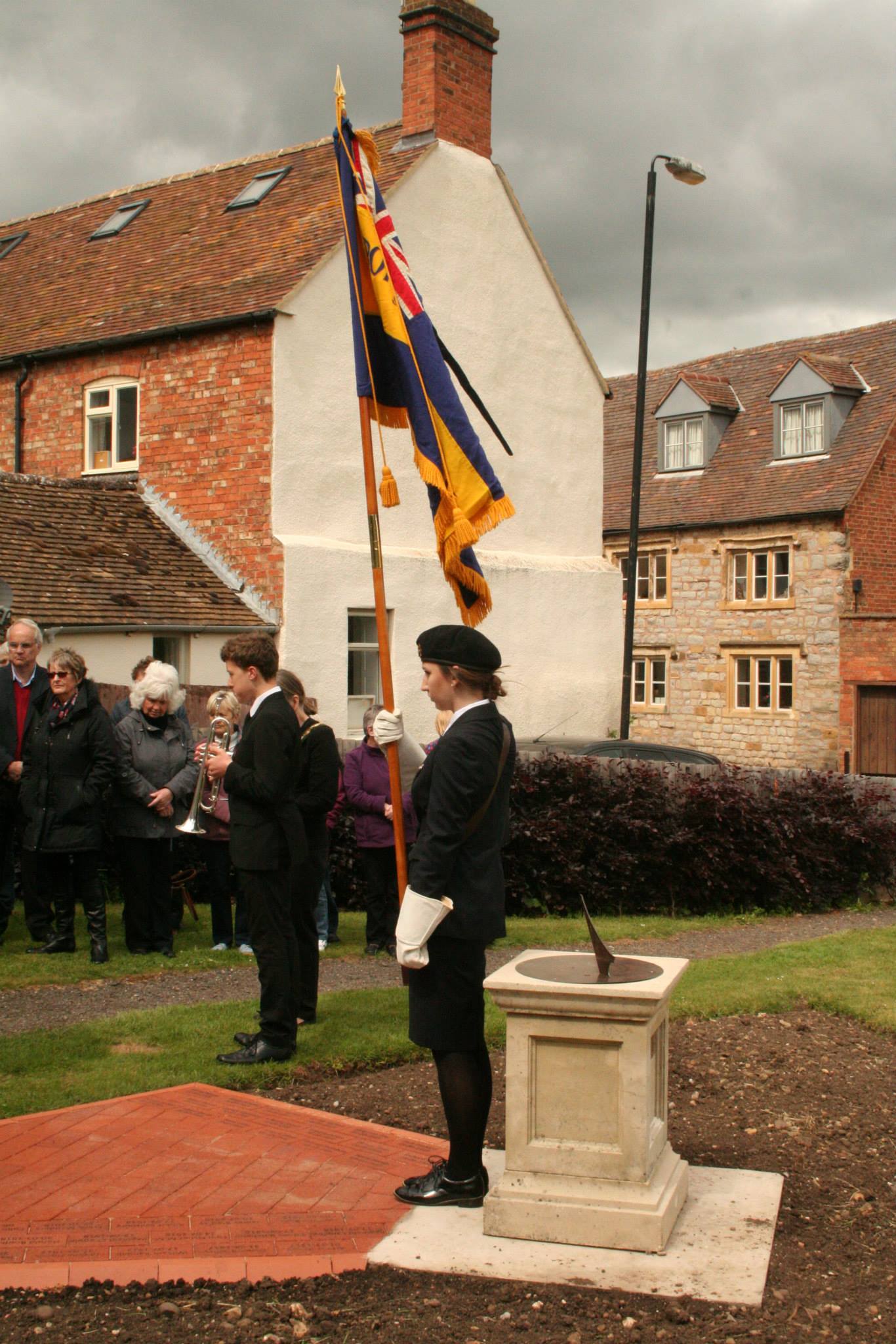 On Sunday 31 May, residents and guests gathered at the Gyratory Garden for a service of dedication to the men of Shipston who died during WW1.
The Gyratory Garden has been established as a Centenary Field, in recognition of the 100-year anniversary of WW1. As a permanent memorial to each of the 36 men from Shipston who fell, 36 pavers have been installed in front of the sundial, inscribed with their names and dates of death.
The service was organised by the Shipston Branch of the Royal British Legion and supported by residents and guests. The Last Post was played by Steven Nichols, the great great nephew of Archie Nichols, one of the Shipston men who fell.
Chairman, Richard Adams, said: "It is wonderful to see this new memorial installed in the heart of the town as part of the Centenary Field. We would like to thank all those who have generously supported this project, especially the Town Council and the Lions whose input has been exceptional."