July 2021
 Celebrating twelve years of service to Shipston Town Council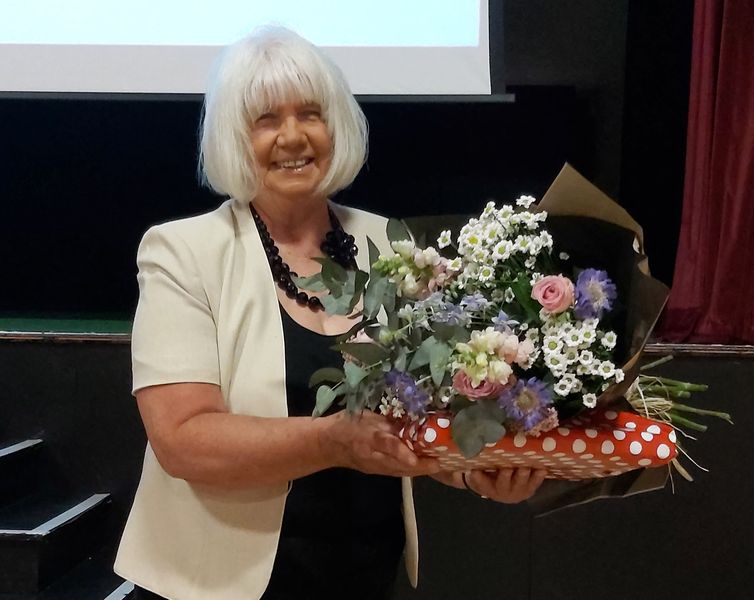 Fay Ivens retired as a Shipston Town Councillor in May this year. At the start of the Town Council meeting on 12 July, she was thanked by Councillors for her service.
Fay Ivens joined the council in October 2009, following her successful work as a member and Chairman of Shipston in Bloom for seven years. In 2008 she had secured the Britain in Bloom Heart of England Gold Award for the town and was recognised with the Ann Sankey Medal (now the Shipston Community Award).
Throughout her time on the Council, Fay was a passionate community campaigner;
Securing footsteps on the path going from Station Road up to the Tilemans Lane entrance to the Primary School, so that children had a safer way to walk to school.
Campaigning for flashing 30 mile an hour speed signs at the Stratford Road and London Road entrances to the Town.
Launching "Proud of my Town" in 2011, which saw the start of the monthly Litter Picks.
Overseeing several Dog Fouling campaigns, including new signs, spray painting dog poo with fluorescent paint, stencilling footpaths and installing a poo bag dispenser on Tilemans Lane.
She succeeded the late Alan Noyce as Chairman of General Purposes on his retirement and was integral in efforts to strengthen relationships with Allotment holders through the introduction of allotment reps and an Annual Meeting and Allotment Competition. Other major projects during her tenure included the installation of the pod at the Skate Park and a £45,000 renovation of Cemetery Lodge, during which she made sure the retired Sexton was able to stay on-site in a caravan.
Fay also became the Council representative on Shipston Youth Club, consequently becoming a Trustee.
In 2012/13, she served as Mayor during a time of huge change for the council, with the move to the former Police Station which was renamed as New Clark House. It was also the year of the Queens Diamond Jubilee, and she represented the town at a Service at Coventry Cathedral, conducted by the Archbishop of Canterbury and attended by HRH Princess Anne.
Thank you Fay for your incredible service to our town!
 Abigail Sheridan De Graaff – BEM award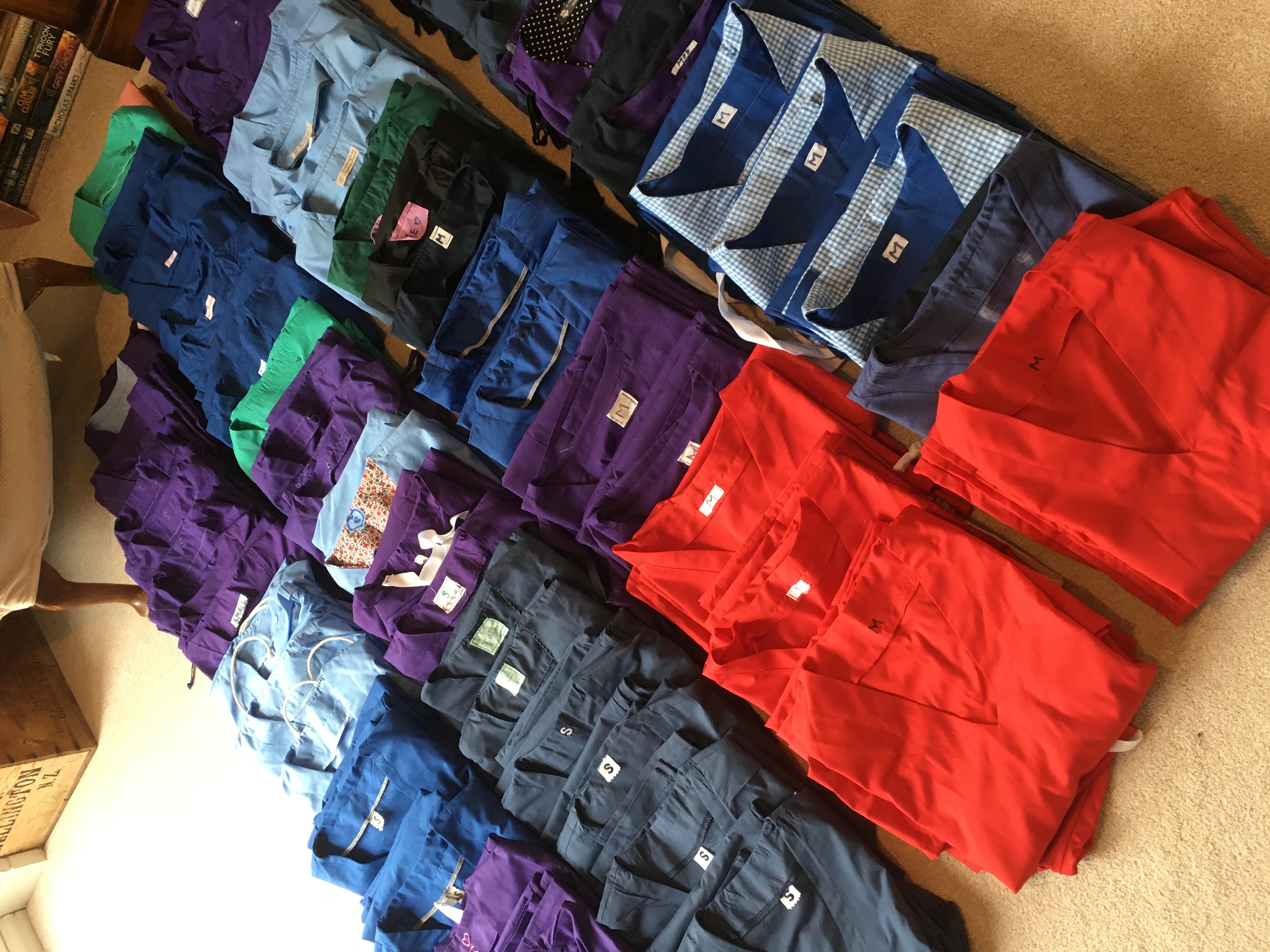 Local resident Abigail Sheridan de Graaff was awarded the British Empire Medal in the Queens' Birthday Honours in June for the part she played in setting up and running the Warwickshire Scrubbers, a group formed to make and deliver PPE to local healthcare settings. At the beginning of the pandemic there was a severe shortage of PPE and Abigail saw the need arise in her local area from the NHS Trust hospitals, GP surgeries and pharmacies to community health teams and care homes. From the initial fundraising, procuring fabric, distributing fabric and patterns, collecting in the items to delivering over 25,000 items across the county it took a whole army of people.
"There were, of course, hundreds of other people involved who all stood up to help in whatever way they could in the strangest of circumstances," said Abigail. "We all worked as a truly phenomenal team and it was an amazing thing to be part of. People who could sew made scrubs, headbands and laundry bags and those that couldn't, helped by driving, delivering, cutting patterns or even supplying food!"
At one stage there were over 360 dedicated scrub makers and nearly 1000 people in the group. The scrubs were made in lots of different fabrics. There was, of course, the standard polycotton but people delved deep into their laundry cupboards and no bedding was safe. There were scrubs made from vintage floral bedsheets, Winnie the Pooh and superheroes – the paediatric teams loved the bright and cheerful sets. Shipston and the surrounding area was particularly well supported and lots of people were making scrubs and other items across the region.
"It was great to be able to supply the local GP surgeries and Ellen Badger Hospital with scrubs, bags and headbands as required," she continued. "It's brilliant to know that a lot of these scrubs are still being used today, 15 months after being delivered. One of the nurses at my surgery received a pair of scrubs made from Liberty fabric which make me smile when I see her at work! The strange thing is that although I started out with the intention of making scrubs myself, sewing is therapy after all, I didn't make one set of scrubs because the coordination took all of my time!"
The British Empire Medal is a public recognition of meritorious civil service and Abigail will be presented with the medal at a ceremony later this year.
Could you help deliver the Forum?
Over a year has passed since the Shipston Forum was last delivered to every household in the town and sadly the planned Royal Mail distribution in July turned out to be unfeasible. Some parts of the town and surrounding villages received deliveries made by volunteers.
The Shipston Town Council Communications Working Group are now eager to speak to anyone who might be able to help with distribution on a commercial or voluntary basis. Groups or individuals offering to help would not necessarily need to commit to delivering the whole town and offers to deliver a couple of hundred households would be gratefully received.
Please contact Cllr Peter White if you might be able to help peter.white@shipstontowncouncil.org or 07792 507168
Local Charity Appeals For Support After A Difficult Year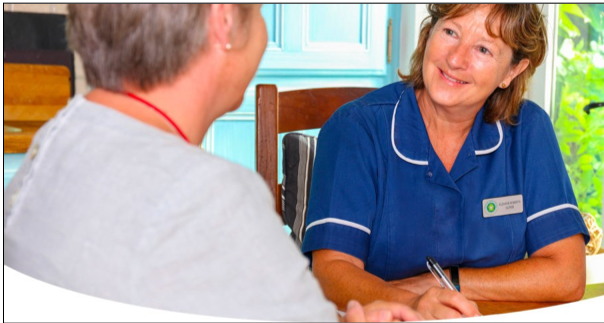 Local charity, Shipston Home Nursing, is appealing for support in anticipation of another difficult financial year. The impact of fewer fundraising events during the pandemic, and a limited calendar of events planned for this year, is taking its toll on the charity's income.
The Shipston based hospice at home charity, which cares for adults with incurable illnesses who wish to spend the last few weeks in the comfort of their own homes, provides free of charge nursing care for patients in Shipston, Wellesbourne, Kineton and the surrounding villages.
As the need for its hospice at home services continue to grow, there is concern that fewer community events and the associated goodwill generated by the members of the public attending the events, may reduce and put a strain on the charity's finances. In a normal year nearly 90% of the cost of the care provided is funded by donations and events. However, most of the planned events in 2020 were cancelled due to the pandemic and in 2021 there will only be a limited number of socially distanced events, which means the charity's forecasted income is significantly reduced.
Andrew Revell, Executive Director of Shipston Home Nursing, said: "Like so many other charities, 2020 was challenging, we have been both delighted and humbled by the generosity of our friends and local supporters, but we don't take this generosity for granted. We continue to nurse more patients, year on year, and have seen an increase in those wishing to die at home.
We are acutely aware that there are many other incredibly good causes. However, in this uncertain environment, with an increased demand for our services and reduced income, the charity needs to be to able plan with confidence to ensure that we can continue to care for everyone who needs us."
"We are therefore asking for our community's help by setting up a regular monthly donation to ensure that Shipston Home Nursing is sustainable for the foreseeable future. If you cannot manage a regular gift, even a small one-off donation will be very much appreciated."
If you would like to help, please visit: https://shipstonhomenursing.enthuse.com/profile where you can sign up for a monthly donation to Shipston Home Nursing.
War on Waste celebrates two years of action
It has been two years since the incredibly popular War on Waste Shipston Area group was launched on Facebook, which has now grown to a community of more than 2,500. Members of the group are committed to reducing waste sent to landfill and to encouraging greater re-use and redistribution rather than just recycling. People offer previously loved items for free collection daily and #WantedWednesday post provides an opportunity for people to make requests.
"It has been fantastic watching our sharing community grow," said Alison Packer, founder of the group. "In addition to freely giving away items that may have otherwise been destined for the bin, members do a fantastic job of sharing useful advice and handy tips to help each other reduce their impact on the environment. "
The Facebook group is open to anyone living in Shipston or the surrounding villages:
Shipston Area Flood Action Group Programme of Works
On 14th June, the Town Council unanimously approved amendments to the budget for Shipston Area Flood Action Group's (SAFAG) programme of works for the remainder of the year. Two further projects, amounting to £5,000 of work have now been fully scoped and agreement has been reached with the landowners. A total of £78,000 of expenditure is now planned in 2021, funded through £46,000 of Community Infrastructure Levy grants via Stratford on Avon District Council, £30,000 in grants from the Environment Agency and drawing £2,000 from an existing balance of £40,000.
All of the schemes delivered by SAFAG are reviewed by the relevant flood authority to ensure compliance with environmental and health and safety regulations. The adverse weather means that the programme of works is currently running a month behind schedule. Any work unable to be completed before October when conditions become unworkable will be rolled into the 2022 programme.