2017
Shipston Remembers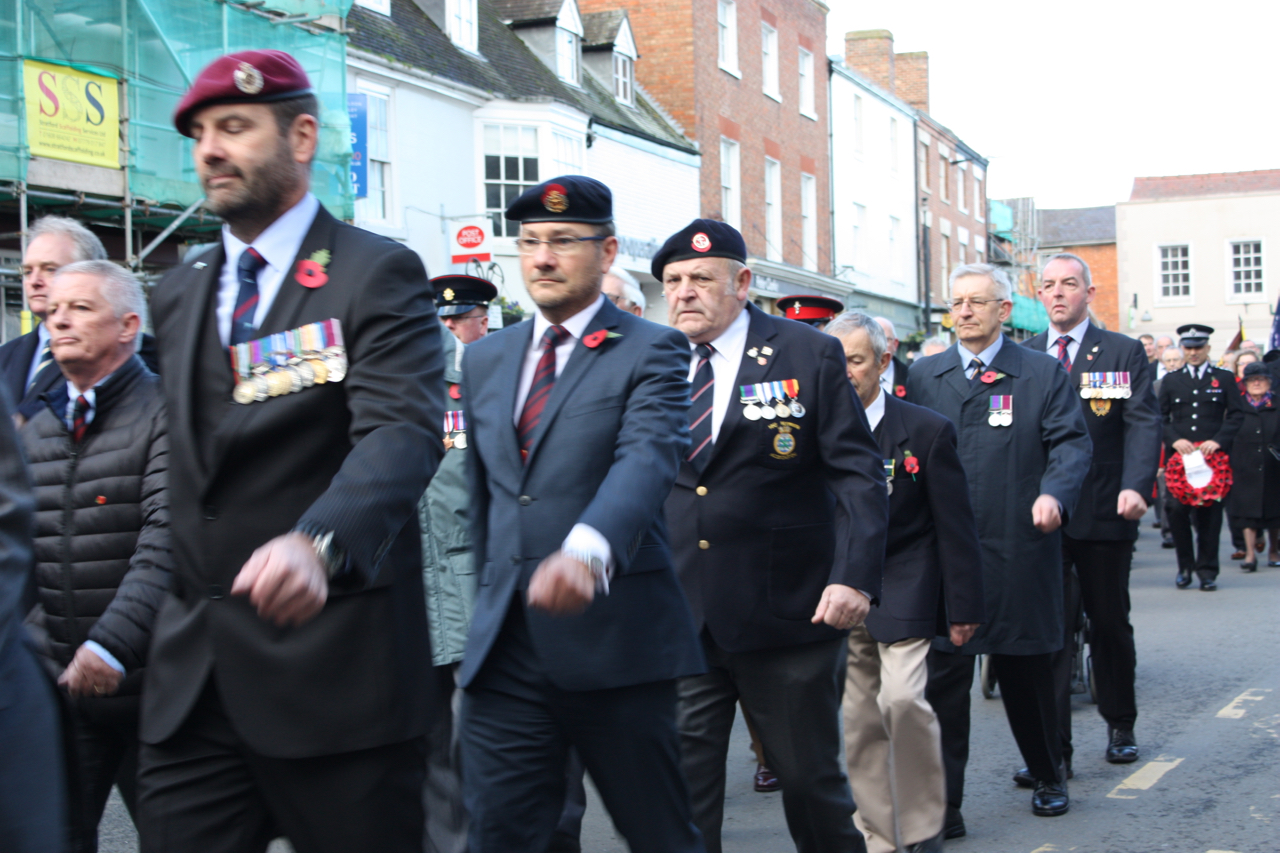 Shipston once again turned out in force to remember the fallen during Remembrance weekend.
On Armistice Day, 11th November, Shipston's town centre fell silent as shoppers and residents observed the two minutes' silence from 11am. The ceremony was organised by Richard Adams and the British Legion. The Last Post and Reveille was sounded by 10 year old Alec Banner (pictured), a member of Shipston Junior Band and Stour Concert Brass.
Remembrance Sunday was a sight to behold as representatives from many groups joined the Remembrance Parade from the High Street to St Edmund's Church.
As has been the case every year since the band reformed after the Second World War, members of Shipston Town Band and Stour Concert Brass led the procession. Under the baton of Charlie Cox, the band played the British Legion March.
The procession was headed by the British Legion and Shipston's Mayor along with local councillors and included Shipston High School representatives, Scouts, Guides, Cubs, Brownies Beavers and Rainbows plus local firefighters and the St John Ambulance.
A crowd six deep met the procession at the church and after wreaths were laid the parade moved inside for the service. Principal Cornet Luke Barker played the Last Post and Reveille and the band played Elgar's Nimrod during the collection.
After the service the band led the procession back to the square playing the 1914 March comprising a medley of songs from the Great War.
Town Mayor, Dan Scobie, said: "I was immensely proud to take part in such an impressive show of community spirit and respect for our service men and women. I was honoured to lay a wreath on behalf of the Town Council on Remembrance Sunday and would like to thank all those who took part in the parade, including Richard Adams, the Royal British Legion and Shipston Town Band, for making this event such a proud occasion for the town."
Shipston celebrates 20 years of the Rotary Victorian Evening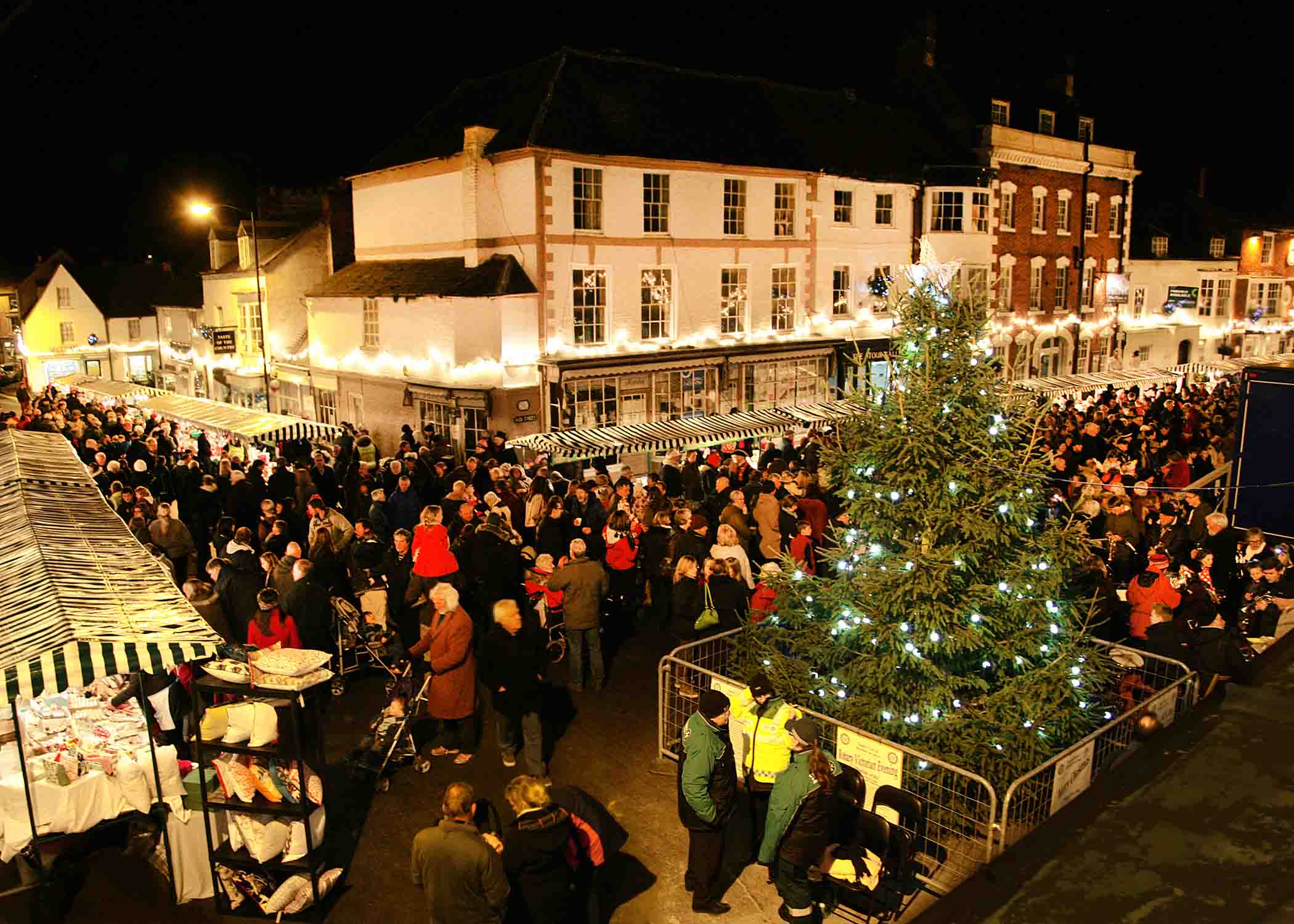 This year's Victorian Evening will be extra special as Shipston Rotary marks the event's 20th anniversary.
Taking place this year on Friday 1st December, the Victorian Evening is one of the most important and well loved events in the town's calendar. Officially heralding the start of Christmas in Shipston, the Victorian Evening is an event for all the family.
Festivities will begin with carol singing by local primary school children, followed by the switching on of the Rotary Tree of Life and town Christmas lights. The Tree of Life is a wonderful opportunity to remember lost loved ones, with each bulb sponsored in memory of someone missed, and proceeds going to charity.
To kick start the festive feeling, there will be over 40 stalls offering various festive treats and gifts. New for this year will be a German Market-style 'Sweet Station' selling traditional sweets, as well as specialist gift stalls, while lots of other favourites will also be returning. Many of the town's shops will be open throughout the event so it's the perfect opportunity to put a dent in your Christmas shopping list.
Attractions include music and entertainment, and of course Santa's Grotto, with Father Christmas himself due to make an appearance, supported by his loyal elves.
To keep you going through the evening, various stalls will be selling mulled wine and mince pies, while the Hog Roast will be back to keep hunger at bay.
Mayor, Dan Scobie, said: "Shipston's Victorian Evening is always a special night. For many of us, it's the official start of the festive season. Shipston Rotary does a fantastic job every year to organise a fun evening for everyone.
"I would like to congratulate Shipston Rotary on reaching their 20-year anniversary and I hope as many people as possible will support this extra special Victorian Evening."
Proceeds from the evening go to charity and other local good causes.
Shipston's draft Neighbourhood Plan is submitted to Stratford District Council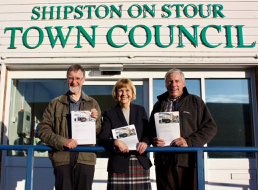 Shipston Town Council has formally submitted Shipston's draft Neighbourhood Plan to Stratford District Council for independent examination.
The draft Neighbourhood Plan has been developed by a team of community volunteers over the past four years, with support from Shipston Town Council. The wide-ranging plan covers the period from 2016 to 2031, and looks at a broad range of planning issues including housing, infrastructure, the environment and the local economy.
Commencing today, 2 November, Stratford District Council will run a final six-week consultation on Shipston's draft Neighbourhood Plan, before submitting it for independent examination to ensure the plan meets legal requirements. Assuming it withstands scrutiny, a final plan will be prepared, incorporating any required amendments. Shipston residents will then decide whether to adopt the plan via a local referendum.
Town Mayor, Dan Scobie, said: "Submitting Shipston's draft Neighbourbood Plan to Stratford District Council represents an important step in our journey towards having an adopted plan for Shipston, which will help guide future planning decisions in the town.
"On behalf of Shipston Town Council, I would like to sincerely thank the volunteers that have worked so hard to achieve this milestone - we are extremely grateful for their commitment to this vital project."
In response to public feedback, Shipston's draft plan has been developed to address:
Housing growth, including affordable housing
Improved infrastructure, particularly traffic management, parking and effective flood defences
Sustaining and conserving the vitality, usefulness, and heritage value of the town centre
Better social, welfare and sports facilities, including healthcare, schools, youth facilities, and meeting the needs of an ageing population
An improved environment promoting health, wellbeing and access to open spaces
Making the town more suited to local needs and ensuring those changes are sustainable.
To respond to Stratford District Council's consultation on the draft plan, please visit: https://www.snapsurveys.com/wh/s.asp?k=150953705801
Residents can view hard copies of the draft plan at New Clark House or Shipston Library. The plan is also available to download at www.shipstonnp.org.
Your town needs your help to tackle a foul problem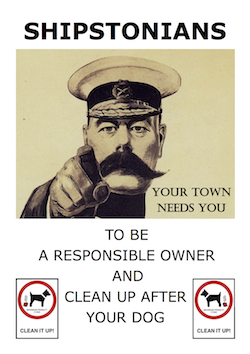 The amount of dog mess being left on pavements is on the increase as the nights are drawing in. Action is needed now to tackle the problem.
Volunteers are being sought to work together on a campaign to rid Shipston of this foul and unnecessary issue.
Mayor, Dan Scobie, said: "As a dog owner myself, I know how easy it is to clean up after your pet – there are no excuses."
The council is keen to get your input on how best to encourage people to pick up after their pet. Ideas already under discussion include volunteer dog wardens, creative publicity campaigns and naming and shaming repeat offenders. The town council is also looking into the possibility of empowering volunteers with issuing on the spot fines.
If you've had enough of watching where you walk, please contact the Town Clerk to find out how you can help be part of the solution.
For more information, please email clerk@shipstononline.org or call 01608 662180.
Shipston Town Council objects to retirement housing scheme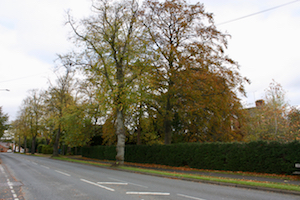 Shipston Town Council has opposed an application to build a new retirement housing scheme at South Lynn Gardens off London Road, citing a number of planning objections.
Churchill Retirement Homes is proposing to demolish the existing building on the 0.31-hectare site, and replace it with 33 retirement apartments, together with new vehicular access, communal facilities, car parking and landscaping. This represents approximately 42 new residents with an average age of 79 years.
The proposal suggests that 14 car parking spaces will be adequate based on similar schemes elsewhere, and cites good bus services and easy pedestrian access to the town and medical centre. However, councillors have identified a number of discrepancies in the proposal, as well as an optimistic view of the time taken to walk to local services.
The application has been met with vehement opposition from a number of local residents, many of whom attended the town council meeting to voice their concerns.
Shipston Town Council's objections include the dominating nature of the proposed building, inadequate car parking and associated impact, the lack of public transport to support this type of development, and inadequate access to the town. In addition, concerns have been raised about the additional load on the medical centre.
Town Mayor, Dan Scobie, said: "In our view, this proposal is completely inappropriate. The number of dwellings proposed for such a small site is a real concern, with the associated impact this will have on infrastructure and quality of living."
The town council has submitted a comprehensive objection which can be viewed on the district council's e-planning portal at www.stratford.gov.uk. However, councillors would like to remind residents of the importance of registering their own views on this and other planning proposals.
Councillor and member of the Planning Working Group, Martin Ferrier, said: "Whether you are for or against this or any other planning application, it is extremely important that you register your views directly via the Stratford District Council website to ensure the town's voice is heard."
Low Furlong marks official opening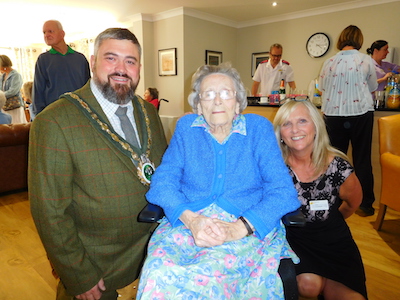 September saw the official opening of Low Furlong Care Home on Darlingscote Road. The brand new, purpose built 68 bed residential home replaces the original home which was demolished to make way for a more modern, privately-run facility.
The new Low Furlong, run by Runwood Homes Senior Living, offers support for a wide range of elderly care needs, including provision for those living with dementia. The building provides high quality accommodation, including quiet and 'retro' lounges, a central patio area and bedrooms with ensuite facilities. In addition to private accommodation, the home has a number of local authority-funded places.
Mayor, Dan Scobie, cut the ribbon to open the new home, accompanied by care home manager, Teresa Wilson, residents and guests.
The Mayor said: "I am very impressed with the facilities and positive atmosphere that is evident in this new home. Low Furlong has a long track record of providing care to elderly residents in Shipston and I'm delighted to see the home back up and running in its new guise."
Care home manager, Teresa Wilson, said: "We were really pleased to see so many people attending our opening and wishing our residents and our team well."
The residents of Low Furlong will continue to be supported by the League of Friends of Shipston Hospitals, many of whom have returned to the home having moved out temporarily while the building works were completed.
To find out more about Low Furlong, please call the manager on 01608 662005 or email manager.lowfurlong@runwoodhomes.co.uk.
High Sheriff visits Shipston Fire Station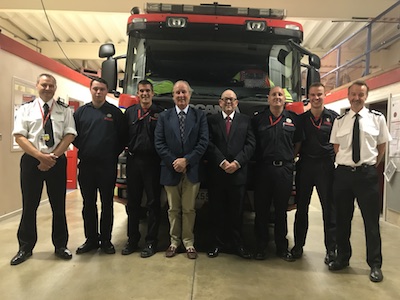 The High Sheriff of Warwickshire witnessed first-hand how firefighters manage serious road traffic collisions in August as part of a role-play exercise on his visit to Shipston Fire Station.
The High Sheriff, Mark Davies, was accompanied by Chief Fire Officer Andy Hickmott and Warwickshire County Council's Portfolio Holder for Community and Fire Safety, Councillor Howard Roberts for his visit, the first a High Sheriff has made to the station.
Mark has had historical family links with Warwickshire dating back over three hundred years, and has lived in Admington, near Shipston for the last twenty five years.
Talking about the visit, Chief Fire Officer Andy Hickmott said: "We would like to thank the High Sheriff for the time taken to visit the station and learn more about what Warwickshire Fire and Rescue Service is doing to keep the communities of Warwickshire safe. It was an opportunity for us to demonstrate what highly skilled personnel we have and how those skills are deployed."
Shipston Fire Station is manned by retained firefighters who work as an integral part of the county's fire service.
Mayor, Dan Scobie, said: "We were very pleased that the High Sheriff chose to visit Shipston Fire Station. We are enormously proud of the work our local firefighters do, not only in tackling fires and collisions, but in educating the public about fire prevention and supporting community events."
Dolls' House nets £1,500 for charity
The Dolls' House that went on sale to raise funds for Shipston Home Nursing has generated £1,500 for the charity.
The house, which caused much confusion when it was advertised on property sales website, Rightmove, was bought by Spitfire Bespoke Homes Ltd to appear in their show home in Barford.
SHN Fundraising Coordinator, Rebecca Mawle, said: "We are thrilled with the outcome of this unique house sale. Thank you to Michael Hawkins at Peter Clarke for his efforts in helping to raise such a fantastic sum."
Introducing the Shipston Museum
"I remember when all of this were fields.."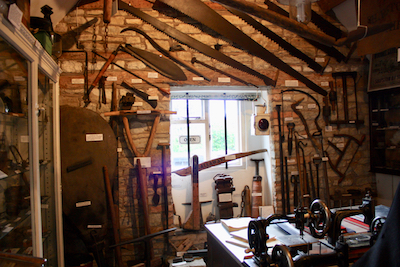 Have you ever wondered about the history of your home and the area you live in? Perhaps your house is where the engine sheds were when Shipston had a railway station? Or maybe you live on land which once saw its dweller dispatched to Australia having been caught stealing chickens? How many of the shops you now visit used to be pubs? And do you know which street used to be called Custard Lane?
All of these facts and many more can be uncovered during a trip to Shipston Museum, which is open to the public on weekend afternoons and by appointment. Curated primarily by History Society founder members, Mike Ashley and Dick Burge, what was the Ashley family games room is now a treasure trove of fascinating facts and finds from the local area.
From a patented 'safety milk bowl' invented in Shipston, to locally-found roman coins, not to mention countless posters, catalogues and newspaper articles, there is plenty to absorb your interest. One of the most popular draws is the comprehensive collection of photographs of Shipston's horse-drawn tramway and railway, which covers most of the Railway Crescent and Tilemans Lane area. The posters offer a fascinating insight into events of the past. The Flower Show poster (pictured top right, with curator, Mike Ashley), promises a live pig to the bowling winner, as well as promoting an 'ankle and shingle' competition and hat trimming for men!
Shipston Museum is very keen to encourage an interest in history among children and already works with the primary school to help bring local history to life. Mike Ashley said: "One of the most rewarding aspects of curating our museum are the times when young children come in and, with a bit of detective work, we're able to find a picture of their great, great grandfather driving a train or similar. The look on their faces is one of pure joy and it's wonderful to play a part in uncovering their family history."
Changing faces in Shipston Town Centre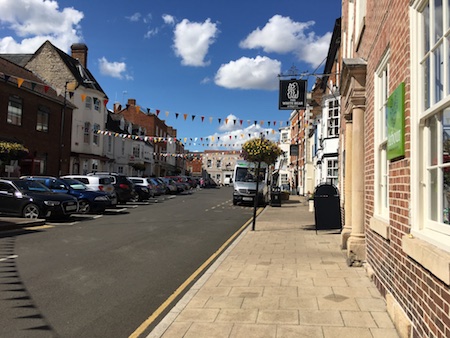 Shipston Town Centre has seen a fair number of changes in recent months, with many new businesses opening as well as some moving on.
Sadly, Rightons Butchers in Sheep Street has now closed. On a positive note, however, Brian Gardner has joined Taylors Butchers, who will be selling lamb from Brian's Tysoe farm.
Elsewhere in the town, new shops and eateries are becoming established. Two shops have opened in the Granville Court arcade, selling ladies wear and home and garden goods, while El Cafe has moved to Sheldons, expanding its menu and opening hours in the process. Following a short period of closure, The Bower House restaurant will soon re-open under the stewardship of a new chef, while the Coach & Horses has launched a new menu, offering authentic pub food. A new kitchen showroom also opened in Sheep Street earlier this year.
Mayor, Dan Scobie, said: "It's always sad to see an established business close and it's a reminder of just how important it is for us to support local shops where we can. Fortunately, we've also seen new retailers opening in the town, adding to our vibrant Totally Locally business community. We wish them all every success."
£2 Million investment in Shipston High School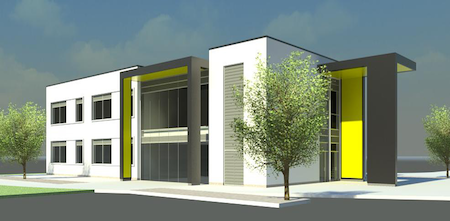 Shipston High School has been a hive of activity throughout the summer holidays as work began on the next phase of the school's expansion.
A two-storey block, featuring nine new classrooms, office space and an improved reception area is currently under construction at the top of the drive, making reception much more visible for visitors. The block will stand alone, adjacent to the existing building, and has been designed to allow staff and students to move around the site safely and easily.
This development, which follows the initial extension completed in 2015, will enable Shipston High School to offer a more contemporary environment to existing students, and provide the space needed to accommodate the recent rise in its pupil admission numbers to 120 pupils in each year group from 2017.

Warwickshire County Council provided a grant of approximately £2 million to fund the new building, in recognition of the need to invest in additional capacity at the school. The build is likely to take about eight months, with a full timetable of lessons expected to be held in the building from September 2018.
Headteacher, Gavin Saunders, said: "We are extremely fortunate to have this new block at Shipston High; in the current climate, this is rare. We are ambitious to ensure we keep developing the school for present and future students, and I am keen to consider how we can further enhance our sports facilities for the school and local community. Ideas and initial plans are already under consideration and we really appreciate the community's interest.
"Coincidently, 2018 is the school's 60th anniversary, so an appropriate time for our next phase to open. We look forward to celebrating our heritage and our future in 2018." Mr Saunders added.
Mayor, Dan Scobie, said: "It is extremely encouraging to see this level of investment in Shipston High School. I would like to congratulate all the staff and pupils for their contribution to making the school such a success story for the town. I look forward to seeing the new building take shape."
Xfest pulls in the crowds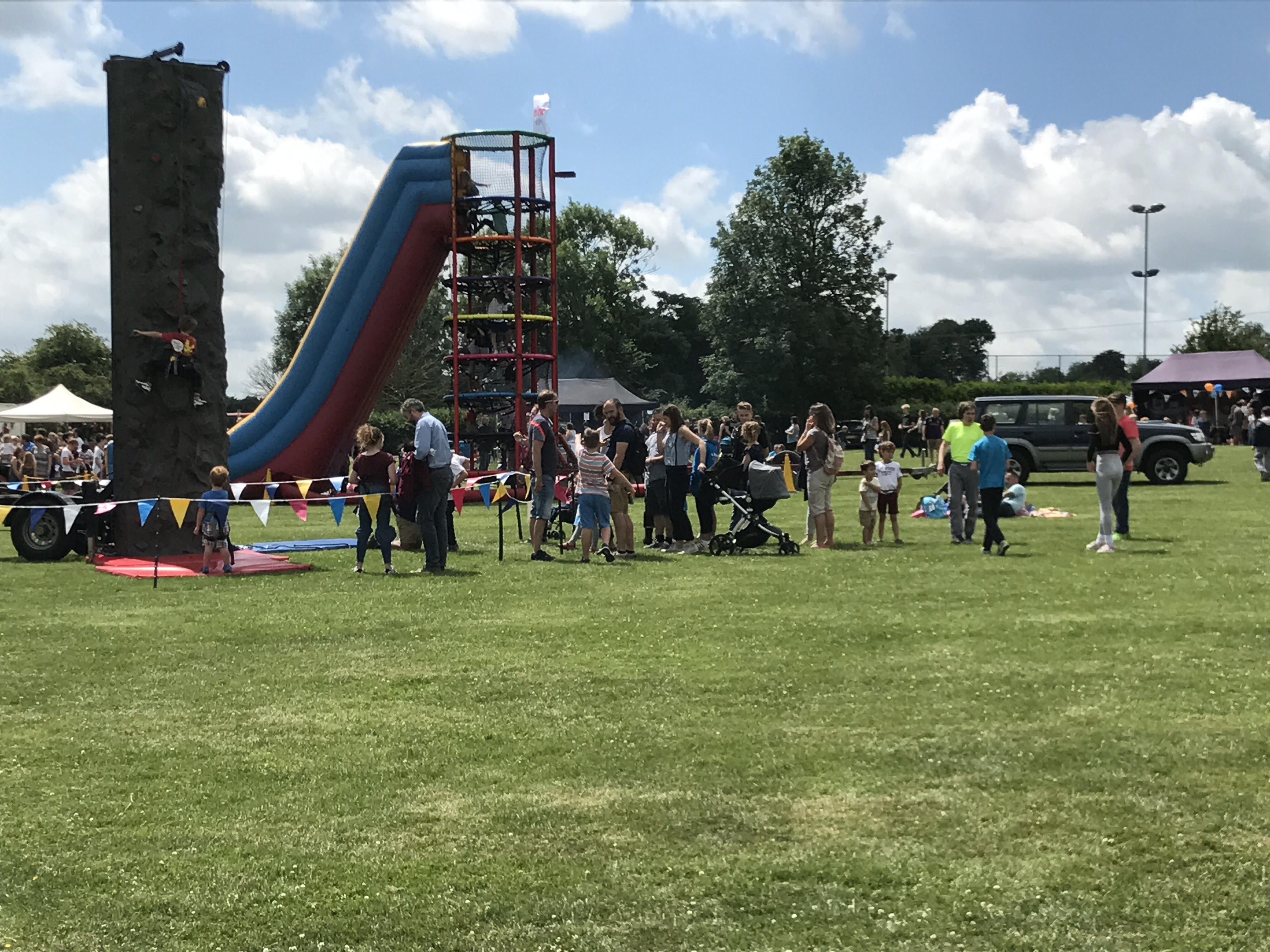 Saturday 24th June saw crowds flocking to Shipston High School playing fields to enjoy a host of free activities in this year's 'Xfest' event. 1000 people registered on arrival making it the biggest 'Xfest' event so far.
Organised by Shipston Youth Club, it is run every two years and has become a popular fixture in Shipston's calendar. Queues formed from the start of the day for the opportunity to climb 'Spider Mountain', have a go at Zorb ball walking, navigate on a Segway or scale a climbing wall. Several young local musicians provided the crowds with music for the day and the burger stall ran out of burgers and raised over £1,500 towards the cost of the event in the process.
A new focus this year were activities for younger families and, among the other attractions, face painting, balloon modelling and the bouncy castle proved a hit.
Daniel Pulham, chair of the Youth Club Management Committee, said "It is so encouraging to see yet another community event taking root in Shipston. After so many people have put in so much work to make this possible it was fantastic to see so many coming along and enjoying themselves'.
"The great thing about Xfest is that all the activities are free and that makes it possible for all to enjoy and join in. It would not have been possible without the help of an organising team from Shipston's Baptist Church and we have once again benefited from grants from both the Town Council and the County Council to which the 1000 strong crowd owe a huge thank you!"
Shipston Rocks throughout the 2017 Proms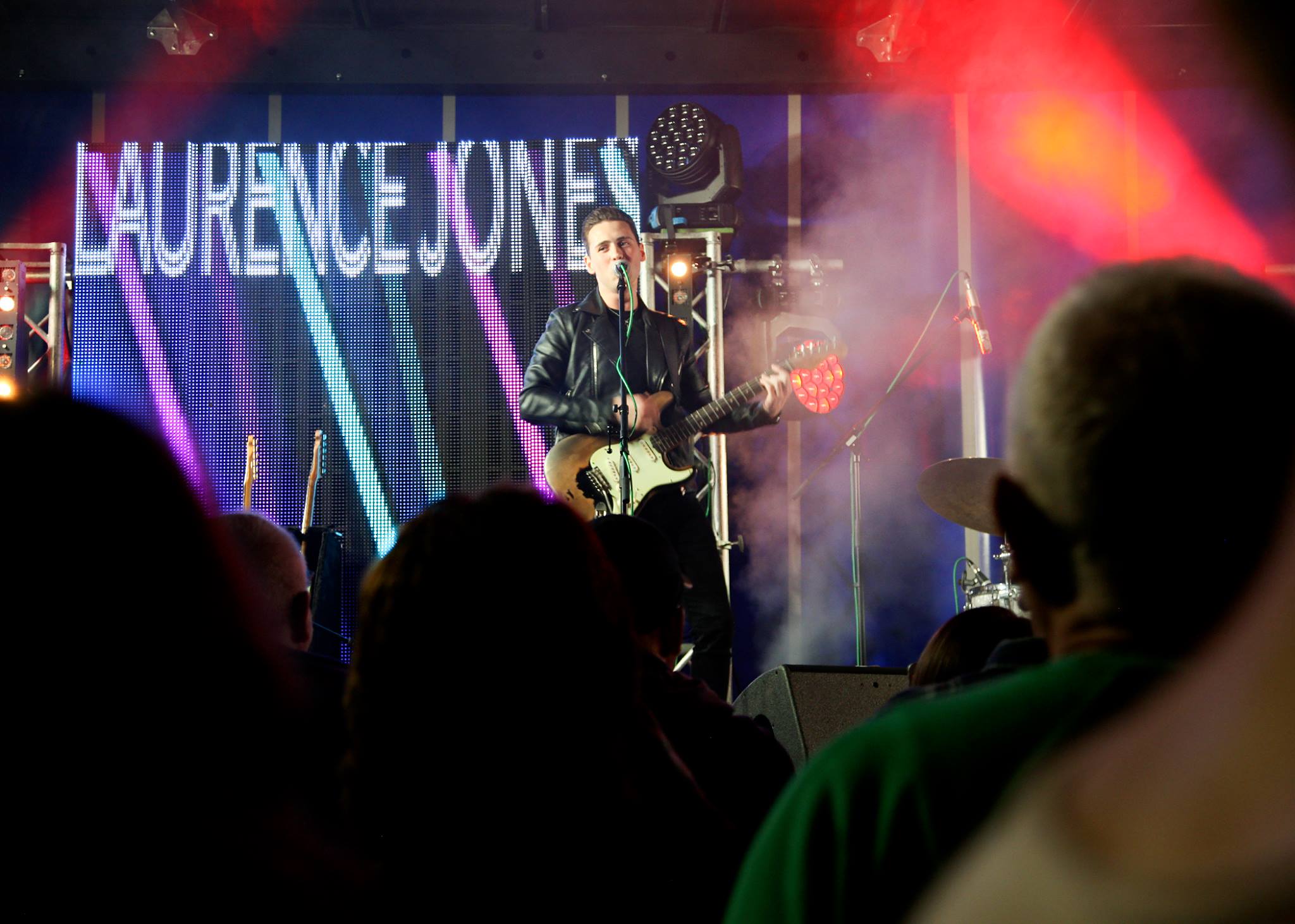 Shipston laid on another feast for music fans during this year's Proms fortnight.
The packed schedule of events offered something for everyone, from rock and roll fans to those with a more orchestral interest - and everything in between.
The Proms launched in spectacular style with tribute band, Abba Inferno, and Oxford-based, Vinyl Daze, playing to a packed Townsend Hall.
The Fame Contest followed, with On Crash Sunday (band), Greg Brice (solo), and Molly Hurwood (solo) winning their categories. As part of their win, they were all given a spot performing live on stage at the Last Night of the Proms.
Across the fortnight, a vast range of venues including cafes, pubs, churches, and parks hosted a wide variety of performances. In true Shipston Proms style, the aim was to make the events as accessible as possible. Many were free to attend.
The event culminated in the Last Night of the Proms, headlined by Shipston's own Laurence Jones who was delighted to perform for his 'home crowd'. Laurence commented: "Thank you so much for all the support you have given me over the years, from playing classical guitar concerts around the town, for winning the talent competition when I was 14, coming out to support my first ever band shows in the pubs, packing out the Townsend hall for my album launch night 2016, and finally for rocking out with us to headline the Shipston Proms."
Popular bands, Too Fat to Kidnap and Jupitronz, also performed, alongside the fame contest winners.
Mayor, Dan Scobie, said: "We are extremely fortunate to have such a wonderful musical fortnight in Shipston, organised entirely by volunteers. Thank you to all those involved."
To be a sponsor or 'Friend of The Proms' for next year's 20th Anniversary contact the organisers via: www.shipstonproms.org
Photo by Charlotte Wright
Lions Bookshop to close unless new premises can be found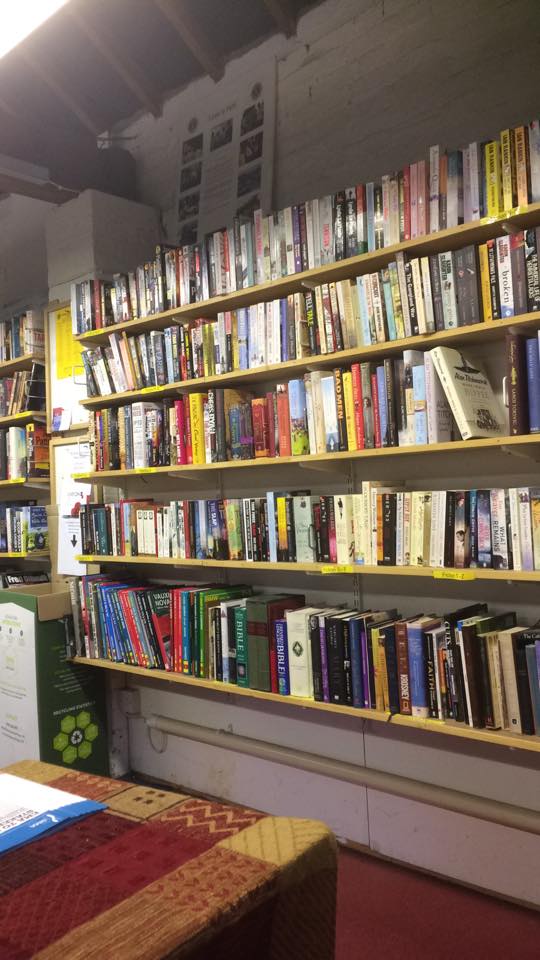 The Stour Valley Lions nearly new bookshop, which has served as Shipston's only book store for over ten years, is set to close in September. The landlord of the Coach House needs the building for other purposes, prompting the bookshop's closure.
Lions are now urgently seeking alternative premises in the town in order to keep a bookshop in Shipston. As well as providing a fantastic source of reading material for residents, profits from sales of the books are donated to Lions charities. In recent years, this has amounted to approximately £7,500 per annum.
Thanks to generous donations, the Lions bookshop has grown from a stock of just a few fiction books, to a selection of around 2,000. In addition to paper and hardback fiction books, the store also offers a range of non fiction, hobby and special interest literature as well as children's books. In addition to the Shipston store, the Lions also sell books online via Amazon.
David Squires from Stour Valley Lions, said: "We are very sad indeed at the prospect of losing our bookstore as it will impact so many residents as well as the charities we support. We strongly urge anyone who knows of any premises available in the town that might be suitable to come forward as soon as possible.
"We have been offered the opportunity of a few shelves in the new tourist information centre but we really need a larger building to be able to continue the diverse range our residents have become used to." David added.
Anyone with suggestions for possible locations should contact Lion David Squires urgently by email on ds@pinnegards.com.
The Lions would like to record their thanks to the landlord of the Coach House for allowing the bookstore to remain on the site up to now.
Ten years on from the fearsome floods of 2007
Ten years ago this month - on Friday 20th July 2007 to be precise - Shipston and many surrounding villages suffered the worst flooding ever recorded. The River Stour reached a level of 5.22m, and while the flooding was over within 12 hours, it left devastation in its wake. Approximately 130 homes and businesses were affected, as well as roads and other infrastructure.
Looking back, the then Mayor, Alan Noyce, said: "That day, and its aftermath, was traumatic for a lot of people. While the town council did all it could to help, I'm extremely grateful to the community for how they responded. A lot of people gave a lot of time to help friends and neighbours get back on their feet."
Since that day, much has been done to reduce the likelihood and impact of flooding, while contingency and emergency plans have been improved to ensure help is available when needed.
Councillor Fay Ivens leads the Emergency Response Team. "Following the 2007 floods, the town council's Emergency Plan has been completely revamped. When flooding is imminent, our contractors actively monitor river levels, distribute sandbags and offer reassurance to residents affected. In addition, we have a pool of people we can call on to move furniture should properties be affected in future. We also have a number of emergency centres we can call on to provide temporary accommodation, should that ever be necessary. To my knowledge only one property in, the town has been flooded since 2007."
Many other initiatives were progressed following the 2007 floods, including a flood fair to raise awareness of prevention measures, with Stratford District Council providing grants to some homeowners to help fund equipment. However, the most significant progress made to reduce flood risk has been the creation of the Shipston Area Flood Action Group (SAFAG) in 2014.
SAFAG has already completed property surveys, the publication of an Emergency Advice booklet for residents and a Town Flood Resilience Plan. Regular meetings with the major agencies have resulted in the clearance, repair and replacement of damaged road drains and a more frequent maintenance programme. Severn Trent Water has upgraded the capacity of the pumps at Newbold pumping station and undertakes more regular inspections.
SAFAG meets housing developers to agree schemes which minimise water run-off and is developing natural flood management schemes to reduce the frequency and impact of future flooding. Natural flood defences are more ecologically friendly, can help to reduce sediment and phosphate run off leading to improved water quality and the creation of wildlife habitats. They are also more cost effective and can be implemented in stages which is useful for funding purposes.
Len Grey, SAFAG member, said: "Our progress is attracting interest from senior members of government organisations. We have just hosted the Executive Director of the Environment Agency, who spent an afternoon understanding our progress and visiting our first natural flood management site. Close interest at this level will hopefully lead to greater practical and financial support."
Mayor, Dan Scobie, said: "I am extremely proud of our town – not only for the courageous way residents and businesses coped with the devastating floods in 2007, but for the way in which volunteers have sought ways to minimise flood risk in the future. I would particularly like to congratulate SAFAG on their achievements to date."
Proms creator, Tim Porter, wins Shipston Award
Tim Porter, the creative genius behind the Shipston Proms, was the worthy winner of the 2017 Shipston Award for community service.
Tim was nominated for the award in recognition of nearly twenty years devoted to promoting music across the town and local villages. Not only has Tim been the driving force behind the Proms, but he chaired the organising committee until 2015 and continues to be actively involved even now. With support from his musically talented family, Tim has helped ensure the Proms has always been an inclusive event, catering for a broad range of music tastes.
On presenting the award, former Mayor, Ronnie Murphy, said: "On behalf of fellow councillors and the town, I sincerely thank Tim for his boundless enthusiasm for the Shipston Proms. His energy and vision has made the event the success it is today."
Tim, who was in the US on a music tour at the time of the presentation, said: "I'd like to thank everybody for the Award. It's much appreciated, but obviously I couldn't have achieved so much without the help of so many people over the years. I'm particularly looking forward to the 20th Shipston Proms next year, and hoping that we can commemorate the occasion with something extra special."
Following the judging process, Shipston Town Councillors also wanted to congratulate fellow nominees, Tessa Hince, Danni Mooney and Hayley Ash, who were responsible for Shipston's first Community Christmas Lunch.
"We are very aware of how much work these ladies put in to making Christmas a wonderful experience for those who would otherwise have been alone. We would like to thank them for their hard work – they came a very close second when it came to deciding who should win the award." Ronnie added.
The Shipston Award is presented by the Town Council every year in recognition of an individual's voluntary contribution to the community.
Shipston Wool Fair hailed a great success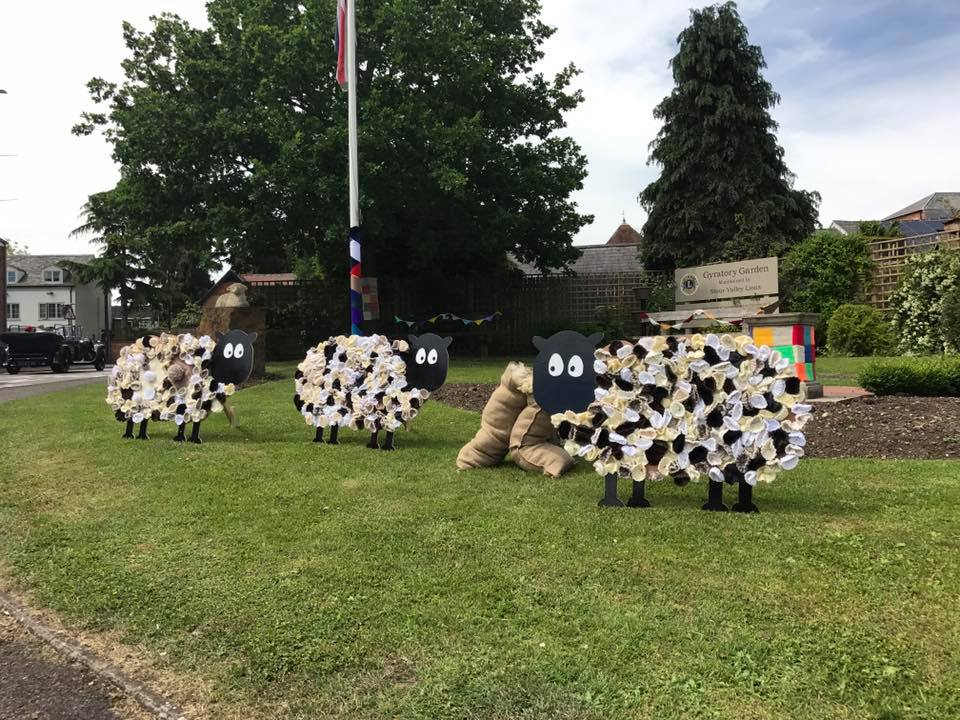 The 2017 Shipston Wool Fair Weekend has been hailed a tremendous success – despite some challenging weather at times.
Thanks to Shipston's first ever 'yarn-bombing', the visual impact of the wool fair was more striking than ever, with fantastic knitting adorning the main entrances to the town as well as trees, benches, and signposts in the centre. Among the favourites were the giant sheep on the gyratory, the maypole on London Road and the bicycle outside the Horseshoe Pub. But perhaps the most photographed display was 'Pedro' who was spotted quietly reading a copy of the Shipston Forum in the town centre, much to the delight of residents and visitors.
The Totally Locally Fair attracted a wide variety of craftspeople on the Saturday, with many people buying unique treats and gifts to take home. The Community Songs of Praise on the Sunday attracted a large audience. The free event was an opportunity for local community groups and individuals to perform music, songs and readings to the delight of all who attended. The collection was split between St Edmund's Church and Shipston Rotary's charity for the occasion – the fund to help those affected by the recent tragic event in Manchester.
Finally, the Wool Fair itself attracted crowds of people who came to marvel at the sheep shearing, take part in all the fun and games and enjoy the music. There were plenty of ice creams being sold despite the gloomy weather and the atmosphere was buzzing all day long.
Mayor, Dan Scobie, said: "I would like to congratulate all those who worked so hard to make the Wool Fair Weekend another great success. The yarn bombing really caught people's imagination and it was lovely to see the town looking so colourful."
Shipston Town Council elects new Mayor and Deputy Mayor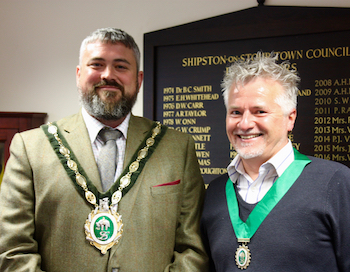 Shipston Town Council elected Dan Scobie as the new Town Mayor at its Annual General Meeting in May. Councillors also appointed Councillor Ian Cooper as Deputy Mayor for the year ahead.
Dan is no stranger to demanding roles, having established and run the Shipston Food Festival for four years, and taken on the role of Chairman of Shipston Rugby Club in 2016.
In his first role as Mayor, Dan Scobie led heartfelt thanks to Ronnie Murphy, who has now served two terms as Shipston Town Mayor. He said: "It is important that we recognise the level of dedication Ronnie has shown to our town. She has worked very hard for Shipston and has always been prepared to put herself out to ensure the smooth running of the town council.
"I would also like to congratulate Ian Cooper on his appointment as deputy and look forward to a busy year ahead. "
Ronnie Murphy thanked all town councillors for supporting her during both her terms in office, and gave special thanks to Georgina and Jayne for their guidance and help, as well as to consort, chauffeur and listener, Aubrey Brookhouse.
Shipston set to sing for health thanks to a new group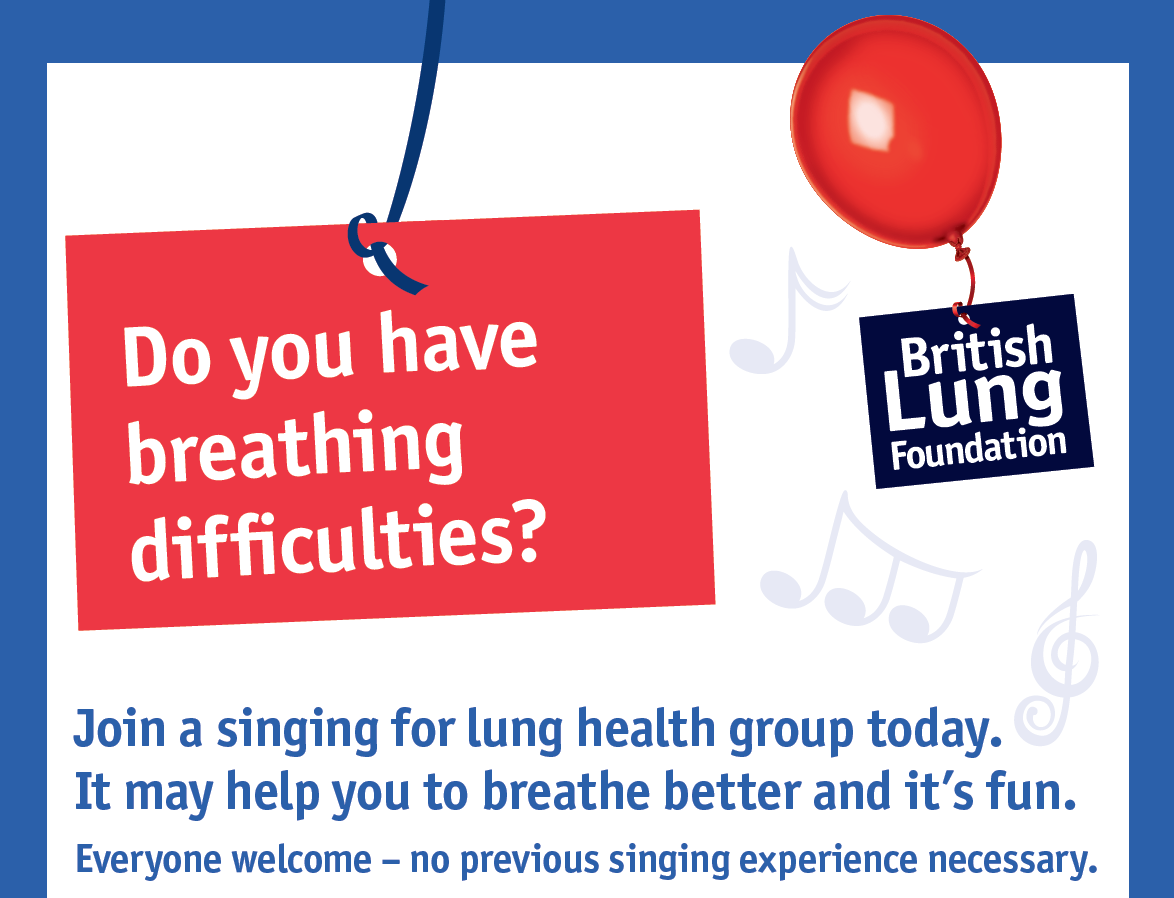 Do you have breathing difficulties? Then Shipston's newest group could help.
With support from the British Lung Foundation, community choir leader, Rose Smith, has launched a new 'singing for lung health' group. Meeting on Wednesday mornings at 11am in the Scout Hut, the group is ideal for people who have asthma, chronic obstructive pulmonary disease (COPD) or other breathing issues, but everyone is welcome to attend.
Rose said: "The benefits of singing on breathing and health in general are well documented. This new group is about people getting together in a relaxed informal setting and enjoying singing together. You don't need a great singing voice - all ages and abilities are welcome to join in the fun."
To find out more, contact Rose on 07905 884151.
Book your place at the Tour d'Ilmington - 2nd July 2017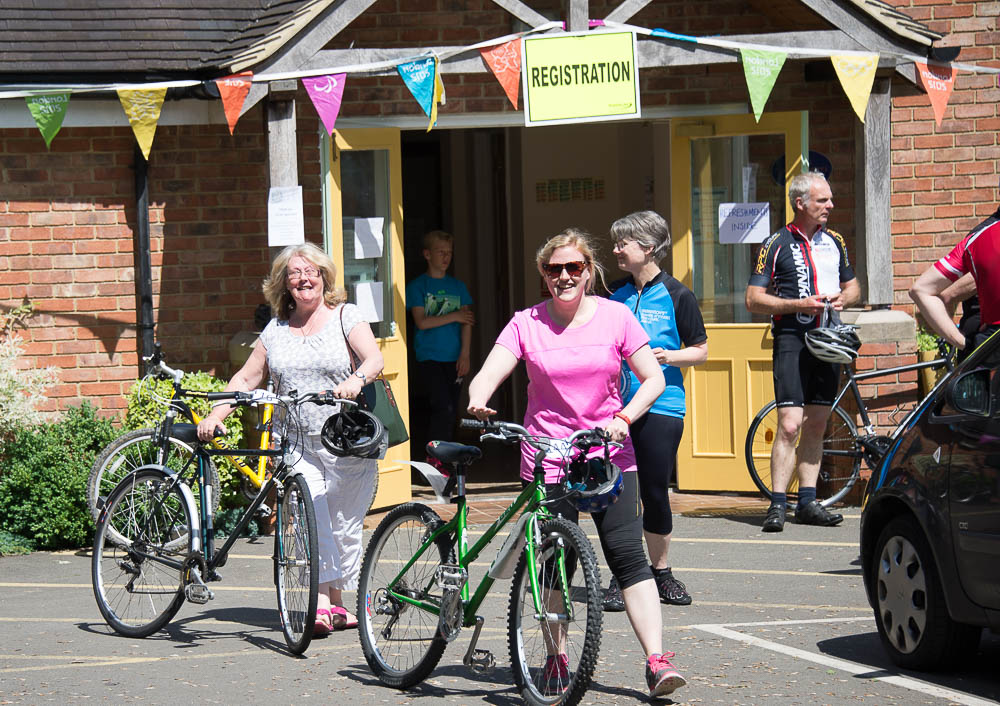 Places can now be booked for the Tour d'Ilmington on 2nd July 2017 – the David Lockwood memorial bike ride.
The name reflects the ride's location and that it is held on the second day of the rather better known Tour de France! This local event is a unique blend of two rides. One consists of a 'flat'/family course of 10 miles with a feed station half way. The other is a 'hilly' course for the more experienced cyclists which is over 30 miles of the most undulating roads in the area.
There will be a wide range of high quality refreshments available at Newbold village hall throughout the event.
Last year almost 200 riders took part and the event raised £5,000 for Rotary charities and good causes including Parkinson's UK. Riders and their families can also use the event to raise money for their own particular charity or good cause. For more information, see the ad on page 16.
Shipston High defies the odds to reach the Rotary Youth Speaks Final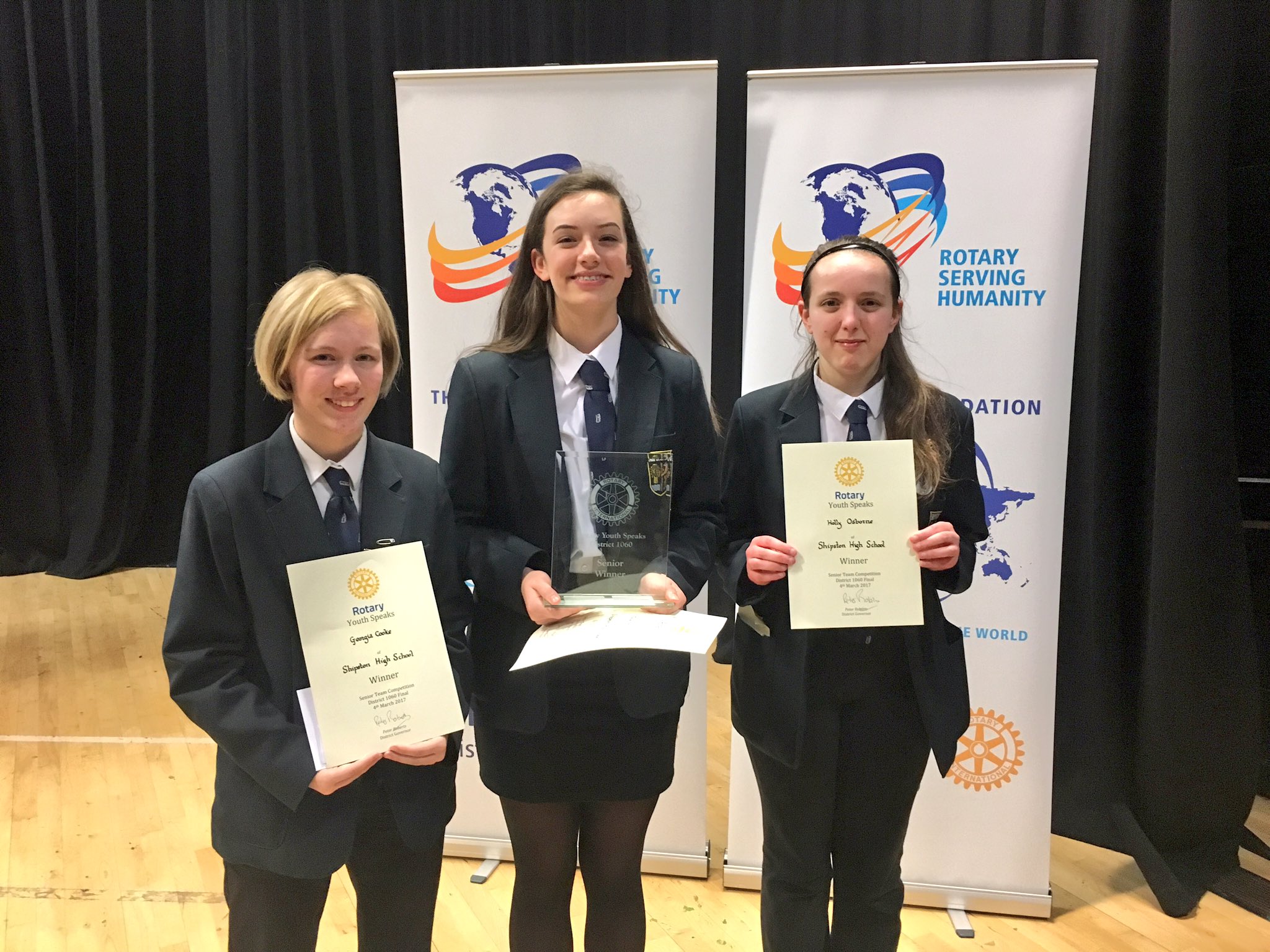 On 7th May, Shipston High will represent the whole of the West Midlands, Wales and the South East of England in the Rotary Youth Speaks Final in Telford.
The magnitude of the team's success needs to be contextualised to demonstrate how well Millie Bryan, Georgia Cooke and Holly Osborne have done in getting this far. Shipston High School has less than 500 students and yet this team has beaten far larger schools. The high school's team is drawn totally from Year 10, meaning these students are only 15 years old; the competition they are in contains many teams from sixth forms with some students who are well on their way to being 19. Finally, they have achieved their success by already winning in three rounds, culminating in their stunning victory at Abergavenny on 1st April, when they saw off two very prestigious public schools to book their place in the final.
Do you remember the euphoria last May when little Leicester City, at 5000 to 1, went on to win the English Premier League title? Is Shipston High School the Leicester City of public speaking? We certainly hope so. Good luck Shipston High!
Shipston set to transform into a Woolly Wonderland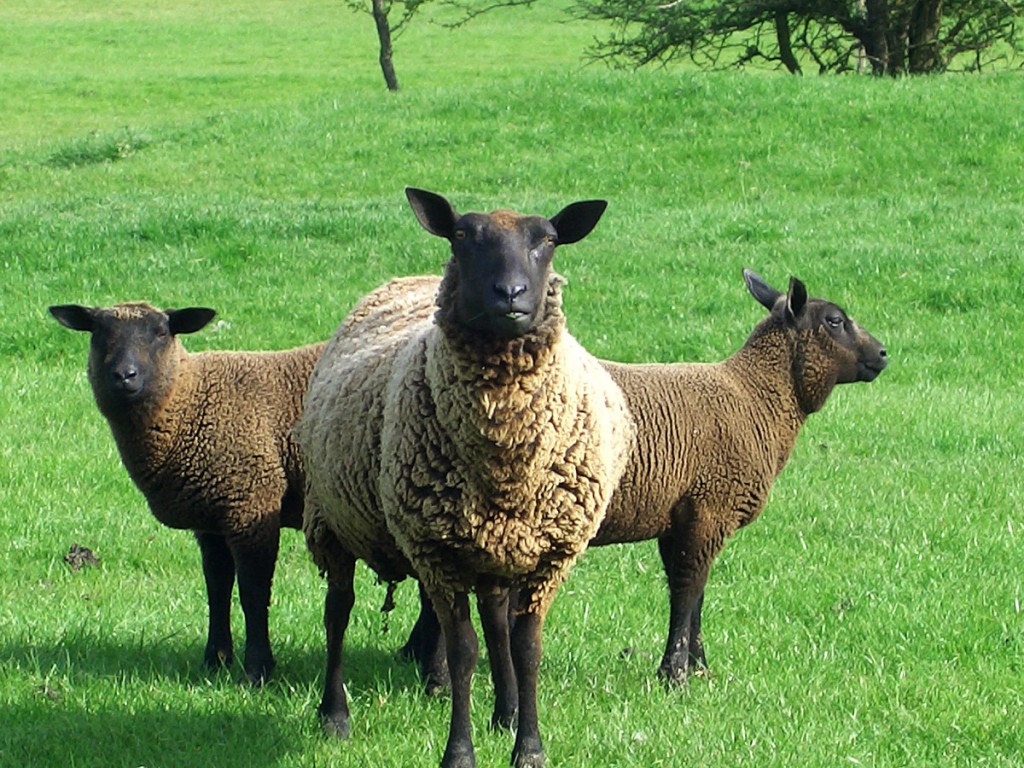 The wait is almost over for this year's Wool Fair, which will once again take place throughout the bank holiday weekend from 27th - 29th May.
This year's event will feature a mixture of popular favourites and new attractions, including Shipston's first public display of yarn bombing, where trees, street furniture and other items are covered in hand knitted or crocheted art.
The Wool Fair is a true community event, with many volunteers donating time and energy to putting on a great show, which is free to attend. As well as the main fair on bank holiday Monday, Totally Locally will be holding an arts and crafts fair on the Saturday and Shipston Rotary will host a community Songs of Praise at St Edmund's Church on the Sunday.
Mayor, Ronnie Murphy, said: "The Wool Fair is the town's opportunity to put on a show which celebrates Shipston's unique heritage. The fair has become so popular that it has grown into a three day event and we look forward to welcoming residents and visitors throughout the weekend."
Shipston Proms reveals headline act for 2017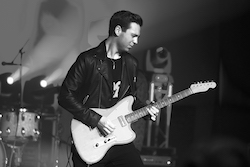 The Shipston Proms committee has announced that the 19th Shipston Proms, held between 16th June to 1st July 2017, will be headlined on the Last Night by local award winning blues sensation, Laurence Jones.
Laurence, who lives in Shipston, has won the prestigious British Blues Award - Young Artist of the Year for the last three years, as well as Guitarist of the Year for 2016. With his new line-up for 2017 his appearance will be part of a UK and European tour, with a new album due later this year.
Laurence said: "It is an honour to be asked to headline the last night of the Shipston Proms in my hometown. For me personally it's going to be a very special show, it's going to be my chance to give something back to the people of Shipston who have supported me from the very start of my career. "
"From when I first started performing the classical guitar in the churches of Shipston at the ages of nine, till playing in the local pubs with my first band when I was 15. The band and I are going to rock Shipston Proms 2017 in style and we're going to make sure it's a Proms never to forget."
The Proms will launch on 16th June in the Townsend Hall with an evening headlined by the ABBA Inferno tribute band and supported by Vinyl Daze with their Bluesy rock funk based repertoire.
The event line-up will also include the Shipston Proms Fame Contest on 17th June, with the two winners from the evening appearing on the main stage on the last night in the town square. Maintaining its longstanding promise of providing music for all, the Proms includes music from classical, through jazz and folk to rock.
For more information about the individual events planned, head to www.shipstonproms.org
Photo by Chris Roberts, WiderViewPhoto
Shipston scoops regional top spot in best places to live
Local readers of The Sunday Times newspaper were recently greeted with news that Shipston has been voted by the paper as the top place to live in the Midlands.
Citing the Shipston Proms, Wool Fair, choice of pubs and independent shops among the attractions, the paper chose Shipston above other local towns as the regional winner for the first time. There was even a mention of the forthcoming 'yarn bombing' at the Wool Fair as well as a promotion of the dates for this year's Proms (see page 7 for more details).
Mayor, Ronnie Murphy, said: "It's always wonderful to read positive things about our town and it is great to see our community, shops and other businesses getting national recognition."
The article appeared in the Home section of the Sunday Times Newspaper on Sunday 12th March.
Shipston Town Council appoints new Deputy Mayor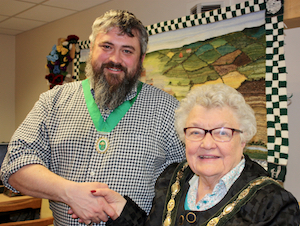 Shipston Town Council has elected Dan Scobie as Deputy Mayor with immediate effect. The election was prompted by the resignation of former deputy, Alison Henderson, due to ill health.
Dan has been a town councillor since 2014, and is actively involved in the finance, planning and communications working groups. Outside of his council responsibilities, Dan has been responsible for running the annual Shipston Food Festival and is the current Chairman of the Rugby Club. In his spare time, he also moderates the Shipston Notice Board on Facebook amid baking bread and brewing beer.
Town Mayor, Ronnie Murphy, said: "I'm delighted to have the opportunity to work alongside Dan for the remainder of my time as Mayor and have every confidence that he will be a great ambassador for our town in his new role."
Deputy Mayor, Dan Scobie, said: "I'm extremely proud of Shipston and look forward to having the opportunity to get involved in even more local events and activities which make the town such a great place to live and work."
Understanding dementia

The Shipston Forum is working with the many groups in Shipston which support people with dementia to try and improve awareness and understanding of this debilitating disease. We will be running a series of articles during the year to help ensure all those affected know where they can get help, starting with this piece by Dave Hollingworth.
The challenge we face
Despite the rapid increase in dementia, many people simply don't understand it, demonstrated by the following short conversation overheard the other day:
"Funny thing, that dementia."
"Alzheimers, Vascular, all means the same thing – they get dementia when they get old, don't they - they go senile, mad, doolally…"
Actually, dementia is anything but "funny". It's an illness, just as cancer is an illness.
Dementia is cruel. Essentially, your brain dies while your body keeps going. The famous author, Terry Pratchett, compared it to a very, very slow car crash, where you watch things failing and falling off, until eventually you go through the windscreen. He died from the disease in 2015, aged just 66.
The figures are stark. By 2025, one million people will have a diagnosis of dementia in the UK. This figure is expected to rise to 2 million by 2051. At the moment, one in fourteen of our population aged over 65 have dementia and there is no getting away from it.
It is not 'they' but, 'we' that get dementia - one in 14 of those aged over 65. We need to talk about it. We need to try and understand it, so we can help others in our community who have dementia, and just as importantly, help those loved ones who are caring for them. Caring is hard. We need to support both the carer and the person with dementia.
There is no stigma attached to dementia. It is an illness. Those with dementia haven't gone mad, "they" are not doolally or senile. We need to treat it like any other illness, with compassion and support.
Living well with dementia
While the prospect of a dementia diagnosis can seem very bleak, it is possible to live well with dementia. There is help available to make life easier both for those with the disease and their carers. This is particularly true in Shipston which is a Dementia Friendly Community (DFC).
Following an initiative by Dr Sue Pritchard at the surgery, Shipston has been awarded DFC status. The committee have organized training for our local retail community, and 30 members of the town have had virtual reality training to experience what it is like to have dementia.
Shipston is lucky to have several organisations that provide activities for people with dementia. Down Memory Lane, a singing group, Active Memory, a discussion group, the Alzheimer's café, Stour Valley Carers, for those who are caring for someone with dementia, all these meet at least monthly and the dates, venues and times are published in the Forum. If you know anyone who might benefit, please tell them.
If you would like someone local to come and talk to your group or organization, please let Alyson Spence (07725892087) or Dave Hollingworth (07970125566) know, and it will be arranged!
To find out more about the groups running in Shipston, please contact:
Down Memory Lane: Dave Hollingworth - 07970 125566 or 01608 654444
Alzheimer's café: Charmaine Bird - 02476 652602
Active Memory: Alyson Spence - 07725 892087 or 01608 661703
Stour Valley Carers Group: Lizzy Feather - 01608 686013/Carol Ruthven - 01608 662706
Useful links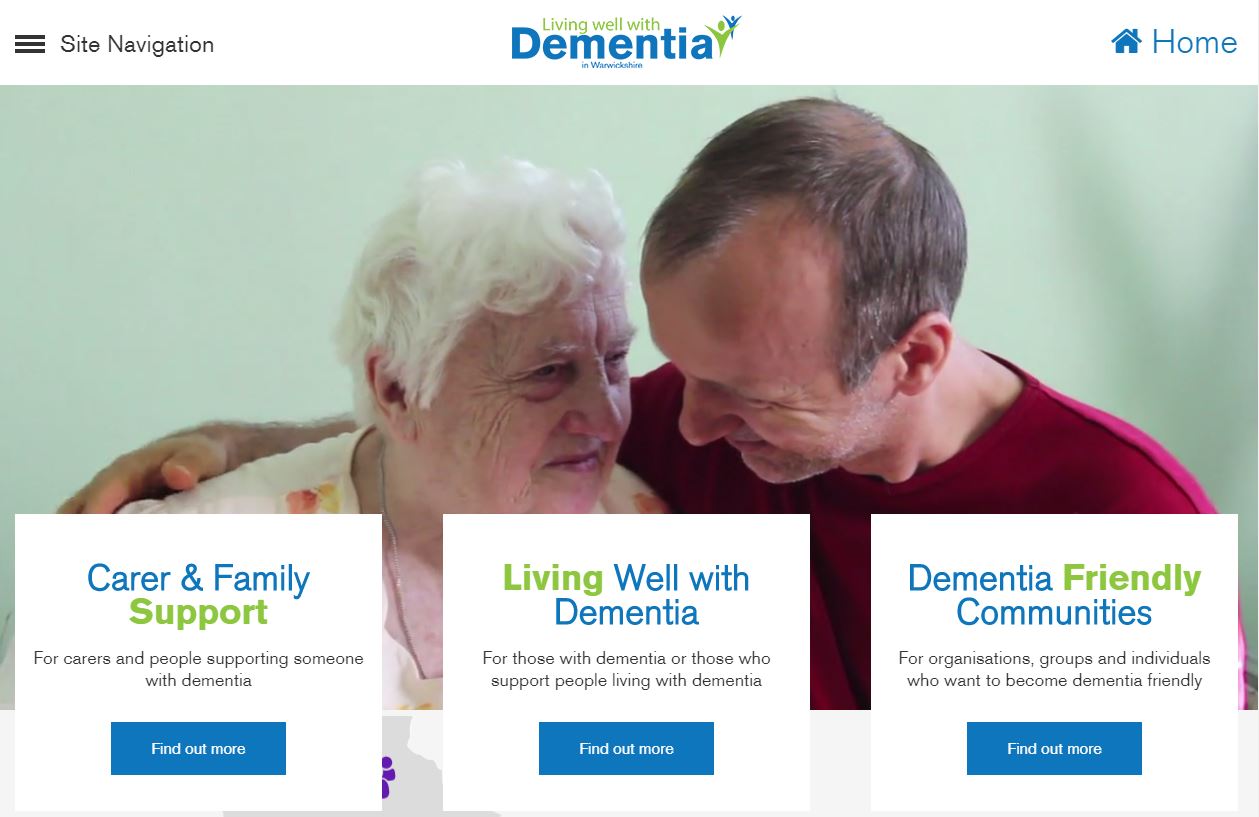 Warwickshire County Council has recently launched a brand new website - www.warwickshire.gov.uk/dementia - which is designed for people with dementia, their carers, family and friends as well as practitioners supporting people with dementia and organisations who would like to know more about becoming dementia friendly.
The Alzheimer's society website (www.alzheimers.org.uk) is also a good resource. and to find out about becoming a Dementia Friend visit www.dementiafriends.org.uk.
Planning applications dominate the council agenda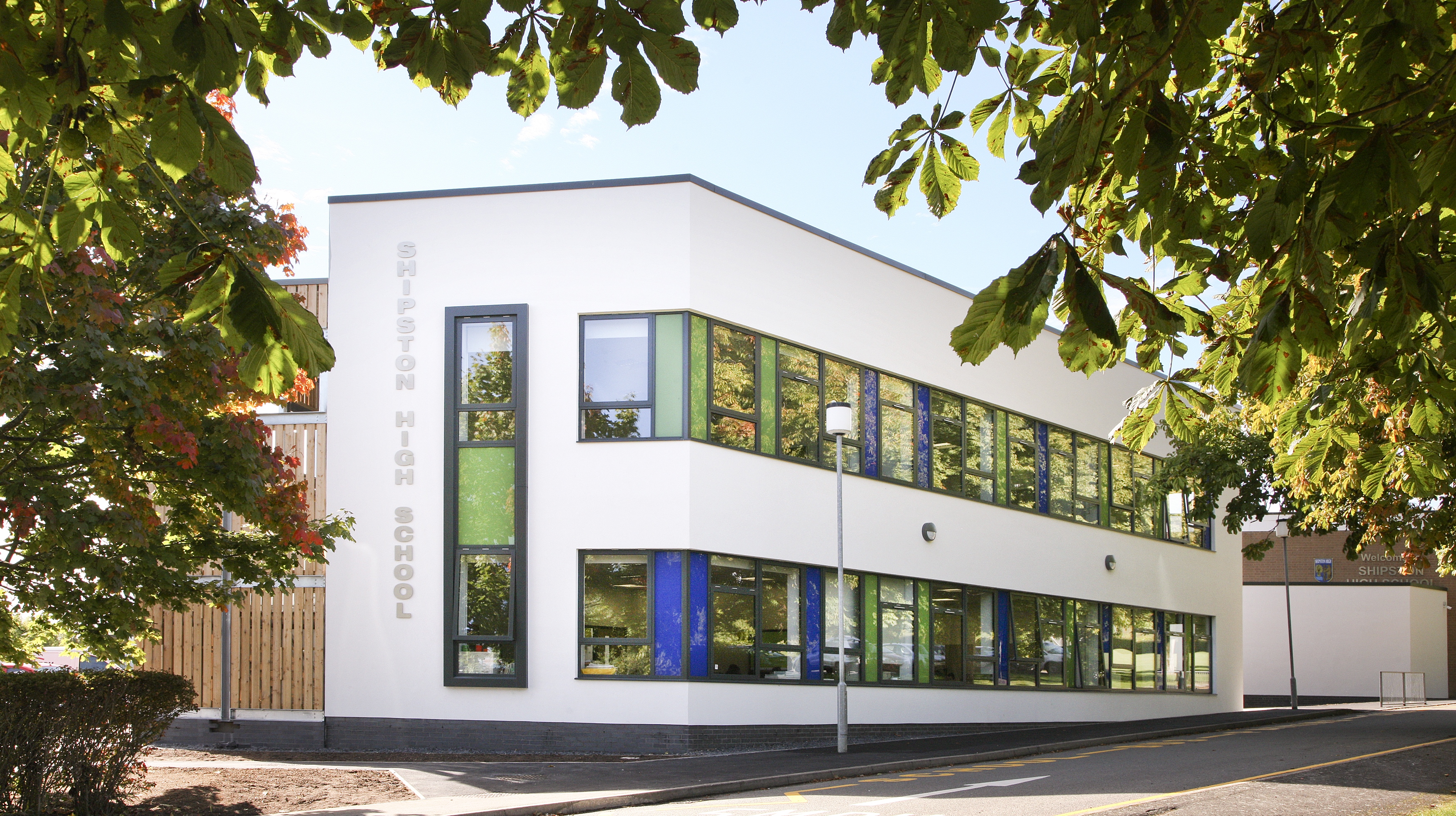 Planning applications were the focus of the February Town Council meeting once again, with a number of new applications on the agenda.
Shipston High School has put in an application for a new two storey block of classrooms to help the school accommodate the increase in pupils coming to the school. The block would be built in a similar style to the recent extension and will provide much-needed additional teaching space. The proposed building would be constructed within the school site, using some of the existing playing field although there would still be adequate space for a full-sized football pitch in that area. Town Councillors supported the application but have requested that the school looks again at the proposed drainage strategy and works with Shipston Area Flood Action Group to minimise the impact of any development.
There were also two applications for new business units on Tilemans Lane. These were welcomed by councillors as they should lead to more flexible provision for smaller businesses.
However, the town council has strongly objected to proposals to fell trees on the former IMI Norgren site to make way for drainage pipes to be installed. The trees are protected by preservation orders and it would take 30 years for replacement trees to reach a similar height. Councillors have also objected to proposals to change the front elevation of the Assembly Rooms on Church Street, in line with their previous objection to the change of use which would see the property switch from office to residential accommodation.
Looking ahead, Barratt Homes has made clear it continues to have an interest in developing the Shoulderway Lane site. In addition, another company is considering options for developing a sizeable housing site on land north of Tilemans Lane, although no formal proposals have been put forward. Shipston Town Council is actively monitoring these developments and further updates will be shared when known.
Deputy Mayor steps down due to ill health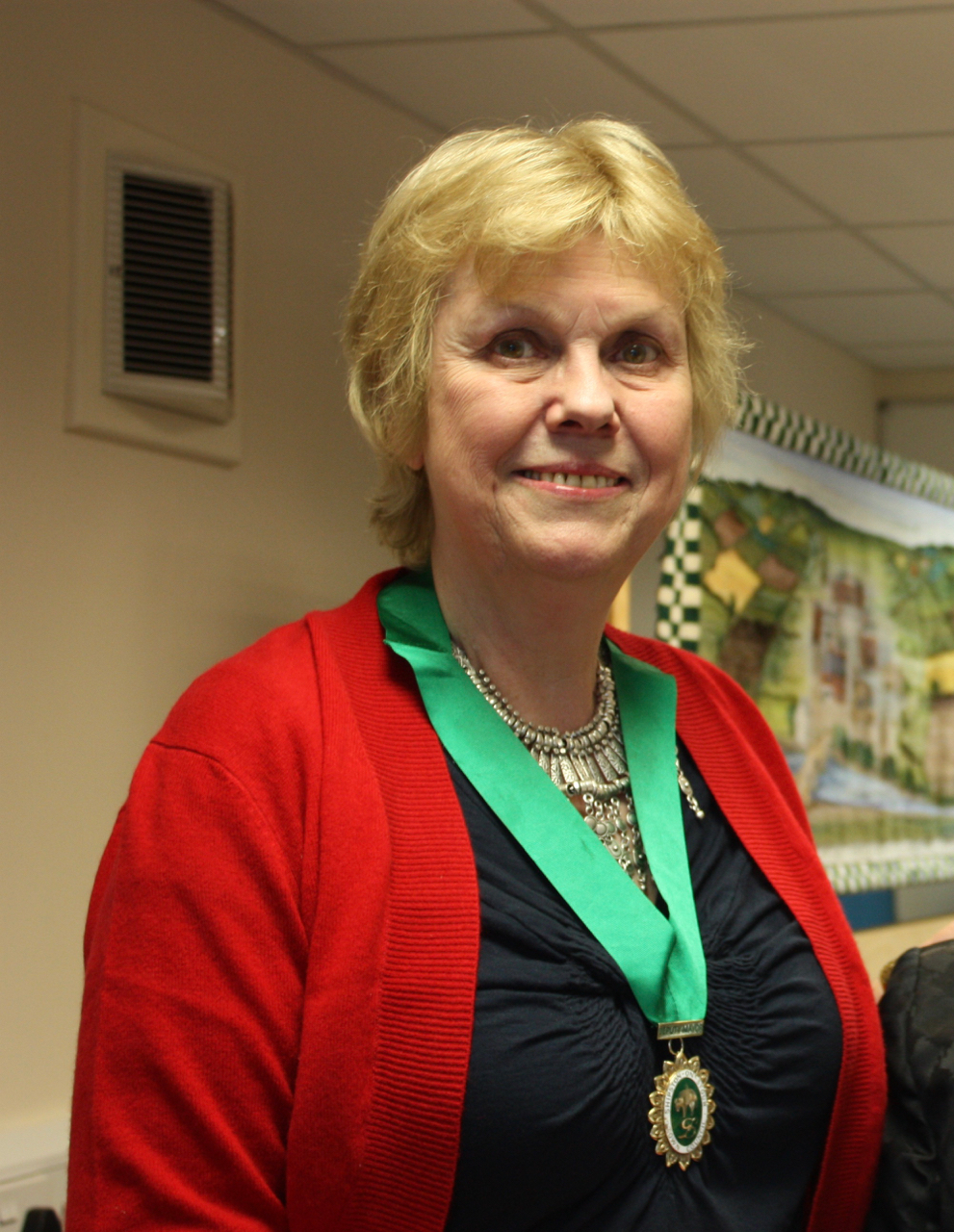 Deputy Mayor Alison Henderson has resigned from her role, due to ill health. Alison has been suffering with cancer for some months. Despite a gruelling treatment regime, she carried on her duties as best she could, having been led to believe she'd be feeling better much more quickly than has proved to be the case. With further treatment ahead, Alison took the decision to resign in order that a new deputy could be appointed in time to allow some tutelage from Ronnie Murphy before being appointed Mayor in May. Alison will remain a town councillor.
The Shipston Forum asked Alison to share some of her highlights during her time as Deputy Mayor. This is her response:
"Sadly, I didn't have the opportunity to get involved in many activities, as I started treatment in August. However, I greatly enjoyed giving out the prizes for the various angling competitions at the end of the Fish 'n' Frolics weekend. I was delighted to see how many youngsters were involved, some of them having caught fish with weights I'd have thought unimaginable!
"I joined colleagues in observing the Two Minutes' silence on Armistice Day, and made a brief appearance at the wonderful Townsend Hall Christmas party. My husband Richard, who would otherwise have had to munch through some turkey oddments with me gazing wistfully on, had a whale of a time and returned 'merry', replete, and full of admiration for the three Shipston girls who had organised it so faultlessly!"
"I have been bowled over by the sheer kindness shown by local people, and have been showered with beautiful flowers, plants, cards, jokey emails, visits, and offers of help - which would cheer anyone up. For all this I have been extremely moved and grateful, and it just shows what a good lot of folk we're blessed with in this town!"
The town council regretfully accepted Alison's resignation and she left the meeting to applause from everyone in the room.
Totally Locally announces Fiver Fest Fortnight in February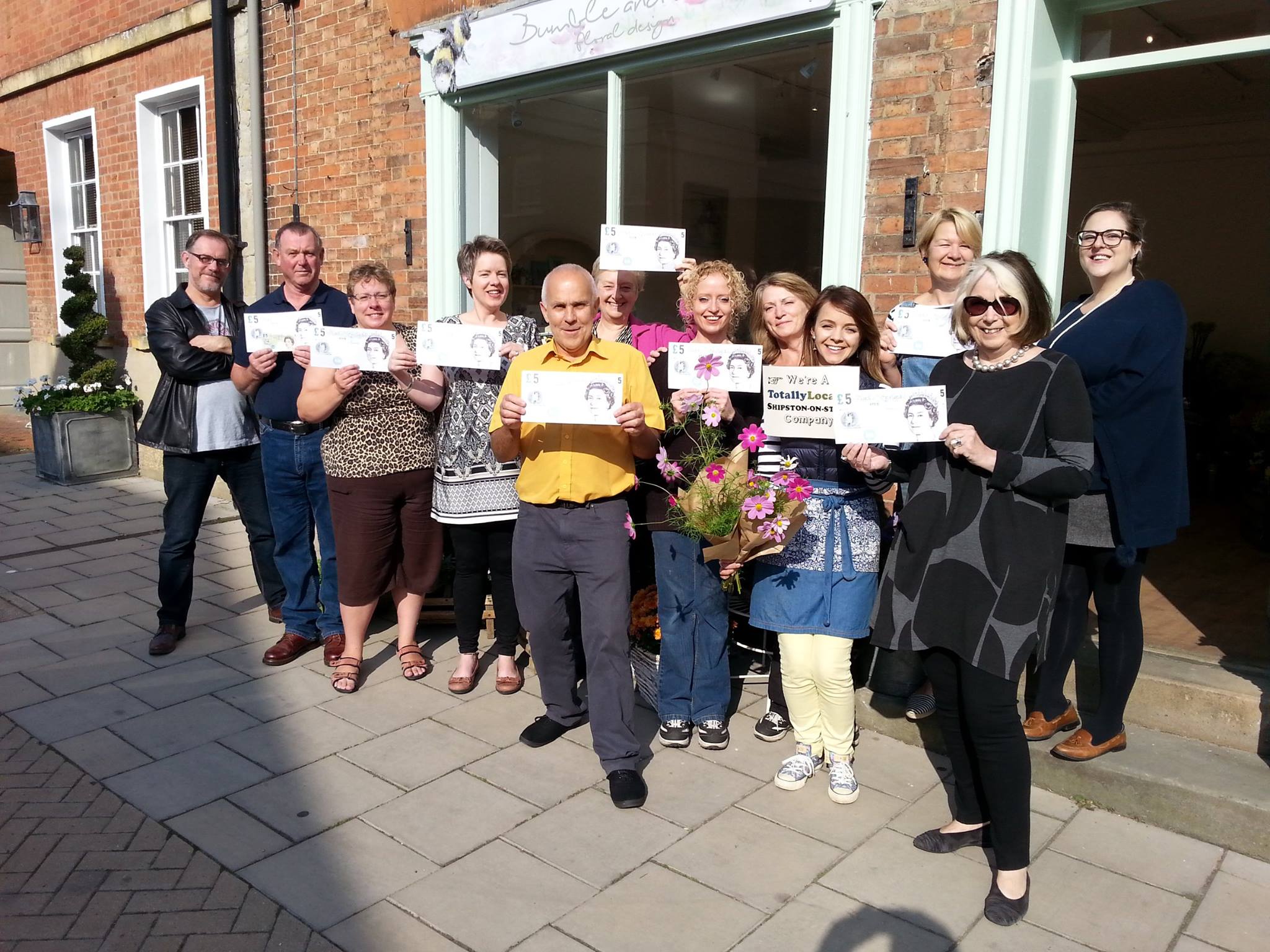 Shoppers can pick up some fantastic offers during Shipston's Fiver Fest Fortnight on Monday 13th - Sunday 26th February, organised by Totally Locally Shipston. More than 20 independent businesses in Shipston and the surrounding area will be running deals over the fortnight including shops, cafes, service providers and many more.
Loads of businesses have created a special £5 offer for the residents and visitors to Shipston. Even businesses who cannot achieve a £5 offer have wanted to get involved coming up with great alternative '5' offers.
You have plenty of opportunity to make the most of the Fiver Fest as it runs over a full fortnight! There are some fantastic offers to take advantage of and in the process discover businesses in Shipston that you may not have used before.
Lucy Kirkman from Totally Locally, said: "Fiver Fest is all about giving residents the chance to pick up some great winter bargains while supporting local businesses. There are so many independent businesses in Shipston and you might find a 'hidden gem' you never knew about."
Details of all the offers will be available in the participating businesses and can be viewed online at totallylocally.org/shipstononstour. To find out more, follow the Totally Locally Facebook page @TotallyLocallyShipston
Shipston community hosts the best Christmas party in town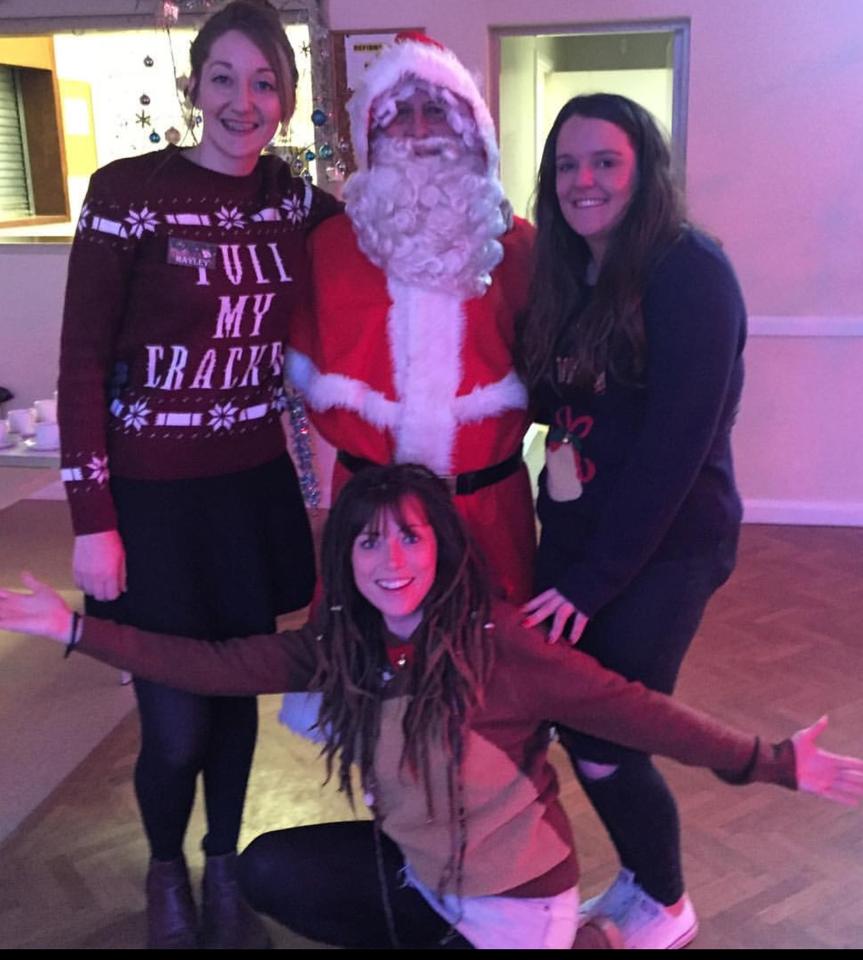 Over sixty residents took part in one big party on Christmas Day thanks to the generosity and enthusiasm of three young ladies.
Tessa Hince, Hayley Ash and Danni Mooney (pictured right, with Santa) collectively decided that no one in Shipston should have to spend Christmas on their own if they would prefer company. They set about inviting people to the Townsend Hall and the Shipston Community Christmas Lunch was born. The intention was to create a special Christmas day for people to enjoy together, all of which was funded through donations of money, food or other services.
"The support from the local community was overwhelming which meant we were able to create a truly memorable day for everyone who took part," said Tessa.
The Townsend Hall was transformed into a Christmas wonderland, with stunning decorations and a delightful 'fireplace' and cosy seating area. The food was worthy of any royal banquet and there was plenty to go around. Those attending were full of praise for the event and it's clear that a good time was had by all.
Town Mayor, Ronnie Murphy, said: "I was fortunate enough to join the Community Christmas Lunch in the morning with Shipston Town Band. I was amazed by what Tessa, Danni and Hayley had achieved with help from their team of volunteers. This event showed Shipston's community spirit in abundance, which is something we should all feel very proud of."
Tessa, Hayley and Danni are keen to say a big thank you to all the volunteers and supporters who helped make the event possible.
Shipston Rugby Club secures £40,000 grant funding for pitch improvements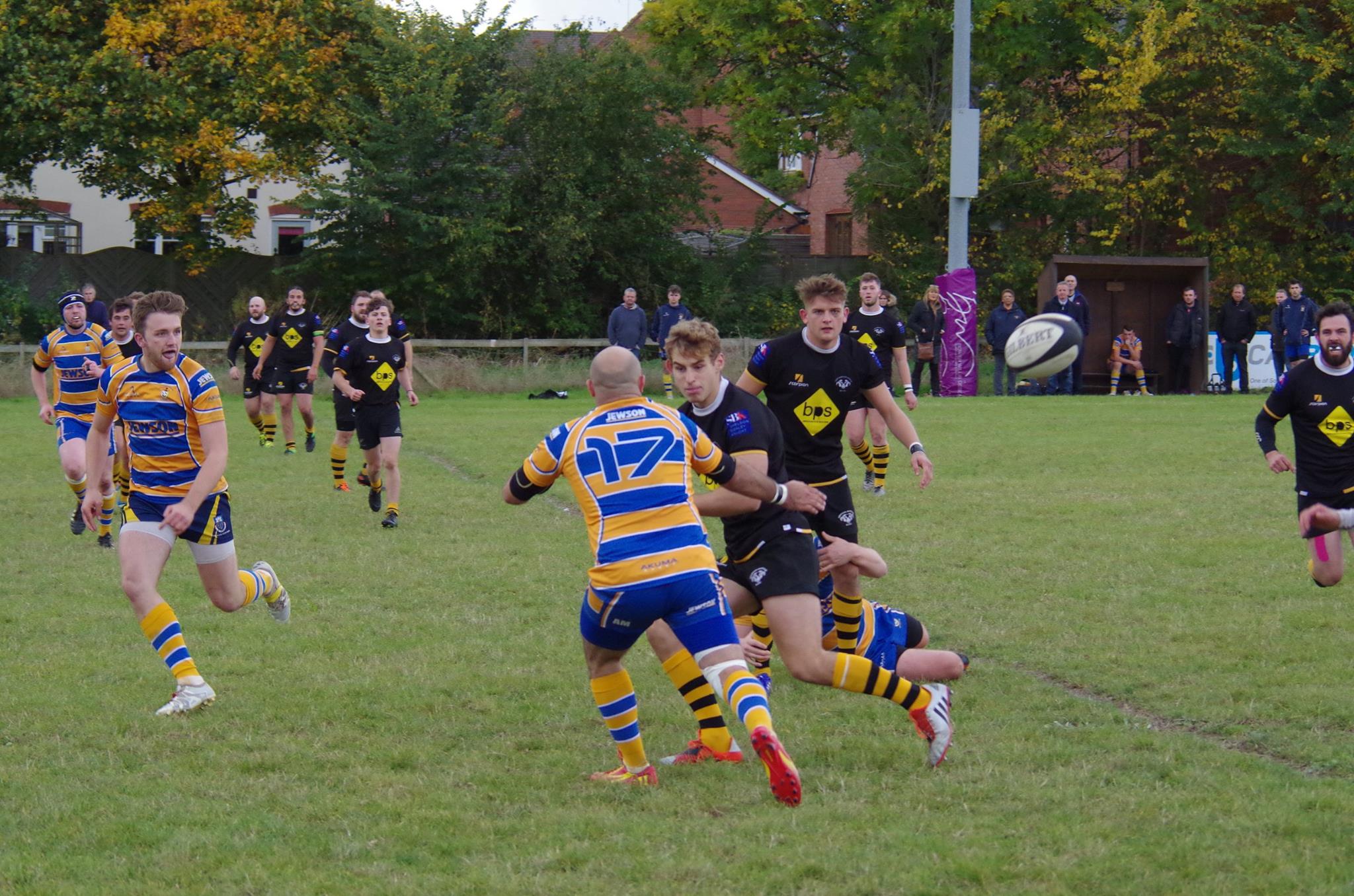 Shipston Rugby Club has secured £40,000 from the Rugby Football Union. The grant will be matched by the club, resulting in an £80,000 investment in the pitches.
The RFU investment comes following a grant application put forward by Shipston Rugby Club. There is a great deal of competition for these grants and the award shows that the RFU recognises that the club is doing well and growing.
Shipston Rugby Club is currently home to 16 different teams, with four busy divisions – seniors, juniors, minis and ladies. The First XV play in the Midlands 3 West League. With such an active club, the pitch is in constant use and has suffered recurring problems for many years. Thanks to this investment, the pitch can be given a much-needed overhaul which is expected to take place in the summer.
Club Chairman, Dan Scobie, said: "Shipston Rugby Club has been going since 1963 and plays a very active role in our community. As well as benefitting today's players, this investment will help ensure we can continue to attract new talent and can host important local and regional games which bring more people into our town."
For more information about the club, visit www.shipstonrugbyclub.co.uk
Photo by Andrew Waywell
Shipston Town Council freezes precept for 2017/2018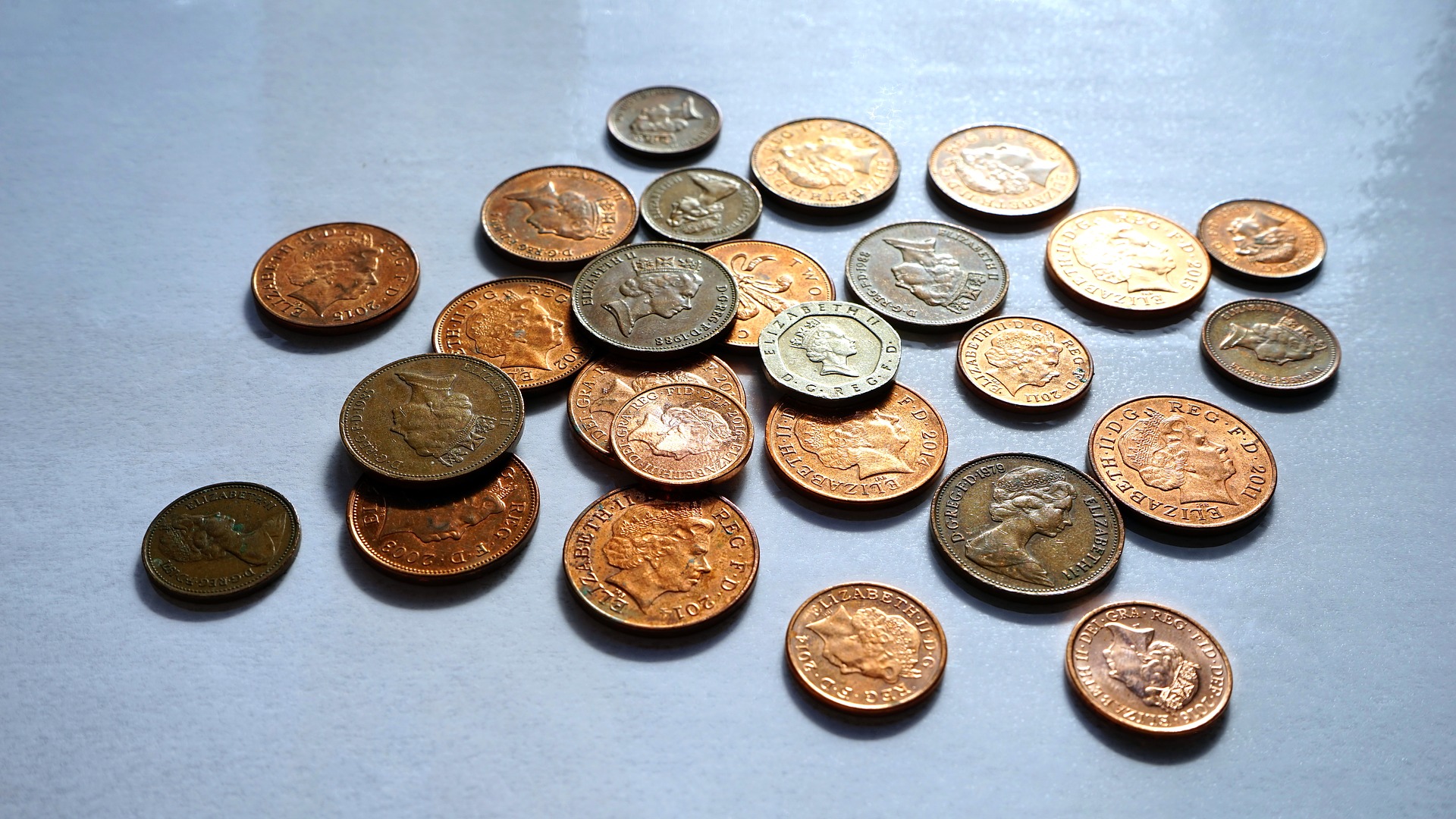 Shipston Town Council has set its 2017/18 precept at £232,000 - maintaining the same level as the current financial year. With the addition of new households in the town, there will be a decrease of 1% in the average amount paid per household.
The precept is the town council's 'share' of the overall Council Tax bill, which also includes costs for the district and county councils and police services. Each service is responsible for setting its own budget.
The town council's budget pays for several services. Shipston benefits from high standards of street cleansing and grass cutting provided by contractors, Lawns2Mow. New Clark House has become a hub for many organisations in the town, the building provides space for the Local Police Safer Neighbourhood Team, a District Council Access Point, meeting space for over 20 local clubs and organisations, as well as the Clerk's Office and all town council meetings. Other council services include emergency planning, allotments, and maintenance of playgrounds and council-owned land.
Careful budgeting has meant that many voluntary groups in the town have benefitted from the annual community grants, which contribute to the variety of activities and popular events held in the town.
Town Mayor, Ronnie Murphy, said: "We are delighted to be in a position to freeze the precept while maintaining our community commitments and setting aside funding for major projects such as the resurfacing of the New Street car park. The Finance Working Group have worked extremely hard to ensure that we can continue to deliver a high standard of services to the community."
Photo from Pixabay