March 2018
Exciting plans announced for the Ellen Badger Hospital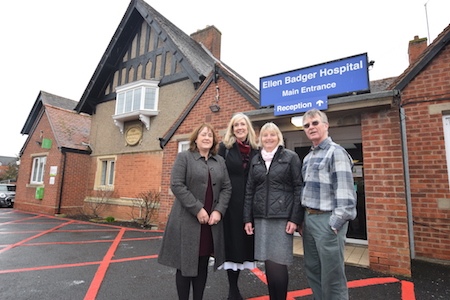 Exciting plans have been announced to develop and expand the Ellen Badger Hospital, bringing more services to Shipston.
Plans have been approved by South Warwickshire NHS Foundation Trust (SWFT) to develop a new, enhanced inpatient facility at the hospital. This £500,000 investment will help provide health services for the local community. Work started on the site in January 2018 and is expected to be complete by April 2018.
The refurbishment is the first phase of a longer term development plan for Ellen Badger Hospital. Working in partnership with the League of Friends of Ellen Badger Hospital, SWFT has just purchased a plot of land next to the hospital, which will allow more services to be delivered locally. To identify what services local residents would benefit from, SWFT will be inviting partners and members of the community to share their views and give feedback at dedicated events (to be announced).
The League of Friends is extremely supportive of these plans and has gifted £635,000 to SWFT to support this project.
Jayne Blacklay, Director of Development at SWFT said: "This is a very exciting time for Ellen Badger Hospital...It is fantastic that we are able to develop the site to improve services for the community of Shipston and surrounding areas."
Frances French, Chair of the League of Friends, said: "The League are absolutely delighted that SWFT has acquired this land. We are grateful both to John Peart and Percy Lomas whose legacies have made our contribution to this exciting opportunity possible."
Dr Gilder, Senior Partner at Shipston Medical Centre, said: "We are delighted to hear about the development at the Ellen Badger Hospital. Shipston Medical Centre will be working with South Warwickshire Foundation Trust to help identify services which will benefit our population. We will also continue to seek opportunities for the development of a new Medical Centre".
Pictured top right: Outside Ellen Badger Hospital (left-right): Dr Gilder, Senior Partner at Shipston Medical Centre, Jayne Blacklay, Director of Development at SWFT, Frances French, Chair of the League of Friends, Chris Thorogood, member of the League of Friends.
Nominations now sought for the Shipston Community Award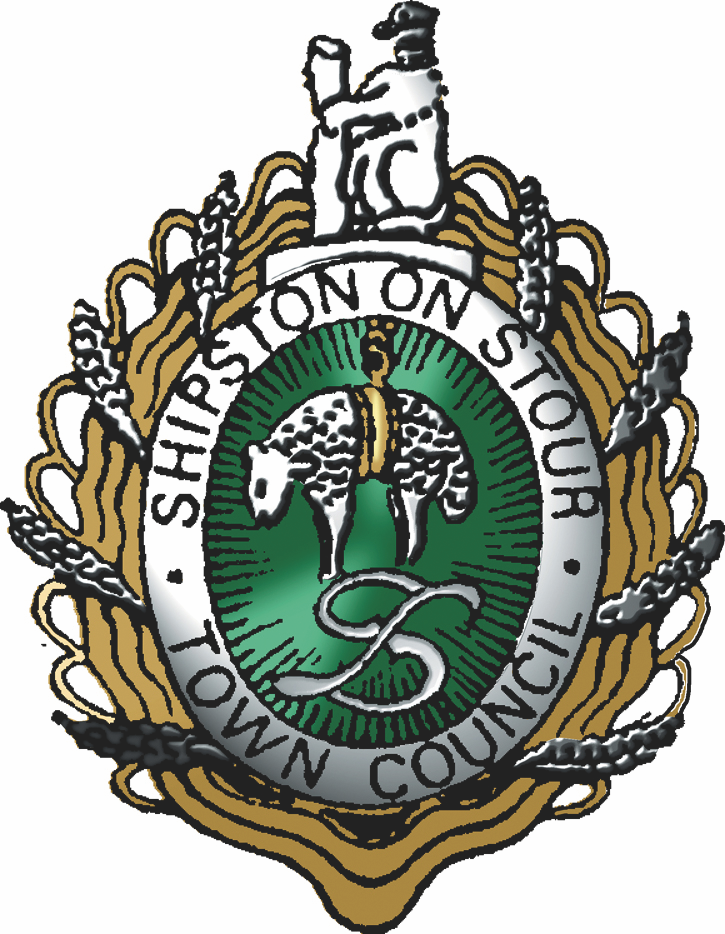 Shipston Town Council is calling on all residents to nominate their community heroes for the 2018 Shipston Award.
The Shipston Award recognises work done by volunteers to support the local community. Originally known as the Anne Sankey Medal, the award was created by former Mayor, Anne Sankey, who led the council in 1998 and was a fervent supporter of community initiatives.
Shipston owes a huge amount to those who volunteer their time to support local services and activities. From fundraising to running local clubs or events, the town is fortunate enough to have many examples of voluntary work. The Shipston Award gives the town an opportunity to recognise those efforts.
Examples of community initiatives include the many and varied events in the town, clubs and societies which provide services and activities for residents, and fundraising efforts to support local charities.
Last year the award was given to Tim Porter in recognition of his many years of service to the Shipston Proms, which will celebrate its 20th year this year.
If you know of someone who is going above and beyond to serve the local community, councillors want to hear from you.
To nominate, simply complete the nomination form on page 9 of the March 2018 Forum and send it in to the Town Clerk at New Clark House, West Street, Shipston. Alternatively, send an email to clerk@shipstononline.org containing the same information (see image below).
Nominations will be reviewed by councillors, with the winner being announced at the Annual Town Meeting on 19th April at Shipston High School.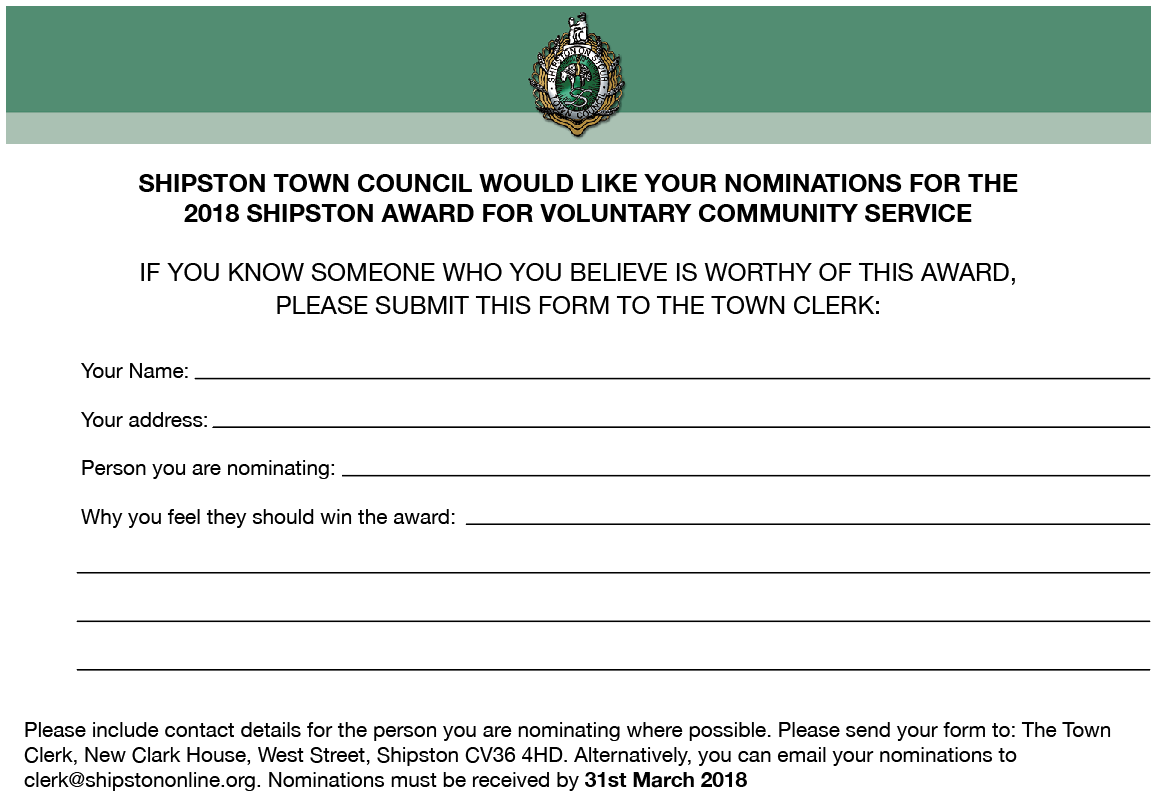 Shipston encouraged to take part in the Long Road to Ghana

A small group of determined volunteers is laying down a challenge for Shipston, surrounding villages and friends in aid of two great causes - Brain Tumour Research and Willing and Abel. In one week in June, the community is being asked to travel 4,000 miles - the equivalent distance of Shipston to Ghana - using human power only!
So why this particular challenge? Forum readers may remember the plight of Ethan Suglo (pictured) from a small village in Ghana who was born with a rare and life threatening condition. At just three years old, Ethan had life-saving and enhancing surgery at the John Radcliffe for a massive abdominal swelling in July 2016, made possible thanks to the enormous generosity of the local community, and the medical team at the hospital. Further surgery is now needed to give Ethan a normal life expectancy. The ambition is to top up what is left from the previous fundraising to cover the cost of Ethan's second surgery, due to take place in June.
Not content with supporting one charity, the 'Long Road to Ghana' campaign is also raising money for Brain Tumour Research. Brain tumours kill more children and adults under the age of 40 than any other cancer - yet just 1% of the national spend on cancer research has been allocated to this devastating disease. Following the tragic loss of a local friend to a brain tumour, and in support of others who are battling this challenging condition, help is needed to fund vital research to tackle this disease.
So how can you help? By getting out, getting active and contributing to the 4,000 mile challenge! Fundraising coordinator, Dr David Williams, said: "We have come up with a challenge that is accessible to all and we hope everyone will get involved. Our aim is for people to walk, run, swim, canoe, row, cycle (static or actual) – or any other transportation method you can think of - under your own power to clock up the 4000 miles from Shipston to Ethan's home in Akatsi, Ghana. We need cyclists, runners and walkers to cover the land and desert regions, and swimmers and canoeists to navigate The English Channel and the Mediterranean from Gibraltar to Africa.
"We can't guarantee the weather, but invite you to join us in this challenge so that you can make a difference to people with brain tumours and the children like Ethan that are supported by Willing & Abel. The journey starts on Sunday June 3rd and we hope to arrive in 'Ghana' on Saturday 9th June in the evening, with exciting plans for a finale at Shipston Rugby Club."
Clubs, businesses, residents and friends are encouraged to consider how they can contribute. Miles can be accumulated across the week and a minimum donation of just £5 per person (£1 for children) will ensure your miles are added to the total challenge. Plans are still in progress and updates will be shared via Facebook at www.facebook.com/ethansuglo25000/but you can also donate straightaway by visiting https://uk.virginmoneygiving.com/Ethan-Karl4000.
To find out more, email: longroadtoghana@gmail.com