September 2015
Shipston Food Festival proves a success once again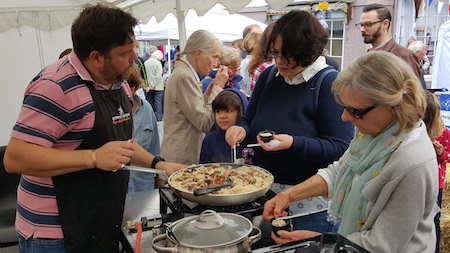 The third annual Shipston Food Festival weekend which took place in September, proved extremely popular with residents and tourists. Despite the growing competition from other local festivals, stall holders and visitors alike turned up in droves, securing another successful event for the town.
Events kicked-off, literally, with the Beer Festival at the Rugby Club, complete with live showing of the opening game of the Rugby World Cup. Over twenty different beers, ciders and wines were showcased at the event.
Saturday saw entries coming in for the Taste of the Country Junior Bake-Off competition. A tempting display of delicious and imaginative cakes, baked and iced by 11-16 year olds, was put before volunteer judge, Richard Harvey, who spent a serious hour tasting and evaluating the cakes. The winner, Kara Cooke, walked away with a voucher for a half day icing master class with Taste of the Country's icing experts.
Sunday was Food Festival day in the town centre. Stalls were selling everything from pizza ovens to pulled pork, cured meat to cakes, while visitors enjoyed tasting the many different foods on offer. Cookery demonstrations were given by Francis Green, otherwise known as the Cotswold Traiteur, while Jim Cherry and Mandy Lane from Taste of the Country, gave tips on cheese and wine pairing and quick and easy canapes.
Music was provided by popular local duo, The Peas, while the Cotswold Distillery gave a mixology demonstration, offering plenty of ideas for gin cocktails.
Thanks to support from local businesses, the event was rounded off with a fantastic raffle, proceeds of which will go towards funding next year's festival.
Food Festival Chairman and Town Councillor, Dan Scobie, said: "I am thrilled to have seen so many people enjoying another great festival weekend. This is a community event, made possible by the generous contributions of our volunteers, sponsors, local businesses and stall holders. Most importantly, the visitors who come to enjoy the food and support the traders really make this event a success. We'd like to thank everyone for their support - we look forward to seeing you next year."
Totally Locally treats in store this October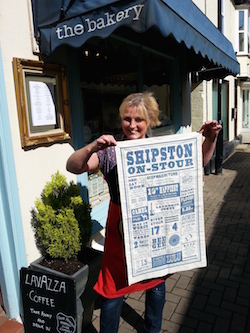 Totally Locally Shipston is a voluntary campaign run by a motivated group of people, who are working together to encourage people to support local businesses in and around Shipston. The Totally Locally Team has been hard at work planning two fantastic events to tempt shoppers to make the most of what the town has to offer.
On Saturday 10th October from 10am until 4pm, the first ever Totally Locally Market will roll in to town. The Street Market will focus on local arts and crafts and will run down the lower half of Sheep Street and through The Bury. If successful, further markets will be organised, with initial ideas including local produce, and a market for teenagers, all with the aim of bringing something extra to Shipston's town centre.
Totally Locally campaigner, Louise Harvey, said "We hope that there will be lots of support at our first market where there will be over 20 stalls packed with handmade products from ceramics and paintings to wood craft, jewellery and up-cycled furniture. Calypso kids will also be providing entertainment for the children and there will be some fabulous buskers adding some music in to the mix."
A week later, shoppers will have an opportunity to pick up a bargain during Shipston's first ever Fiver Fest Fortnight starting on Saturday 17th October 2015. More than 30 independent businesses in Shipston and the surrounding area will be running deals over the fortnight including shops, cafes, service providers and many more.
Many businesses have created a special offer for £5 or great alternative '5' offers. Sharon Peacock from The Bakery said: "There are some fantastic offers for shoppers to take advantage of, and in the process, discover businesses in Shipston that they may not have used before."
Details of all the offers will be available in the 2nd edition of the Totally Locally 'Shipston' Times newspaper which will be hand delivered to as many homes as possible and can be found in shops, pubs, cafes and facilities in town. Alternatively, download a copy at totallylocally.org/shipstononstour.
Totally Locally tea towels, bags and postcards can now be purchased from a number of shops around town.