May 2015
Shipston Town Council appoints Jackie Warner as Mayor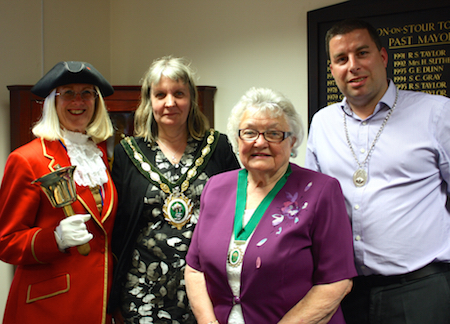 Shipston Town Council has elected Jackie Warner to the position of Town Mayor at its Annual General Meeting in May. Jackie was born and bred in Shipston and is a passionate supporter of the town. Jackie has been a town councillor for many years. Having served 12 months as Deputy Mayor, Jackie is looking forward to the year ahead.
On her election, Jackie said: "I feel honoured to be elected Mayor of Shipston. Shipston is a fantastic place to live and work and I am delighted to have the opportunity to raise the town's profile."
It is customary for the Mayor to appoint a consort whose role is to accompany the Mayor at official events. The Mayor has selected councillor Peter White as her consort.
Jackie's first responsibility as Mayor was to call for nominations for Deputy Mayor. Veronica Murphy was unanimously elected to the position and will support the Mayor on her official engagements and responsibilities over the coming year.
The Mayor went on to thank former Mayor and town councillor, Philip Vial, for his contribution to the council and town as a whole over his seven years on the town council.
"It's been an absolute pleasure to work on the town council over the last seven years." Philip Vial said. "There are a lot of hard working councillors who are involved in a number of community groups and contribute a great deal to our town. I would like to congratulate all town councillors on their election and wish you all luck for the future."
The town council also confirmed monthly meetings for the year ahead as well as working group membership.