May 2016
Shipston Award presented to Barbara Bean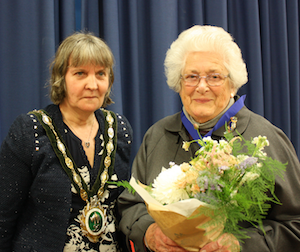 Mayor Jackie Warner was delighted to present local resident, Barbara Bean with the Shipston Award at the Annual Town Meeting last month.
Barbara has worked voluntarily at the primary school for 23 years, she is a former teacher and enjoys helping the younger children progress with their reading.
Barbara was also a founder member of the Shipston Widows Group which has become a lifeline for many of the ladies in town who are newly widowed and need to rebuild their network without their sadly missed life partners. The group has gone from strength to strength, with Barbara arranging many events and supporting new members of the group.
Mayor, Jackie Warner, said: "Barbara is a very worthy recipient of the Shipston Award for voluntary work in the town. She has supported many young children with their reading - including my own – and provides valuable support to those who have lost their partners. Congratulations on your award, Barbara."
Whipping up a wonderful woolly weekend in Shipston
Shipston is set to host its best ever Wool Fair this month, with woolly celebrations taking place across the bank holiday weekend (28-30th May).
Now in its eighth year, the Shipston Wool Fair has become the highlight of the spring calendar in the town. Free to attend, the fair provides an opportunity to celebrate Shipston's important sheep and wool heritage, as well as providing a fun-packed day out for families.
This year the Wool Fair Committee has combined forces with Shipston's Totally Locally team and other clubs to provide a busy bank holiday weekend of activities to suit all ages.
Beginning on Saturday 28th, Totally Locally will be holding an Arts & Crafts fair from 10am to 4pm in Sheep Street and The Bury. The market will bring together talented crafts people and artists from Shipston and surrounding areas, offering unique retail therapy, with local musicians and Calypso Music adding to the entertainment.
In the evening, head to St Edmund's Church for a French style Jazz concert at 7:30pm. Tickets cost just £10 and are available by calling 07957 709937 or on the door.
Sunday 29th sees the return of the Rotary Songs of Praise – a wonderful opportunity for the community to get together for a light hearted afternoon of hymns, songs, readings, poems and music. To take part, head to St Edmund's Church for 3pm.
Throughout the weekend, entries to the Wool Fair photography competition will be on display at St Edmund's. The competition is designed to celebrate Shipston's heritage and the winner will have their photo professionally framed by Foxwist Picture Framers. For details, visit www.shipstonwoolfair.co.uk
Finally, and most importantly, the Wool Fair itself will be rounding off the weekend in style. On Bank Holiday Monday 30th, the town centre will be transformed into a woolly wonderland, complete with show ring allowing local farmers to parade their rare breed sheep before they are sheared in front of a captive audience. Alongside the sheep showcase will be spinning and felting demonstrations, live entertainment, games and activities, while stallholders and local shops will have plenty of treats to purchase.
Fresh food from lamb burgers to local ice cream will be available to buy, so it's a perfect opportunity to sample artisan produce and locally-reared meat.
The Wool Fair opens at 10am and closes at 4pm. To find out more visit www.shipstonwoolfair.co.uk
Calling all residents - can you help Ethan?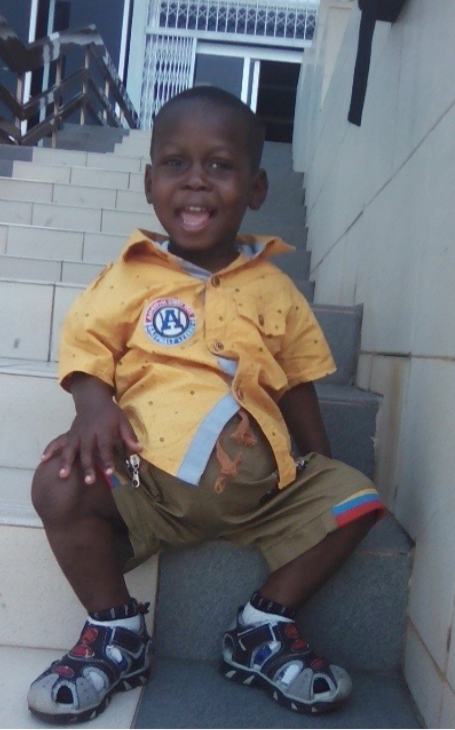 The urgent plight of three year-old Ethan from Ghana has become a local priority thanks to the passion and commitment of local GP, Dr David Williams, and his family.
Dr Williams met Ethan last year when visiting his daughter who was volunteering in Ghana. Ethan was born with a severe abdominal defect, meaning many of his vital organs are outside of his stomach lining. Had he been born in the UK, this would have been resolved with an operation shortly after birth with no ongoing problems. Without the expertise or resources available in his home country, however, Ethan is now in urgent need of life-saving surgery.
Dr Williams was determined to find a way to help Ethan. Thanks to support from a charity called Willing and Abel, an Oxford-based surgeon has agreed to operate in the UK and Ethan and his father will stay with the Williams' family while Ethan recovers from his operation.
Surgery of this kind outside of the NHS is expensive and a lump sum of £25,000 plus travel costs is needed to allow the operation to go ahead. Willing and Abel have pledged £10,000 with the rest needing to come from donations. Local residents have already thrown themselves into various fundraising efforts and there are lots of ways you can support Ethan's cause. A cake sale raised well in excess of £300, donations have been flooding in and many people have signed up to do activities to raise money.
Donation tins and information can be found at Shipston Medical Centre, Lloyds Bank as well as in some shops around the town. To donate online, visit www.virginmoneygiving.com/someonespecial/ethan
Dr Williams is keen to hear from anyone who wants to run their own fundraising initiative – to share your ideas, please email davidcornercottage@gmail.com or to find out more about what's already planned, visit https://www.facebook.com/ethansuglo25000
Dr Williams said: "I see this as an opportunity for our community to help save the life of a little boy and the positive response from local residents has been overwhelming. Thanks to everyone's generosity, we have already raised over £10,000 and the surgery is within our grasp. I'd like to thank everyone for their support."
In the happy event that fundraising exceeds the target needed for Ethan's surgery and aftercare, any remaining donations will be used by Willing and Abel to support other children in urgent need of help.