July 2022
Shipston lights beacon for The Queen's Platinum Jubilee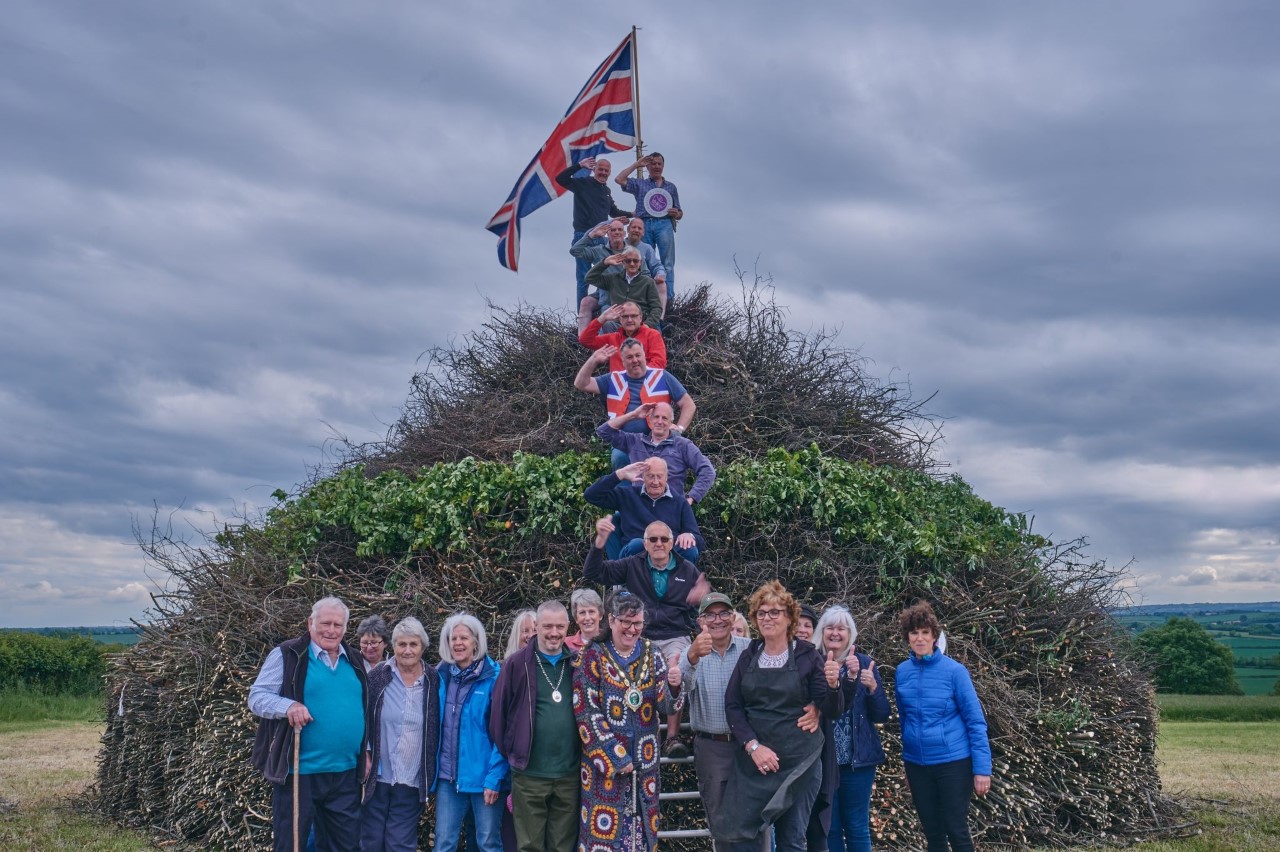 On Thursday 2nd June, to celebrate The Queen's Platinum Jubilee, Shipston joined more than 3,500 communities across the country by lighting a beacon on top of Whaddon Hill.
The Shipston-on-Stour Beacon was prepared and built in the traditional way, as it always has been. Over the last four months, several local farmers allowed the Beacon Volunteers to use hedging to make the faggots for a 25-foot high beacon and construct it in Farmer Tim Withers's field.
It was constructed under the direction of Ron 'Scobie' Edmunds, along with Max Stevens, Keith Higginson, Steve Yates, Darren Clark, Nick Jennings, Malcolm Bryan, Simon Hartwell, David Hudson, Nigel Hunt, Sam Hunt, Will Hunt, Trevor Gilkes and Joe Johnson.
A very large crowd of over 1,000 people gathered at the top of Whaddon Hill at 9pm. The ceremony began with some kind words and thanks from Ron 'Scobie' Edmunds then the Mayor of Shipston, Marianne Westwood, announced the opening of official proceedings. The Town Crier read the special proclamation followed by the Shipston Town Band Bugler playing a piece called Majesty officially announcing the lighting of the Beacons.
Finally, Mr and Mrs Withers took hold of the lighting plunger and after the crowd counted down from 10, the lighting of the beacon started. The assembled crowd also enjoyed views of up to 11 other local beacons, including Ilmington, Brailes, Stow on the Wold, Campden etc. alongside an incredible firework display, thanks to Alan Wright.
"It is always an honour and pleasure to be involved with the building of the Beacon," commented Ron 'Scobie' Edmunds. "Seeing the happy faces of the community and hearing all the positive feedback makes all the hard work worth it. I would like to say a huge thank you to all the beacon volunteers, Shipston Lions and Shipston Town Council plus Mr and Mrs Withers and family who helped to make this special occasion to celebrate the Queen's Jubilee happen."
In Memory of Sid Peachey, a collection was taken for the Coventry and Warwickshire Air Ambulance, which raised £640.00.
Jubilee celebrations across the town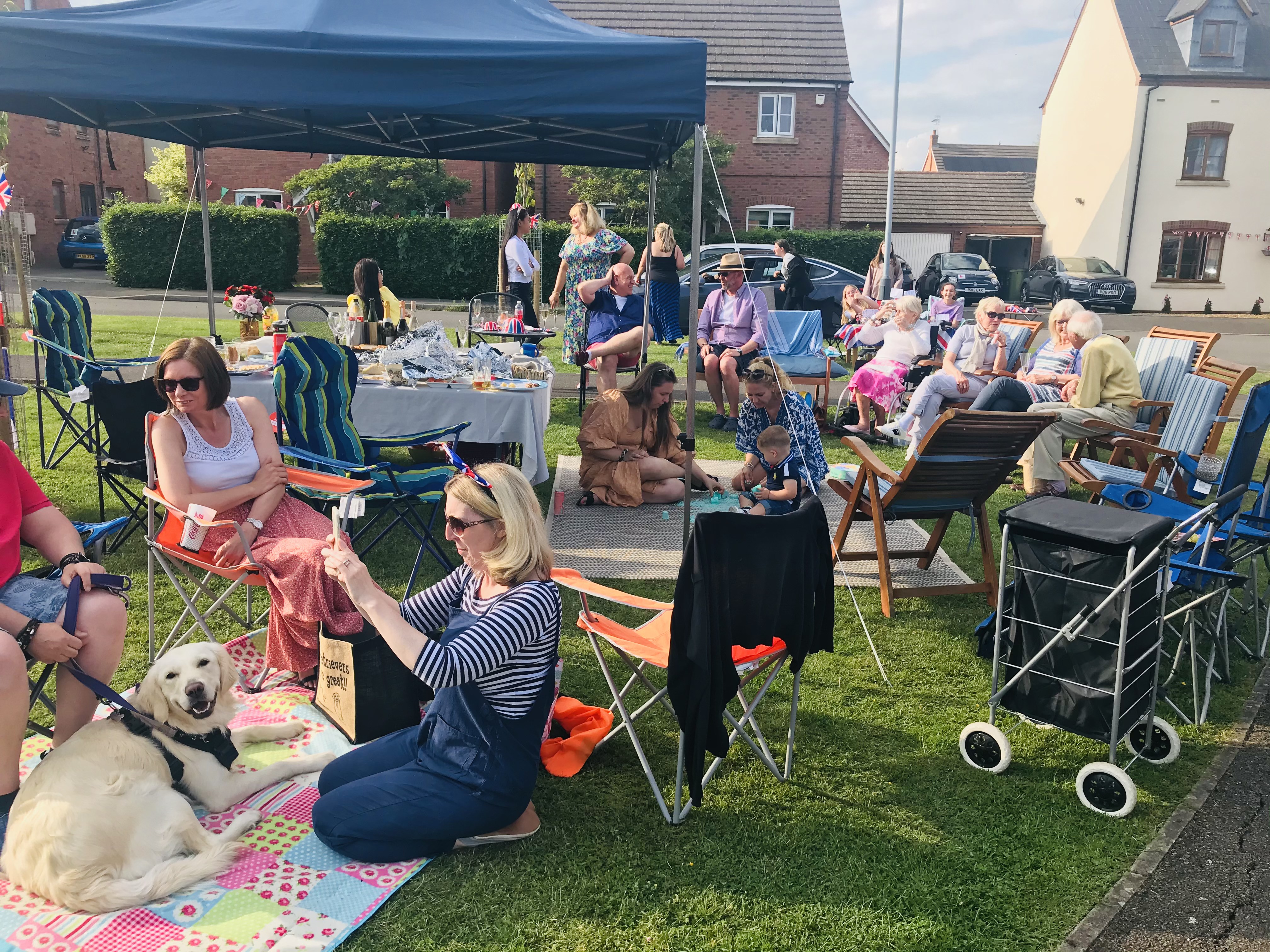 Many streets and neighbourhoods hosted parties during the long bank holiday weekend, with many residents eager to celebrate the Platinum Jubilee.
Railway Crescent and Signal Road was no exception, hosting a fantastic party on Thursday afternoon. As the sun shone, Nick Nickerson kept everyone singing and dancing with a live music set. Gazebos, bunting, flags and balloons decorated the green, where neighbours of all ages chatted and forged new friendships. Children made their own fun on the playground and much delicious homemade food was eaten and fizz and beer drank
Jubilee Big Lunch
Hosted at the Sports and Social club, the Jubilee Big Lunch brought people together from across the town for a picnic and fun family activities. While it was slightly damp, everyone who attended had a fantastic time.
The Willey family did an incredible job creating some chalk art, led ably by Elizabeth. It certainly added some colour to a grey day!
Shipston Youth Club finds a new home
After being forced to vacate its home of over 40 years on the High School site, Shipston Youth Club has finally found a new home. Various different locations were explored at length to find somewhere that was the safest for young people and offered the most. The Club has now moved to Shipston Enterprise Centre on Pittway Avenue. It meets there on Tuesday evenings from 7pm. Although it has only been open a couple of months it has already proved popular. Attracting up to almost 30 young people for an evening.
Young People can enjoy chilling out, playing table tennis or pool, organising their own competitions or just chatting with the staff and volunteers.
"At last we have been able to run again and already we have shown that Shipston does still needs somewhere young people can go to and feel safe, with people to talk to and something to do," said Daniel Pulham, Chair of the Club's Management Committee. "We are immensely grateful to so many in Shipston who have encouraged us to keep going. We are especially grateful to Clear Sound who kindly agreed to move our equipment out of our previous premises for free and to Carl Starkey. That generosity really blew us away!"
The club is now looking to appoint a new Worker in Charge to help take the club and its members into a new exciting future. Application details can be obtained from Mr John Round at jasround@gmail.com. The club is also looking for more volunteers.