2021
 Ian Cooper elected as new Town Mayor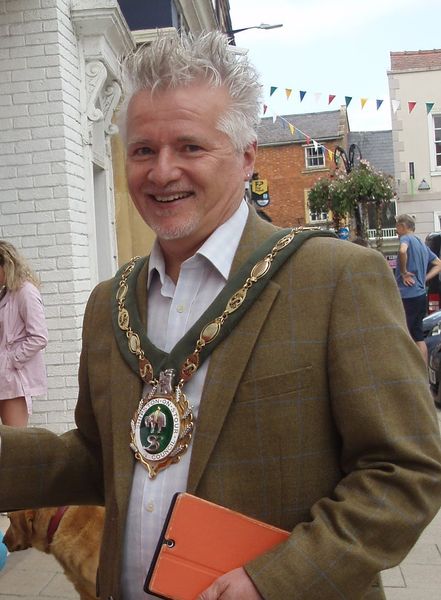 The Annual General Meeting of Shipston Town Council took place on 4th May where a new Town Mayor and Deputy Town Mayor were elected for the forthcoming year.
Councillor Ian Cooper was elected Town Mayor and his immediate predecessor, Councillor Sheelagh Saunders, was elected as Deputy Mayor. The chain of office was then handed over virtually during the meeting. Councillor Cooper will be supported throughout his Mayoral year by the new Mayoress, his wife Tina.
Councillor Cooper led a vote of thanks to the outgoing Mayor, highlighting what a difficult year it had been with little or no Civic Duties but the need to adapt to a whole new approach of running the Council, and bearing witness to how Shipston had responded to the pandemic. He noted that few would have managed to cope with these pressures and congratulated Sheelagh on handling it to tremendous success.
Shipston Museum to open soon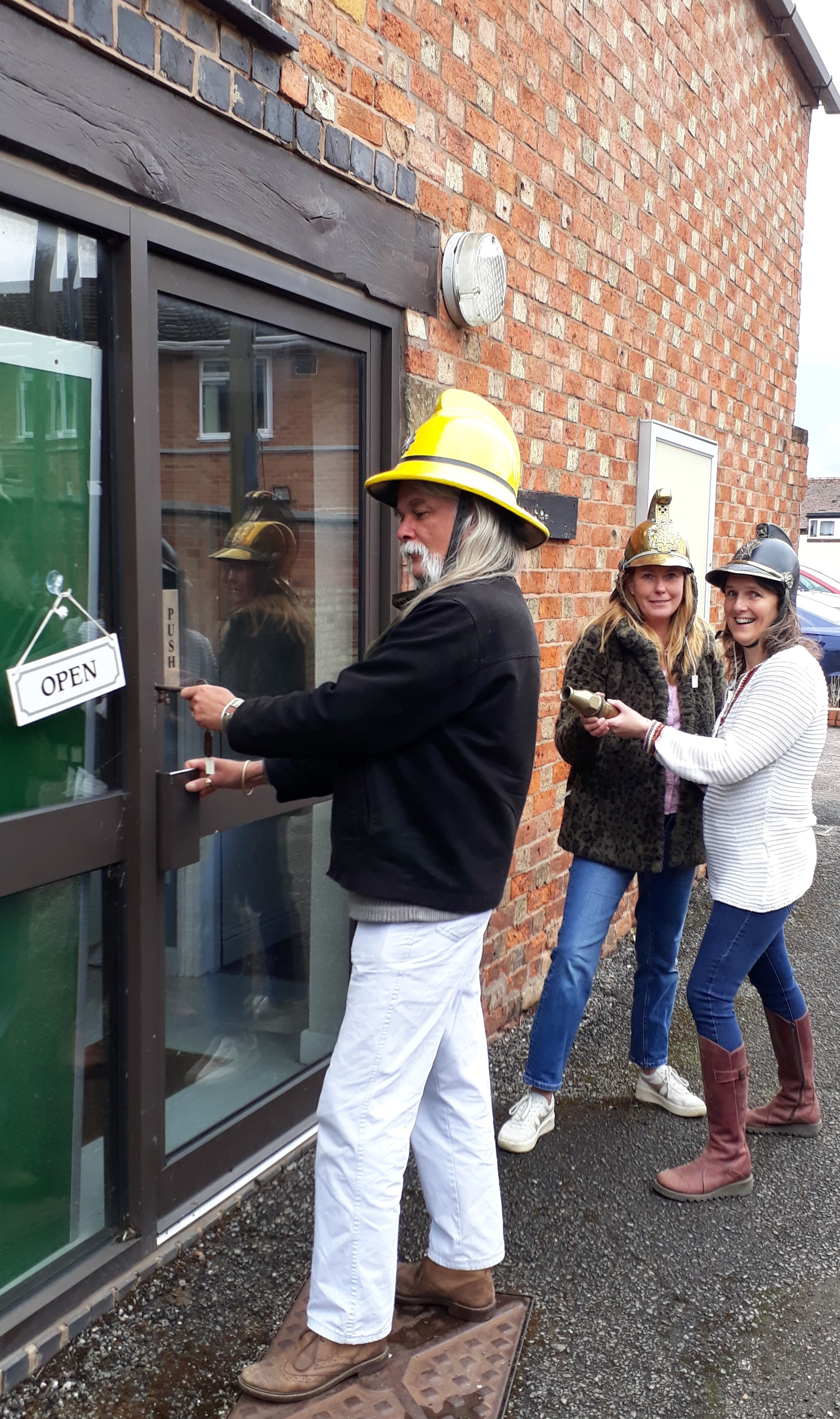 The doors to the past will be opened when the doors of the new Shipston Museum are finally unlocked this Summer, after last year's opening was halted due to the pandemic.
It fulfils the long held dream of the late Shipstonian Mike Ashley who saved local artifacts for years with the idea of sharing the story of the Shipston area with our community and visitors to the area.
The delayed opening due to lockdown was disappointing but work in its future home of Clark House (near the Town Council offices) continued with recording and archiving the many items collected by Mike and his long term friend Dick Burge plus others donated by local residents.
Archiving Mike's extensive photograph collection is Martin Russell who says interest in Shipston already comes far from our borders. "A lady now in Australia asked if we have any pictures of her mother as May Queen and I hope to discover one among the many we are currently sifting through."
Recognising and recording the past are vital tasks but plans also focus very much on the future. An integral part of the Museum will be the handling room where kids will learn by holding items from the distant past. "And we have other exciting ideas and initiatives in mind," explains Trustee Chair Bekky Hillman. "Garden Finds – identifying what you come across close to home, video clips introducing items of particular interest and changing displays – we want to involve our local community so they come back regularly to see the latest events in their museum."
This reflects Mike's concept of a museum for the local people, by the local people, as his daughters: Rebecca Ashley and Justine Taylor explain; "Our father asked us both to keep the connection and we have kept that promise by becoming Trustees and are proud of the wonderful legacy for us all embodied in our new Museum."
Visiting the Museum promises to be fun as well as fascinating as trustees Martin Russell, Rebecca Ashley and Bekky Hillman show by wearing firemen's old helmets as they foresee the entrance door's unlocking – date to be announced soon.
Be part of this exciting community project
Here's your opportunity to help with the launch of our Museum. A team of volunteers is needed to greet visitors and help with admin tasks. You may be retired? working? kids at school? carer? job seeker or student looking to add to their CV? Think about helping for a few hours each week/month. If you would like to know more about volunteering please make contact (sewalker3@hotmail.com) You don't have to be a history expert – but have some time for a great local cause and want to contribute to our vibrant community- so welcome aboard!
School Parking
Parents and other adults are being asked to be mindful and considerate of where they park to help make the roads around their child's school safer, less congested and help keep the air clearer of pollution.
The 'Cars and Kids Don't Mix' campaign from Warwickshire County Council and Warwickshire Police, encourages parents and other adults to think about how and where they park outside schools and to take responsibility for helping to keep children safe. It aims to help schools reduce inconsiderate, unsafe and illegal parking outside the school, whilst helping to ease congestion.
Parents of students at Shipston Primary should be aware that the school have secured free parking for parents in Telegraph Street Car Park during drop-off and pick-up times. Parents can contact the school office for a pass. This initiative aims to reduce the number of cars being parked around the school and neighbouring streets.
Local Housing Needs Survey
Keep an eye out for your copy of the Local Housing Needs Survey which will be dropping through your door very soon. Commissioned by Shipston Town Council, the results will provide detailed information about the future housing needs of all Shipston residents.
The results will stand alongside the Neighbourhood Plan to support building that is wanted and needed by residents and help resist unwanted developments.
It is essential that as many people as possible complete the survey, regardless of whether they have a pressing housing need so that everyone is represented. To incentivise participation, every survey returned on time will be entered into a PRIZE DRAW with a chance to win one of 3 cash prizes of £100. Winners will be contacted after the survey deadline and, subject to their agreement, will be announced in a future edition of the Forum.
His Royal Highness The Prince Philip, Duke of Edinburgh
Everyone at Shipston Town Council was very saddened to learn of the death of HRH Prince Philip, the Duke of Edinburgh and we remember with gratitude his extraordinary lifetime of service. Whilst guidelines discouraged any formal ceremony, the Union Flag was lowered to half-mast and Mayor Sheelagh Saunders made a donation on behalf of the Council and people of Shipston to the Living Legacy Fund of the Duke of Edinburgh Award Scheme
Concerns over future of Youth Club buildings
When the County Council disposed of the Youth Club building in 2008, it was to a landmark joint-venture between the Youth Club and High School. After £35,000 of County Council funded repairs, the project was viewed as a great example of the community coming together to make maximum use of assets, with the school having access during the day and the youth club for their club nights.
The Youth Club has continued to go from strength to strength with high attendance (over 50 young people on some evenings) and activities delivered by a fantastic team of staff and volunteers. Sadly, in Autumn 2019, issues with drains and the boiler meant it was deemed no longer safe and the Youth Club has been informed that approximately £9,000 of repairs are required.
Now the Youth Club has been asked to vacate the premises within six weeks, meaning they risk losing their permanent home.
Rev Daniel Pulham, who Chairs the Youth Club Management Committee, addressed the Town Council during their meeting of 26th April, lamenting how the original vision had "reflected the Shipston spirit" and that he has received "no invitation for further conversation or consideration".
It is hoped that the council can mediate a discussion between the school and Youth Club to reach an amicable solution.
High Sheriff of Warwickshire presents awards for public service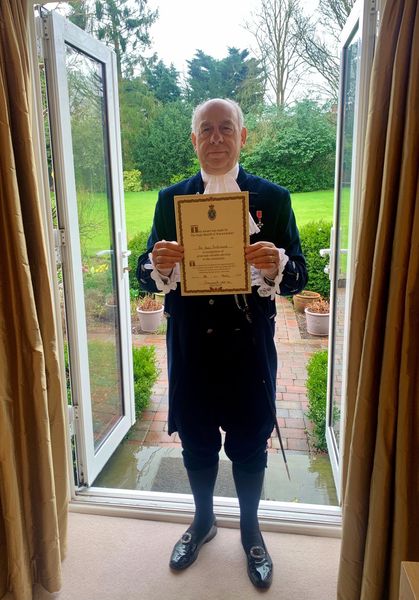 Joe Greenwell, the High Sheriff of Warwickshire presented three High Sheriff awards to Shipston residents during the Town Council meeting on 8th March. This included a posthumous award to Dr Sue Pritchard, which was accepted on her behalf by her husband Michael Booth, who expressed his gratitude for the outpouring of prayers and love from members of the community following the passing of his wife.
Sue Pritchard
Shortly before Sue passed away, she was recognised with a Fellowship of the Royal College of GPs. She was nominated for a Fellowship for her care and advocacy of the most disadvantaged patients; her ability and knowledge of the networks of statutory and voluntary sectors which enabled her to resolve or improve some of the most intractable problems. She also led a community initiative - DASH (Drugs Action Shipston); she was the lead clinician in setting up Dementia care in the practice, including the community Dementia cafe, to support Dementia sufferers and their carers. The nomination also referenced her involvement and commitment to teaching; for supporting and developing staff members at the medical centre, as well as caring for them in a pastoral sense.
More recently, Sue had been instrumental in setting up Walking for Health – a fore-runner of the health walks that exist around the county today. Sue was passionate about encouraging movement, exercise and mindfulness and was instrumental in creating Activ08 which also occurred in 2011, to promote the various sports clubs and societies in the town and the importance of exercise in retaining our wellbeing.
Linda Cornock
Linda Cornock received the Award in recognition of her contribution to the community of Shipston on Stour, using her knitting and needlework skills having set up the Shipston Knitting and Crochet Guild. Over many years, she has knitted beautiful Christmas scenes for the Rotary Victorian Christmas evening. She has knitted sheep to embellish the annual Shipston Wool Fair, 'yarn bombing' the town with countless other objects to enliven Shipston events. She has knitted 100's of poppies to decorate St Edmund's internally and externally in the dramatic waterfall of poppies that cascades from the tower for Remembrance Sunday.
Most recently, Linda has dedicated her time to making masks for the community during the pandemic. She has raised the phenomenal sum of £2000, shared between Shipston First Responders and Shipston Home Nursing.
Charlotte Haines
Charlotte Haines sprang into action, joining the newly created Facebook group, Shipston on Stour Isolation Support Group. This was swiftly renamed Shipston SOS so that the group could continue to offer their support to the community after the pandemic. Possessing outstanding organisational skills, honed by her time serving on and then chairing the Shipston Proms committee, she met with the Town Clerk, the Town Mayor and others to formulate a cohesive plan for the initial logistics and set-up. She became the hub of the group and devised a zone system to ensure that every household was covered. This initiative covered the whole of Shipston and was extended to the villages of Honington, Tidmington, Burmington, Darlingscote and Blackwell. The zone system was used to coordinate the volunteers so that offers of help could be specifically targeted to those in need. She also forged links with the Self Isolation Groups in Brailes, Long Compton, Halford and Tredington. In addition, Charlotte liaises with local social housing providers, Age UK and the local hospitals and food bank.
About the High Sheriff
The High Sheriff is the Queen's representative in the County for all matters relating to the Judiciary and the maintenance of law and order; much of the High Sheriff's year is therefore spent supporting and encouraging the voluntary and statutory organisations who work in this area. In Warwickshire, this means involvement with the Crown and Magistrates' Courts, in addition to the Police, Prison and Probation Services.
Traditionally, High Sheriffs look after visiting High Court Judges to the county, although such visits are now rare in Warwickshire. However, the High Sheriff does make awards to those who, in the opinion of the Judges at a criminal trial, have been active in the apprehension of certain offenders.
The Office of High Sheriff is apolitical and as such the High Sheriff is in a unique position to be able to bring people together within the county and to support the enormous contribution made by the emergency services, the armed forces, local authorities, church and faith groups and the voluntary community.
As part of their ceremonial duties, the High Sheriff assists the Lord Lieutenant of the County with Royal visits, is the Official Returning Officer for parliamentary elections and has responsibility for proclaiming the accession of a new Sovereign.
Search for local health champions
The Stour Health and Wellbeing Partnership is seeking to recruit and develop approximately 16 local health champions. They will be tasked with raising awareness, directing people to local health services and providing help to those who need a little extra support.
These volunteers will be positive role models, supporting people to make positive choices regarding their own health and wellbeing. They will work as part of a team to support people from a wide range of backgrounds. All volunteers will receive access to training and a level 2 qualification from the Royal Society for Public Health.
The training and DBS completion is free of charge, but a commitment of 3 to 4 hours per week is required for a minimum time frame of 6 months. Volunteers will be supported by the organisation, Volunteering Matters, for the first year.
Shipston Rotary award over £2,600 to good causes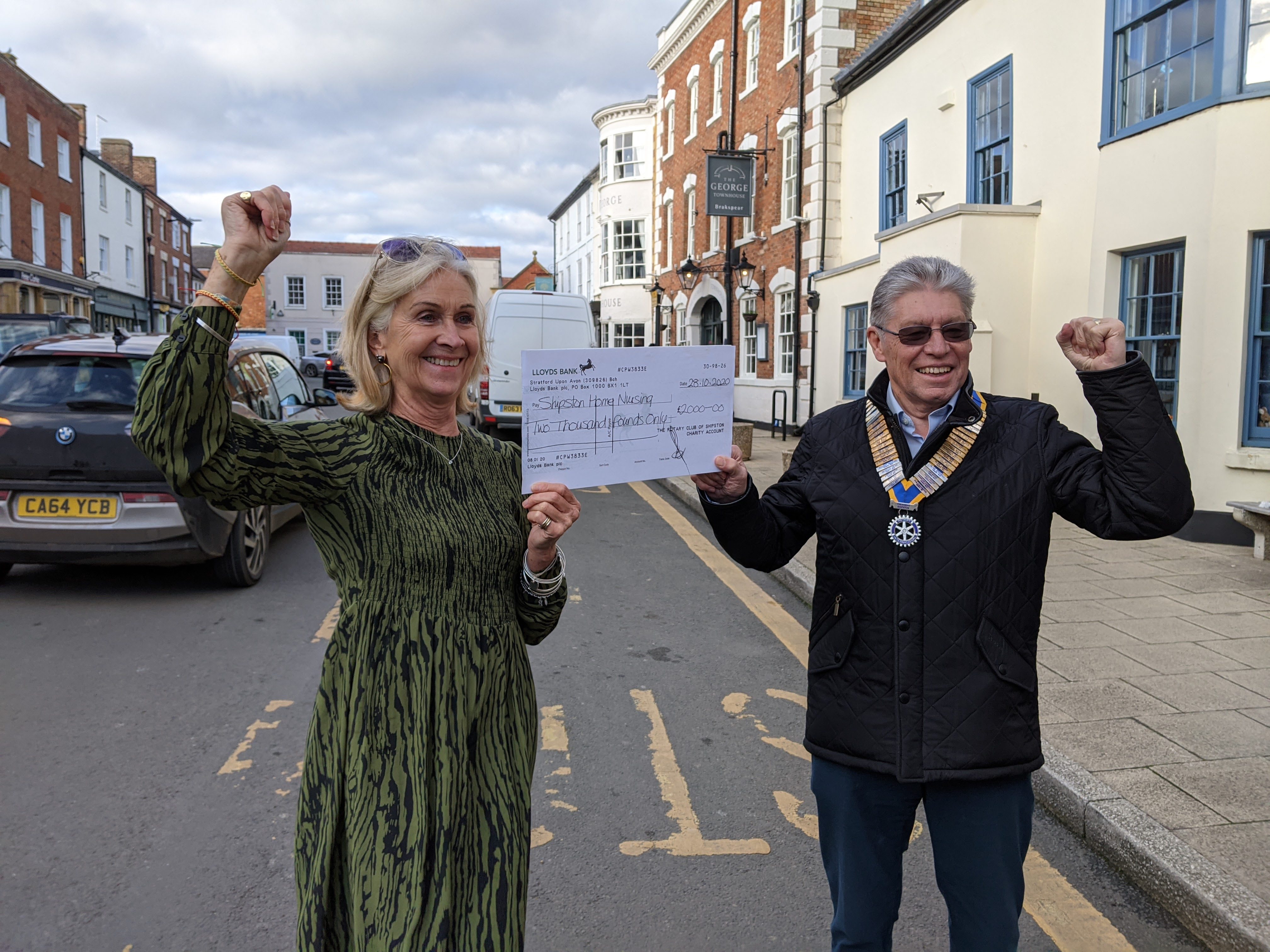 Recently Shipston Rotary have made a further £2,000 donation to Shipston Home Nursing (Right: Rebecca Mawle, Head of Community Nursing at Shipston Home Nursing with Rotary president Stuart Mclean). In addition, the funds raised from the Tree of Life (£632.20) have been presented to Acorn's Children's Hospice.
N.B St Edmunds church is closed at present, however, the Book of Life will be there when it reopens.
On-street electric vehicle chargers proposed for Shipston
During the February Town Council meeting, Councillors discussed a proposal from Warwickshire County Council to apply for grant funding to install electric vehicle charging facilities on the High Street and/or Sheep Street. In either location, four dual-headed charging points would allow for up to eight vehicles to be charged at once.
The maintenance costs of the charging points would be borne by the operator and Warwickshire County Council would receive a 5% revenue share. Following the initial three year contract, the County Council would have the opportunity to renew for 12 months on two occasions, before going to a competitive re-tender.
While some concerns were expressed about vehicles occupying parking spaces for an extended period, it was felt that on balance this was a great opportunity for the town and both schemes should be supported, with a preference for the High Street if funding was only available for a single location. Councillors were particularly keen to explore future grant opportunities for off-street charging provision as it was felt this would be the most beneficial solution. The Planning Committee will review the proposals and report back.
Census 2021 – Sunday 21st March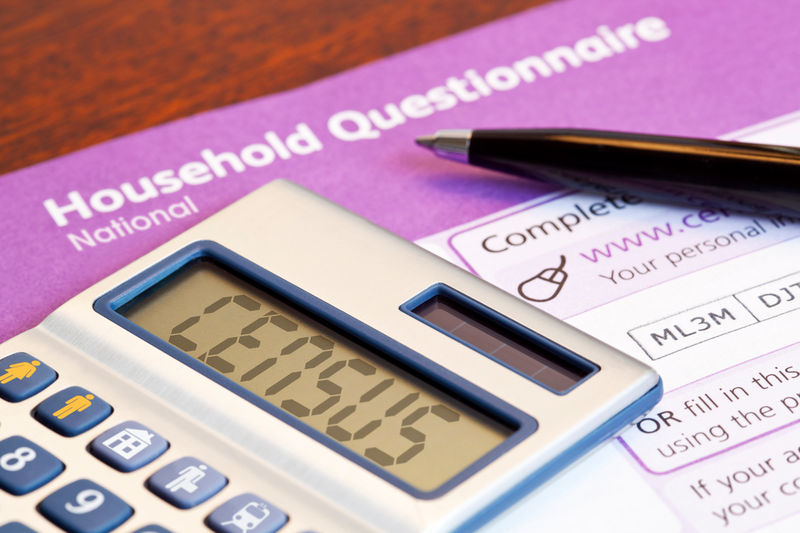 Understanding the needs of the nation helps everyone from central government to local organisations, such as councils and health authorities, plan and fund public services across England and Wales. Census outputs inform where public funding is spent on services like transport, education and health.
Information from the Census makes a difference to the life of every single person in Warwickshire as Census data is used to plan things as diverse as maternity services, apprenticeship schemes, new bike lanes and nursery spaces.
Privacy is also respected throughout the process. All data is made anonymous and personal information is locked away for 100 years, so it cannot be seen by government officials dealing with individual applications for support or influence the payments or services someone receives. The anonymised census results are available 12 months after the census takes place.
Households will begin receiving letters with online codes in March explaining how they can complete their online census. People can also request a paper questionnaire if they'd prefer to complete the census that way. In areas where lower online completion is expected, around 10% of households will receive a traditional paper form through the post.
There is plenty of help available, with people also able to complete the census over the phone with assistance from trained staff via the ONS' freephone contact centre. The ONS also aims to provide in-person support to complete the census online through Census Support Centres where it is safe to do so.
Census 2021 will include questions about sex, age, work, health, education, household size and ethnicity. For the first time, there will be a question asking people whether they have served in the armed forces, as well as voluntary questions for those aged 16 and over on sexual orientation and gender identity.
For more information and advice on how to answer the questions, visit census.gov.uk.
 Healthwatch Warwickshire survey about planned Health and Wellbeing Centre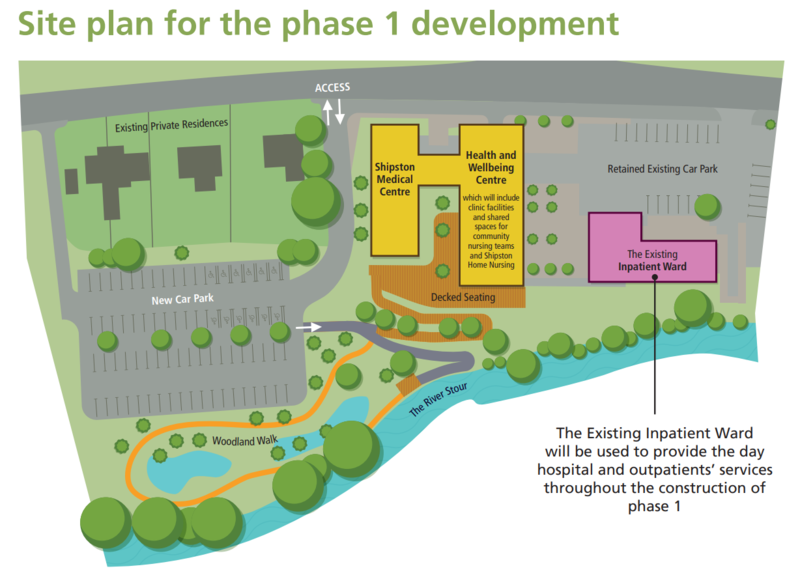 South Warwickshire NHS Foundation Trust has been working with Shipston Medical Centre to develop a facility that integrates healthcare for the residents of Shipston and the surrounding villages. Phase 1 of the development will create a new GP surgery, a health and wellbeing centre with clinic facilities, integrated shared spaces for community nursing teams and Shipston Home Nursing, as well as a new car park and landscaping. This will be in addition to the outpatients, the day hospital and physiotherapy gym. For more information please visit: https://www.swft.nhs.uk/our-hospitals/ellen-badger-hospital/ellen-badger-hospital-development-plans
The Health and Wellbeing Centre will support the health and wellbeing needs of the community in Shipston and the surrounding villages, by delivering conventional healthcare alongside activities to address social factors. It will offer opportunities to learn, connect, get active and give something back.
The survey from Healthwatch Warwickshire allows residents to help to develop and shape the Health and Wellbeing Centre. Healthwatch Warwickshire is a local independent organisation that works to collect patient and public experiences of health and care.
Complete the survey online at https://www.surveymonkey.co.uk/r/7RZXBXZ, organise a telephone interview by calling 01926 422823, or collect a paper copy from Shipston Medical Centre.
Rotary donate £1000 for school laptops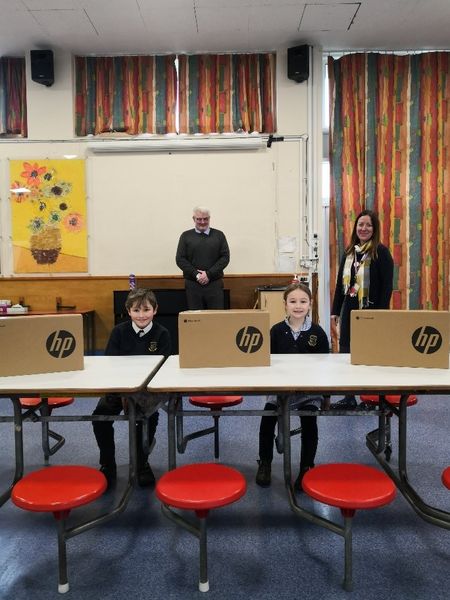 In its latest act of generosity, Shipston Rotary has donated £1,000 to Shipston Primary School to enable the school to purchase laptops, broadening access to online home learning.
Glyn Roberts, Head of School at Shipston Primary School, said: "Throughout all of the past difficult year, and especially over the past week since Lockdown was announced, we have been overwhelmed by the generosity of our wonderful community. The help that you have given to provide laptops to ensure that all of our children can access online home learning is amazing and extremely humbling.
"We have already been donated some laptops raised through donations and are hugely grateful to the Rotary for their continued support which now includes a donation of £1,000 towards purchasing more laptops.
"The support of our community means so much to us in school, not just in helping us to continue to deliver the very best education to our children that we possibly can, but also in reminding all of us in school that we are all it together. It is moments like this that we hold on to and give us the strength to know that we will get through these times. Thanks again and stay safe."
Photo: Children of Shipston Primary School, Lucy Bosley (School Computing Lead) and Glyn Roberts (Head of School) with some of the Chromebooks donated to the school.
Stratford District Council Garden Waste Subscription Early Bird Offer
From April 2021, there will be a charge for green bin collection by Stratford District Council with an annual charge of £40 per bin. There is currently an early bird offer of £35 for each green bin for a 12-month subscription, available until 28 February 2021.
Householders who pay to have their garden waste taken away will be issued with a non-transferable permit to attach to their green bin.
Those without a permit will have the choice of home composting (discounted bins are available from Warwickshire County Council) or taking their garden waste to a Household Waste Recycling Centre.
Food waste will still be collected on recycling collection weeks for those without a permit who use food waste caddies. Free food waste caddies are available on request by calling 01789 260628 or emailing: streetscene@stratford-dc.gov.uk
Best Dressed Window Competition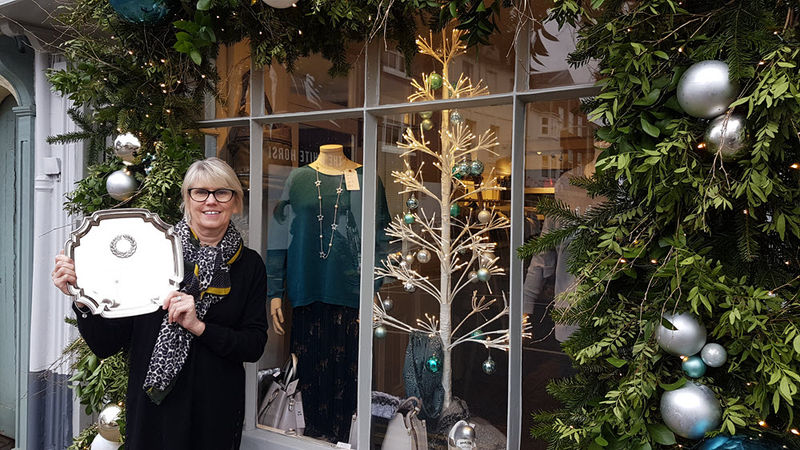 The winner of this year's Rotary Best Dressed Window competition is Dice of Church Street. Pictured outside her shop is Jayne Scandrett, the proud owner, holding the trophy presented by Rotary President Stuart Mclean.
In second place was the Cottage Garden Florist, The Alleyway (Jemma Parnell) and third placed was Dr CP Grey Opticians at 29 High Street.
The judges said they were very impressed with the number of shops that took part and the quality of the beautiful displays. Picking the top three was very difficult!
This is a very good reminder to shop in Shipston if possible, but if you do need to buy something from Amazon, Shipston Rotary urges you to go to smile.amazon. co.uk and choose Shipston Rotary as your charity. It won't cost you a penny more, and the Rotary will receive a small donation.
This year Rotary's focus is local charities especially Shipston Home Nursing. You can donate at JustGiving, or by using the QR code here. Scanning the code using your mobile phone takes you directly to the Rotary's Just Giving page and is an easy way to donate.
Shipston Area Flood Action Group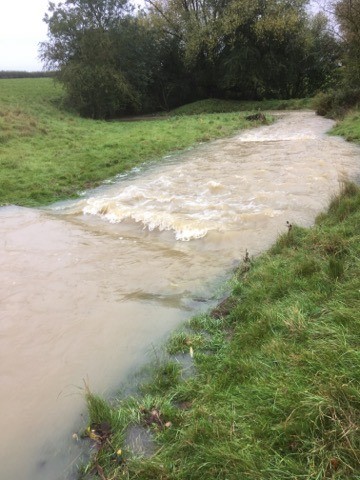 Phil Wragg and Geoff Smith reported on a busy year for the Shipston Area Flood Action Group, which had continued its work in slowing river flow, managing to implement 270 measures in areas upstream of the town – and a total of 694 altogether in the past three years. Interventions have included dams, ponds and tree planting, and installing monitoring equipment at Ditchford Farm.
With funding from DEFRA and the Environment Agency, and involvement in three academic studies, the group is seen as a key contributor to natural water management. The team of around 12 will be continuing their monitoring throughout this winter across the 198km2 catchment to see how the schemes are working, and has a full programme of works planned throughout 2021.
To the right is one of the 600+ dams in action, slowing the water's passage downstream. This is on Sutton Brook upstream from Brailes. There is also an attenuation pond at Ditchford Farm which will fill up in flood conditions and hold back over one million litres of water for several hours before slowly releasing it back into a stream feeding Pig Brook.
Census 2021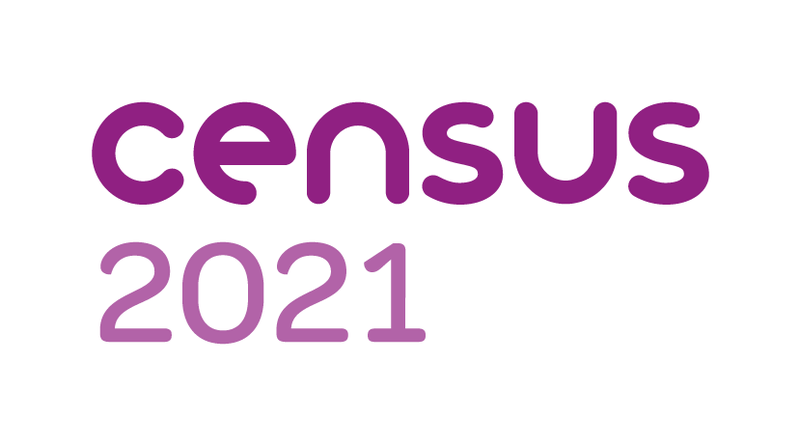 Households across England and Wales will soon be asked to take part in a once-in-a-decade survey of housing and population. Census2021, run by the Office for National Statistics (ONS), aims to give the most accurate estimate of people and households. The information will help decide how everyone, from local authorities to charities, spends funds and puts services in place. This could mean things like doctors' surgeries, housing or new bus routes.
The census has been carried out every ten years since 1801 with the exception of 1941 due to the Second World War.
Early in the new year, households will receive a letter about the census with a unique access allowing them to complete the questionnaire online on their computers, phones or tablets. Paper questionnaires are available on request. Census day is March 21 but households with access codes can take part from early March.
The census will include questions about your sex, age, work, health, education, household size and ethnicity. And for the first time, there will be a question asking people whether they have served in the armed forces, as well voluntary questions for those aged 16 and over on sexual orientation and gender identity.
Results will be available within 12 months although all personal records and any detail that would identify an individual will be locked away for 100 years and kept safe for future generations.
For more information visit: census.gov.uk