June 2019
 Shipston Town Council welcomes new Mayor and Councillors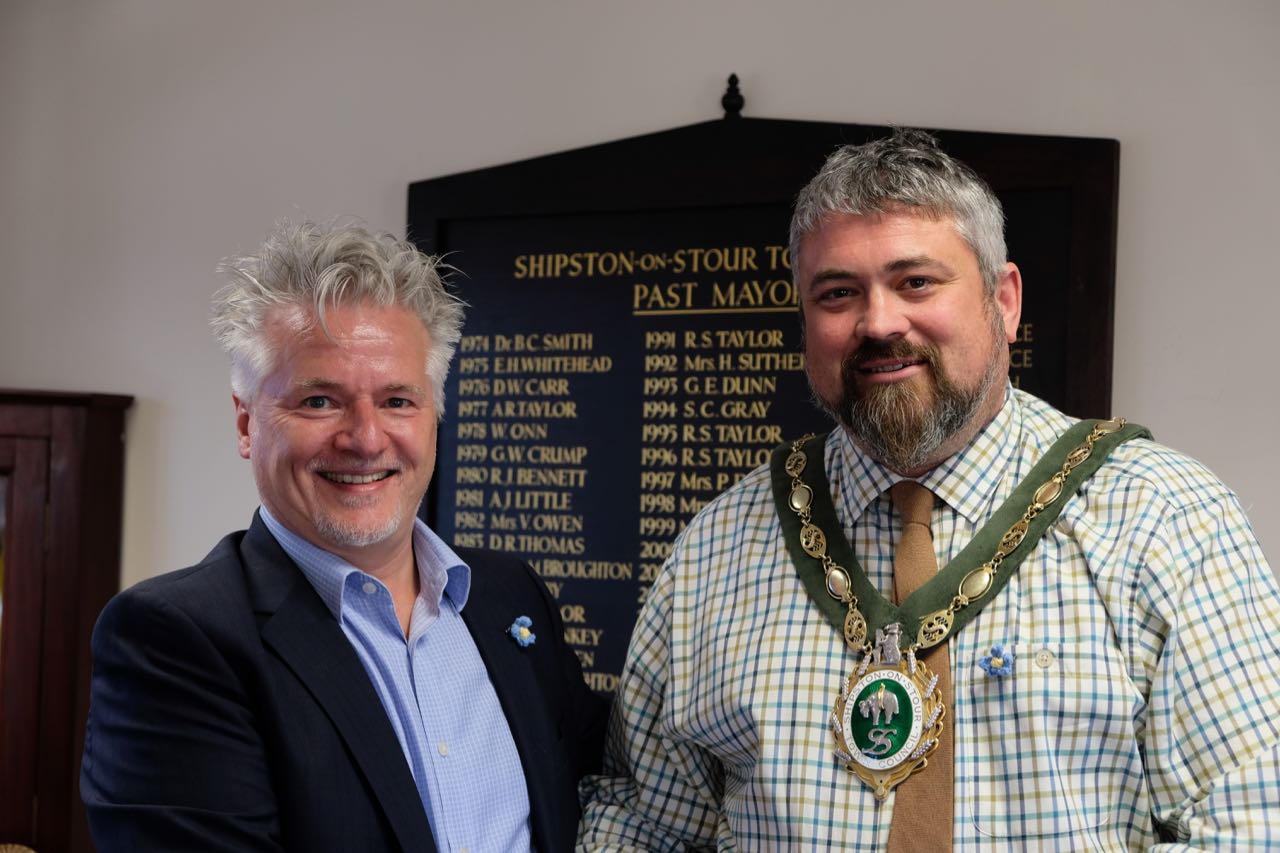 The Annual General Meeting of Shipston Town Council saw the election of a new Mayor and Deputy Mayor for the town. It was also the first meeting for the four new councillors elected in May.
Dan Scobie was unanimously elected Mayor for 2019/20 - his second term in the role having previously chaired the council in 2017/18. Sheelagh Saunders was unanimously elected Deputy Mayor.
Stepping down from his Mayoral role, Ian Cooper thanked all those who had supported him over the past 12 months.
Ian said: "It has been an honour and a privilege to serve Shipston as Mayor. We have a strong and unified council. Although we have our own say and opinions, we act together which stands us in good stead."
Ian Cooper went on to thank fellow councillors and former mayors for their support and guidance, as well as Rev Sarah Edmonds for her help with town events and ensuring civic dignitaries received a warm welcome.
The Town Clerk and Deputy Town Clerk were presented with flowers as a thank you for their work for the Mayor over the past year.
Ian Cooper also recorded thanks to former district and county councillor, Chris Saint, for his hard work and support for Shipston over his many years in office. Chris stood down at the recent elections.
Dan Scobie congratulated Ian on a successful year as Mayor, which saw the town council strengthen links with young people in the town.
 Shipston First Responders announced as 2019/20 Mayoral charity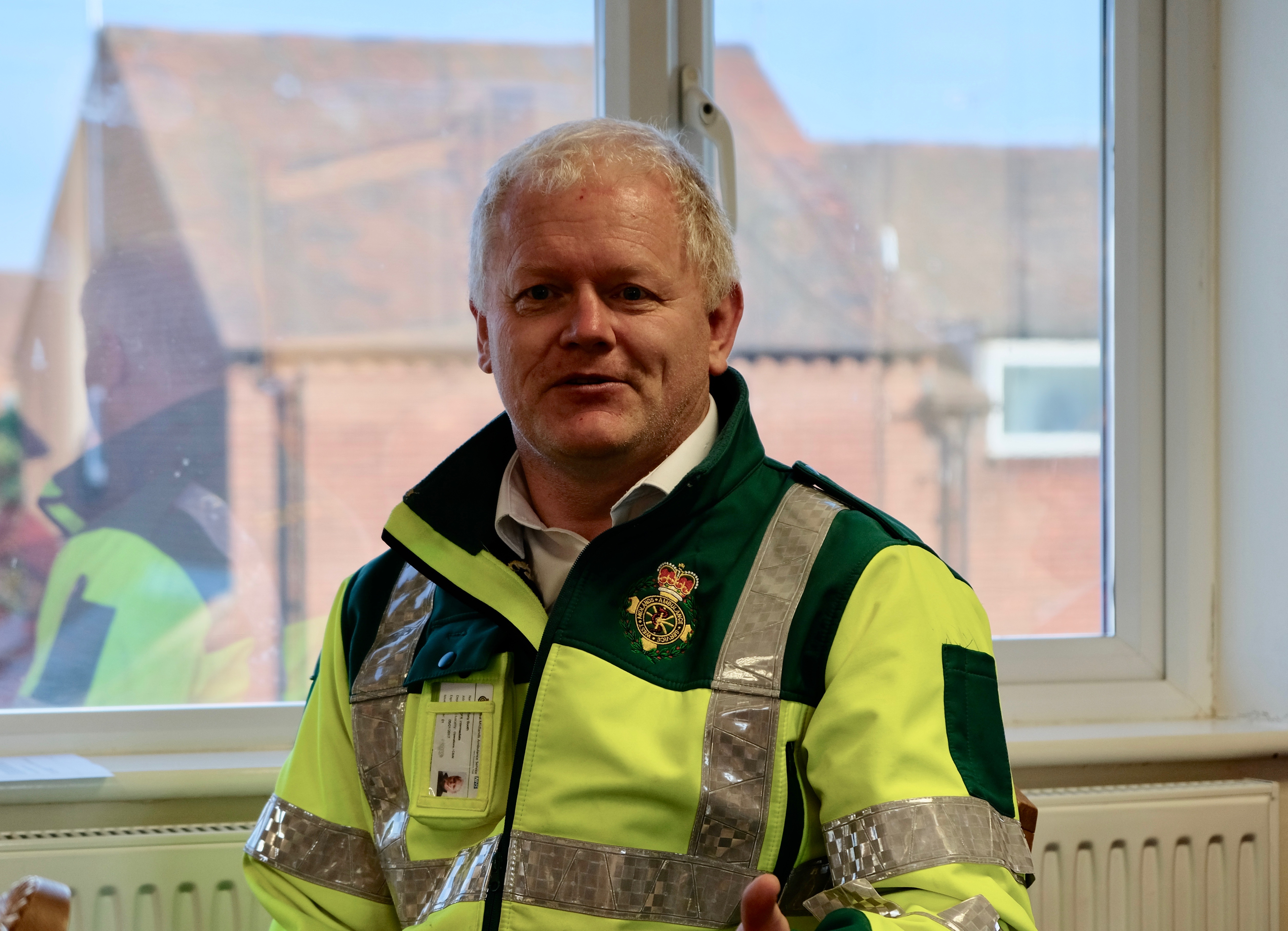 Mayor, Dan Scobie, announced that his charity for the year will be Shipston First Responders (SFR).
SFR help West Midlands Ambulance Service get trained, experienced care to a patient very rapidly. SFR volunteers are based in and around the town and can usually respond to an emergency call within 5 minutes which can be vital considering the town's rural location.
SFR, Tony Booth (pictured) explained that the team is often first on the scene, and has saved lives in cardiac arrest situations. The team aims to provide a service 24 hours, 7 days a week and is always looking for more volunteers.
SFR is funded entirely from donations and grants. All of the people delivering this vital service are volunteers, helping others in their own time, and at their own cost.
Mayor, Dan Scobie, said: "I was surprised to discover that SFR volunteers have to pay for everything out of money they raise or their own pocket. This includes their uniforms, their first aid supplies, and their heart defibrillators. If they use any equipment on a patient, they have to replace it at their own expense. This year the Town Council will be helping to raise funds to allow SFR to focus on delivering the care they do so well, and have to spend less time thinking about the money."
Prepare for a packed Proms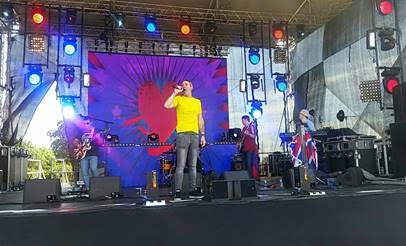 After eight months of planning the 21st Shipston Proms Music Festival is ready to roll!
Whatever your taste in music, there will be something for you to enjoy during the two-week festival which runs from 14th-29th June. A mix of DJ's and dance parties, jazz, folk, pop, rock, rhythm and blues, classical and show tunes will be performed in town and village halls, pubs, cafes and churches in and around Shipston on Stour.
Proms highlights
Our top picks include international artist David Boakes as Michael Jackson; a three DJ Dance Party with Tim Samara; International guitarist Craig Ogden and mezzo soprano Claire Bradshaw appearing at St. Edmund's Church; and of course the headliners at our Last Night party in the Square - The Britpop Boys and local band, Oliver Darling and The Living Legends.
For younger members of Shipston there is musical adventure waiting for them at the Scout Hut hosted by Calypso Kids and a chance to join in a family dance party at Townsend Hall (with just one DJ this time).
New venues this year include Alderminster, Halford, and Long Compton Village Halls plus the Ebenezer Chapel at Long Compton, Talton Mill at Newbold and the Three Ewes in Shipston.
Advance tickets
Tickets for the Michael Jackson Tribute Launch Night and the Dance Party can be bought in advance via www.shipstonproms.org.
Over 40 advance tickets for the Friday Dance Party had been sold by 8 May so don't delay!
Fame beckons
There is still time for soloists and bands to enter the Fame Contest on June 23rd as the deadline for entries is a week before. At the time of going to press, five entries had already been received – could this year be your year to shine?
Last year's band category winners, 'The Fortunes' from Stratford, will be returning to play for the audience while the judges decide this year's winners.
Supporting our community
Shipston Proms is supporting the community with both school workshops as well as an event on Thursday 27th June at Low Furlong to bring music to the home's Senior Living's FaNs (Friends and Neighbours).
Look out for the programmes that will be coming through your door and available to collect from some of the pubs and participating venues. Further details can be found on the Proms website www.shipstonproms.org or by emailing shipstonproms@gmail.com.