June 2016
What's on for young people in Shipston this summer?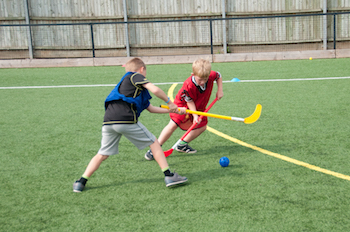 The summer holidays are fast approaching and thanks to various organisations in Shipston, there are plenty of activities to help keep young people occupied throughout the break.
There are lots of ways to stay active. Shipston Tennis Club is holding mini tennis camps for 5-11 year olds for three weeks from 25th July (weekdays only). The courses run from 10am-1pm and cost £11 for members, £15 for non-members. Each session covers a new area of tennis using drills, group exercises and other techniques. To book, please contact Jose – 07969 055032 or jolilian24@yahoo.com. All equipment will be provided. Places are limited so please book early.
Everyone Active will be offering intensive courses to perfect those swimming skills. For full details of what is on offer, contact Shipston Leisure Centre on 662354.
Support Sport Minigames is making a comeback, this time holding multisports, dance and football courses at the Sheldon Bosley Hub. Running on weekdays from 25th July to 2nd September, the main activities take place from 10am to 3pm, with early drop off and late pick available on request. For details and to book, call 0247 722 0290 or email booking@supportsport.org.
Shipston Archery Club is hoping to offer a six-lesson beginners course during the summer which will bring newcomers up to club level. Details are still being finalised. Please contact David Beeton via dgrb@rocketmail.com.
For those wanting to get creative, Calypso Kids will be running a series of family fun days at the Townsend Hall. The sessions will offer a mixture of music for younger children and crafts for older kids. For more details including dates, please visit www.calypsokids.co.uk.
The popular Children's Holiday Club, open to all primary school children, is once again being held in St. Edmund's Church from July 26th to 29th between 10am until 12.30pm. Costing just £2 per morning, this fun club includes stories, games and crafts all based around the film Toy Story. For more information see the ad on page 8 or contact Rosemary on 662584.
Event season is in full swing in Shipston
The spring and summer events season is well underway in Shipston, thanks to crowd-pleasing events such as the Wool Fair, Shipston Proms and Fish 'n' Frolics weekend.
At the end of May, Shipston celebrated its woolly heritage with a series of special events including a Totally Locally arts and crafts market, Jazz concert and the Wool Fair itself. The Wool Fair photography competition was won by John Smith (adult category) and Noah Wilcox (children's category), while everyone was wowed by the fabulous sheep-themed fancy dress competition entrants. Attracting hundreds of residents and visitors across the weekend, the events proved extremely popular, and set the tone for a busy calendar of community activities to come.
The 17th June saw the official launch of the Shipston Proms which is now in full swing. Events as varied as a traditional Ceilidh, children's concerts, jazz and samba bands make up the varied programme which has already attracted lots of visitors to the town.
On the 2nd July, residents and visitors are expected to flock to the town square for the Last Night of the Proms. This free annual event is popular with all ages. This year, the event will be 'Goin' Local' to celebrate talent close to home. Bands including Kinky Farnham and Wired will headline the night, with the winners of this year's Fame contest also performing live.
There will be a short pause for breath before the next big event in the town – the annual Fish 'n' Frolics event held by Shipston Angling Club. This three-day festival starts on Friday 29th July at Shipston Sports Club. Having joined forces with Picnic on the Pitch, this year's event will have even more to offer including live music and lots of activities for all the family.
In the meantime, the organisers of Shipston's Food Festival are already making great headway with their plans for this year's festival, which will take place on the 18th September.
Commenting on the impressive line up of activities in 2016, Mayor, Ronnie Murphy, said: "We are very fortunate in this town that there are so many people willing to give up their time to put on these wonderful events. As a Wool Fair volunteer, I know just how much time and effort these events require and I would like to say a big thank you to everyone who helps ensure there is plenty of entertainment on offer throughout the year for Shipston residents".
Your town council supporting local events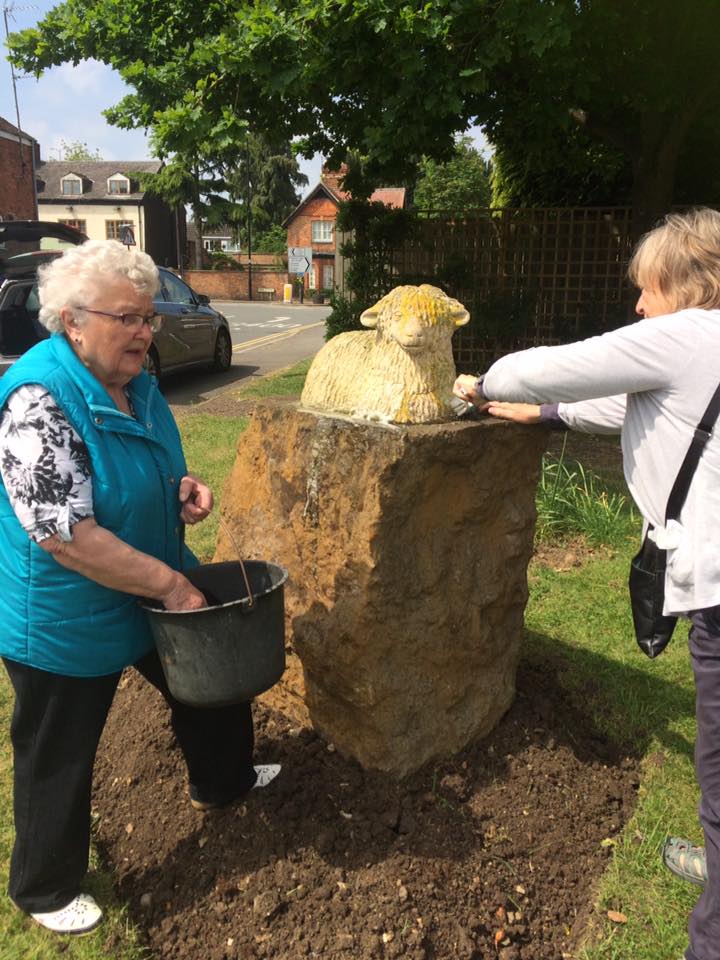 Most of Shipston's community events are organised and run by volunteers. Shipston Town Council actively supports many events through a mixture of grants and voluntary work, as well as organising one-off events such as the Queen's Birthday Beacon and Fireworks.
The Wool Fair receives funding and administrative support, with two town councillors and the Town Clerk actively involved. The Shipston Proms also receives funding, while two councillors take an active role in organising the event.
Both the Fish 'n' Frolics and Food Festivals receive grants from the town council and the Shipston Victorian Evening is also actively supported by the council through grant funding and voluntary support.
These and other events are also given free advertising via the town council website, social media and Shipston Forum to help attract visitors.
Mayor, Ronnie Murphy, said: "Supporting the community in putting on local events is an important part of the council's role. These events contribute to the vitality of the town, offering entertainment and attracting visitors which support our local businesses."
Shipston welcomes new Mayor, Ronnie Murphy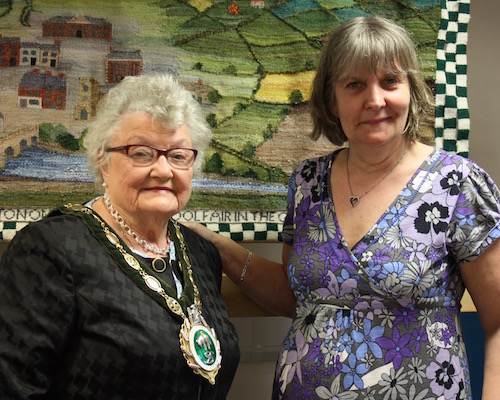 The Town Council meeting in May saw the election of Ronnie Murphy to the role of Mayor of Shipston. This is the second time Ronnie has served as Mayor of the town. Following two nominations and a ballot in which the Mayor had the casting vote, Alison Henderson was appointed Deputy Mayor.
In handing over her Mayoral chain, former Mayor, Jackie Warner, thanked all those who had supported her and invited her to events during her time in office. Her highlights included being mistaken for Queen Victoria at the Shipston Victorian Evening, getting to know the other local mayors and HM The Queen's birthday celebrations.
In accepting her new role as Mayor, Ronnie Murphy set out her priorities for the year ahead, including the completion of the Neighbourhood Plan; investigating the possibility of a walking/jogging track around the perimeter of the sports field on London Road; and seeing the town council achieve the National Association of Local Councils Gold Standard.
Ronnie Murphy led the thanks to Jackie Warner for leading the town council over the past 12 months.
Birthday Beacon proves a big success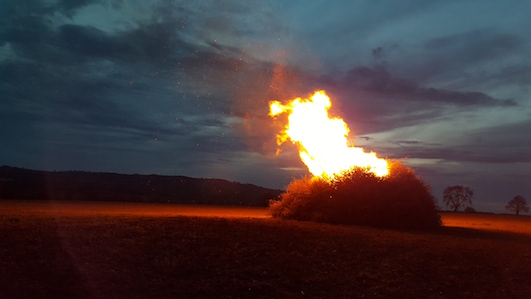 Crowds of residents of all ages flocked to the top of Whaddon Farm on 21 April to celebrate HM The Queen's 90th birthday.
In what proved to be a delightful community celebration, the free event gave people of all ages the chance to experience some of the best views of Shipston, including seeing five other local beacons alight in neighbouring towns and villages. Not content with just lighting a beacon, Shipston took its celebrations a step further with an impressive fireworks display made possible thanks to fundraising by the then Mayor, Jackie Warner, and Deputy Mayor, Ronnie Murphy.
Former Mayor, Jackie Warner, said: "It was wonderful to see so many people joining in the celebrations for The Queen's birthday and a special treat for me as it was one of my last events as Mayor. Thank you to all those who worked so hard to make the event possible, including our wonderful beacon builders and Shipston Rotary for manning the car park."
(photos by Dan Scobie)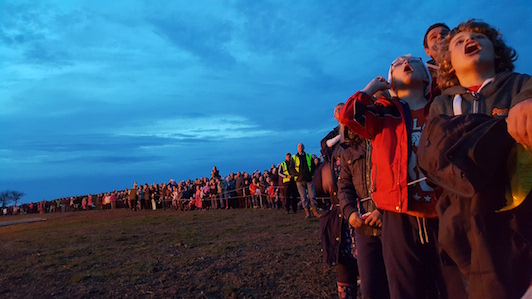 Ever dreamed of being a fire fighter?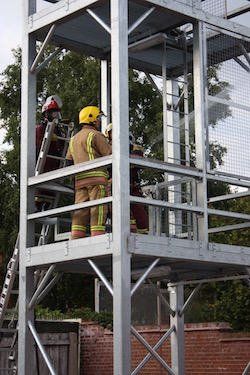 Warwickshire Fire and Rescue Service are currently recruiting to Shipston Fire station. Town councillor, Dan Scobie, was recently invited to spend an evening at the fire station with Watch Commander, Mike Jones and his crew, to find out what's involved and the challenges the Service faces to recruit retained firefighters.
"We're looking to recruit firefighters that live or work in Shipston who can be on standby for anything from 40 to 120 hours per week" Mike explained. "Currently we're relying on cover from outside of Shipston, so we need to recruit more firefighters from within the community".
"We have a crew of 8 at the moment, which means we've got at least 4 vacancies we need to fill. We take people from 18 and there is no upper age limit, you just need to be fit and healthy and ready to respond to the call" Mike added.
Warwickshire Fire and Rescue offers a high standard of training to all recruits, which includes first aid training and First Person on Scene. As well as being able to fight fires, retained firefighters are a real asset to the community, and have been called on to provide valuable first aid while waiting for paramedics to arrive.
Retained firefighters need to live or work close to Shipston Fire Station. For more information on being a retained firefighter log onto http://www.warwickshire.gov.uk/beextraordinary
Alternatively call Leeanna Kostka on (01926) 852223.