April 2023
Your Town Council Needs YOU!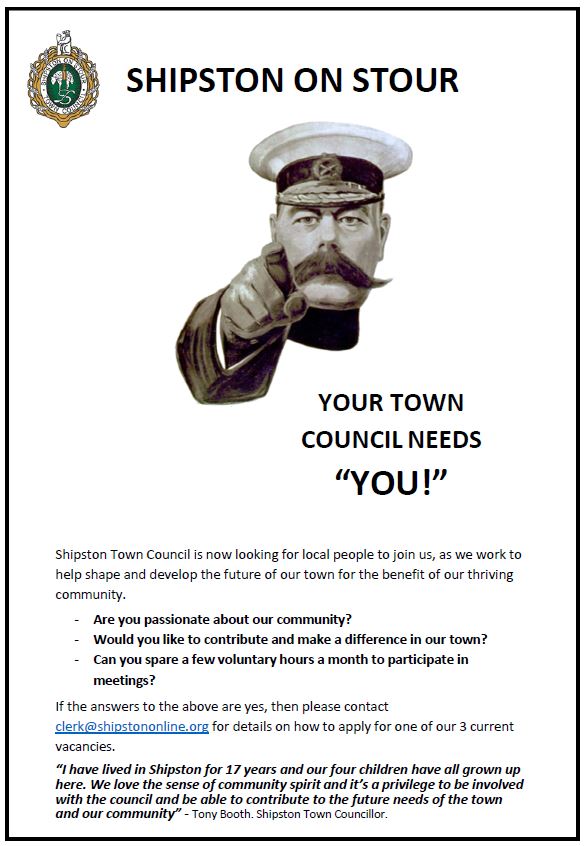 High levels of demand continue at Shipston Food Bank
The past year has been a busy one for Shipston Food Bank. Higher energy and food costs have meant that increasing numbers of households have been finding it difficult to afford food and other basic items and so we have had a steady stream of new customers week by week.
During the past twelve months we have helped 141 different households from Shipston and the nearby villages with emergency parcels of food and cleaning, laundry and toiletry items. We estimate that we have assisted at least 234 adults and 153 children over the course of the year.
At the same time, probably because of rising prices, donations of food and other items from members of the public have dropped off significantly and we have been spending increasing amounts each week on topping up our supplies – over £9200 in the past year.
Fortunately, because of very generous one-off and regular donations from local residents, businesses, charities, churches and other organisations, we remain in a healthy financial position to be able to continue to meet these and other costs. We are so grateful for this support, and also for the 20+ volunteers who give up their time to enable the Food Bank to operate. Thank you all so much!
Because of the amount of money that we are given, and our concern that we should be seen to be fully accountable in the way that we use it, we have recently become a not-for-profit Community Interest Company (CIC), which gives us formal legal status. We have always been a community venture, and our volunteers and supporters come from across the town and surrounding area, across the political spectrum (and of no political affiliation) and across faith groups (and of none). Our Directors are Rev. Sarah Edmonds (Chair), Ed Jackson (Treasurer), Fay Ivens, Jo Barker and David Freer.
If you need some help with feeding your household, come along to St Edmund's Church between 10.30am and 12.00 noon on a Saturday morning. You don't need a voucher or a referral.
We continue to welcome donations of food and other basic items. There are collection points in both the Co-ops and in Tesco, or you can leave things in the porch of St Edmund's between 9.00am and 5.00pm any day. Each week we post in each of the town's supermarkets and on our Facebook page (www.facebook.com/ShipstonFoodBank/) and our website (www.shipstonfoodbank.org.uk/), a list of the things we are particular short of.
For any enquiries about the Food Bank and its work, please contact our Administrator, Drina Heighton on 01295 680201 or at drinaheighton@gmail.com.
Micky and Linda Cornock loved by their town
The memorial plaque for Micky and Linda Cornock has now been installed on the bench where Micky was often spotted by Shipston residents observing the world go by.
Linda was one of the leading members of the Shipston Knitting & Crochet Group and also the instigator of the Yarnbombing Group, who have been responsible for decorating the town in eye-catching wool creations over the last few years.
Micky was the caretaker at the Shipston Junior & Infants School, also giving his time freely and generously to help out wherever he felt it was needed - particularly helping out around the Rugby & Sports clubs as he was an enthusiastic follower of all the Shipston sporting clubs.
They will both be missed dearly by the town.