2015
Have your say as Shipston's Neighbourhood Plan takes shape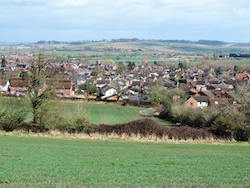 Residents and businesses from Shipston and surrounding areas are being encouraged to attend the Shipston Neighbourhood Plan Open Day on 12th December at the Scout Hut in New Street.
After months of research, community engagement and workshops, this Open Day will give everyone the chance to see the progress made and comment on the emerging proposals.
Running from 11:30am until 4pm, members of the Neighbourhood Plan team will be available to explain the proposals which are designed to safeguard the integrity of Shipston, while catering for the needs of future generations.
The Neighbourhood Plan team – most of whom are volunteers from the local community - has been working to address topics such as improvements to the town centre and riverside, how to reduce flooding risk, and suggestions for local nature and wildlife reserves. They have also been looking at ways to protect Shipston's rural setting, and how new employment opportunities might be created. A lot of focus has been on managing future housing needs, especially for young families and the elderly.
Maps, photos, posters and important documents will be on display to demonstrate how the different issues fit together, and team members will be happy to answer any questions.
With clear proposals now emerging, the Open Day is a vital opportunity for the community to shape the final policies.
Martin Ferrier, Town Councillor and Neighbourhood Plan Steering Group representative, said "This is a community plan and it can only work if the community gets involved. You may think we've missed something out or have a view on what we prioritise. Say so! Your ideas are important."
Feedback forms completed at the event will be entered into a prize draw - all the more reason to come along on the 12th!
Townsend Hall hosts BBC Radio Four 'Any Questions?' Broadcast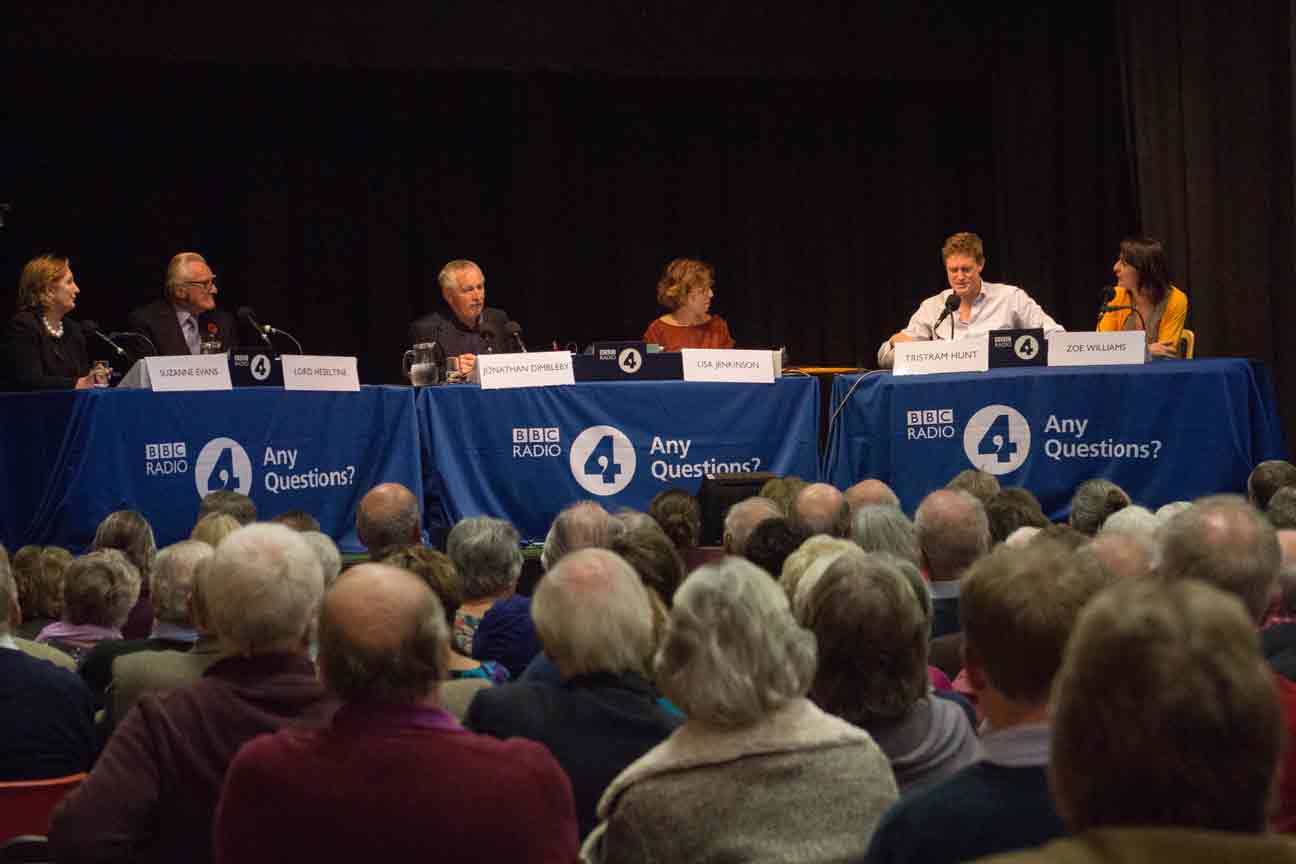 Shipston's Townsend Hall was the venue of choice for the 'live' production of BBC Radio Four's 'Any Questions?' on Friday 30th October.
The audience was packed with representatives from local, Conservative, Labour, Liberal Democrat, UKIP and Green parties together with representatives from local authorities, community groups, healthcare organisations and charities.
The panel, chaired by Jonathan Dimbleby, comprised Lord Heseltine, Former Cabinet Minister Tristram Hunt, Former Shadow Educational Secretary, Suzanne Evans UKIP and Zoe Williams from the Guardian Newspaper.
The event began with a 'warm up' question – which was the greater health hazard, 'a bacon buttie' or 'smoking'? The number of questions submitted by those attending was considerable. The topics selected and debated by the panel covered the proposed Welfare cuts, the Lords and possible reform, Immigration and the Labour Party Leadership.
David Squires, a trustee of the Townsend Hall, said "We were delighted to host such a prominent BBC Radio Show. It was wonderful to see such a variety of opinions expressed and national topics debated within Shipston. This is one of many exciting events we have planned at the Townsend Hall and we encourage all residents to keep an eye on our website for details of all our events."
For more information about events at the Townsend Hall, visit www.townsendhall.com.
Shipston turns out in force to remember the fallen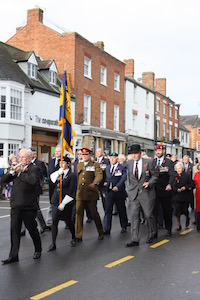 Despite the threat of rain, Shipston residents, charities and community groups turned out in high numbers to mark Remembrance Sunday on 8th November.
The annual Remembrance parade, led in style by Shipston Town Band and the Shipston Branch of the Royal British Legion, involved many local groups including the Scouts, Brownies, Beavers, St John's Ambulance, Community First Responders and the Fire Service. The parade marched from the town centre to St Edmund's Church for the laying of wreaths at the war memorial.
Reverend Andrew Colby led the Remembrance Service, during which the names of Shipston men who fell during the two World Wars were read out by students from Shipston High School. Armistice Day was also marked with a two minutes' silence in the High Street at 11am on the 11th November.
Richard Adams, Chairman of the local branch of the Royal British Legion said: "I am very grateful to everyone who took part in remembering those who made the ultimate sacrifice for our freedom. This is a very important event for our local community and it is very encouraging to see so many young people taking part in the parade and service alongside existing and former servicemen and women."
Shipston World War Two hero receives high honour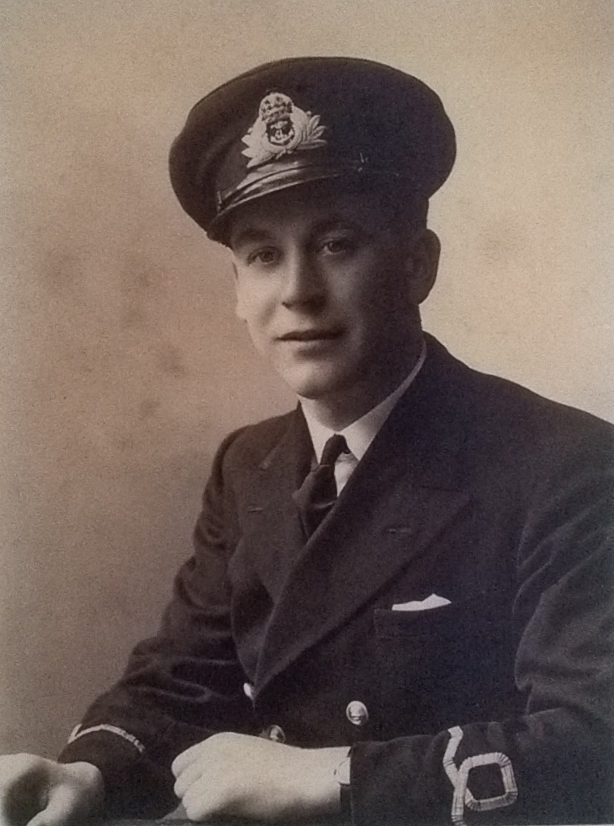 Local World War Two veteran, Eric Whitehead, has been appointed Chevalier in the Ordre Nationale de la Legion d'Honneur in recognition of his contribution and steadfast involvement in the Liberation of France during the Second World War.
Eric (pictured in his WW2 uniform) served in the Coastal Forces of the Royal Navy throughout WW2. Eric's main role early in the war was protecting coastal convoys from attacks by German boats in the English Channel and North Sea. During the Normandy invasion in June 1944 and thereafter, Coastal Forces carried out navigational duties including escorting convoys to and from the beaches. At this time Eric was commanding Motor Launch 593 of the 32nd Motor Launch Flotilla, playing a direct role in the liberation of France.
Between Dunkirk and VE Day, Coastal Forces fought over 780 actions, sinking 800 enemy vessels. In 1944, operating from Norway to the Aegean, there were some 3,000 officers and 22,000 ratings serving in Coastal Forces. That 2,300 were killed shows the hazardous nature of the operations they found themselves undertaking.
In a letter from the French Ambassador in London offering her heartfelt congratulations, she comments: "As we contemplate this Europe of peace, we must never forget the heroes like you, who came from Britain and the Commonwealth to begin the liberation of Europe by liberating France. We owe our freedom and security to your dedication, because you were ready to risk your life."
Richard Adams, Chairman of the Shipston Branch of the Royal British Legion, said: "Eric is a member and past president of the Shipston Branch of the Royal British Legion and we are all extremely pleased and proud that his bravery during WW2 has been formally recognised in this way."
Shipston Town Councillors also extend their congratulations to Mr Whitehead, who was once Mayor of Shipston in the days of the Shipston Rural District Council.
The town will have an opportunity to reflect on the bravery of Eric and his comrades, and remember the fallen at the Remembrance Parade on Sunday 8th November.
Santa's on his way to the Shipston Victorian Evening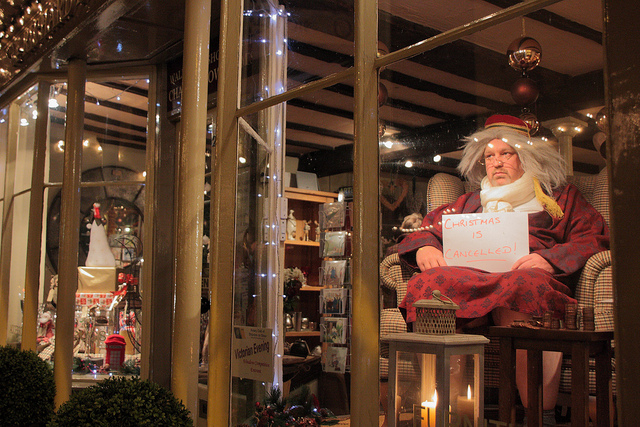 There were cheers all round at Shipston Rotary recently, on receipt of news from Father Christmas that he is able to attend this year's Victorian Evening.
With the star guest confirmed, Rotarians have been busy planning what looks set to be another wonderful evening of festive fun on Friday 4th December from 6-8pm. With everything from carol singers to cupcake stalls, there will be plenty to keep you occupied.
The Rotary Tree of Life will be lit in remembrance of loved ones, while the town's Christmas lights will be switched on to mark the start of the event. Stall holders will be offering opportunities to buy unique gifts for Christmas, while local clubs and charities will be enticing you to try your hand at various games and raffles in the hope of winning some great prizes. Most of the shops will stay open and the prizes for the best dressed window, on the theme of Christmas in Shipston, will be presented during the evening. This competition always produces many wonderfully imaginative displays such as the one pictured - a particularly memorable live display by The Richard Harvey Collection.
Hot food, mulled wine and plenty of cakes, mince pies and other treats will be available while you enjoy the entertainment and queue up for that all important visit to Santa's grotto.
Totally Locally Arts & Crafts Market wows residents and visitors alike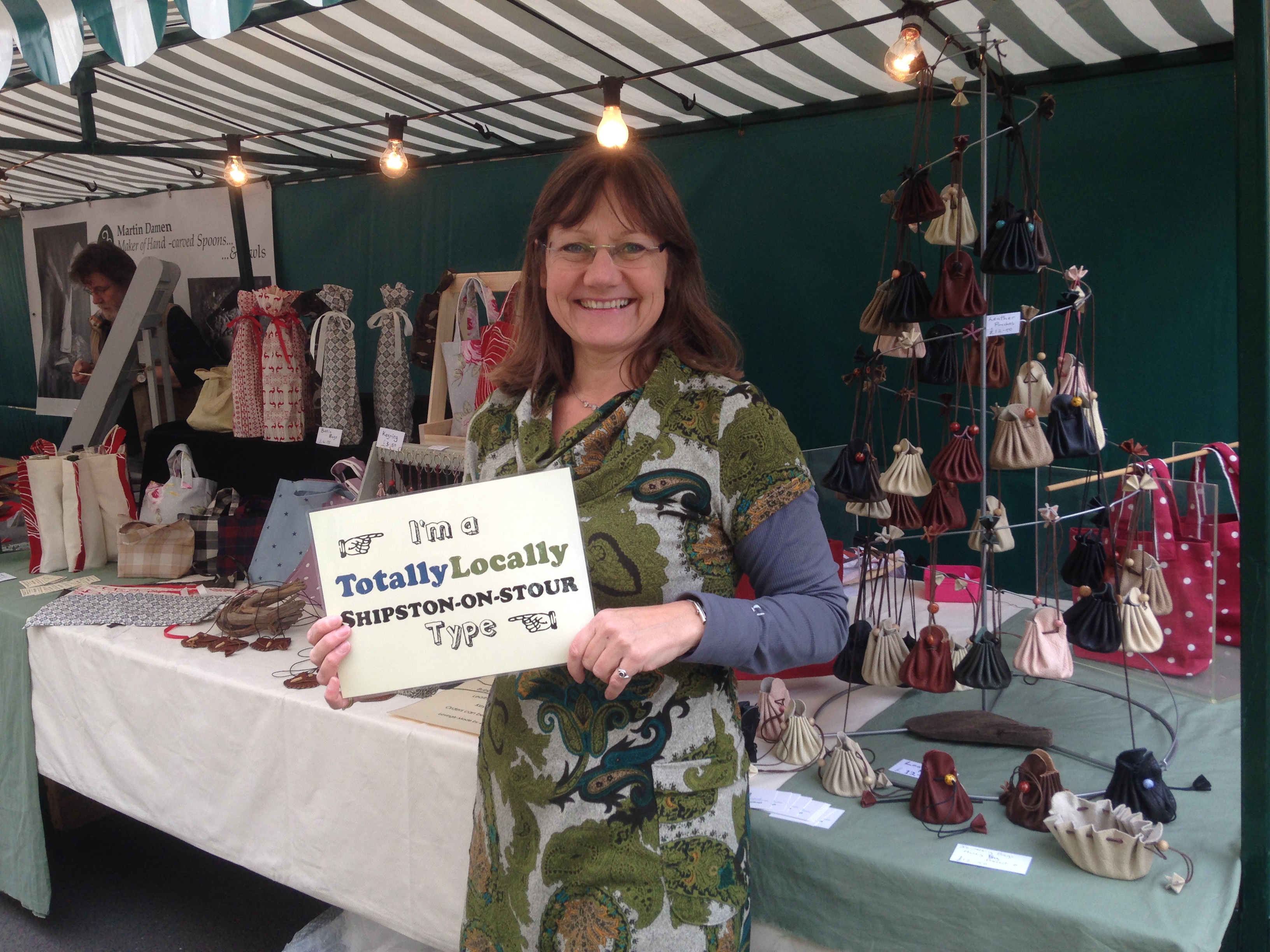 The first market arranged by Shipston's Totally Locally team proved a great success with a steady flow of visitors making the most of the unique items on offer throughout the day.
For the first time, the market was held in Sheep Street and The Bury, minimising impact on the town square and giving the event a more intimate feel. Local craftspeople and artists made the most of the opportunity to meet new customers, explain what they do and how they work. Stallholders reported a successful day of trading, with shoppers able to purchase goods as varied as handmade journals, handcrafted chopping boards, bags, cushions and bunting as well as pottery, photography and other works of art.
Market organiser, Louise Harvey, said: "We are thrilled with the success of this market. The location worked really well and we have had plenty of positive feedback from both residents and visitors. We hope to hold more market events in 2016, so watch this space!"
Shipston Town Council takes Portobello Crossroads concerns to the top
Shipston Town Council has voted to write to the Secretary of State for Transport, and copy the letter to Nadhim Zahawi MP and the Chief Executive of Warwickshire County Council, amid concerns that proposed changes to the Portobello Crossroads would not improve the safety of the junction. Some fear the proposals could even make the crossing more dangerous.
In response to a report received by an engineer from Warwickshire County Council's Highways Department, Marianne Westwood highlighted her concerns about both the plan to introduce a staggered crossing at the site, and the validity of some of the data on which the decision had been based.
Councillors also expressed concern about the lack of consultation and insufficient evidence to indicate why a staggered crossing would be more effective than a roundabout or other safety enhancements.
While councillors recognised that a roundabout would be more expensive, it was felt that a staggered junction could exacerbate the existing problems. Rather than using up vital funds, the town council would prefer the money to be ring-fenced until sufficient funds or a robust case for effective changes could be made.
Keep up with the latest news on this and other town council campaigns by visiting www.facebook.com/shipston.council
Shipston dance group invited to perform at Eurodisney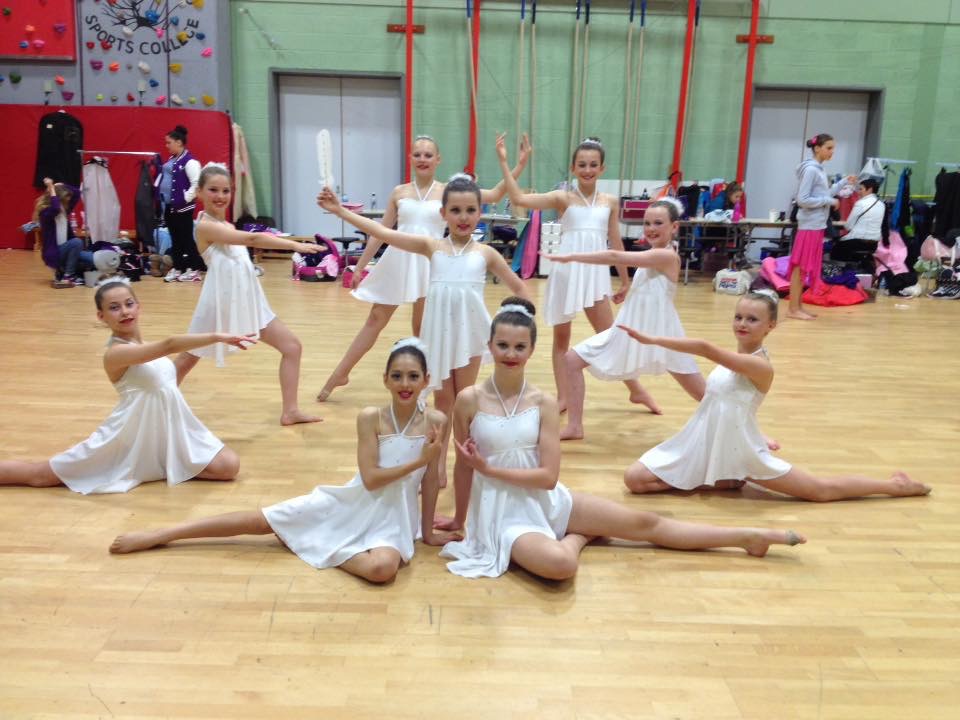 Shipston's Spotlight dance group could be thrust into the limelight next year following an invitation to perform at Disneyland Paris. Provided sufficient funds can be raised, the group hopes to take 40 children to France to take up this exciting opportunity.
Spotlight Dance was set up nine years ago by Jennifer Hampton. Having danced professionally for a number of years, she switched to teaching and now teaches about 75 girls, boys and adults in and around Shipston. Students follow the International Dance Teachers' Association syllabus, with 100% pass rate achieved in the last nine years.
The group started competing about two years ago, which has led to an impressive trawl of medals. Spotlight's latest competition has earned them a 30 minute slot dancing as part of a Disney show in Disneyland Paris in May 2016. To enable as many children as possible to share in the experience, the dance group is now looking to raise funds to pay for the trip.
Jenny said: "I'm extremely proud of the children for getting this far and sincerely hope we will be able to raise enough money to fund the trip to Disneyland. We will be organising some fundraising activities and would be delighted to hear from anyone who would be able to support us, either with donations or ideas for raising money."
To find out more or to offer help with the fundraising campaign, please contact Jenny on 07872 835422.
Shipston Food Festival proves a success once again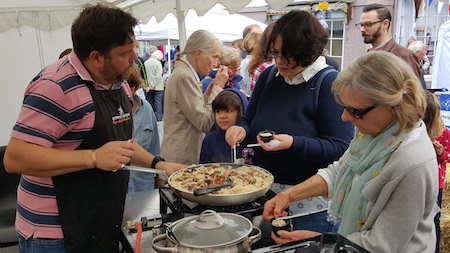 The third annual Shipston Food Festival weekend which took place in September, proved extremely popular with residents and tourists. Despite the growing competition from other local festivals, stall holders and visitors alike turned up in droves, securing another successful event for the town.
Events kicked-off, literally, with the Beer Festival at the Rugby Club, complete with live showing of the opening game of the Rugby World Cup. Over twenty different beers, ciders and wines were showcased at the event.
Saturday saw entries coming in for the Taste of the Country Junior Bake-Off competition. A tempting display of delicious and imaginative cakes, baked and iced by 11-16 year olds, was put before volunteer judge, Richard Harvey, who spent a serious hour tasting and evaluating the cakes. The winner, Kara Cooke, walked away with a voucher for a half day icing master class with Taste of the Country's icing experts.
Sunday was Food Festival day in the town centre. Stalls were selling everything from pizza ovens to pulled pork, cured meat to cakes, while visitors enjoyed tasting the many different foods on offer. Cookery demonstrations were given by Francis Green, otherwise known as the Cotswold Traiteur, while Jim Cherry and Mandy Lane from Taste of the Country, gave tips on cheese and wine pairing and quick and easy canapes.
Music was provided by popular local duo, The Peas, while the Cotswold Distillery gave a mixology demonstration, offering plenty of ideas for gin cocktails.
Thanks to support from local businesses, the event was rounded off with a fantastic raffle, proceeds of which will go towards funding next year's festival.
Food Festival Chairman and Town Councillor, Dan Scobie, said: "I am thrilled to have seen so many people enjoying another great festival weekend. This is a community event, made possible by the generous contributions of our volunteers, sponsors, local businesses and stall holders. Most importantly, the visitors who come to enjoy the food and support the traders really make this event a success. We'd like to thank everyone for their support - we look forward to seeing you next year."
Totally Locally treats in store this October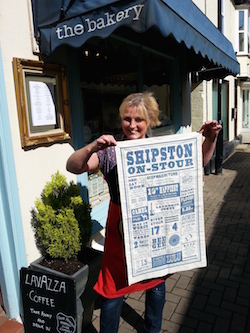 Totally Locally Shipston is a voluntary campaign run by a motivated group of people, who are working together to encourage people to support local businesses in and around Shipston. The Totally Locally Team has been hard at work planning two fantastic events to tempt shoppers to make the most of what the town has to offer.
On Saturday 10th October from 10am until 4pm, the first ever Totally Locally Market will roll in to town. The Street Market will focus on local arts and crafts and will run down the lower half of Sheep Street and through The Bury. If successful, further markets will be organised, with initial ideas including local produce, and a market for teenagers, all with the aim of bringing something extra to Shipston's town centre.
Totally Locally campaigner, Louise Harvey, said "We hope that there will be lots of support at our first market where there will be over 20 stalls packed with handmade products from ceramics and paintings to wood craft, jewellery and up-cycled furniture. Calypso kids will also be providing entertainment for the children and there will be some fabulous buskers adding some music in to the mix."
A week later, shoppers will have an opportunity to pick up a bargain during Shipston's first ever Fiver Fest Fortnight starting on Saturday 17th October 2015. More than 30 independent businesses in Shipston and the surrounding area will be running deals over the fortnight including shops, cafes, service providers and many more.
Many businesses have created a special offer for £5 or great alternative '5' offers. Sharon Peacock from The Bakery said: "There are some fantastic offers for shoppers to take advantage of, and in the process, discover businesses in Shipston that they may not have used before."
Details of all the offers will be available in the 2nd edition of the Totally Locally 'Shipston' Times newspaper which will be hand delivered to as many homes as possible and can be found in shops, pubs, cafes and facilities in town. Alternatively, download a copy at totallylocally.org/shipstononstour.
Totally Locally tea towels, bags and postcards can now be purchased from a number of shops around town.
Shipston High School sees Headmaster retire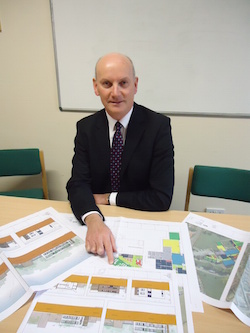 There was barely a dry eye in the school as pupils, staff and governors bid farewell to Jonathan Baker at the end of the summer term. Mr Baker (pictured)was appointed head of the High School in 2004 and has been at the forefront of developments that have seen the school progress significantly.
Over the last ten years, Shipston High School has improved both in popularity and performance. The school is now so sought after, it is frequently oversubscribed and has increased its intake to accommodate over 450 pupils in recent years. In 2010, the High School was in the top 100 schools in the country for the amount of progress pupils made while at school.
While grades and academic success are important, Mr Baker leaves behind him a legacy which puts the overall wellbeing of children at the heart of the school. A firm believer in the importance of teaching confidence, self-reliance and care for others, Mr Baker has seen the "Shipston Spirit" become a tangible asset, which OFSTED inspectors have highlighted in their reports.
Paul Chapman, Chair of the High School Governors said: "We are sad to see Jonathan leave Shipston High after such a long and successful period as head teacher. On behalf of all the staff and pupils, I would like to thank him for his boundless energy, enthusiasm and determination to see the school and each individual pupil achieve their best. We wish him a happy and healthy retirement."
Before retiring, Mr Baker worked with the governors to find an outstanding new head teacher. From September, Gavin Saunders will take up the reins and is looking forward to getting started.
Fabulous foodie plans afoot for the Food Festival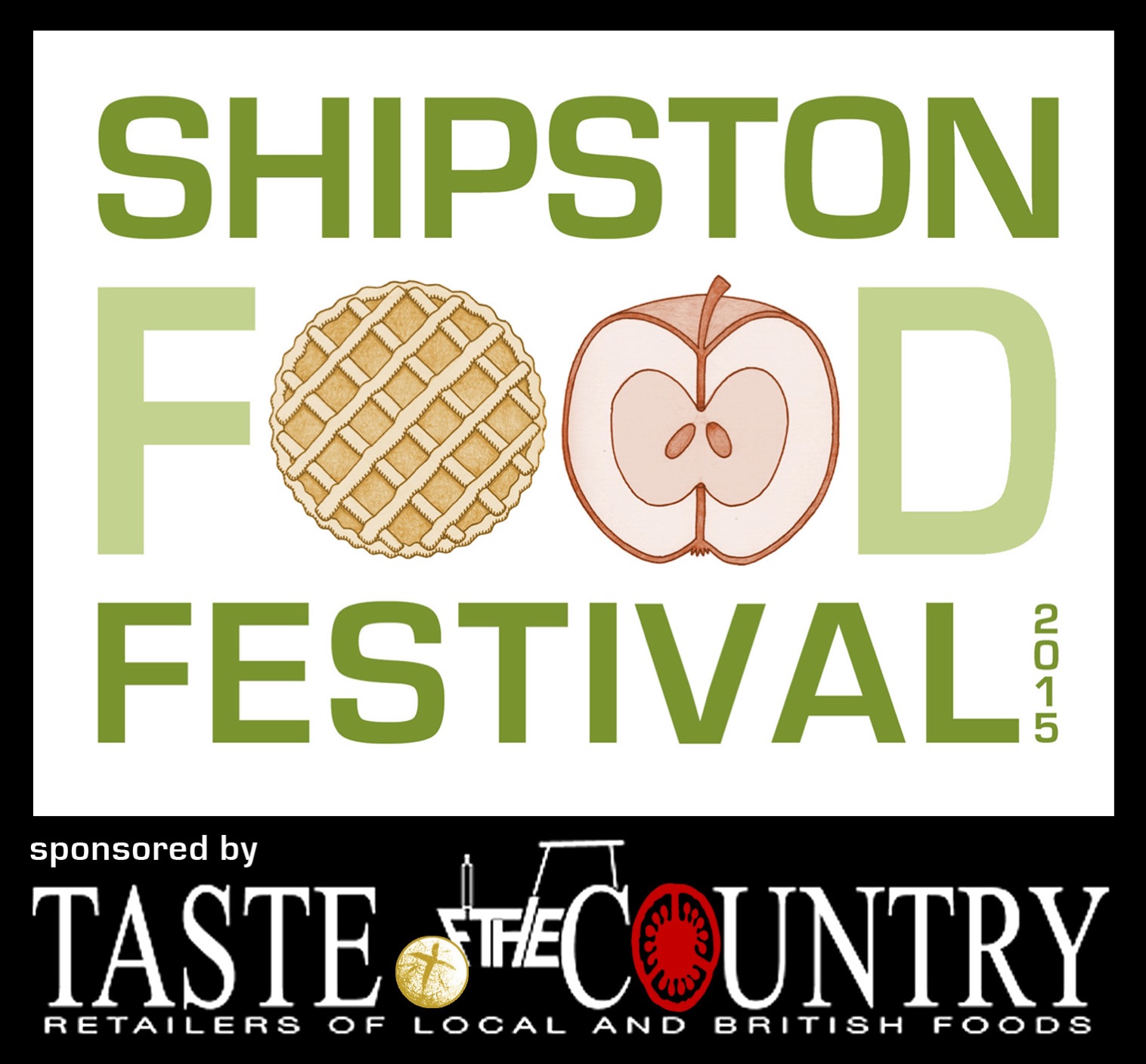 Plans are well underway for what will be the third Shipston Food Festival. Following in the footsteps of the two previous hugely successful festivals, this year it is taking place on Sunday 20th September in Shipston Town Centre. The festival will once again feature a mix of stalls, cookery demonstrations, music and other food-related entertainment.
Fresh from their success at the Last Night of the Proms, aptly named band 'The Peas' will be providing music during the festival, which will be interspersed with expert demonstrations and commentaries by local food heroes including The Cotswold Traiteur, Taste of the Country, Sheldon's Wines, The Cotswold Distillery, and a special mystery guest!
The town will be packed with artisan food stalls selling everything from hot food to specialist ingredients. There will be fun activities for children including chocolate making and the first ever local bake-off challenge for 11-16 year olds – more on that next month.
Joint Organiser, Philip Vial, said: "We're really excited about this year's event. For the first time, the whole festival is being sponsored by a Shipston-based business, Taste of the Country, with additional support from Sheldon's wine cellars. We're extremely grateful to both businesses for their support in making this festival possible and look forward to celebrating the best of what the local area has to offer to food and drinks connoisseurs."
To ensure you don't miss out, keep the date free in your diary and prepare to head to the town centre between 10am and 3pm for good food, music and hopefully great weather! For more details, visit www.facebook.com/ShipstonFood or see next month's Forum.
Shipston Brownies bid a sad farewell to Brown Owl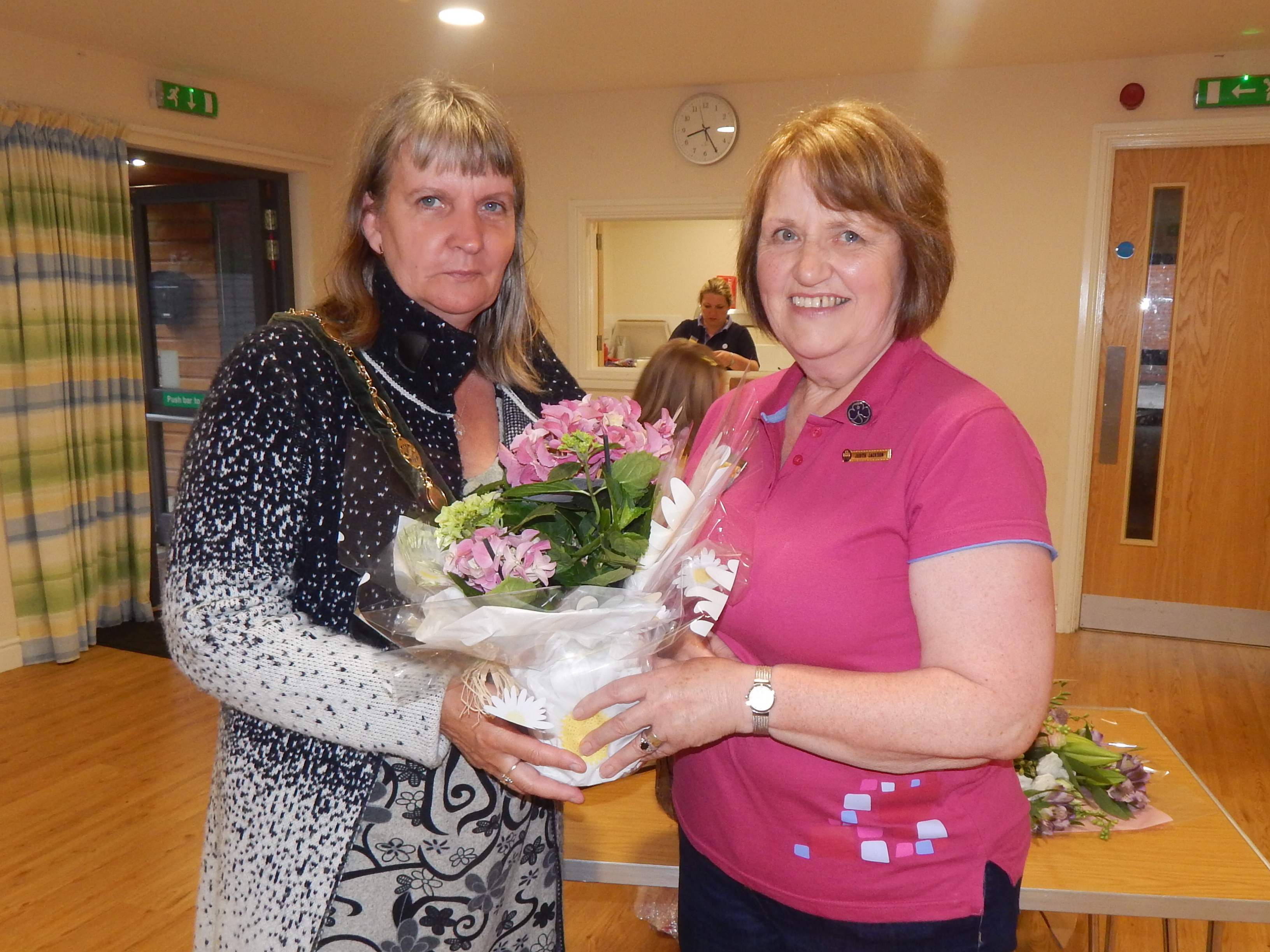 After an incredible 26 years as a volunteer with the girl guiding movement, Judith Jackson, aka Brown Owl, retired from her position as pack leader in July. At a special ceremony held in the Scout Hut, Shipston Brownies said farewell in style, before presenting Judith with thank you gifts.
Judith first started volunteering with brownies 26 years ago, taking on the role of Brown Owl when the then leader left. Since then, she has been responsible for organising a huge variety of activities for her pack and is very popular with brownies young and old. Judith is also a district commissioner for Shipston, Tysoe and Brailes and will continue in this role.
In 2009, Judith was awarded the County Commissioner award. Closer to home, Judith's contribution both to Brownies and other community groups was formally recognised with the awarding of the Anne Sankey Medal in 2013.
Judith leaves behind her a strong pack which will now be led by Lisa Mitchell and Nicola Davies. Both Lisa and Nicola, whose daughters attend Brownies, were keen to ensure the excellent work done by Judith over the years continues. Nicola was a member of Judith's first pack back in 1989 and said: "I have fond memories of those days so I'm honoured to be joining Lisa in taking over from her. Judith has done an amazing job, she's going to be a huge act to follow!"
Mayor, Jackie Warner, presented Judith with a thank you gift and said: "I was delighted to attend Judith's farewell presentation. It is clear how fond the girls are of Judith and she will be greatly missed."
Shipston Town Council paints the town to highlight dog fouling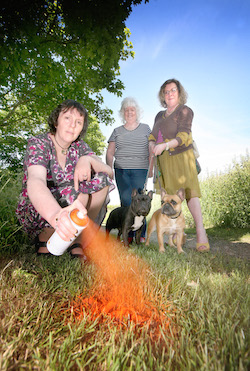 Councillors have adopted creative measures in an attempt to tackle the problem of dog mess being left on streets, footpaths and pavements.
Having researched successful campaigns across the country, councillors and volunteers are now spraying dog mess pink or orange to highlight the scale of the issue, in an attempt to shame owners to pick up after their pets. The neon paint is a biodegradable chalk-based paint that washes off in a few days.
With dog fouling being one of the most commonly reported problems in Shipston, the town council's General Purposes Working Group has been looking at a range of methods to help tackle the problem. Chair of the group, Fay Ivens, said "The vast majority of dog owners are responsible and pick up after their pets. Sadly, the minority are causing an unsightly and unhealthy problem for the rest of us which we're determined to tackle."
With mounds of mess often being spotted just yards from the nearest dog poo bin, councillors are hoping this colourful campaign will result in positive action. In addition, residents are being urged to name and shame those who are not clearing up after their dogs. If caught in the act, dog owners face an on the spot fine and can be prosecuted.
Mayor, Jackie Warner, said: "As a responsible dog owner myself, I cannot see any reason why people shouldn't clear up after their pets. Our Pink Poo campaign is highlighting just how much mess is left around town and I sincerely hope it will motivate people to be more considerate to their fellow residents."
As well as being unsightly, dog mess can pose significant health risks, particularly to toddlers. Dog mess should be bagged and binned in the nearest dog bin, although public bins can also be used.
Photo courtesy of Mark Williamson/Stratford Herald
Prepare to be hooked at this year's Fish n Frolics event
Shipston Angling Club is happy to announce the details of this year's combined Fish n Frolics festival and The Great Annual Duck Race.
Shipston's 3rd annual duck race will be held on 19th July at Shipston Bridge, with the first race starting at 2 pm. There are cash prizes in each race and all the proceeds will be split equally between Shipston Home Nursing and the angling club's 'Fish n Frolics' event.
The main event takes place from Friday 24th July to Sunday 26th July. Local club anglers from Shipston Angling Club will be trying to continue their 100% record in this competitive league series against some top anglers from different areas.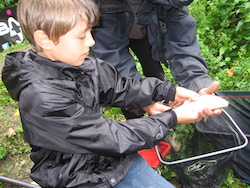 As part of the National Fishing Month, local Shakespeare Superteam angler, Tony Skinner, will be joining Stuart Fleming (the first winner of Fish n Frolics 2013) run Free Fishing Fun Days, where anyone young or old can try their hand at fishing. Licences, tackle and bait will be provided free of charge on the day.
As an extra bonus, professional fly fisherman Justin Connolly from Wales and three top fly instructors, will also be on hand to teach all there is to know about fly fishing, from casting to fly tying.
Live bands will provide a range of music across the three days, while other attractions include a Beer Festival with local ales and a Food Marquee with Spit Roast Lamb on Friday, Pig Roast on Saturday and Roast Beef on Sunday as well as burgers, hot dogs etc. Entry and parking is free.
For more details, check out the events calendar.
Free activities for kids at the Shipston X-Fest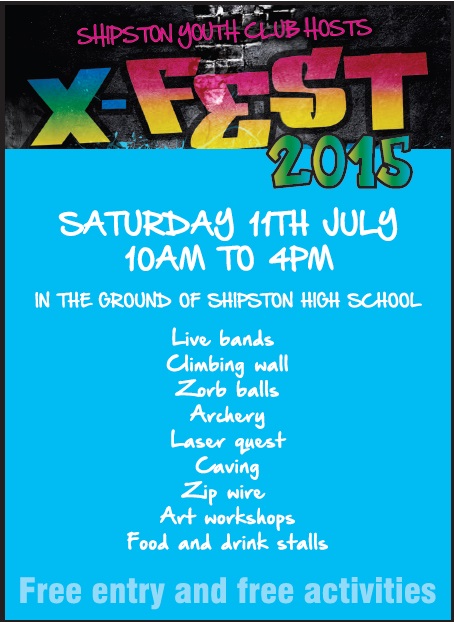 Shipston X-fest, the biennial event run by Shipston Youth Club, is set to provide another day of excitement and adventure for local children.
The X-Fest is a free event, featuring live bands throughout the day, a climbing wall, zorb balls, archery, laser quest, caving, a zip wire and art workshops. All activities are free, although there may be a few collecting tins around for those wanting to make donations to the youth club. Otherwise, all you have to pay for is food and drink, or just bring a picnic and keep your fingers crossed for a dry day.
This will be the fourth X-Fest for Shipston Youth Club, and will be held in the grounds of Shipston High School on Saturday 11th July, 10am to 4pm.
Don't miss this brilliant family event to raise awareness and support for Shipston Youth Club.
Shipston residents have their say on town council communications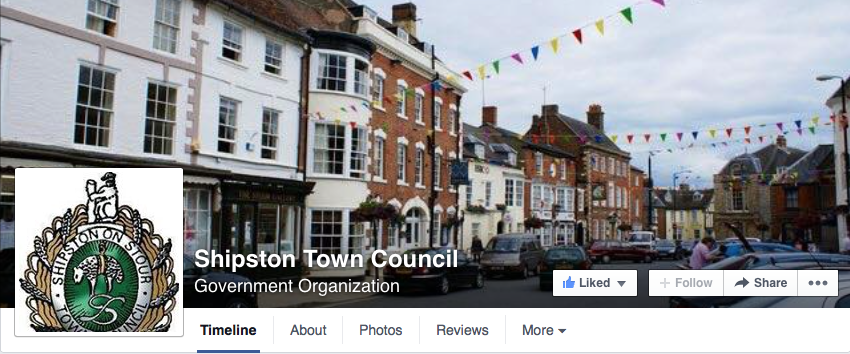 Residents have taken the opportunity to have their say on how the town council communicates via a survey published a couple of months ago.
Over 100 people responded to the survey, which asked people's views on the Shipston Forum, Shipstononline website, and the council's social media pages. Overall, people seem to be generally happy with the way the council communicates and there were some useful suggestions about what sort of thing residents would like to see more of in the future.
The headline results show that people like to access information in different ways, which supports having both a paper-based and online approach to communications. While 43% of respondents look at the website at least monthly, 17% never look at it. Social media is an increasingly popular way to find out more about council news, with more than half of the respondents regularly looking at the council's Facebook site and/or twitter feed and over 90% of people finding the information to be useful.
The Shipston Forum is well received, with 100% of respondents saying that they find it useful and almost three quarters of people wanting it to stay in its current format. Over 70% of respondents read at least two thirds of the magazine and the most popular pages are the news, Town Council news and medical centre updates.
The Communications Working Group is looking at the findings and suggestions in more detail, before making recommendations to the council in the next couple of months. In the meantime, a way forward has already been agreed for social media, with the Town Clerk updating Facebook and Twitter with planned events while two councillors will share responsibility for reactive or time-sensitive posts. If you spot something that you think residents should be aware of, please notify Peter White or Dan Scobie via email (see details on page 15).
To view the website and download electronic copies of the Shipston Forum, visit www.shipstononline.org. Find out the latest news from the town council on Facebook via www.facebook.com/shipston.council or on twitter @shipstononline.
Shipston WWI fallen remembered at new Garden of Remembrance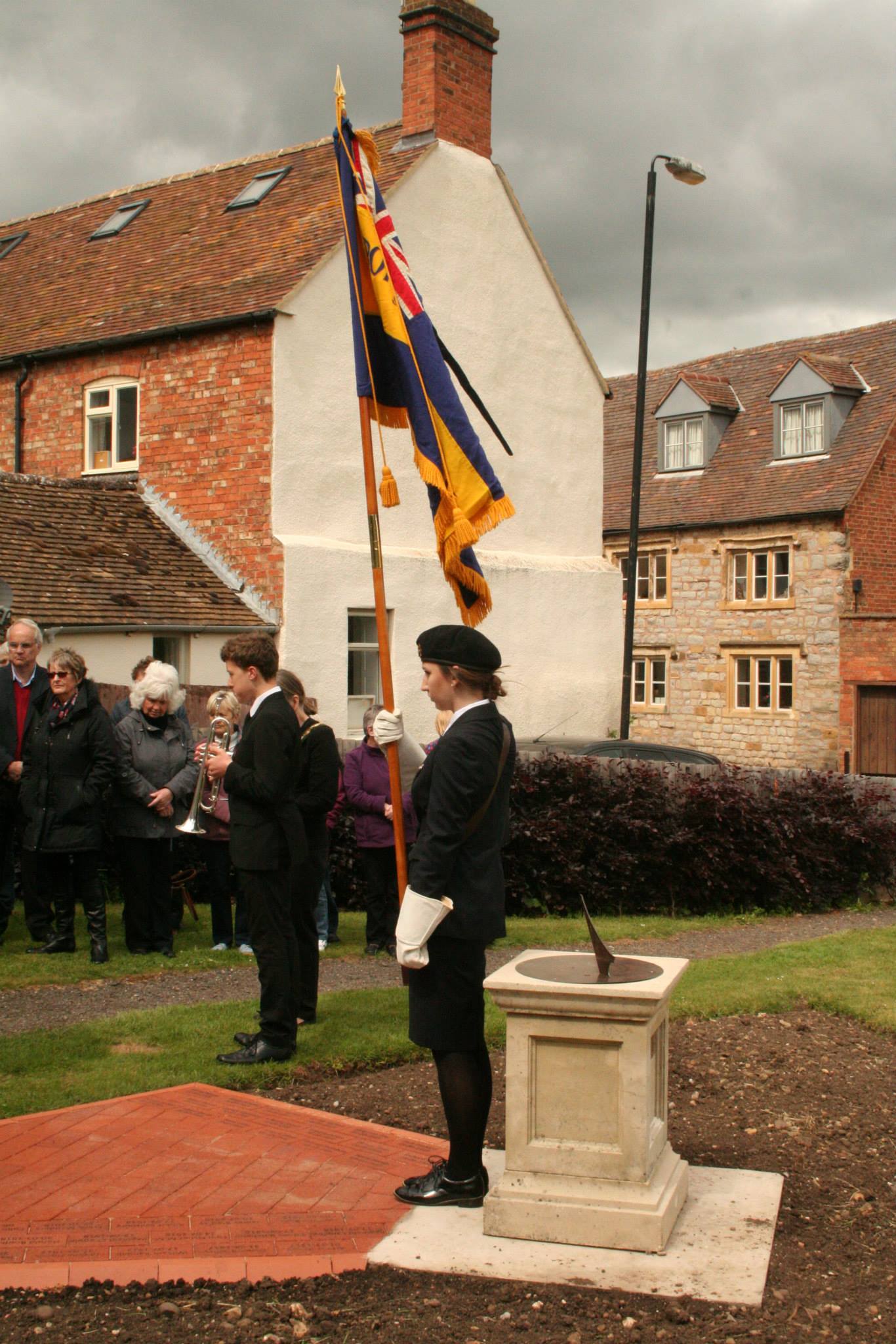 On Sunday 31 May, residents and guests gathered at the Gyratory Garden for a service of dedication to the men of Shipston who died during WW1.
The Gyratory Garden has been established as a Centenary Field, in recognition of the 100-year anniversary of WW1. As a permanent memorial to each of the 36 men from Shipston who fell, 36 pavers have been installed in front of the sundial, inscribed with their names and dates of death.
The service was organised by the Shipston Branch of the Royal British Legion and supported by residents and guests. The Last Post was played by Steven Nichols, the great great nephew of Archie Nichols, one of the Shipston men who fell.
Chairman, Richard Adams, said: "It is wonderful to see this new memorial installed in the heart of the town as part of the Centenary Field. We would like to thank all those who have generously supported this project, especially the Town Council and the Lions whose input has been exceptional."
Shipston Town Council appoints Jackie Warner as Mayor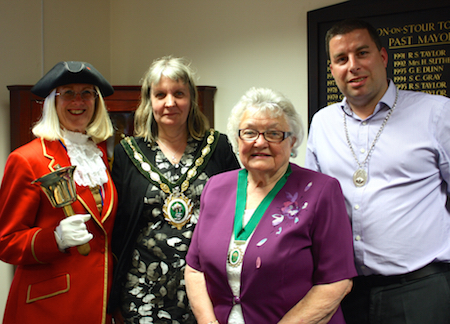 Shipston Town Council has elected Jackie Warner to the position of Town Mayor at its Annual General Meeting in May. Jackie was born and bred in Shipston and is a passionate supporter of the town. Jackie has been a town councillor for many years. Having served 12 months as Deputy Mayor, Jackie is looking forward to the year ahead.
On her election, Jackie said: "I feel honoured to be elected Mayor of Shipston. Shipston is a fantastic place to live and work and I am delighted to have the opportunity to raise the town's profile."
It is customary for the Mayor to appoint a consort whose role is to accompany the Mayor at official events. The Mayor has selected councillor Peter White as her consort.
Jackie's first responsibility as Mayor was to call for nominations for Deputy Mayor. Veronica Murphy was unanimously elected to the position and will support the Mayor on her official engagements and responsibilities over the coming year.
The Mayor went on to thank former Mayor and town councillor, Philip Vial, for his contribution to the council and town as a whole over his seven years on the town council.
"It's been an absolute pleasure to work on the town council over the last seven years." Philip Vial said. "There are a lot of hard working councillors who are involved in a number of community groups and contribute a great deal to our town. I would like to congratulate all town councillors on their election and wish you all luck for the future."
The town council also confirmed monthly meetings for the year ahead as well as working group membership.
Shipston welcomes new councillors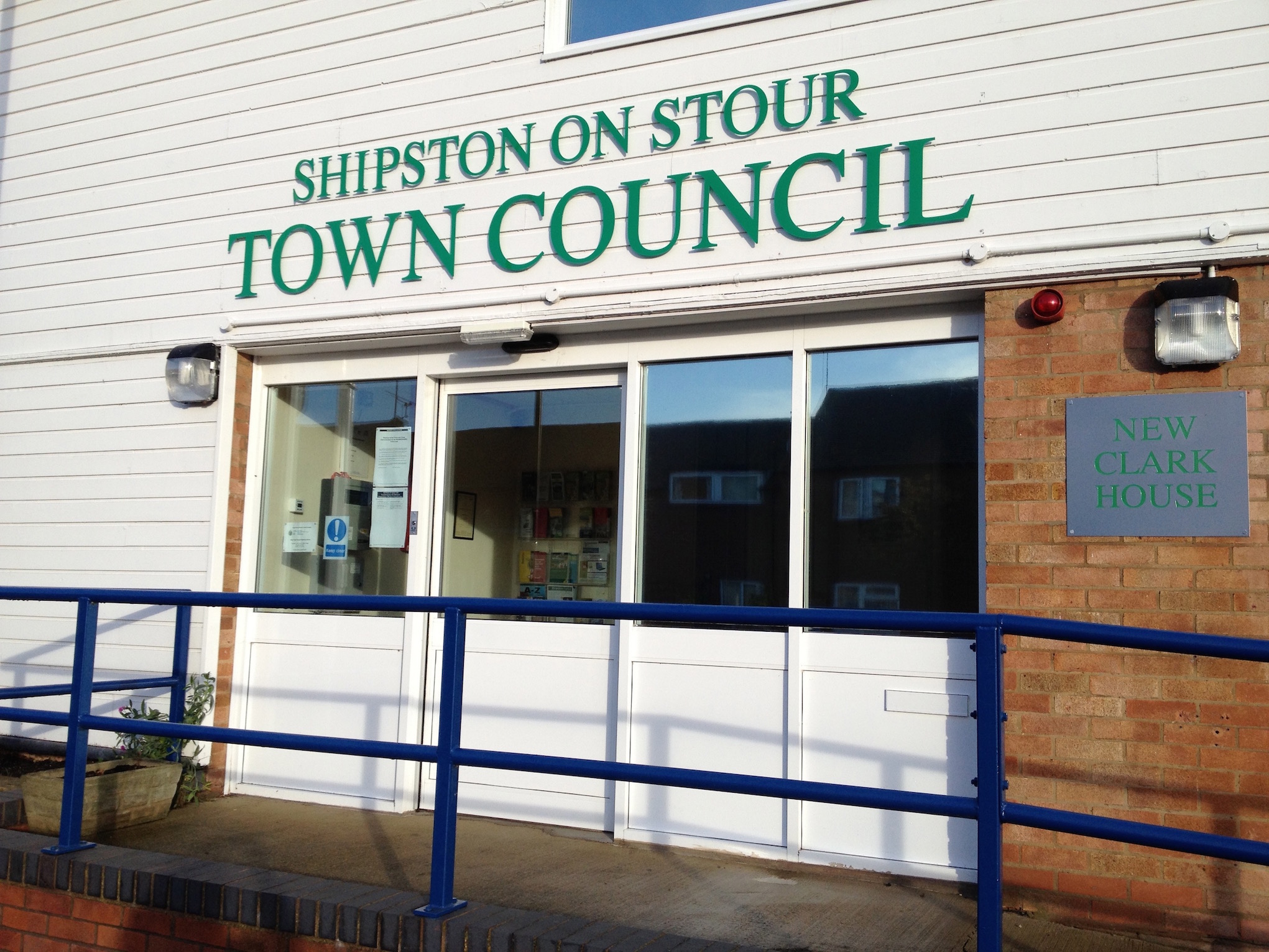 From 8th May, Shipston Town Council will welcome two new faces, following the departure of councillors Arthur Ivens and Philip Vial, both of whom have stepped down from the council. Marianne Westwood and Kim Perry will join the council later this month (May). To find out more about your new councillors, see page 3.
With the recent boundary changes splitting the town into two wards, councillors now represent either the north or south ward. Councillors Ian Cooper, Ali Henderson, Peter White and Fay Ivens all stood in the North ward, with remaining councillors representing the south. No voting took place as there were the same number of candidates as there were seats.
The first meeting of the new council will be on 11th May at 7pm, where the Town Crier will welcome all attendees and the new Mayor of Shipston will be elected.
Shipston Town Council supports plans which pave the way for a new medical centre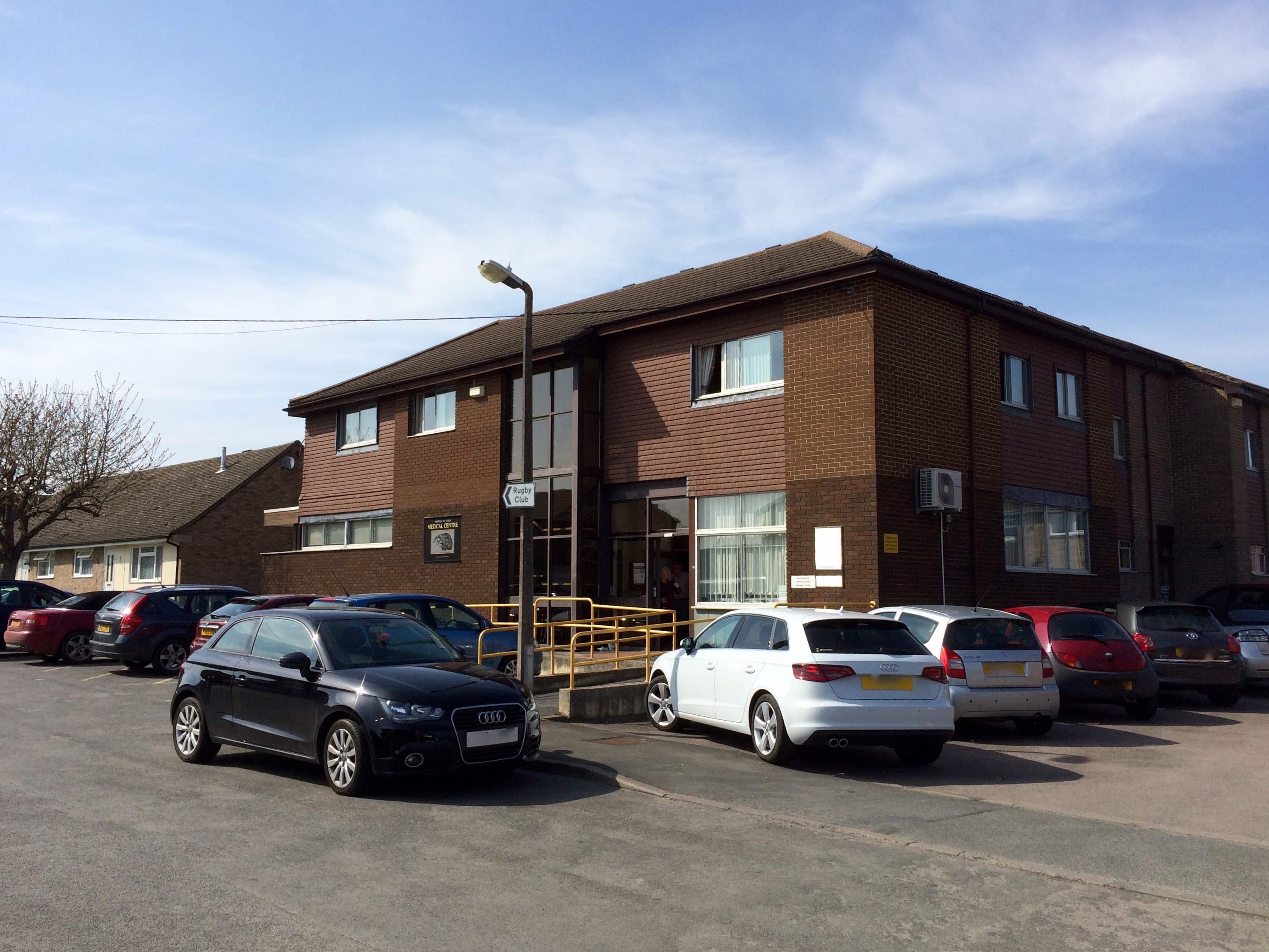 Long awaited proposals for a new medical centre to cater for the growing population of Shipston and surrounding villages have moved a step closer. Plans now being progressed could see the centre built on the Campden Road.
Shipston Medical Centre has been offered land on the Ainscough Strategic Land (ASL) site, north of Campden Road, which was granted planning permission on appeal for a supermarket, petrol station, extra care housing and new homes. The land was offered on condition that Stratford District Council gives permission for 95 new homes on another site, south of Campden Road, which has since been granted by SDC's planning committee.
Following a lengthy discussion at its meeting in April, Shipston Town Council voted to support 'in principle' ASL's latest planning application on the south of Campden Road, on the condition that land previously earmarked for a community building on the 'supermarket' site, would be given to the medical centre. Under the terms of the agreement, development on the south site will not be able to begin until the site identified for the medical centre has been transferred.
Councillors raised concerns both about the speed of the proposal and the prospect of more houses for Shipston, on top of other large schemes proposed or approved. Overall, however, the town council felt there was a wider benefit to the community of accepting the proposal.
Chair of the planning working group, Martin Ferrier, said: "We recognise that this is an emotive issue and there are no easy answers. It is clear that Shipston Medical Centre will not be able to continue to provide the current level of services without a new building and having considered all the arguments, the town council believes, on balance, that the proposal on the table is the best chance we have of securing the long term future of GP services for the town."
ASL is only providing the land for the medical centre and associated parking. Shipston Medical Centre will still need to apply for funding from NHS England to build the centre. Dr David Williams, GP Partner, said: "We are grateful to town and district councillors and our patients for their support in helping us take a big step forward in our plans to build a new medical centre."
Work will now begin on securing the vital funding from NHS England to enable a new centre to be built.
Shipston confirms its Centenary Field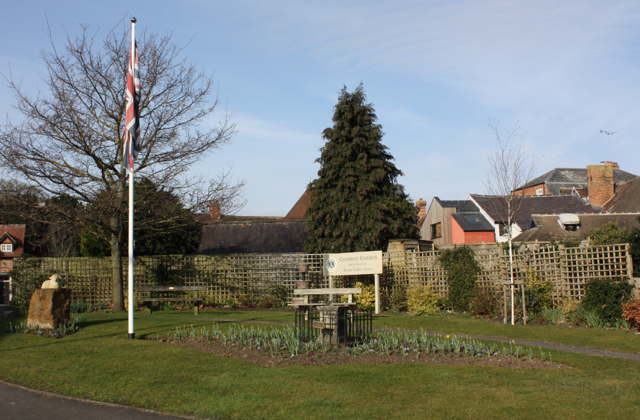 As part of Shipston's WW1 Centenary commemorations, the town's fallen during the conflict are to be remembered in the Gyratory Garden, which is to become a Centenary Field. The creation of Centenary Fields is a national move to identify places in local towns and villages where people can remember the sacrifices made by soldiers in the line of duty.
During WWI, 36 Shipston men fell and each one will have a terracotta coloured paver with his name and date of death inscribed upon it. These will be placed in the flower bed in the centre of the Gyratory garden.
Plans for installing the pavers are under way including other necessary associated work, and the hope is that it will be complete in time for a dedication ceremony to take place in mid to late May. Please look out for the date and time in the May issue of the Forum and council website.
The Shipston branch of the Royal British Legion is calling on as many people as possible to attend the dedication ceremony to show their support for these local soldiers who made the ultimate sacrifice.
The Legion is urgently seeking offers to sponsor, or pay for, a paver, costing £18 each. If you would like to be associated with this event and with a Shipston soldier of the Great War, please contact branch chair, Richard Adams on 662328 or richardadams5@hotmail.com as soon as possible.
Share your views on town council communications
One of the roles of the Town Council is to keep residents informed of the work of the council as well as news and events affecting our community. We do this primarily through the Shipston Forum, Shipstononline website, and the town council's Facebook page and twitter account. We also send news updates to the local press.
We would like your views on how we communicate, including your thoughts on what you would like to hear more or less about. Please take the time to fill in these short surveys, ideally online by visiting our SurveyMoney link or by filling in the form on page 14 of the April Forum (due out w/c 30 April) and returning it to New Clark House, West Street, Shipston on Stour, CV36 4HD
Survey on Shipston Forum - https://www.surveymonkey.com/s/SZR7QGP
Survey on our online communications - https://www.surveymonkey.com/s/R7QXP2P
Shipston Town Council sets budget for 2015/16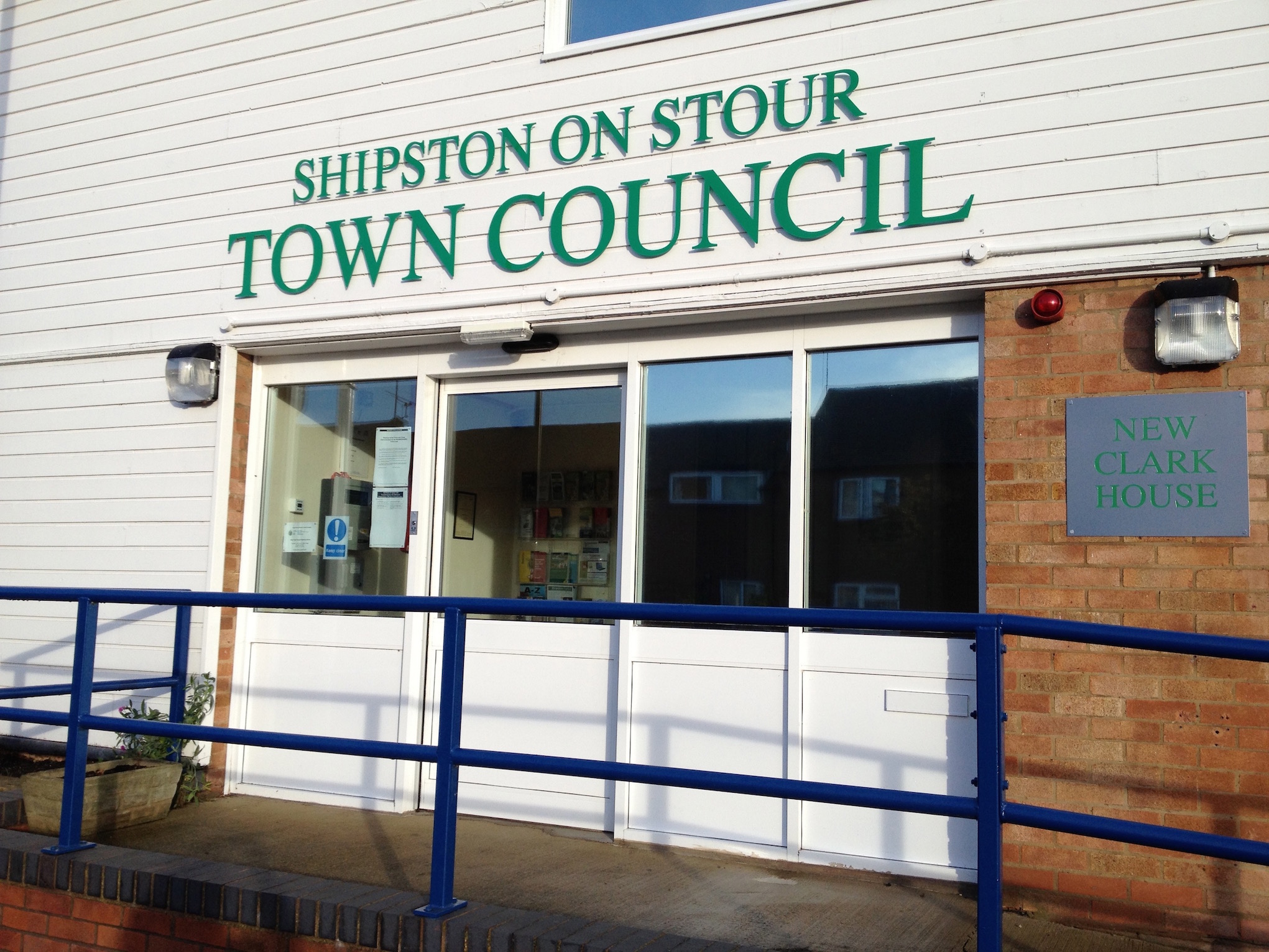 Shipston Town Council has unanimously approved the 2015/16 budget proposals put forward by the Finance Working Group in February 2015.
The budget sets the town council's annual precept at £216,000, (from 206,000 this financial year) which equates to approximately £85.85 per household. This represents an increase of just 20 pence per household for the year, due to the growth in the number of contributing households.
The budget defines Shipston Town Council's income and expenditure plans for 2015/16, together with its anticipated support towards community events and support organisations. The council is looking to provide nearly £15,000 more towards community events and support than it was able to in this current year (2014/15). This includes funds set aside to support community projects, such as provisions to start the development of the riverside walk, support for the flood protection group, repairs to the cemetery chapel and the works to the sports club.
Excluding grants and community support, the council's 2015/16 income and expenditure has remained largely in line with this year's expected levels.
Chair of the Finance Working Group, Ian Cooper, said: "This will be the first change to the annual precept since 2010/11, and the first increase since 2008/09. Over this period we have seen a steady decrease in the annual charge per household."
Shipston Town Council's precept in 2009/10 cost each householder an average of £108.37 per year. In 2011/12, the town council reduced its precept and the amount per household dropped to £98.14. This has continued to drop as the number of households increased, and currently, it is £85.65 per household.
"Our calculations, based on the likely level of attributable properties for the 2015/16 year, indicate an average annual cost of £85.85 per household. Bearing in mind that none of these calculations take into account any inflation factors, in real terms this is probably the lowest precept per household we have had in at least 10 years." Councillor Cooper added.
Mayor, Philip Vial, said: "We have faced a number of challenges this year. For example, many important services such as the Youth Club and Shipston Young Firefighters have needed our support following funding cuts from other authorities.
"I am particularly delighted that despite those challenges, the Town Council has been able to set a precept that maintains services, while keeping rises down to an absolute minimum."
As a general rule, grants and project budgets will be held in reserve by the town council until they are needed. The new precept will also allow the town council to maintain the level of reserves recommended by the National Association of Local Councils.
Grants:
Shipston Town Council is delighted to be able to increase its grant funding for community organisations by nearly £15,000. Recipients of grants in 2015/16 will include:
Shipston Proms
Shipston Youth Club
Young Firefighters
Shipston First Responders
Shipston Link
The Wool Fair
Victorian Evening
Shipston Angling Club
The Music Society
Age Concern
VASA
Citizens Advice
The Shipston Churches' school holiday club.
In addition, the council is looking to support the Sports Club's renovation project.
Totally Locally campaign gathers pace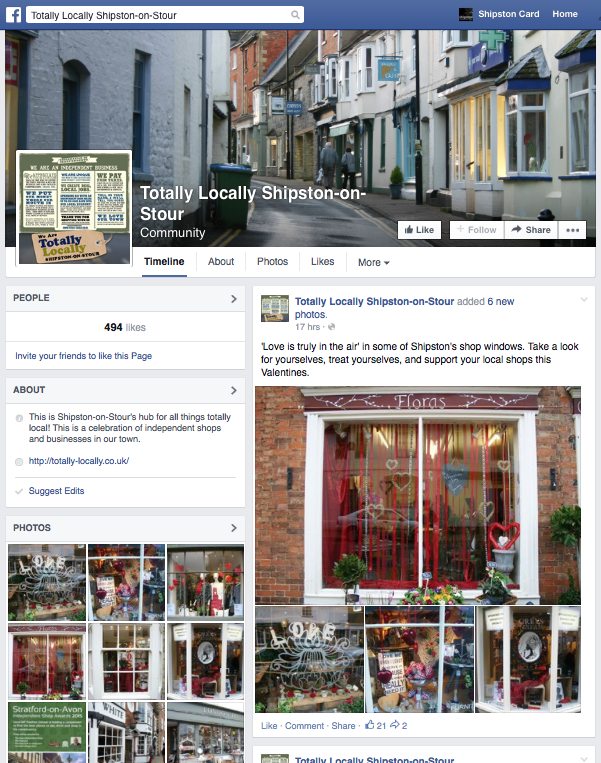 Totally Locally Shipston is about showcasing our town, getting people to engage and use their local shops, encouraging businesses to consider local suppliers, highlighting what is available on our doorstep and helping businesses work together - whilst having a bit of fun too!
Totally Locally Shipston meetings take place each month in a local pub. The meetings are an informal get together to discuss healthy promotion of the town.
Over the past 6 months the Totally Locally team has been actively showcasing some of what Shipston has to offer through its Facebook page - www.facebook.com/totallylocallyshipston. Take a look and like the page to receive regular updates. There is also a Totally Locally noticeboard located in the alley through to Granville Court shops, so have a stroll down and take a peek.
Totally Locally Shipston has great events planned for later this year. To find out more, contact Louise Harvey at The Richard Harvey Collection, or email totallylocallyshipston@gmail.com. Alternatively, get involved in the next meeting on 11th March, 5pm in The George.
Don't miss out on your chance to vote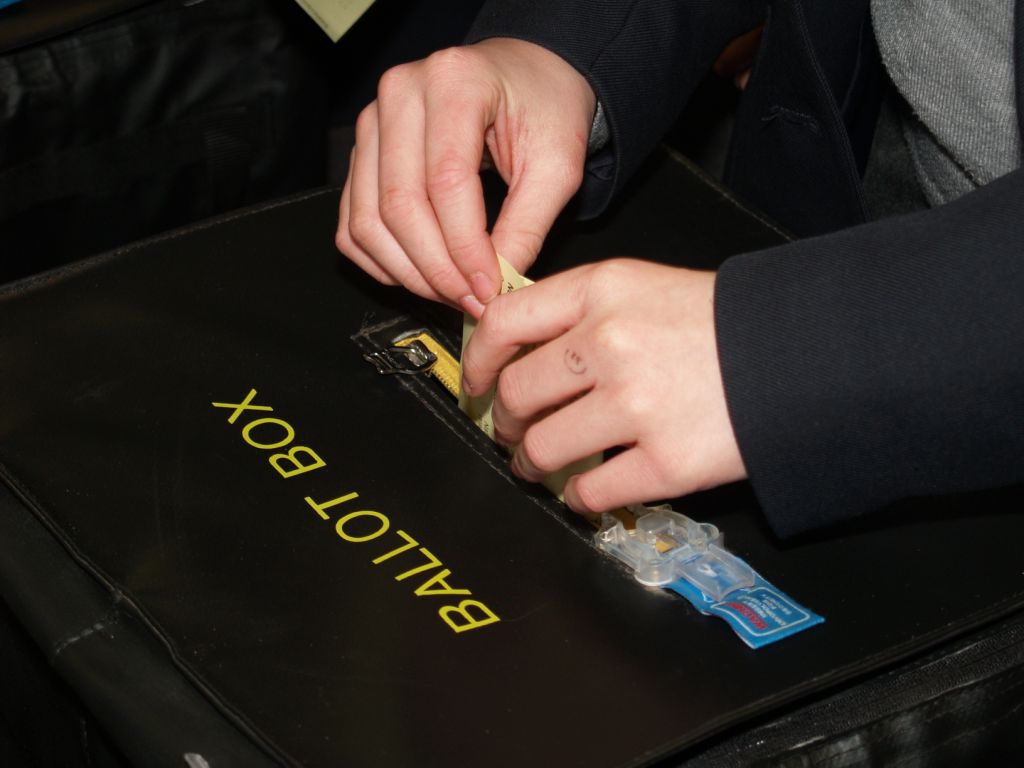 With a general election and local elections just a few weeks away, Shipston Town Council is urging all residents to ensure they are correctly registered to vote.
All residents should by now have received a confirmation letter to show who is registered to vote at their address. Please check the details carefully and inform Stratford District Council straight away if any changes are needed.
If you're unsure whether you are already registered, or are about to become eligible to vote, you can either register online at www.gov.uk/register-to-vote or contact Democratic Services on 01789 260208.
Local Air Ambulance holds a Cut-a-thon
Want to support your local Air Ambulance but don't know how to do it? Well, on Friday 3rd April L'academie Hair, Health and Beauty of Shipston-on-Stour are holding a Cut-a-thon event from 9am till 9pm.
All services will be offered from cuts to beauty treatments. All you need to do is book your appointment time, along with a £10 deposit, all in the knowledge that you will be helping Warwickshire and Northamptonshire Air Ambulance (WNAA).
If you still want to help but do not fancy a cut or treatment then why not visit our WNAA shop happily situated right next door!
The staff are giving up their free time on Good Friday in an aim to raise enough money for one lifesaving mission, which costs on average £1700.
Katie, WNAA Fundraising Coordinator for Warwickshire and Birmingham said "We are delighted that L'academie has chosen to support WNAA, a service that receives no Government funding and averages three missions a day. Their support really make a great difference, not only to us, but to our patients too."
Shipston leads the county in dementia awareness

Shipston has taken a big step forward in its ambition to become a dementia-friendly town, following an awareness-raising workshop held in January. For full details, turn to page six.
The workshop was aimed at traders and service providers in the town. Those attending included representatives from local shops, the bank, the medical centre, therapy centre, town council and the Alzheimer's Society. Members of the group were able to exchange their own experiences of assisting residents who were displaying early symptoms of dementia, right up to those who were extremely distressed and confused. It became clear that the whole community had a role to play in ensuring that Shipston becomes a Dementia Friendly Town, an initiative started by Dr. Sue Pritchard from the Medical Centre.
Apart from the obvious immediate assistance that the group could offer in their business premises, other more far-reaching options were discussed, including local fundraising for the provision of an Admiral Nurse - a specialist dementia nurse - in the town.
Every member of the group signed up as a "Dementia Friend". This involved making a pledge, a promised action to help raise awareness, tolerance or assistance to those with dementia. All Dementia Friends receive a forget-me-knot badge to help identify to those in need where they can find help. To find out more about becoming a Dementia Friend, visit www.dementiafriends.org.uk.
Town councillor, Ronnie Murphy, said "We were thrilled to see so many people attending what proved to be a very useful workshop. We learned a great deal about the role we all have to play in supporting people with dementia, including alerting the relevant support services if we feel someone needs help."
If you are concerned that someone you know may be showing signs of dementia, call 01926 410410 and ask for the Adult Safeguarding Team, who will arrange for an assessment of needs for the individual referred.
If funding allows, the council hopes to host a further workshop in April. If you are a business owner or service provider in the town, please contact the Town Council for more information on 01608 662180.
Resident's urged to make use of Ellen Badger Minor Injuries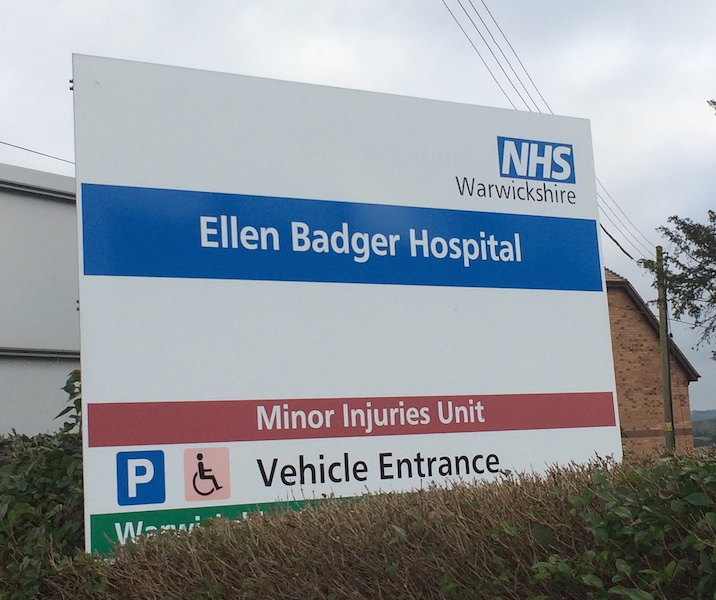 Following the unexpected announcement that the Ellen Badger Minor Injuries Unit was no longer providing a 24 hour service, councillors are urging the public to make use of the daytime service.
The Ellen Badger Hospital provides a drop-in minor injuries service for residents. The nurse-led unit can deal with injuries such as sprains and strains, wound infections, minor burns and scalds, minor head injuries and insect and animal bites.
Anecdotal feedback suggests that many Shipston residents are not aware of the service and are more likely to go to their GP or A&E, when a trip to the Ellen Badger could result in quicker and more convenient treatment.
The decision to reduce the service from 24 hour to 12 hour (8am to 8pm) was taken in December without consultation, partly due to a lack of use. A petition has been set up to campaign for the 24 hour service to be reinstated and the town council will be writing to South Warwickshire NHS Foundation Trust to request the full service be reinstated.
Deputy Mayor, Jackie Warner, said "The Town Council supports the Minor Injuries Unit and the trust was wrong to shut it down without consultation. We would like to see the unit re-opened for a year during which time the town council will promote availability of the service."
Residents wanting to support the petition should visit http://epetitions.direct.gov.uk/petitions/73039 or contact the town council for more details.
Shipston sees largest crime reduction in Warwickshire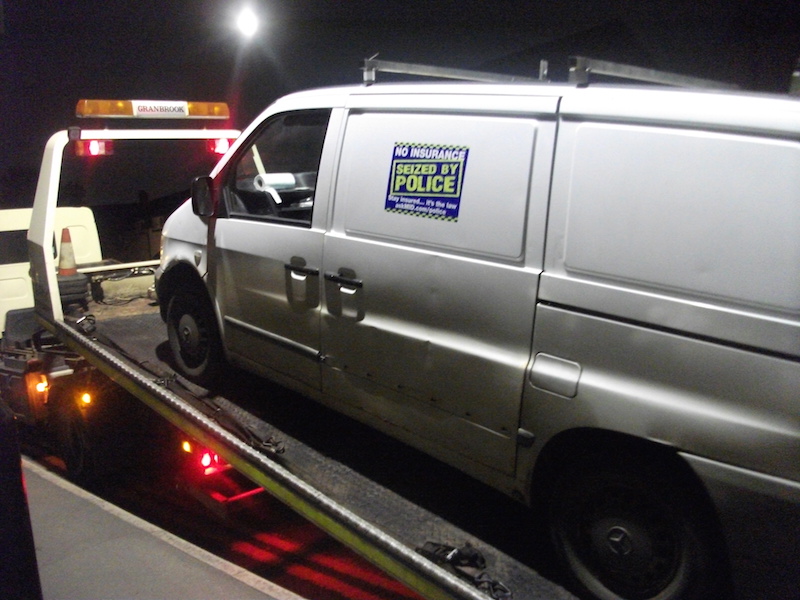 Shipston's Safer Neighbourhood Team has seen the largest reduction in crime across the whole of Warwickshire. From April 2014 to the first week of the New Year, crime reduced by 17%, while reports of anti-social behaviour also reduced by 17% in the area.
The Shipston SNT patch covers 54 villages as well as the town of Shipston. Thanks to the determination of the town's local police officer, Craig Purcell, the team was one of the first SNTs to be given access to more effective and reliable mobile technology, giving access to essential police data when on patrol.
Since adopting a proactive approach to patrols, Shipston's SNT has seized over 50 vehicles, with 55 people reported or charged to court.
Mayor, Philip Vial, said "On behalf of all councillors, I would like to congratulate PC Craig Purcell and his team on these results which shows their hard work and proactive attitude is paying off."
Shipston demands action to improve the Portobello Crossroads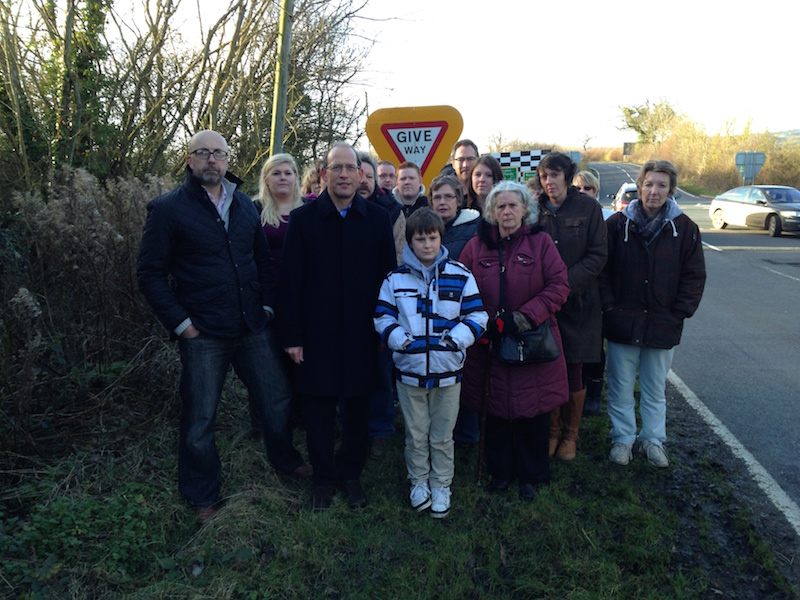 Shipston residents and councillors have joined forces to demand action following another fatality at the Portobello Crossroads on the Fosse Way.
The Portobello Crossroads has been the site of a number of serious and fatal accidents in recent years. The latest, resulting in the death of a 25 year old man, prompted local residents, and district councillor Jeff Kenner, to set up a campaign and petition, demanding a roundabout be installed at the junction to minimise further accidents.
The online petition attracted 1,000 signatures within the first 36 hours, and now has the support of nearly 2,000 people, including paper-based signatures. As a result, the County Council will have to consider the petition at its next meeting on the 5th February.
A number of residents attended the town council meeting in January to express their concerns about the junction. Mr Kitely started a campaign to improve safety on Facebook having had to use the junction for many years. Ms Westwood expressed fears about young, inexperienced drivers having to navigate the junction, particularly those travelling to and from school.
All town councillors expressed strong concerns about the safety of the Portobello Crossroads, and also highlighted the Darlingscote Rd/Fosse Way junction as another dangerous crossing.
Mayor, Philip Vial, said: "The accident on Christmas Eve is the latest in a series of serious incidents. Warwickshire County Council must prioritise this stretch of the road for safety improvements before another death is added to the statistics."
In addition to supporting the petition, Shipston Town Council will write to the County Council to demand short and long term safety improvements at both junctions, particularly in light of new housing developments which are likely to add to the weight of traffic using the routes.
Councillors also voted to request Section 106 money from any future developments on the Campden Road to help fund safety measures on the Fosse Way.
Residents wanting to sign the petition can do so by visiting www.democratic.warwickshire.gov.uk/cmis5/Petitions.aspx or calling in to New Clark House before 5th February.