September 2013
Shipston Food Festival
Thanks to everyone who came to the Shipston Food Festival yesterday and made the event such a great success. The organisers, Dan Scobie and Deputy Mayor Philip Vial, have asked us to thank everyone that helped, of which there are too many to list, but they especially tahanked our Town Clerks, Georgina and Liz, for all the help, advice and assistance they gave. Roll on the Shipston Food Festival 2014!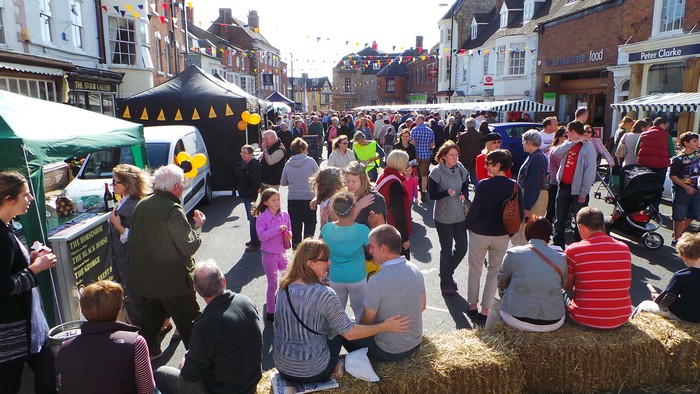 Shipston fights back against planned HSBC closure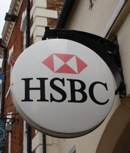 News that the Shipston branch of the HSBC is set to close in November has been met with anger by Shipston councillors, residents and businesses. One of only five closures announced across the UK, the closure will lead to the loss of two cashpoints in the town, with only one bank still providing a counter service.
The news comes at a time when Shipston's High Street is showing signs of growth and new homes in the town are on the increase.
Individual district, county and town councillors, as well as Stour United Businesses, have written to the decision- makers at HSBC demanding a rethink. In addition, Shipston Town Council has formally written to the bank and has raised the matter with the local MP.
Mayor, Ronnie Murphy, said, "we are all appalled at HSBC's decision to close Shipston's busy and much-needed branch. There has been no consultation with customers or councillors and the implications will be significant both for Shipston and surrounding villages. Businesses are particularly reliant on branch banking but are now expected to travel to Stratford or Moreton to manage their accounts."
Former Mayor and bank customer, Brenda Broughton, is calling on all residents to write to HSBC, a plea echoed by Shipston Town Council. "We have already received a number of complaints about this closure and I sincerely hope, with the support of local residents and businesses, that we can persuade HSBC to rethink its plans," Councillor Murphy added.
Judith Jackson is announced winner of the 2013 Anne Sankey Award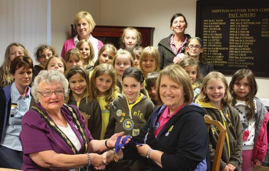 There were smiles all round as Judith Jackson, better known to many as 'Brown Owl', graciously accepted the Anne Sankey Medal from Town Mayor, Ronnie Murphy, amidst a sea of supportive Brownies.
Judith Jackson received several nominations for the Anne Sankey Award in recognition of her work for the young people of Shipston, and particularly her role in running Shipston Brownies. Judith originally got involved with the girlguiding movement in 1989 when Shipston Brownies was under threat of being disbanded due to a lack of leaders. Since then, she has arranged countless exciting Brownie meetings and events, and is now District Commissioner as well as the leader of the Shipston group.
Judith's contribution to the community does not end there, however. In her role as a member of the Lions, Judith pioneered and still runs the monthly film club, raising funds for charity and providing an important local social event. She secured funding to improve the equipment used for the film nights, which has also been made available to the students of the High School.
Judith has been a High School governor for ten years, bursar to the Youth Club for 18 years and works with High School students to produce the Talking Shipston Forum for visually impaired residents.
Town Mayor, Ronnie Murphy, said, "it is my great pleasure to award the Anne Sankey Medal to Judith in recognition of the work she has done for this community, particularly with Shipston Brownies. I would also like to thank all those who put forward nominations. It is never an easy decision to make as all nominees do great work for the town, but Judith is a very worthy winner and we look forward to seeing her wearing her medal with pride."
The Anne Sankey Medal is awarded to local residents in recognition of their contribution to the town. All residents are invited to put forward nominations, which town councillors consider before deciding on a winner.
On receiving the award, Judith Jackson said, "I am delighted to receive this award. I had no idea that all this was going on but I'm very grateful to all those who nominated me."
Food Glorious Food at Shipston's first edible festival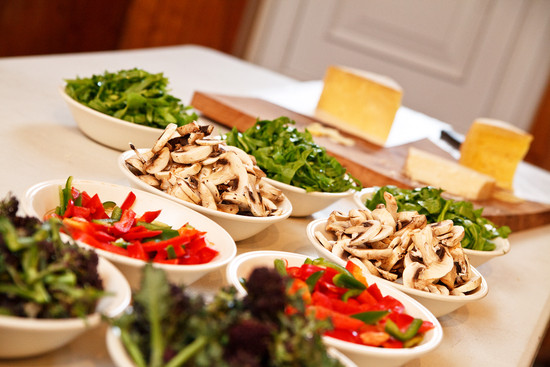 Final preparations are underway for Shipston's first Food Festival, taking place in the town centre on the 29th September.
Organised by a small group of local foodies and supported by local businesses, the festival is designed to be a truly interactive celebration of local and artisan food. Cookery demonstrations will be held throughout the day by Francis Green, The Cotswold Traiteur, while special children's workshops will be encouraging the youngsters to get stuck in.
Keen local amateur chefs will have the chance to show off what they can do by entering a dish into one of the competitions being judged on the day, while local producers will also be in with a chance to win an award.
With almost all the stalls reserved by the beginning of August, a hog roast confirmed, plus wine tasting and a beer tent booked, the town centre promises to be a sumptuous showcase of gastronomic delights to tempt all taste buds.
Deputy Mayor, Philip Vial, one of the organisers of the event, said "this event started as a bit of a personal passion shared among a small group of foodies and has grown into a really exciting, full-day event. We are thrilled with the amount of interest we've received and feel very confident everyone attending will have a fantastic day out. The best advice I can give is arrive hungry – you won't be disappointed!"
The event runs from 10am to 4pm in the High Street, with competition entries invited from 9am to 10am. To vote for your favourite local producer (within 30 miles of Shipston), please email dan@shipstonfoodfestival.co.uk. For all the latest news on the event, follow @ShipstonFood on Twitter, visit www.shipstonfoodfestival.co.uk or like the event's Facebook page at www.facebook.com/shipstonfood