November 2016
Shipston Neighbourhood Plan
Consultation date set for Shipston's Draft Neighbourhood Plan

Public consultation on the draft Shipston Neighbourhood Plan begins on the 7th November. This consultation gives residents the chance to have their say on the plan before it is submitted to the district council for review.
The draft plan is the culmination of a huge amount of work, largely done by volunteers, to get under the skin of the main issues affecting Shipston in relation to planning, development and sustainability. It is designed to reflect the policies and projects which residents have indicated are local priorities and should guide future development in the town. If adopted, the plan will form part of a suite of formal documents which must be considered when assessing future planning applications.
The draft plan covers a variety of topics including making the riverside public land in the Mill Street area more attractive, accessible and valuable to residents, establishing wellbeing zones to improve access to and enjoyment of public open space and consideration of potential schemes to improve traffic flow in the town centre.
The formal consultation notification is on page 11. It sets out how, and where, a copy of the plan may be viewed, together with how comments can be made.
Once the consultation period has ended (31st December), the feedback will be analysed and any relevant changes or alterations to the plan will be made before it is submitted to Stratford District Council.
The plan will then be reviewed by an Examiner, which may take some time to complete, before a public referendum takes place. It will be for local residents to decide, through the referendum, whether they would like to adopt the Neighbourhood Plan.
Mayor, Ronnie Murphy, said: "I am extremely grateful to the members of the public who have volunteered to do all research and public consultation needed to develop this draft plan for our town. Now, it is for us as residents to do our bit. I strongly encourage you to take the time to read and comment on the draft plan."
Progress reports will continue to be included in future editions of the Forum. For more information and to view the draft plan (from 7th November) visit www.shipstonnp.org
The whiff of frustration as dog mess mounts up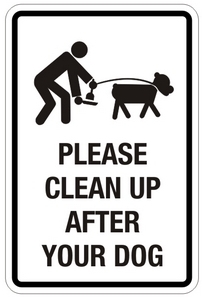 There has been a significant increase in the amount of dog mess left on pavements and public fields in recent weeks. In response, the town council has instigated use of the town's CCTV to catch irresponsible pet owners and is calling on residents to name and shame those who don't pick up after their pet.
Having previously welcomed dogs, the Sheldon Bosley Hub has been forced to issue a warning that they may have to close off access to their fields for dog walking if the situation doesn't improve. Residents have been calling on dog owners to do the right thing: "Please do not reduce a very limited choice of such space for dogs to exercise in Shipston to nil. We need you on our side. If we ALL clear up we can ALL use this field. Don't disappoint us please", one comment on Facebook reads.
Shipston Rugby Club has already instigated a ban on dogs on the pitches, although dogs can be exercised along the path to the left of the pitch.
Mayor, Ronnie Murphy, said: "It is extremely frustrating that we are all being affected by a handful of irresponsible dog owners. Thankfully the majority of people do clear up after their pets. But in light of news that some areas may be closed off to all dogs, we are encouraging residents to name and shame those who don't clean up. The Town Council has run public awareness campaigns thanks to volunteers giving up time to raise awareness of the issue but we need residents to get involved."
If owners are caught not cleaning up after their pet, they can be fined or prosecuted. Shipston has access to the Dog Warden at Stratford District Council who is happy to support enforcement where evidence can be provided.
For more information on how to report an irresponsible dog owner, please contact the Town Clerk on clerk@shipstononline.org or 01608 662180.