July 2020
The evolution of the Shipston Forum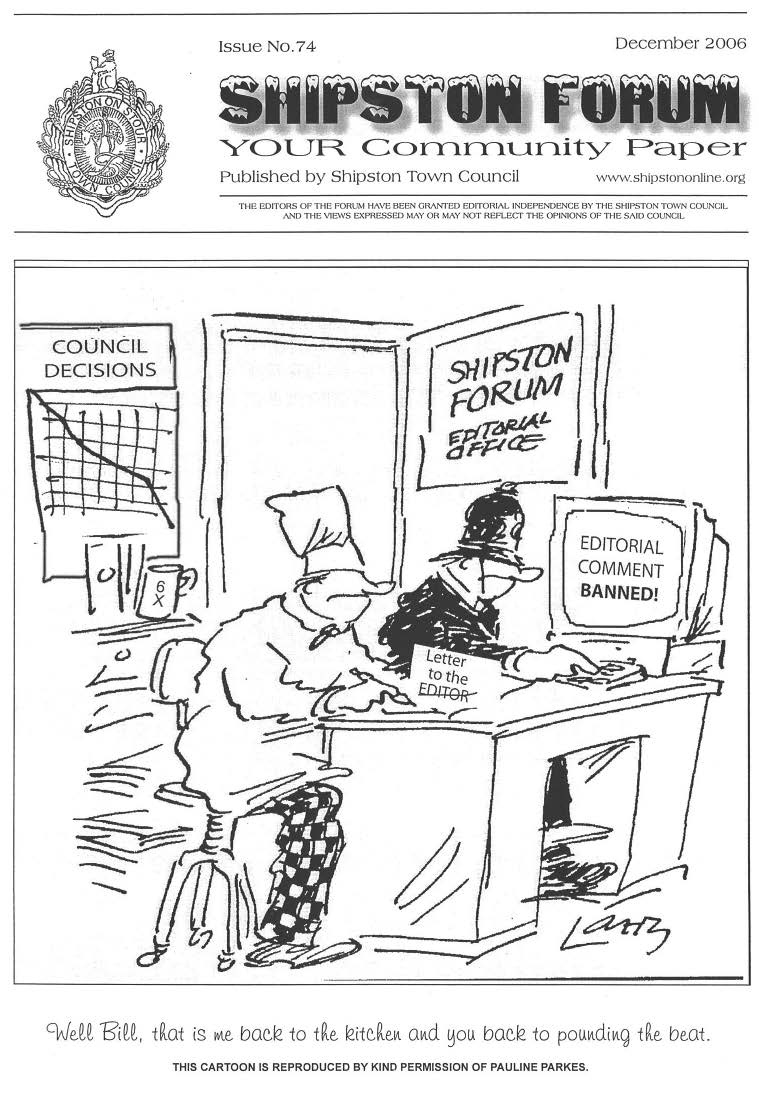 The Shipston Forum was first published 20 years ago and has evolved from its early roots into the publication we know and love today. Current circumstances mean that this August edition is quite different from previous years, which were full of reports about another fantastic fortnight of Proms, fun-packed school fetes and sports days, and the adventurous activities that the Scouts have been enjoying at camp. In the absence of summer events, I thought now might be a great opportunity to have a flick through the archive…
Editors
There have been several editors of the Shipston Forum since it first started landing on doormats across the town, who have all left their mark in different ways. This is now my fourth edition and I can confidently say I am still finding my bearings!
Before August 2007, the publication was editorially independent of Shipston Town Council, despite the council providing funding and serving as the publisher. The masthead proudly proclaimed "The editors of the Shipston Forum have been granted editorial independence by the Shipston Town Council and the views expressed may or may not reflect the opinions of the said council" – reading some of the firey editorials that occasionally appeared it is clear that the editors relished this freedom!
I found Bob Tolley's first couple of editions in 2007 especially poignant. In August, he wrote an introductory column, expressing his view that the Forum should be a true community publication and that in addition to news about the Council, it should "recognise the tremendous work and successes that are achieved by the range of clubs, societies, associations, businesses, groups and individuals." – perfectly encapsulating what the Forum still is to this day. The following month, in the wake of the epic floods that struck the town, he wrote: "Little did I realise when I agreed to take over as editor of the Forum, that within days I would be writing about one of the worst disasters in Shipston for a generation."… little did I realise that in 2020, this new editor would also have to grapple with producing a publication in troubling times!
Youngsters taking control
For several years, there was a tradition of handing over control of the Shipston Forum to local young people for special "Youth Forum" editions. For example, 15 years ago, in the August 2005 edition, Alice Hunt and Michaela Moore documented their recent visit to the Stratford Herald. They discussed meeting renowned editor Chris Towner (now retired) and "a guy called Duncan Smith", an alumnus of Shipston High School who has since established himself as a journalist and producer for the BBC.
I haven't handed over the reins this month, but if any young people would like to submit a contribution for inclusion in a future edition it would be gratefully received. Although we don't have any pieces penned by young people this month, we do have a brand new section - 'The Little Shipstonites' - kindly prepared for us by Nikki Turner and featuring activities for our youngest readers – I hope you enjoy it.
Whilst life remains far from "normal" it is good to see the town centre busier again, with people eager to shop and socialise while following the latest public health guidance. Fingers crossed that next month we may start to hear more about upcoming events, though I suspect they may be delivered in different ways.
Chris Rowland
Editor
SWFT Open Letter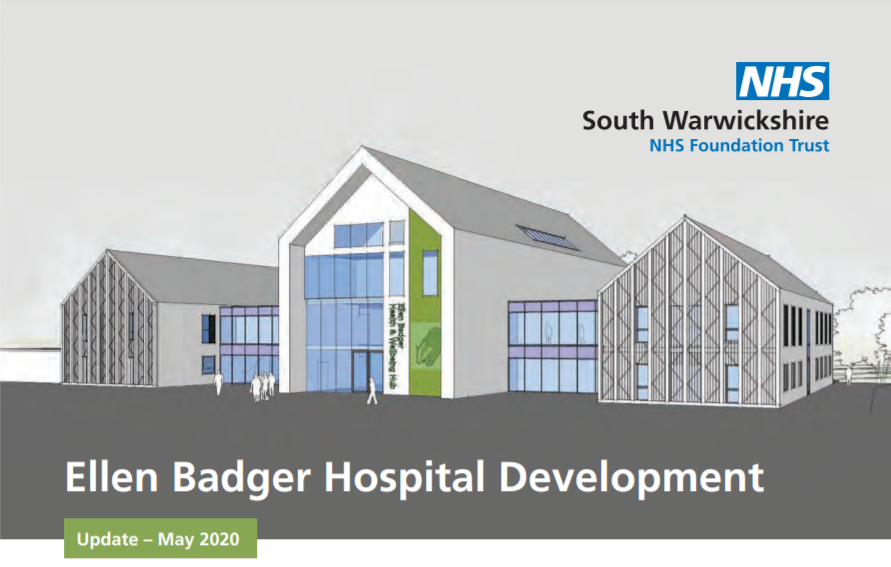 In May we shared an update on the exciting development plans for Ellen Badger Hospital, please visit: https://www.swft.nhs. uk/our-hospitals/ellen-badger-hospital to access the update.
It has been great to hear from the local community in Shipston regarding these plans, so thank you for all your comments. Across eleven Facebook Posts there were over 600 interactions including nearly 400 comments from over 200 separate individuals. We really value input from the public on our proposals and will be using them to shape the project as it develops. It is especially helpful to have this feedback during a time when engaging with the community is particularly challenging due to Coronavirus.
Coronavirus has had a huge impact of all aspects of healthcare and it will continue to shape future developments. Ellen Badger Hospital has played a vital role in the fight against Covid-19 and is currently supporting all NHS organisations across Coventry and Warwickshire by providing inpatient beds to patients recovering from Coronavirus. The Trust, working alongside our GP colleagues, is currently looking into how this might impact the development plans for Ellen Badger Hospital.
Some of the feedback we've received has queried why we aren't planning to develop the existing site. This has been a big consideration for the Trust and we have explored all options to see if this would be possible. Unfortunately due to the existing building's age, general condition, infrastructure and compliance related risks the option to refurbish the existing current hospital facility was discounted in favour of developing a modern purpose designed healthcare facility, which could respond in an effective and timely manner to the constant changing demands in healthcare delivery.
However, the Trust, like the local community, recognises the rich history of Ellen Badger Hospital and the importance of retaining as much of the history of the building as possible. We have done a detailed evaluation of all the historical artefacts within the current building and will be working closely with designers to come up with a way to sensitively incorporate these items into the new hospital. This includes the Badger monuments, which thanks to the generosity of the League of Friends, are going to be restored.
We are currently working with the design team on developing a proposal that supports changes to healthcare delivery due to Coronavirus, creates a sustainable and affordable building that is sympathetic to the local landscape and history, whilst enhancing and integrating healthcare for residents in Shipston and the surrounding areas.
We will get as much information to you as we progress the development and really want to get your feedback at every stage. If you have any further comments or questions, we would encourage you to send them to EBHdevelopment@ swft.nhs.uk
Concern over pedestrian safety on Shipston Bridge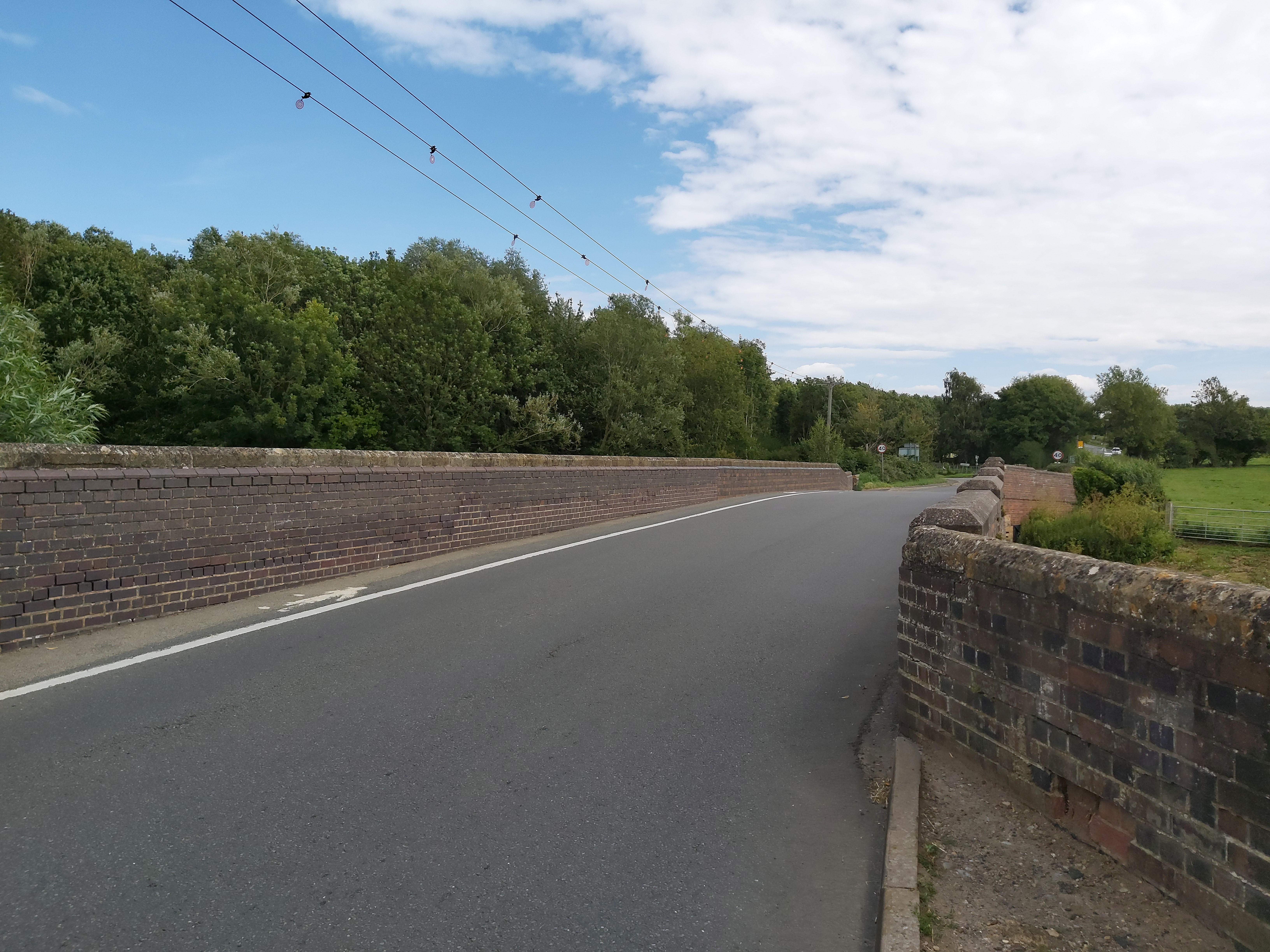 Increasing concerns for the safety of pedestrians crossing the river were expressed during the Town Council meeting on 13th July. The General Purposes Working Group have been examining the issue and potential solutions, including the long preferred option of a new pedestrian bridge.
It was felt that the introduction of a curbed pathway to create a dedicated space for pedestrians would likely need to be paired with traffic signals, as the bridge is not wide enough to accommodate two flows of traffic and a pedestrian channel.
The council resolved to ask the Planning Committee to consider the matter and report at the next meeting in August.
Play Area Closures
The following play areas will remain closed until further notice: Angelas Meadow, Hawthorn Way, Queens Avenue, London Road Sports Club, Signal Road, Mayo Road, Darlingscott Road Skate Park.
Whilst the Government has recently announced that outdoor play areas may open from 4th July, those responsible for the safety of the play areas must ensure that they are 'COVID19 secure' as well as having general safety checks. Shipston Town Council are carrying out risk assessments of those play areas mentioned and will open them when it is considered safe to do so.
COVID 19 remains a potentially fatal virus which can be transmitted from person to person via surfaces touched. STC ask that you respect the closures and do not use the play equipment.
Support in principle for Ellen Badger Hospital Development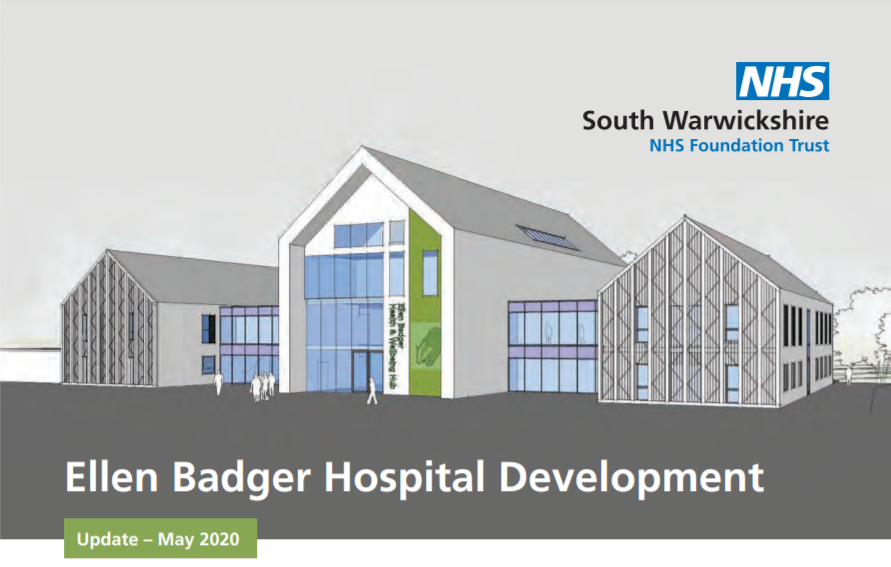 The Town Council has agreed to write a letter expressing support for the principle of developing a new integrated Health and Wellbeing Hub. This was in response to a request from the Medical Centre, who were seeking to demonstrate the business case to the Clinical Commissioning Group. Councillors felt that a new facility was needed, however, they expressed some reservations about the design, though it was revealed that the badger statues will be kept and the new building will share the pitched roof shape of the current structure.
Several Councillors noted that as plans were currently in the pre-application phase, now was the time for the Council and members of the public to express their opinion to assist with "ironing out any rough edges".
As reported in the June issue of the Forum, the plans are available for inspection on the South Warwickshire NHS Foundation Trust website for public comment: https://www.swft.nhs.uk/our-hospitals/ellen-badger-hospital
The Mayor and Deputy Mayor go to Town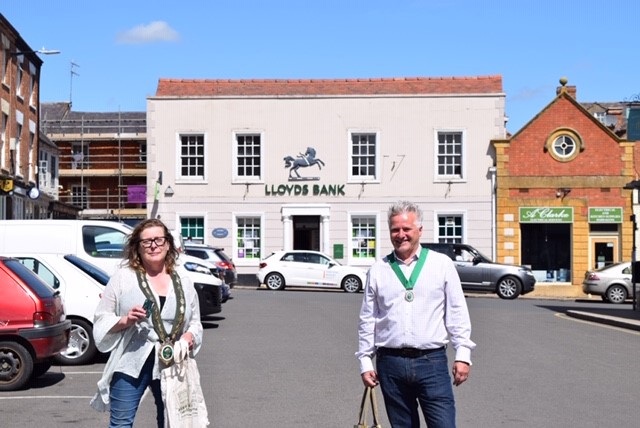 On the morning of Monday 15th June, in glorious sunshine, Deputy Mayor Ian Cooper and I toured the town centre, calling on the shops and businesses who had finally been allowed to open their doors after the lockdown. We were eager to welcome them back with open arms (but no hugging!) after closing their doors all those months ago on 23rd March. The High Street was already noticeably busier with traffic, and many more people on the pavement, carefully socially distancing. Shipston is starting to feel more like itself again!
As we went from shop to shop meeting excited proprietors, each trader had a different story to tell. All of them have had to adapt their premises and devise strategies for dealing with the public. They are all very well prepared to welcome people through their doors while ensuring that the health and safety of everyone remains paramount. Many have installed screens and one-way systems, and all have sanitiser available. Some staff are wearing masks and visors and the dress shops have steamers to treat the clothes after people have tried them on. As ever, each business is individual and has had different problems to deal with. One shopkeeper, for example, decided to install new shelving which has arrived but, owing to current shortages, he is unable to buy the wood for battens to install it.
It was a nice surprise to discover that there are some new faces on the scene. At least one business has changed hands in the interim and it was also encouraging to discover at least two empty shops are being redecorated ready for their new occupants.
We are of course incredibly grateful to all those Shipston businesses who have traded throughout this coronavirus crisis, keeping us all supplied with the essentials. It is impressive how local traders have adapted, for example moving to online ordering and delivery services. We are also only too aware that there are still many who cannot yet open for a variety of reasons. So, we really look forward to also welcoming them back as soon as they are allowed or feel able to trade.
Sheelagh Saunders, Mayor of Shipston
Shipston Area Flood Action Group Update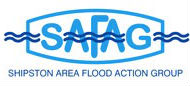 Shipston Area Flood Action Group (SAFAG) has continued its programme of flood alleviation measures throughout the lockdown period with existing health and safety procedures augmented for social distancing and appropriate use of PPE for contractors where relevant.
As all our work is outside, and being blessed with good weather, our progress has barely slowed although the Environment Agency's monitoring training sessions were cancelled causing the subsequent postponement of community team monitoring programmes.
It is worth reminding everyone that most works take place well upstream of Shipston as the aim is to slow the flow of water reaching the main river in heavy rainfall. I am pleased to report
that following 2018's programme of more than 300 NFM (natural flood management) interventions and last years's programme of more than 100 NFM interventions in and around the Upper Stour upstream of Stourton/Cherington, the 2020 programmes for Long Compton and Brailes are now well under way.
Work at Long Compton should be finalised in July with the installation of over 140 interventions on and around Nethercote Brook and its feeder watercourses.
In Brailes we have already completed 50 interventions around Sutton Brook with a further 70 planned after the harvest period. Some finishing off work is also to be done in the Sibford area with another 15 features planned for July/August.
Last winter's rain caused damage to several of our dams on Pigbrook, Paddlebrook and Kneebrook which need repair. This has also highlighted the opportunity for some augmentation with 25 additional dams and some water retention areas now planned within the 2018 scheme area around Kneebrook. This additional work and repairs will be done later this year.
The damage from last winter's rain has also led to Long Compton and Brailes' Parish Councils agreeing to include funding for long term NFM maintenance within their annual precepts. It now seems clear that climate change will continue to deliver extreme weather at increased frequencies, so the interventions we are doing will require maintenance. We are therefore now encouraging all Town and Parish Councils to allocate the necessary funding.
By the end of summer 2020 our programme should total around 800 interventions on the main watercourses feeding into the River Stour above Shipston. Considering only 50% of these were in place last November when we had the heaviest rainfall since 2007 and we know that they helped alleviate flood risk to the town and downstream villages, this further work can be reasonably expected to improve protection still further.
We are also scoping out further programmes elsewhere in the catchment, including further upgrades to existing schemes, and we are seeking additional funding to undertake such work later this year or in 2021. Besides Long Compton and Brailes, other community groups from Cherington/Stourton, Darlingscote and Sutton-under-Brailes have also joined with us so we really do have full catchment wide community involvement.
There is a need for a major upgrade of SAFAG's website which we currently do 'in house' as best we can. We simply do not have the professional skills, time or money to undertake this properly and despite being one of the leading flood groups in the country in terms of results the presentation and promotion of our achievements, particularly via social media, is being left behind. We need a modern website to promote our work and secure new funding to build on our success. This will also help us attract the volunteers young and old which we will need to sustain the programme into the future. If anyone with experience in web design would be willing volunteer their help it would be much appreciated.
Meanwhile, and as ever, we would like to thank all our agency and local authority partners for their help but especially the approximately 40 farmers, landowners and others in the catchment community whose unstinting support has made and is making all this possible.
Phil Wragg, Chairman.
Shipston Area Flood Action Group