2018
Shipston turns out in record numbers to remember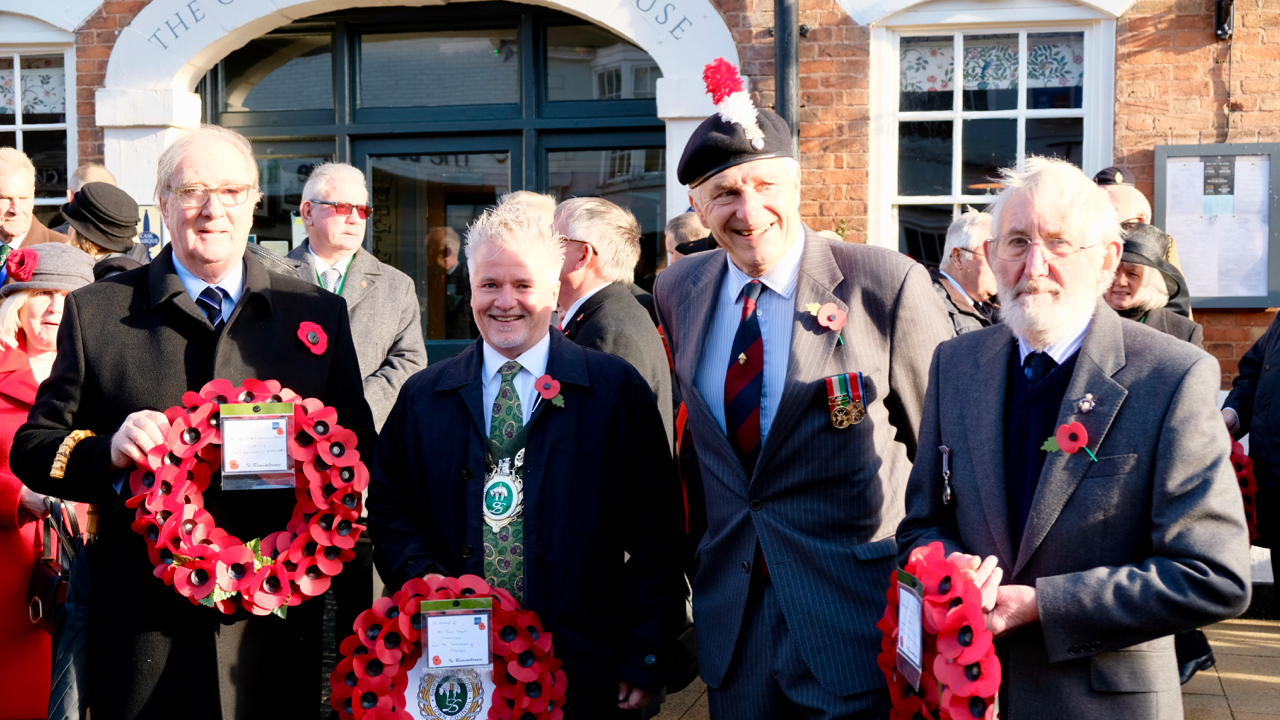 St Edmund's Church was packed to the rafters for the Remembrance Day Service which also marked the 100 year anniversary of Armistice Day and the end of World War 1.
Veterans, servicemen and women, civic dignitaries, emergency services, youth groups and charities filled the town centre to take part in the Royal British Legion Parade, led by Shipston Town Band. Deputy Lord Lieutenant, Mark Davies, joined members of the Shipston Branch of the Royal British Legion, the Mayor and local councillors in a proud march to the memorial where wreaths were laid on behalf of the town's many community organisations.
It was standing room only for the service, which was led jointly by Reverend Sarah Edmonds from St Edmund's, and Reverend Daniel Pulham from Shipston Baptist Church. St Edmund's was decorated with poppies designed by young people in the town, each commemorating one of the men from Shipston who fell in the First World War. Outside, the church was adorned with a spectacular display of knitted poppies prepared by volunteer knitters to commemorate the Centenary.
The names of Shipston's Fallen were read out by prefects from Shipston High School. Royal British Legion Branch President, David Kernohan, then told the story of Samuel Begley, who died in 1918 and who is remembered on the town's memorial. His story is particularly poignant as the Legion's Standard Bearer on the day was Connor Begley – Samuel's Great, Great, Great Grandson.
RBL Branch Chairman, Richard Adams, said: "We were delighted to see such a strong turnout in this particularly important year of Remembrance. Thank you to everyone who took part in the Parade, as well as those behind the scenes who helped make it happen."
Mayor, Ian Cooper, said: "On behalf of the Town Council, I would like to congratulate the Royal British Legion on such a successful event and thank the Town Band for leading the Parade in such spectacular fashion – we all felt proud to be a part of it."
Reflecting on the involvement of the different groups in the Parade, Councillor Ali Henderson said: "From the youngest Brownie to the eldest veteran, it was quite something to see such a widespread commitment to public service from the residents of our town."
Final preparations under way for the Victorian Evening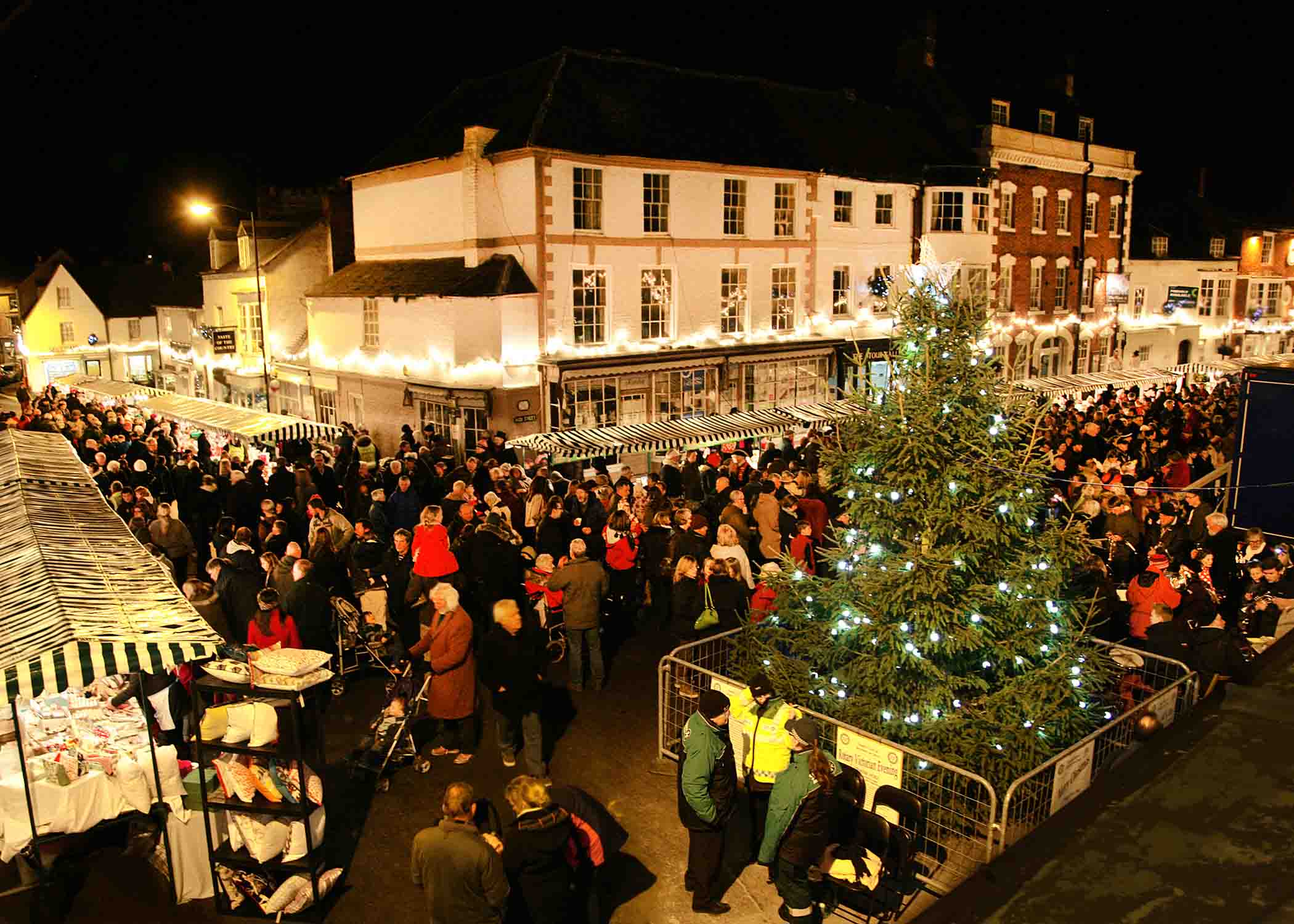 On Friday 7th December, the town centre will be transformed into a festive market for the annual Rotary Victorian Evening.
The event will begin at 5:30 with carols from Shipston Primary schoolchildren and music from Shipston Town Band. At approximately 6pm, the event will officially open, marked by the switching on of the town's Christmas lights and Tree of Life.
The bulbs on the Rotary Tree of Life are sponsored in memory of lost loved ones. Funds raised go to support a children's charity each year, reflecting new beginnings. This year, Shipston Rotary is supporting The Time Out Group South Warwickshire. This charity supports young people with complex disabilities, challenging behaviour and communication needs. They organise age-appropriate activities for four to eighteen year olds fortnightly. Many of the children who join stay with the charity for years, growing a strong social bond with their peers and staff alike. There is still time to sponsor a bulb – you can even do so at the Victorian Evening. Just visit the Rotary stand to fill in a form. The names of those remembered on the Tree of Life will be included in the Book of Remembrance.
As well as the usual Victorian Evening entertainment, a children's carousel will delight the town's youngest residents, while the mulled wine, mince pies and hog roast will no doubt appeal to the adults. Father Christmas is due to pop in so don't miss your chance to let him know what's on your Christmas wish list.
"We're watching you" council tells dog owners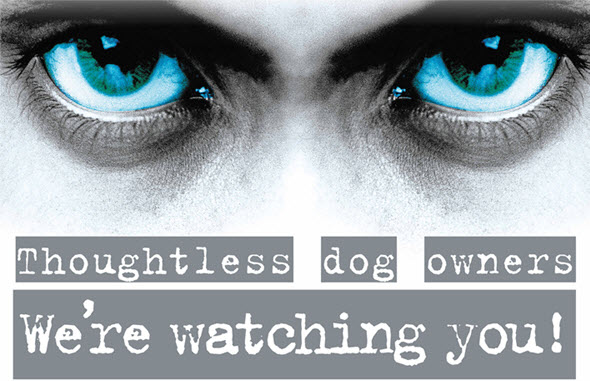 "We're watching you" council tells dog owners
CCTV cameras in the town are now being used to catch dog owners who don't pick up mess left by their pets. In addition to general crime detection, Shipston Town Council has asked the CCTV monitoring team to provide evidence to enable action to be taken against those who don't clear up after their dogs.
Mayor, Ian Cooper, explained the decision: "We have reluctantly taken this step following repeated complaints about dog mess. The town council's contractors are now having to clear dog mess from the town centre on a regular basis, at a cost to our residents. While the majority of dog owners in the town are responsible, we need to gather evidence to take action against those who refuse to scoop the poop, despite our efforts to raise awareness of both the unpleasantness and risk to health of dog mess being left on pavements."
Failing to pick up after your pooch can mean a fixed penalty notice of £75 and could result in prosecution.
Youth Ambassador appointed for Shipston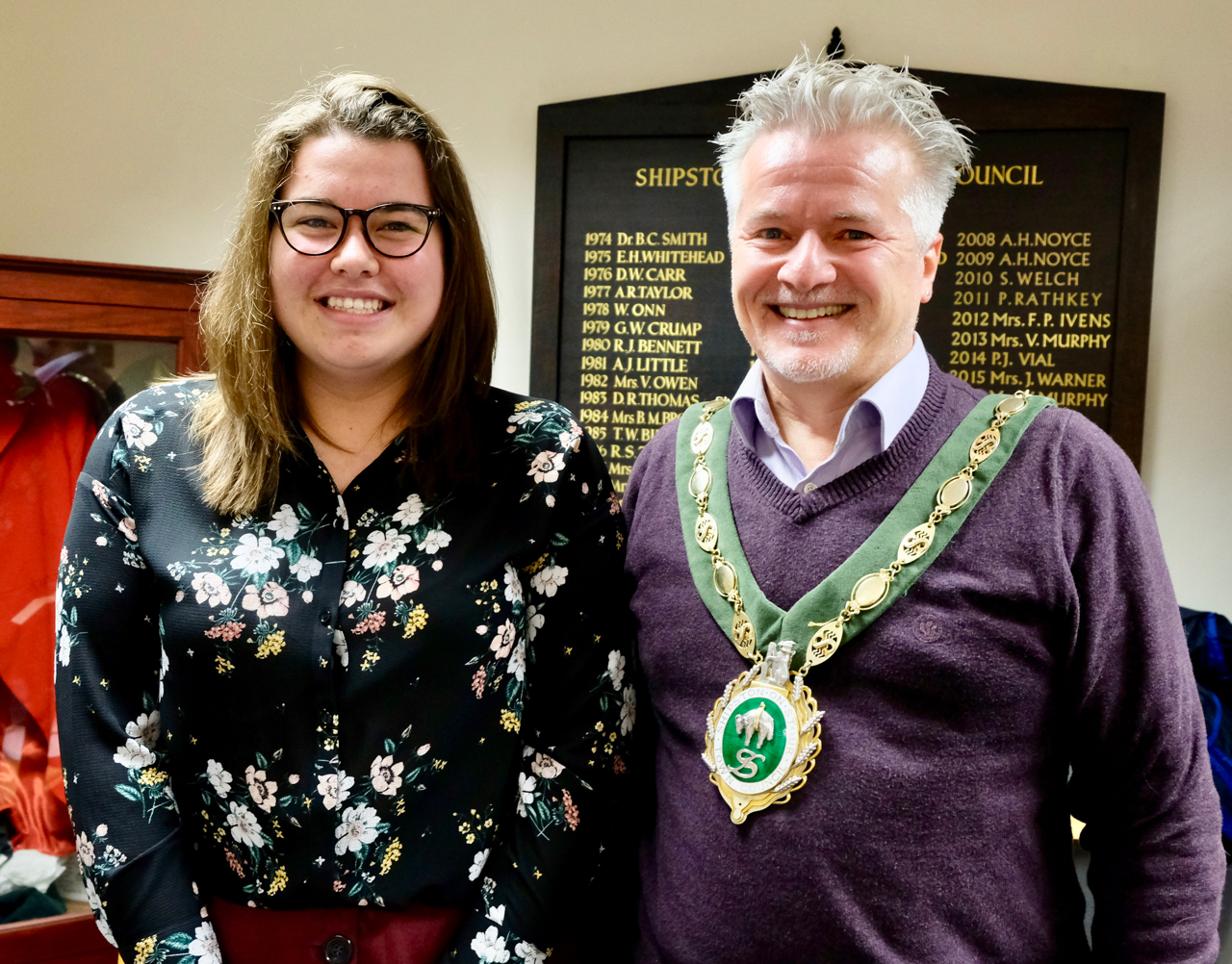 High School Head Girl, Abigail Slatter, has been appointed the first Youth Ambassador for Shipston. The appointment is part of the Mayor's desire to improve connections with young people in the town and ensure their voice is heard.
Abigail will chair a Youth Working Group which will bring together young people from the schools as well as from other clubs and societies. The Youth Working Group will meet to discuss ideas and suggestions to support young people in the town. The group will also act as a sounding board for the Town Council when looking to provide activities and facilities for younger people.
The Town Council is keen to ensure a wide range of groups are represented on the Youth Working Group – please contact the Town Clerk on clerk@shipstononline.org to find out more.
Could you be Shipston's next firefighter?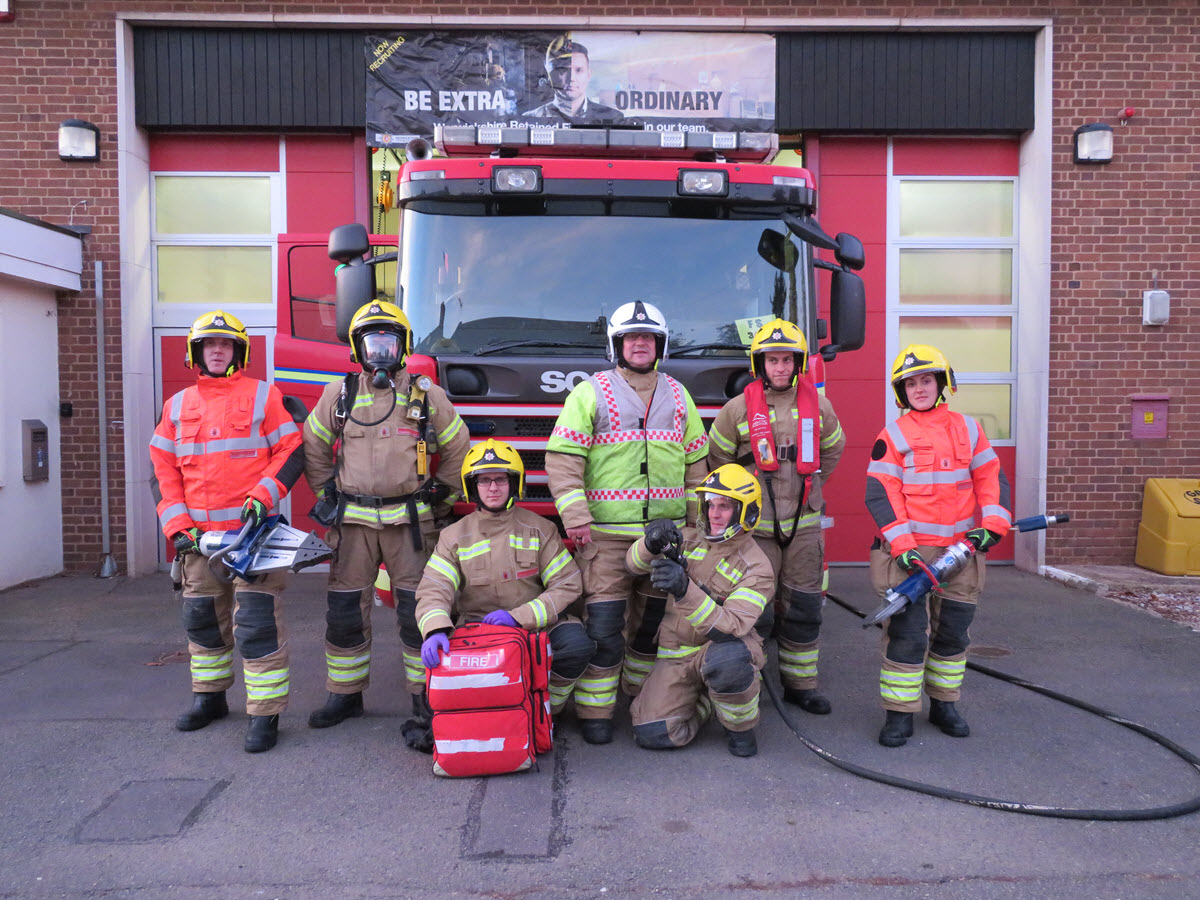 Extraordinary members of the Shipston community are being sought to be part of a first-class team of retained firefighters within the town.
Currently, there are seven retained firefighters in Shipston, responding to the call to keep our community safe. However, many more are needed to provide cover during the day, nights and weekends. This is an exciting and rewarding role, as local retained firefighter, Sam Begley can confirm. Sam joined the fire service two years ago. "Becoming a retained firefighter was a chance to fulfil a long-term ambition of mine. I was thrilled to make it through the assessment and thoroughly enjoy being part of a great team. As well as the operational duties, I've had the opportunity to learn new skills and meet a wide range of people. I love it."
Warwickshire Fire Service is looking to recruit people from all walks of life. No previous experience is needed, but common sense, self-motivation, compassion and the ability to work as part of a team is essential. You must also live or work within five minutes travel time of Shipston Fire Station and be over 18. Retained firefighters are paid an annual retainer payment and an hourly wage when undertaking operational duties.
As well as responding to emergencies, retained firefighters get involved in community work, including educating children and adults on fire safety in the home and attending community events, including the annual Remembrance Parade.
Although not based in fire stations, retained firefighters usually live or work in their local community and carry a pager, so when they get the call, they are ready to respond to an emergency. The role can work alongside any current career in agreement with your employer or performed outside of your normal working hours. The job is challenging, but it is also one of the most rewarding careers available.
Mayor, Ian Cooper, said: "Shipston's fire station is extremely important, not just to our town but to the surrounding villages. Shipston's ability to answer an emergency call can make a significant difference to the amount of time it takes to respond to a fire. We are extremely fortunate to have such a committed group of local firefighters and I sincerely hope more people will consider putting themselves forward. As a retained firefighter, you will play a vital role in keeping our community safe."
To take your first steps to becoming a retained firefighter or to find out more, visit www.warwickshire.gov.uk/beextraordinary
Centenary ceremony remembers soldiers who lost their lives in WWI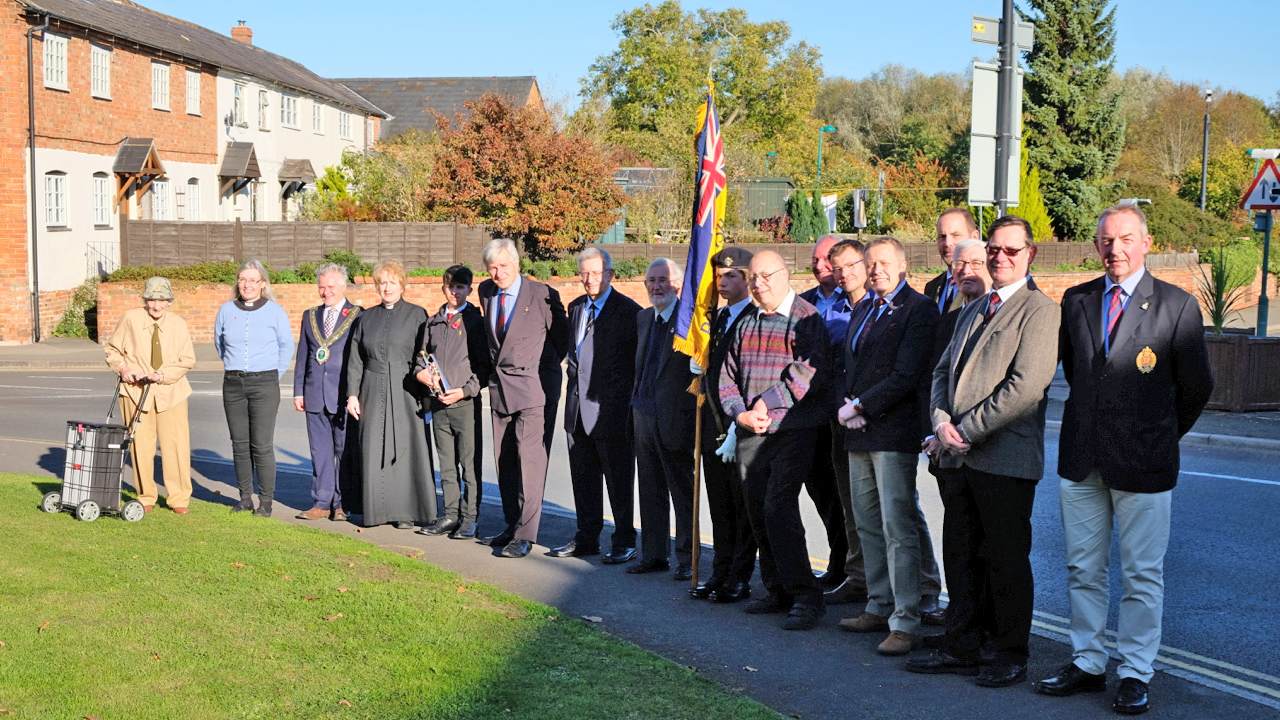 A ceremony to remember Shipston's 36 WW1 fallen took place on Sunday 21st October at the Gyratory Garden. The event was to mark the 100th anniversary of the war's end, watched over by the Tommy statue.
The Mayor, Reverends Sarah Edmonds and Sarah Bourne joined Legion members, relations of the fallen men and the public to hear names of the men read out. The Exhortation to the Fallen was given, and the Last Post and Reveille sounded by Luke Barker from Shipston Town Band. Two minutes' silence was observed.
Legion Chairman Richard Adams highlighted the impact of the war on Shipston and stressed the pride the town continues to have for all who served in the conflict. Never will those who died be forgotten.
Remembrance Sunday is on 11th November. See page 11 for details.
Could you be a town councillor and make a difference in Shipston?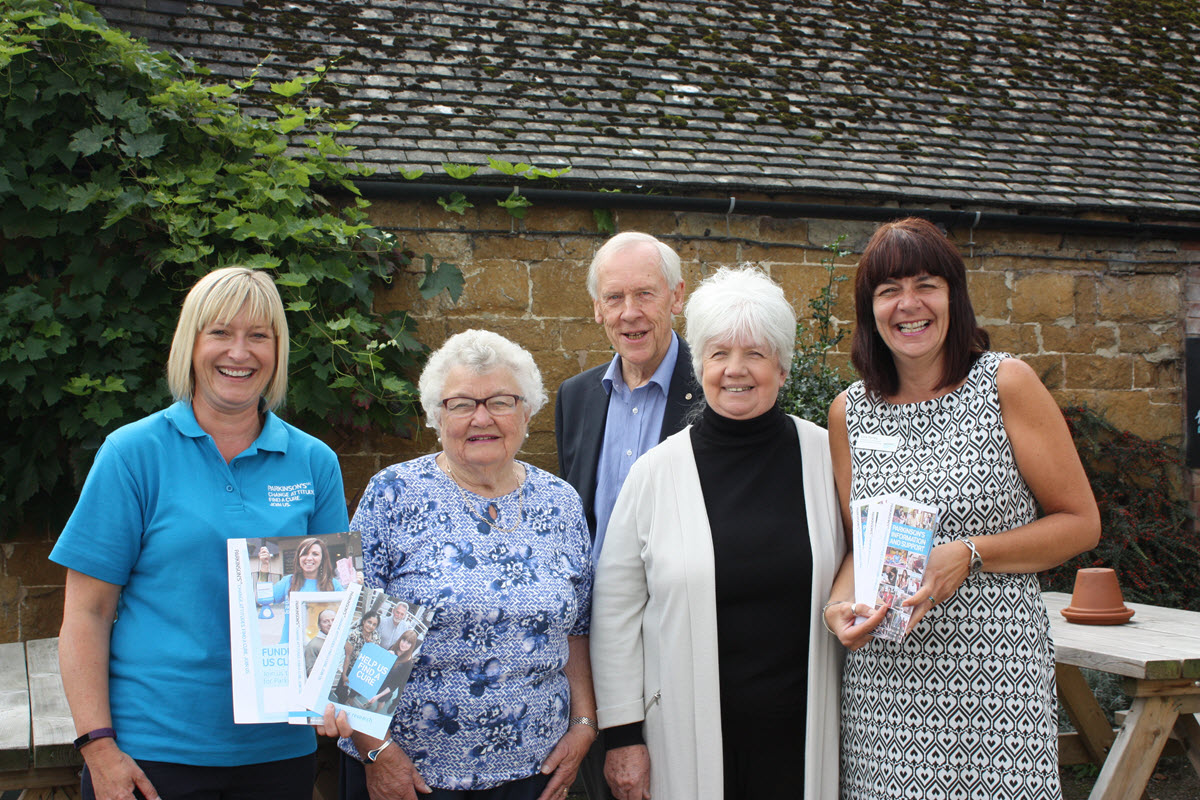 Shipston Town Council is encouraging local residents to consider standing for election ahead of the next town council election in May 2019. Being a town councillor – a voluntary role – is a great way to support your local community and ensure the town's voice is heard across the district and beyond.
There are lots of great reasons why people decide to become a town councillor. As well as helping to shape your local community and deliver local services, being a town councillor can develop your own skills, give you the chance to meet people and get involved in local events.
One of the most visible roles of the town council is in considering planning applications which affect the town. Thanks to the dedicated work of Shipston Town Council's Planning Working Group, the council has influenced the outcome of planning decisions and contributed to improvements in development proposals.
But councillors are also responsible for lots of other issues such as deciding which community groups should receive funding, how the town itself should be maintained, and how to support economic growth through tourism and leisure.
Mayor, Ian Cooper, said: "I've served on the town council since 2006. In that time I have learned a huge amount about
public and community services, and the valuable role town and parish councils play in ensuring rural communities are
represented at district and county level.
"While there are times when the role is challenging, it's enormously rewarding and often fun. I encourage residents
to consider getting involved to ensure we have a full complement of councillors come May 2019."
At least two current councillors have already indicated they won't be standing for re-election, so the council is keen to
ensure more people come forward. If insufficient candidates stand, the council may be forced to co-opt unelected
representatives.
Potential councillors should apply once the Notice of Election is published in March. For more information – including how to become a district or a town councillor – visit https://www.stratford.gov.uk/council-democracy/be-a-councillor.cfm
Alternatively, contact the Town Clerk at Shipston Town Council on 662180 or clerk@shipstononline.org.
Patients can now access evening and weekend appointments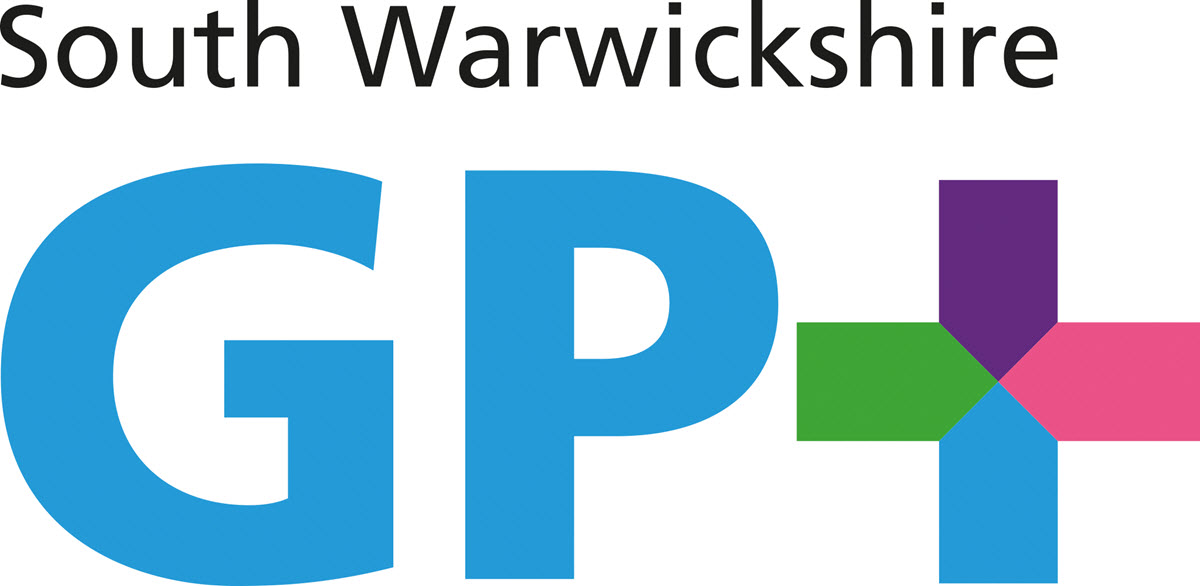 Patients registered with Shipston Medical Centre and other South Warwickshire practices can now book face-to-face or telephone appointments at two GP+ 'hubs' from 6-9pm on weekdays and 9am-1pm on weekends.
Routine and same day appointments will be offered with GPs, nurses and clinical pharmacists. In addition there will be same day appointments from 6-9pm on weekdays for children aged 0-16 who need treatment after school hours. Appointments are booked via your normal practice.
South Warwickshire GP+ will run initially from two centrally located and accessible hub locations: Trinity Court Surgery in Stratford-upon-Avon and Waterside Medical Centre in Leamington Spa. The service is being run by the South Warwickshire GP Federation and the hubs will be staffed by GPs and nurses from local GP practices. GP+ clinicians will have access to patient records, so that the patient's full medical history is known and records can be updated regardless of when or where patients are seen (subject to patient consent).
Tim Morris, Managing Director of South Warwickshire GP Federation, said: "Attending GP appointments is not always convenient for patients, particularly for those who work full time. GP+ will make it easier for people to see a GP, nurse or pharmacist, whether that's for a specific illness or to keep up to date with important screenings or medication reviews."
For more information visit www.southwarwickshiregps.nhs.uk/extendedaccess/ or contact Shipston Medical Centre on 01608 661845.
Allotment holders do Shipston proud in two competitions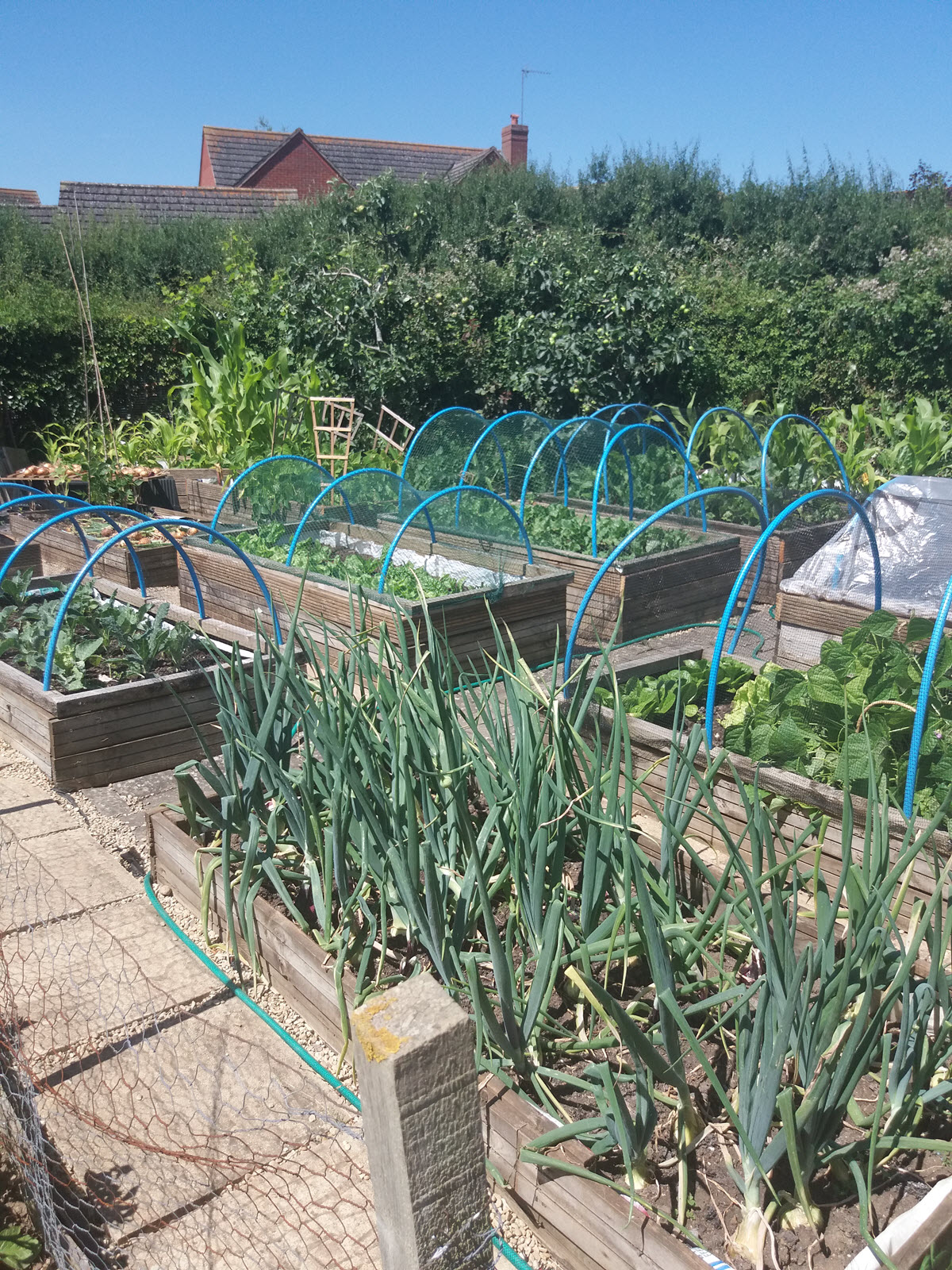 Shipston allotment holders have once again impressed external judges at two recent competitions.
The annual Shipston allotment competition was judged by Chris Small, a member of the Gloucestershire Guild of Judges. Mr Small praised allotment holders for the high standards and wide range of produce on display.
The overall winner was Chris Dunn of the Shoulderway Lane site. Winners at New Street were Ann Lynch in first place, Peter Harvey second and George Dunn third. At Shoulderway Lane, Chris Dunn took first place, with John Arnold second and Simon Ford third. The Mayor presented certificates to the winners at the Flower & Produce Show at the Townsend Hall in August.
Shipston Town Council entered both allotment sites in the Moreton Show allotment competition this year and were thrilled when New Street Allotments were crowned winners. The site won £100 which they have generously decided to donate to Shipston Community First Responders. The judges were very impressed with the amount of produce despite the drought and said the improvement in the sites from year to year never ceases to amaze them.
Big congratulations to all allotment holders for the effort they put into tending their plots and producing beautiful vegetables and flowers, even more so this year in light of the challenging growing conditions.
Shipston Adopts Neighbourhood Plan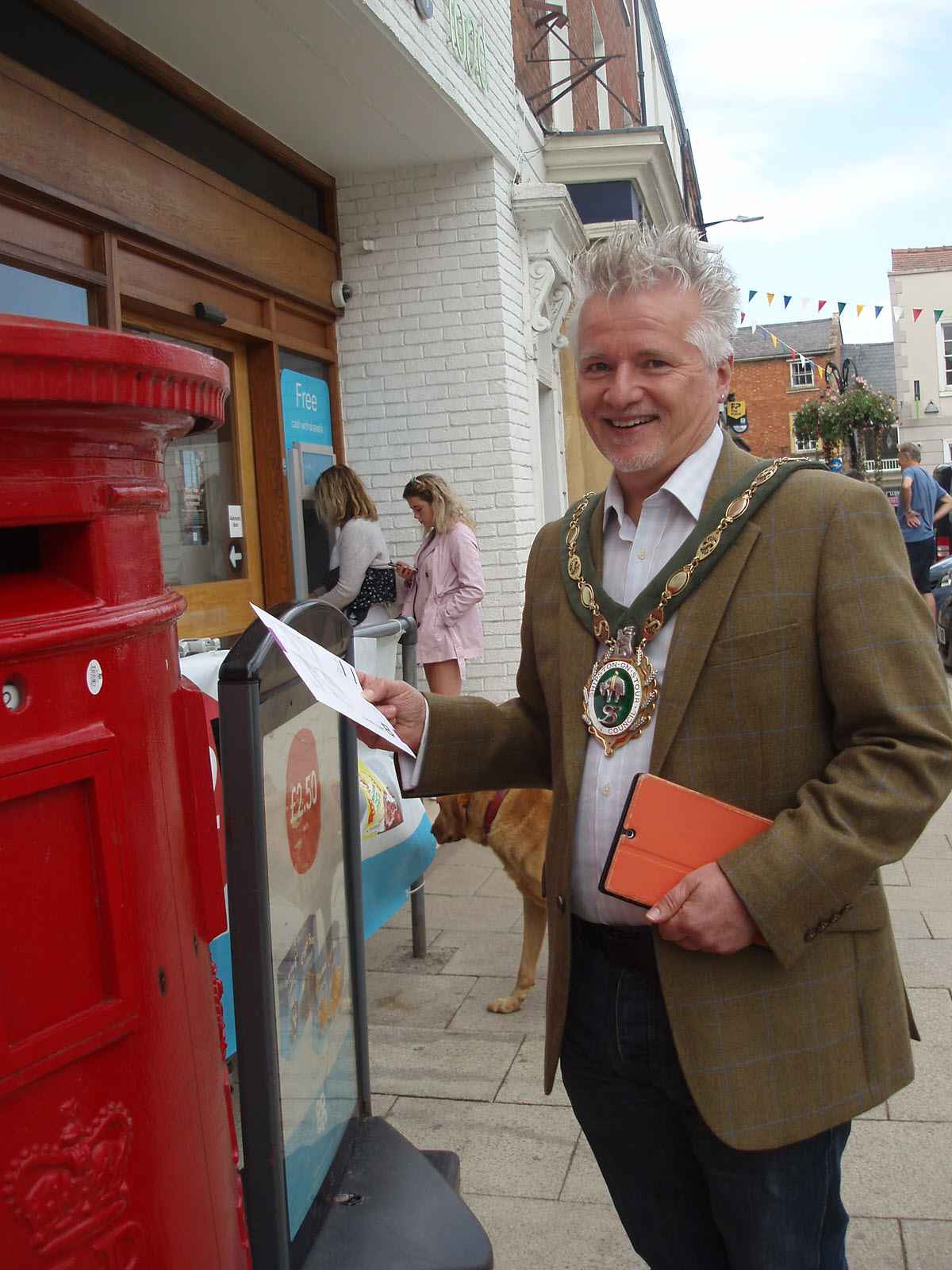 On 6th September, Shipston residents voted to adopt the Neighbourhood Plan, which has been developed over the last few years.
Just over a quarter of those registered to vote did so, with 87% voting in favour of adopting the plans, and 12% voting against.
There is just one final step in the process – Stratford District Council will need to ratify the referendum decision, which is expected to take place in December.
With an adopted plan in place, the policies in the Neighbourhood Plan – developed by local residents - will be taken into account when assessing future planning applications. The town will also receive a larger percentage of the money developers pay to mitigate the impact of new developments, known as the Community Infrastructure Levy.
Shipston Mayor, Ian Cooper, said: "I am really pleased that residents have endorsed the Neighbourhood Plan. On behalf of the Town Council, I would like to thank the Neighbourhood Plan team who put in a considerable amount of effort and many hours of work to achieve this outcome.
"We are also grateful to all those residents who attended consultation meetings and responded to questionnaires while the plan was being developed, to help ensure it reflected the opinions those living and working in our community".
The Neighbourhood Plan can be viewed at New Clark House, Shipston Library and on www.shipstonnp.org.
Shipston heads to the polls for the Neighbourhood Plan Referendum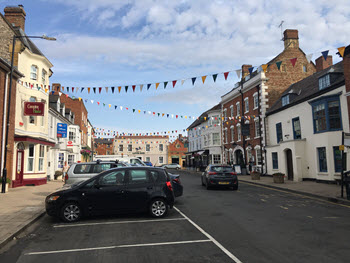 The referendum to decide whether Shipston should adopt its Neighbourhood Plan takes place on 6th September 2018. The Plan includes proposals for the type and location of development, infrastructure and local services in the town.
Planning decisions are currently taken at district council level and local input from Shipston is limited. Having a Neighbourhood Plan in place would ensure the views of local residents – as expressed in an adopted Neighbourhood Plan – are taken into account when considering planning proposals. With an adopted plan, the town would also be eligible for 25% of any Community Infrastructure Levy (which developers now have to pay on developments of 11 units or more) instead of 15% without an adopted plan.
The referendum is the culmination of a long process, which began in 2012, when Shipston Town Council held a launch event to find out whether residents supported the idea of producing a Plan, and to ask for initial views on the key issues it should address. Four key areas were identified: Housing, Environment; Infrastructure and Economy, with Flooding added at a later date given its local significance.
Following extensive consultation and research, the Neighbourhood Plan team formulated draft policies covering these areas, which were presented to residents at an Open Day in December 2015. Ongoing updates were posted via the Neighbourhood Plan website and a questionnaire was sent to all residents. A statutory consultation ran from December 2016 for six weeks to enable residents to make further comments, and the Plan was approved by Shipston Town Council in October 2017. An independent examiner has since assessed the Plan and recommended it go forward to referendum, subject to some modifications which have been incorporated.
Shipston residents who are registered on the Electoral Role, will have received polling cards recently from Stratford District Council ahead of this important referendum.
Voters can choose to accept or reject the Neighbourhood Plan. If accepted, the Plan will become part of the formal planning process. This means that Stratford District Council, by law, must consider the policies in the Plan when reviewing new development applications in Shipston.
Mayor Ian Cooper said "This referendum is a unique opportunity for Shipston residents to have their say directly and to help shape the future development of Shipston. Whether you opt to accept or reject the Plan, I urge all residents to use their vote on the 6th September. Don't miss this chance to influence the future of our community."
To find out more about the policies proposed, download a copy of the Neighbourhood Plan via www.shipstontowncouncil.org and www.shipstonnp.org. Printed copies are available for inspection at New Clark House, West Street and Shipston Library.
Act fast to have your say on the Ellen Badger Hospital
Early readers of the Shipston Forum should still be in time to respond to a consultation to help shape the future of the Ellen Badger Hospital.
Following the recently announced investment in the hospital, including the purchase of a neighbouring property, South Warwickshire NHS Foundation Trust is seeking views on what services residents would ideally like to see at the hospital.
Some of the services already provided at the Ellen Badger include in-patient beds, outpatient clinics, physiotherapy, radiography, district nursing, health visiting, a day hospital, speech and language therapy and hearing services.
To have your say, please complete the survey at www.swft.nhs.uk - but don't delay - you only have until 31st August to register your views
Glimmer of hope for new medical centre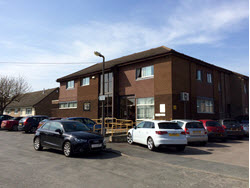 Shipston Medical Centre has reported that the local Clinical Commissioning Group has commissioned an appraisal of the options for developing larger premises for the Medical Centre in Shipston. This is a significant step forward.
It is thought that two of the options being assessed are development of a new building on newly acquired land at the Ellen Badger Hospital or on land identified for health purposes on the north side of the Campden Road.
Proposals are at a very early stage and are likely to take at least five years to come to fruition. Practice Manager, Rachel Vial, said: "Nothing is set in stone and we still can't guarantee that we will secure the funding and support needed for a new centre, but this is at least a step in the right direction."
Shipston Proms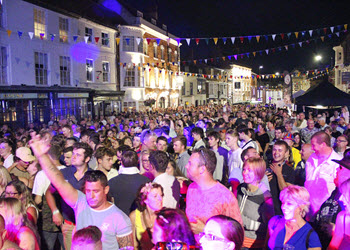 Shipston Proms began twenty years ago with fireworks - 20 years later, pyrotechnics accompanied the headliners at the Last Night of the Proms.
The final night started earlier than normal at 2pm, with the tribal sound of African Drumming courtesy of Cassia Tree, followed by Morris Dancing, the High School Band, Betsy Harmony and the Lounge Club.
Up to 1,000 people joined the party in the High Street to listen to Duke, Fame Contest winners, the Buzzin Hornets, the Texan Peacocks and the main act, Badness. The crowd were singing and dancing along to a fantastic range of tunes.
The 20th anniversary Proms proved again what talented musicians we have in South Warwickshire. There were high turnouts at all venues thanks to the calibre of performers. Many of the regular favourites were back including Mrs. Porter's Chamberpot Pourri, Songs from the Shows, Folk Night at the Black Horse, the Coffee Concerts, the Pub Trails in all the local Shipston Pubs plus the open mic night.
The town was also pleased to welcome visitors including virtuoso pianist Alexander Ardakov, the Stratford Chamber Choir, Gary Mullen and The Works, the Sam Powells Blues Band and the Midnight Blues Machine.
Though small in number, the Shipston Proms Committee achieved an incredible amount and worked hard to make the whole fortnight a success.
Environment Agency Representatives Help Build Shipston's Flood Defences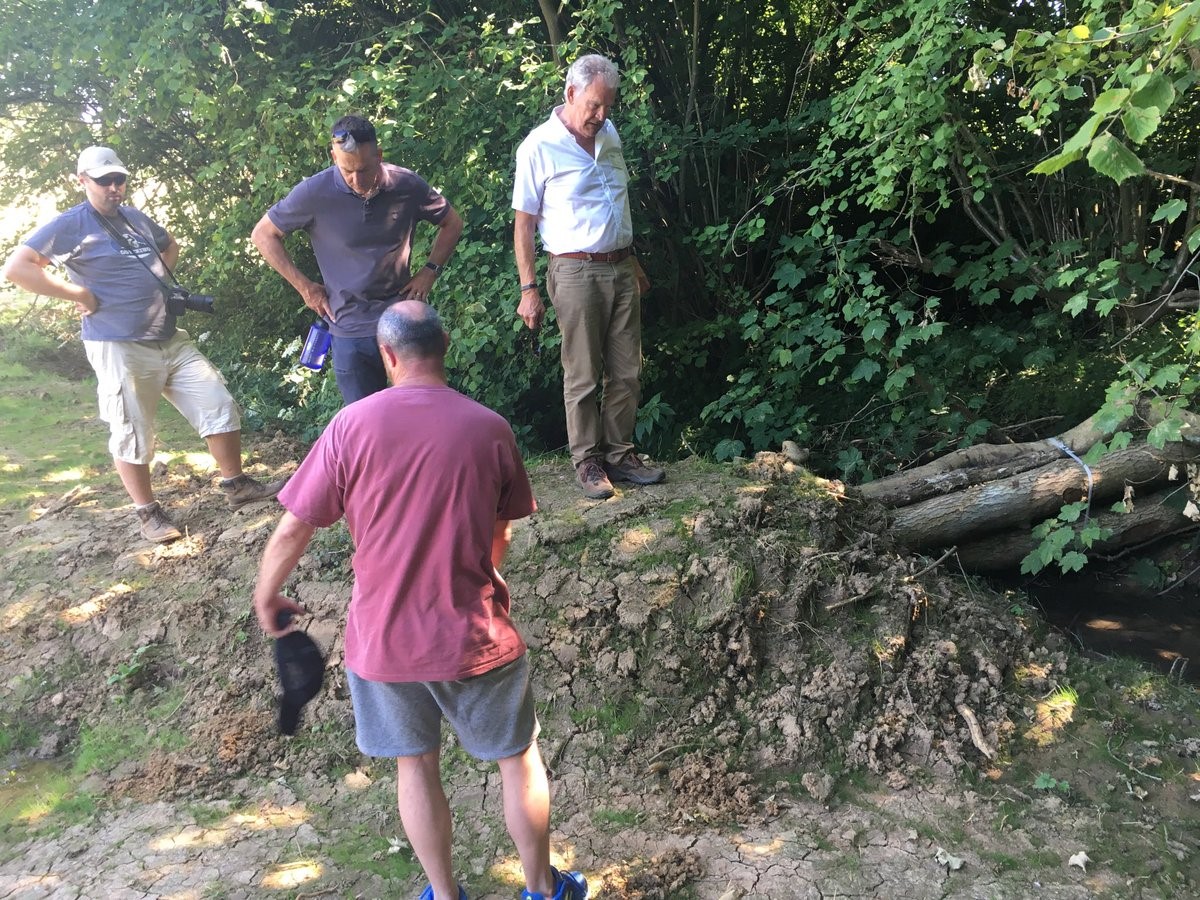 In late June, 11 members of the Environment Agency, including senior directors and managers visited Shipston-on-Stour and toured the extensive River Stour catchment where flood intervention measures have been installed in 2017/18.
They were invited by members of the Shipston Area Flood Action Group (SAFAG) to view some of the 175 flood intervention measures which have been installed on the Knee Brook (the main local watercourse) and its tributaries.
The Environment Agency has been very supportive of SAFAG over the last few years as they view the Group as leaders and national pathfinders in community-led natural flood management (NFM) projects across the UK. The 175 NFM interventions, such as woody dams, ponds and bunds etc, are designed to 'slow the flow' of the watercourses typically on farmland in the upper reaches during spate conditions. It is intended that this holding back and slowing of the flood waters will reduce the risk of flooding to homes and businesses in Shipston and numerous other villages in the local area.
During the visit the EA members were given the opportunity to assist in building two woody dams to better understand the challenges and issues involved. SAFAG members delivered a video presentation of the 2007 floods which emphasised the extent of the flooding problem in the area.
The visit was a great success and assisted in enhancing partnership working with the Environment Agency as SAFAG bid for future funding.
Demand for Shipston First Responders is on the rise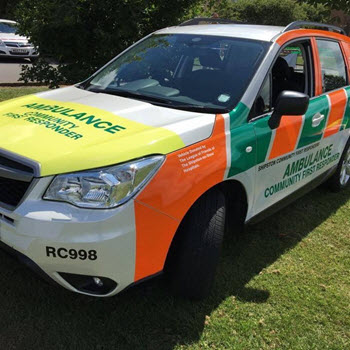 Shipston Community First Responders (SCFR) has attended 314 emergency 999 calls on behalf of the West Midlands Ambulance Servic (WMAS) since January 2018. Over the past year, SCFR has seen an increase in emergency calls and now attend, on average, over 50 calls each month!
Shipston's team of eight Community First Responders (CFRs) provides immediate basic life support interventions with an average response time of five minutes (dependant on location). As the name suggests, the First Responders are often first on the scene, providing vital support as well as reassurance, and are always backed up by the nearest Ambulance resource from WMAS.
Shipston's CFR's are all voluntary and provide on-call cover seven days a week. They are reliant on funding from donations and grants.
SCFR Coordinator, Stuart Eastbury, said: "We would like to thank all our supporters, including The League of Friends of the Shipston Hospitals, hosts of fundraising tins and local businesses. Without the continued support of the community we would not be able to provide the service we do."
If you are interested in becoming a Community First Responder in Shipston or the surrounding villages, please contact Stuart on ambulance1991@yahoo.co.uk
Shipston High School Celebrates New Phase of Expansion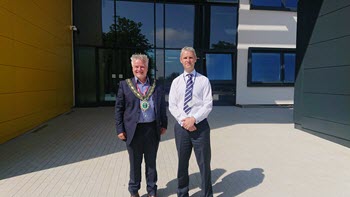 Shipston High School is now able to welcome a record number of students thanks to completion of a new block of classrooms in July 2018.
The smart new building houses nine new classrooms for languages, religious education and English lessons, as well as a new reception area. Students moved into the new accommodation on the 2nd July, just under a year after construction began.
This is the second new block to be built on the site, following earlier expansion in 2016. Both new buildings have been funded by Warwickshire County Council (WCC) to enable Shipston High School to provide additional high quality school places for the local community.
Headteacher, Gavin Saunders, said: "We are very grateful to WCC for its faith and investment in the school. The building is a response to the need for more school places, but also a recognition that all students deserve a high quality learning environment. The school is increasingly popular and our Year 7 intake in September will have 120 students, our largest year group to date."
Further expansion is planned, with the school actively exploring a new sports hall which could potentially be hired for community use outside of school hours. Internal work is also underway to refresh the older block, including a newly equipped drama and performing arts space and expanded classrooms for some subjects.
"This expansion comes at a time when all schools are increasingly under pressure for adequate funding, and the new examinations are also a challenge, but we are committed to providing the best opportunities for our young people. In general, the school is vibrant and confident for the future, and we would like to thank the local community for the support they continue to give Shipston High School" Mr Saunders added.
Mayor, Ian Cooper, said: "It is encouraging to see such positive progress at the High School, both in terms of the investment in new buildings and in the academic performance of its students. We wish the High School every success as it embarks on the new academic year."
Treasure trove of artifacts unearthed in Shipston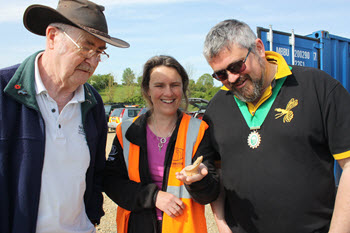 A team from Archaeology Warwickshire has unearthed 2000 year old finds in Shipston, dating back to the late Iron Age and early Roman period.
The treasure trove of artefacts was discovered on the Taylor Wimpey development site on the Campden Road. A mixture of pottery, coins, lead weights and decorative clips have been identified. The finds included Samian pottery – a type of finely decorated tableware imported from France and Spain. Another significant find was the well-preserved skeleton of a horse, alongside what are believed to be cattle bones probably buried for religious reasons in a ceremonial manner.
Early indications suggest that some of the finds belong to a settlement of the Dobunni – an Iron Age tribe known to have lived across what is now Gloucestershire and the southern part of Warwickshire. The Dobunni are thought to have been early adopters of the Roman lifestyle after the invasion of 43AD. According to Stuart Palmer, Principal Archaeologist at Archaeology Warwickshire, the settlement at Shipston is of considerable interest as it was in use both before and after the invasion and it will be possible to study what the impact of the invasion might have been on the local population.
The dig was funded by Taylor Wimpey as part of its pre-development work on the site. The investigation began with a detailed geophysical survey and trial trenching to identify the most likely areas of interest. Topsoil was removed from the site, to expose the pits and ditches that indicate where the settlement was. Anne Wallace, Sales and Marketing Director for Taylor Wimpey Midlands said: "Archaeology Warwickshire have made some fascinating discoveries during the archaeological works on the site of our Herdwick Fold development. We are pleased to have been able to donate the artefacts to the local museum so that residents of Shipston-on-Stour can learn more about the history of the area."
The artefacts discovered have been removed from the site to be cleaned and dated ready to be deposited in a museum. Deputy Mayor, Dan Scobie, requested that the finds were returned to Shipston where they can be displayed for local residents to enjoy.
Dan Scobie said "On behalf of the town council, I would like to thank Archaeology Warwickshire and Taylor Wimpey for inviting us to view some of the finds in situ and for supporting our efforts to return the artefacts to Shipston. We hope to be able to arrange for them to be displayed in the Shipston Museum in the future."
10th anniversary Wool Fair proves a big hit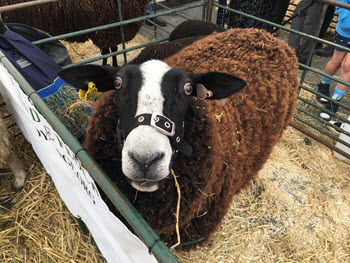 Visitors 'flocked' in their hundreds to the annual Shipston Wool Fair at the end of May.
The event was officially opened by Lady Howe, Chair, Veronica Murphy, and Shipston Town Mayor, Ian Cooper. There was also a large turnout of invited Civic Dignitaries from throughout Warwickshire.
New for this year was a ten hour knitathon which started at 5:45am! Over 70 squares were knitted during the day, before being sewn together into two shawls for Hamlin Fistula UK, the only UK charity exclusively supporting the Addis Ababa Fistula Hospital in Ethiopia.
Not content with just knitting shawls, Shipston's knitting and crocheting army set about covering the town in colourful yarn throughout the woolly weekend. From licorice allsorts on bollards to woolly bunting and crocheted bikes, there were delightful creations around every corner in the centre of town and beyond.
But the stars of the Wool Fair were, of course, the sheep. Rare breeds delighted visitors of all ages, while live shearing drew the crowds as woolly sheep were trimmed for the summer.
Adding to the attractions were a variety of stalls selling goods and food, while others were raising funds through competitions and raffles.
The Wool Fair was the culmination of a series of woolly celebrations, which had started with the first Wool Fair Farm Day in early May. This was followed by the Totally Locally Arts and Crafts Market on 26th May and the Rotary Community Songs of Praise on the 27th. All in all - it was a busy schedule for Shipston in May.
Mayor, Ian Cooper, said: "It was an honour to open the Wool Fair in its 10th Anniversary Year. A considerable amount of work goes into planning and running this event and it was wonderful to see everyone's efforts pay off. Thanks to everyone involved - and to those who supported the Wool Fair events."
Community turns out to cheer Women's Cycling Tour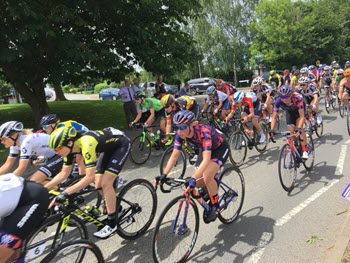 Excited residents and school children lined the streets of Shipston on Friday 15th June to witness the Ovo Energy Women's Cycling Tour race through the town.
Launched in 2014, the five-day event brings world class athletes and elite sporting action to cities, towns and villages across England and Wales. As a result of the incredible crowds that line each day's route, the race has quickly become one of the leading cycling events in the world.
Shipston featured in stage three of the race - Atherstone to Leamington Spa - the longest of the entire tour at 151 kilometres. The cyclists were supported by an impressive entourage of support vehicles and policemen and women - some of whom were 'dabbing' and 'flossing' to the delight of the children in the crowd while they waited for the competitors to appear.
Australian, Sarah Roy, finished first in the Warwickshire stage - the emotional victory can be viewed on the Tour's website at www.womenstour.co.uk
Shipston Welcomes New Mayor
Councillor Ian Cooper was unanimously elected Mayor of Shipston for the forthcoming year at the Annual Meeting of the Town Council in May. His appointment follows 12 months as Deputy Mayor and over 12 years serving on the town council.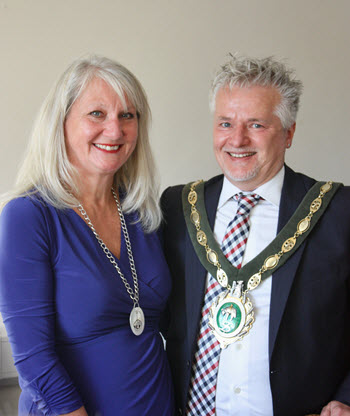 In accepting the post, the new Mayor said: "I feel honoured to take on the role of Mayor of Shipston and I am looking forward to a busy year ahead. I would like to thank Dan Scobie for the considerable effort he put in throughout his time as Mayor – he has been an excellent ambassador for Shipston, both within the town and across the county."
Ian Cooper will be supported in his mayoral duties by the new Mayoress, Tina Cook (both pictured right).
Within minutes of thanking and bidding farewell to Dan Scobie as Mayor, councillors were voting him in as Deputy Mayor for the second time! "I would like to thank all my fellow councillors for their support during my 12 months as Mayor." Dan Scobie said. "I'm delighted to accept the nomination for Deputy Mayor and will continue to work with Ian and others to promote our town," he added.
The Annual Meeting was officially opened by the Town Crier, Marion Lowe. In addition to the Mayor-making activities and the normal business of the council, the annual meeting is when councillors are required to review and approve statutory documents and set the schedule of meetings for the forthcoming year.
Residents are reminded they are welcome to attend meetings of the town council which take place on the second Monday of the month at 7pm at New Clark House. Agendas can be downloaded in advance from www.shipstontowncouncil.org.
Local flooding expert scoops Shipston Community Award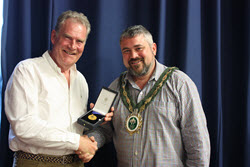 Shipston resident, Phil Wragg, was announced the worthy winner of the Shipston Award at the Annual Town Council Meeting in April.
The award, which celebrates outstanding voluntary work for the local community, was made in recognition of Phil's tireless efforts to mitigate flood risk in and around Shipston. As chairman of Shipston Area Flood Action Group, Phil is now the go to person for flood advice and regularly supports the town council in discussions with developers to help ensure flood risks are minimised.
In accepting the award, Phil Wragg said: "It is an honour and a privilege to receive this award which is very much appreciated. However, I am only one of eight SAFAG volunteers and it is very much a team effort. I'd also like to thank the Town Council for supporting SAFAG's work"
Major initiative to tackle social isolation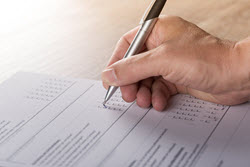 A new partnership has been set up to launch a major initiative against loneliness and social isolation in Shipston and the neighbouring villages.
Shipston SCAN, Shipston Medical Centre, VASA and the county and district councils have formed the Stour Partnership Against Social Isolation and Loneliness to tackle the problems. Other local organisations including the town council, Lions, Rotary, Age Concern, the Baptist Church, U3A and Ellen Badger League of Friends support the project.
Speaking for the partnership, Trevor Russel, chair of Shipston SCAN, explained: "Social isolation and loneliness are as harmful to people's health as smoking and obesity. By some estimates, nine million people in the country are lonely or socially isolated. These problems exist in every community - and Shipston is no exception.
"Working together, we intend to identify the scale of the problems here, look at initiatives to tackle them, find the funding and deliver solutions.
"There has to be and there will be a community-wide and community-led action. Shipston has done a terrific job on dementia. We now need to do just as good a job with loneliness and social isolation".
As a first step, the partnership is sending a questionnaire to every household in Shipston. If anyone would like a copy or more information, please contact Trevor on 01608 662514 or basicallybooks@btinternet.com
Shipston gets set to celebrate the town's 10th Wool Fair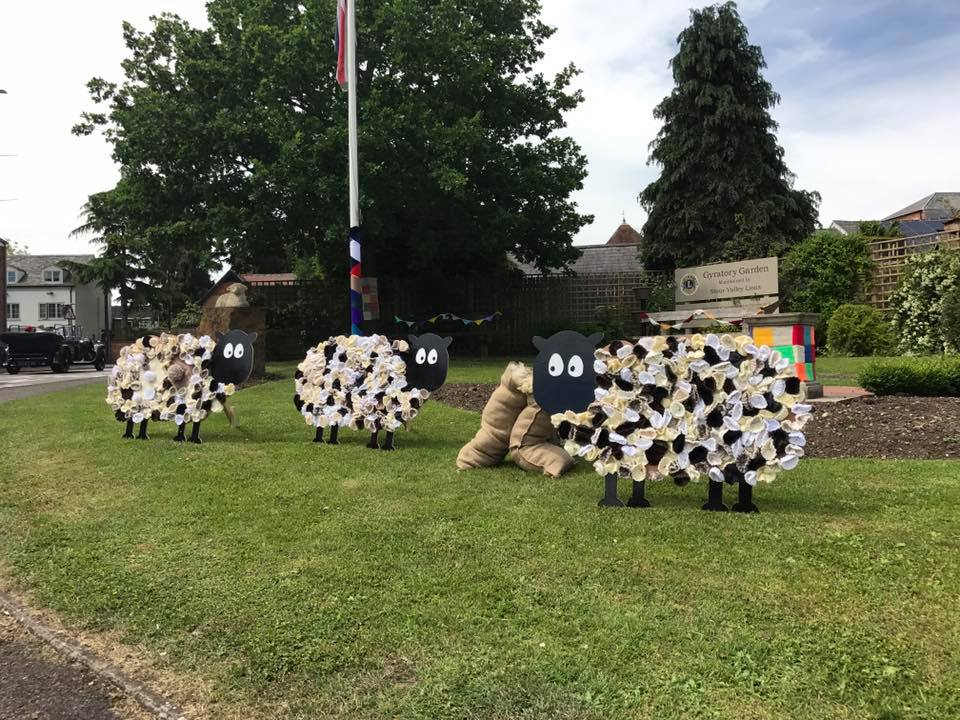 This year marks the 10th Anniversary of the Shipston Wool Fair – an annual celebration linking with the town's history and its importance in medieval times as a livestock town, specifically sheep. In recent years, the Wool Fair has grown from a one day celebration to a full Woolly Weekend and this year will be no different, with events taking place from 26th to 28th May.
Kicking off the Wool Fair weekend will be the Totally Locally Arts and Crafts market on Saturday 26th May. Sheep Street and The Bury will become a treasure trove of handmade and unusual goods, including soaps, ceramics, paintings, wood craft, textiles and up-cycled furniture.
On Sunday, Shipston Rotary is holding a Community Songs of Praise at St Edmunds Church at 3pm followed by tea and homemade cakes.
Bank Holiday Monday (28th) will see the town transformed, as the Wool Fair itself takes place. The jam-packed anniversary programme will see rare breeds paraded in the town, live sheep-shearing, and the opportunity to learn about the traditional crafts of spinning, weaving and knitting.
Retailers, clubs and charities will be lining the streets, offering games, competitions, raffles and retail therapy, much of which will be supporting local good causes. Refreshments will be available, both from stall holders and local cafes and restaurants, while music and dance will be keeping visitors entertained throughout, so why not come for the day and make the most of this annual event.
Chair of the Wool Fair, Ronnie Murphy, said: "2018 marks a huge milestone for everyone who has worked so hard to bring the Wool Fair back to Shipston, which is now one of the town's most popular events. We are extremely excited about this year's celebrations and look forward to seeing record numbers of residents and visitors taking part in the fun."
The Shipston Wool Fair was resurrected in 2009 after a lapse of around 150 years. Each year the Wool Fair organisers have introduced new features, including the Shipston Tapestry for the Queen's Jubilee year, and a woollen hat knitted on the day of the Fair from that day's sheep shearing.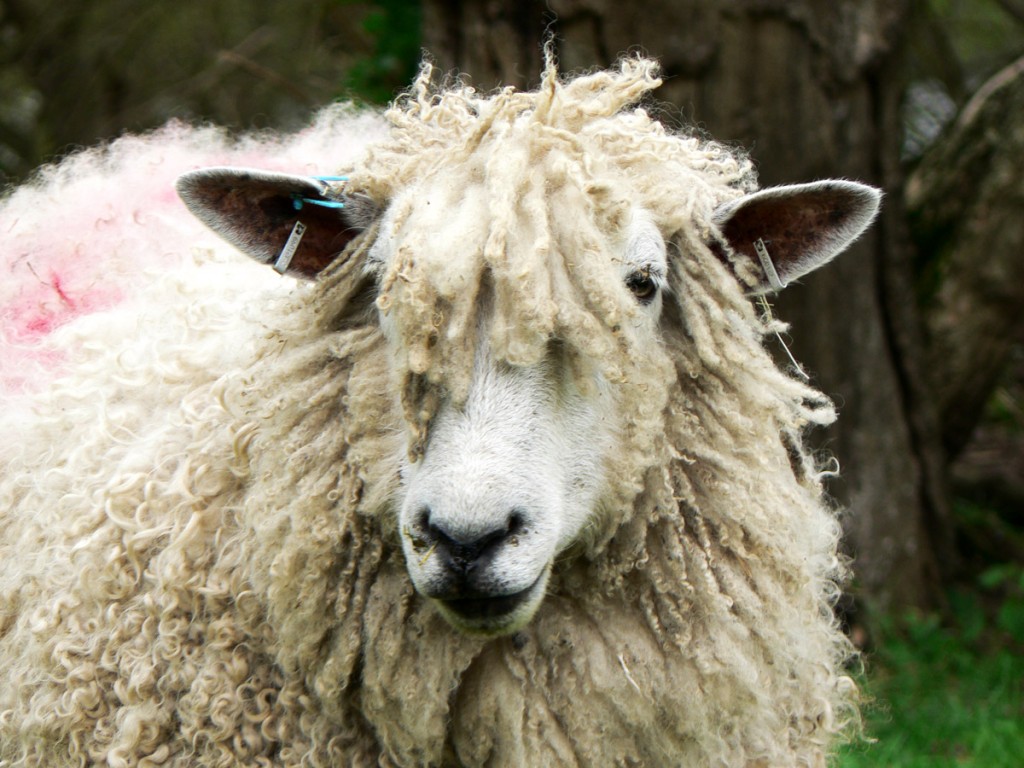 It was last year's Wool Fair that introduced the town to 'yarn bombing'. The locally knitted 'yarn bombs' saw everything from lampposts and benches to shrubs and bollards adorned with colourful knitted creations. The positive response from local residents and visitors was overwhelming and yarn bombing will again be an exciting feature in the town.
Town Mayor, Dan Scobie, said: "On behalf of the town, I would like to wish the Wool Fair Committee every success for this year's events and look forward to joining in the celebrations."
The Wool Fair is made possible thanks to committed volunteers and the generous support of sponsors. Find out more at www.shipstonwoolfair.co.uk.
An insight into Shipston in Bloom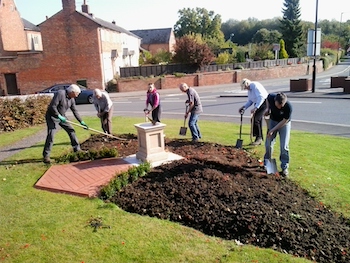 Walking around the town centre of Shipston over the last two months you will have seen a display of spring bulbs and flowers in all manner of different locations and planters. Have you ever wondered who put them there?
We caught up with Chairman of Shipston in Bloom, Simon Welch, to find out more.
"Let me dispel a myth – it was neither the elves nor the fairies!" - Simon revealed that over a period of about ten days late last October a small team of local volunteers descended upon Shipston and planted 8,000 daffodil bulbs, 1,000 tulip bulbs and 600 forget-me-not plants. The planting was designed, planned and executed by Shipston in Bloom – a committee of 10 local residents. They were assisted by half a dozen additional helpers as well as the Rotary Club, the Lions, and last but by no means least the town gardening contractors – Lawns 2 Mow.
Shipston in Bloom exists in order to make the town colourful and attractive throughout most of the year for the benefit of both residents and visitors by creating a spring bulb display and later in the summer, a display of summer bedding plants.
Simon explained that Shipston in Bloom's working year begins in early October when the summer bedding displays have finished and the plants are removed and discarded. The containers and beds are dug over and then planted with the bulbs and plants that will blossom in the spring. The committee then start the exercise of planning for the summer bedding displays choosing a design, colour scheme and appropriate plants. By the end of December the team is ready to order approximately 4,000 plants.
"For summer 2018, we have gone for a simple, but multi-coloured scheme – trailing begonias in the planters and antirrhinums in the flat beds, with a few structural spot plants – cordylines." Simon revealed.
At the end of April, when the bulbs have finished flowering the hard work really begins. All the bulbs are lifted and the top six inches of spent compost is removed from all the planters and replaced. Slow release fertiliser and water-retaining crystals are added. From the end of May, the bedding plants are planted out and watered in.
"Once we've completed the summer planting, we begin to relax and, along with residents and visitors, enjoy the fruits of our labour. However, keeping the plants sufficiently watered can be a major headache. We rely on rainfall and the tremendous job done by Lawns 2 Mow with their water bowser, but the 88 householder pots have to be watered more regularly." Simon explained.
"Despite the considerable rainfall Shipston experienced on occasions, many householder pots suffered badly through lack of any water. So if you have householder pots outside your house, shop or business, could you PLEASE look at them every two or three days as you go in and out, and if the plants look sad and the compost feels dry – please give them a good water. Thank you in advance!" he added.
By the end of September, the summer display will be fading. October arrives and Shipston in Bloom's annual cycle starts again for another year.
Funding the blooms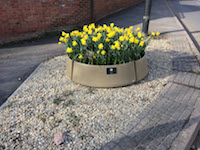 Bulbs, plants, compost, fertiliser are paid for indirectly by residents via the Town Council precept (part of the council tax). In addition, the group holds a Grand Raffle at the Victorian Evening to raise funds. Shipston in Bloom also receives a small number of generous donations from some residents. The money raised (excluding the council grant) is used to fund a replacement programme of planters.
"Next time you see a senior citizen wearing a high-vis tabard labelled Shipston in Bloom, and on their knees grovelling around a flower bed or crouched over a planter, stop for a chat with us, we more than welcome suggestions for improving the town's floral displays." Simon concluded.
Shipston in Bloom would love to welcome more members. If you might be interested in joining please contact Simon Welch by phone or e-mail - 01608 663596, simon.welch@talktalk.net
From trauma to triumph in 24 hours
Shipston Rugby Club fell victim to a suspected arson attack overnight on 13/14th April. The contents of a shipping container housing all the training equipment for the mini and junior teams was reduced to ashes, leaving the club in desperate need of help.
While police began inquiries, the local community swung straight into action. A 'Go fund me' page was set up by Rugby Club Chairman, Dan Scobie, with the initial aim of raising £3,000 towards replacement kit. Within 24 hours, over £5,000 had been donated by club users, concerned residents and businesses, as well as neighbouring rugby clubs. At the time of writing, the fund had risen further to over £7,000.
Club Chairman and Town Mayor Dan Scobie, said: "As a club we've been overwhelmed by the support and generosity that's been shown. It really demonstrates that whilst there may be a small number of people who commit crimes like this, the vast majority are good decent supportive people. These donations will go directly towards supporting the young people of Shipston and the surrounding area in their rugby training."
Shipston has seen an increase in vandalism recently, including an attack on an abandoned vehicle at the Sports and Social Club and the destruction of ornaments in the Sensory Garden. If you have any information that could help the police with their inquiries, please call 01789 444670 or 101.
Shipston Wool Fair celebrates its 10th Anniversary with extra dose of farming fun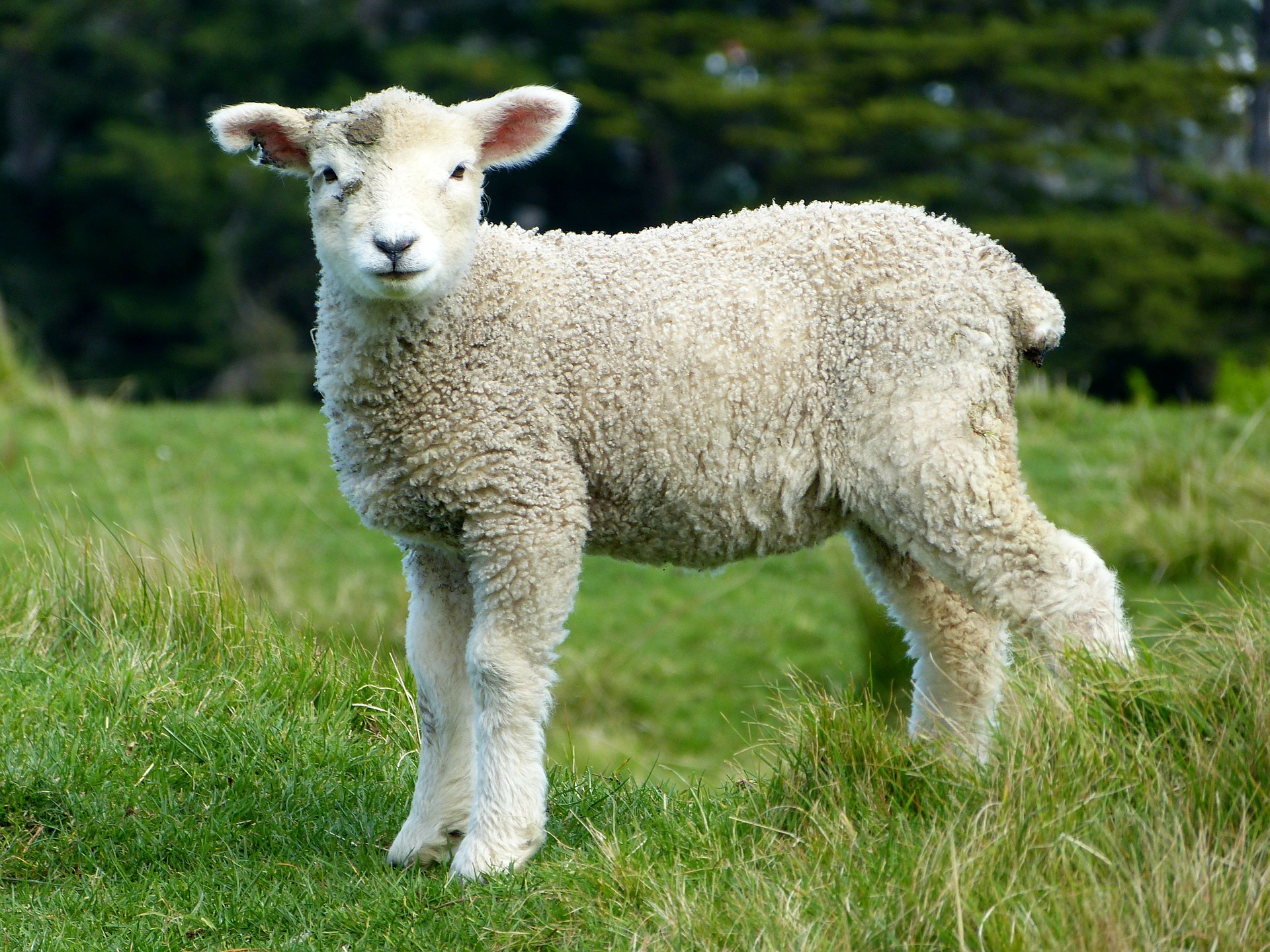 This year marks the 10th Anniversary of the Shipston Wool Fair. For those of you who don't know, this historic event was resurrected in 2009 after a lapse of around 150 years.
To mark the 10th Anniversary, a special Wool Fair Farm Day at Lower Clopton Farm, Lower Quinton, will be held on the 5th of May as a prelude to the Wool Fair itself (occurring as normal on Bank Holiday Monday 28th May).
Attractions at the Wool Fair 'Day on the Farm' will include working sheep dogs, an exhibition of vintage tractors, birds of prey on display, a farm trail, demonstrations of traditional crafts and stalls selling quality goods. Despite all this activity, entry is just £2.50 and under 3s go free.
Chair of the Wool Fair, Mrs Ronnie Murphy commented "we are delighted to be working with Lower Clopton Farm to mark this special milestone in the Wool Fair's history. This will be a memorable event and a fitting prelude to the Wool Fair itself."
Richard and Susie Baldwyn from Lower Clopton Farm said "we are delighted to welcome the Wool Fair to the farm for this special occasion. We are committed to sharing with our visitors the importance of farming and quality home-produced food, a commitment shared by the Shipston Wool Fair."
Come and join us and enjoy a fascinating and memorable 'day on the farm' at Upper Quinton, CV37 8LQ.
Brailes Three Hills Walk returns again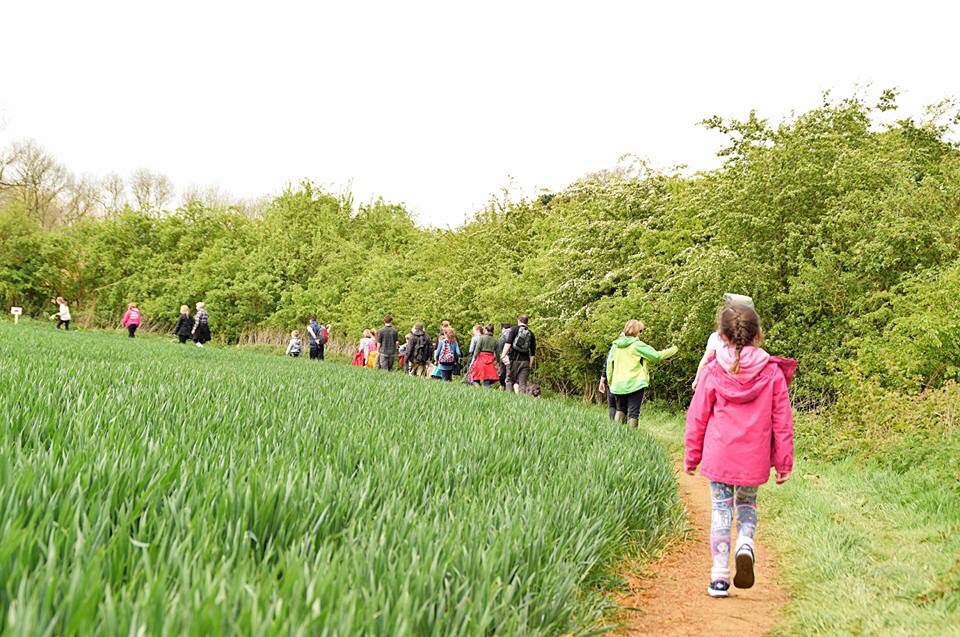 Following the success of last year's event, the ever popular Brailes Three Hills Walk is back and will take place during the Bank Holiday weekend on Monday 7th May.
Starting from Brailes Village Hall between 9am and 11am, the approximately 6-mile route takes walkers over Castle Hill, Brailes Hill and Mine Hill, some of which is private land that is opened especially for the event. Some sections are a little steep but this is more than made up by the fantastic views along the way. Afterwards you can replenish your energy levels at the delicious BBQ supplied by Paddock Farm Butchery. There will also be a bar, teas and home-made cakes available.
The cost is £5.00 for adults, £1.00 for children and dogs are welcome but must be kept on a lead at all times. All profits will go to Brailes Primary School and Brailes Sports Pavilion.
For further information, please visit the facebook page 'Brailes 3 Hills Walk', or contact Richard Cheney email richardcheney@btinternet.com or Lisa Bryan on 07800 771368.
Shipston Neighbourhood Plan to proceed to referendum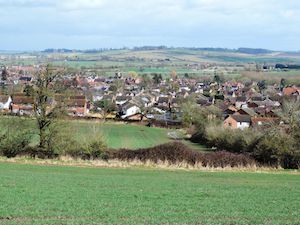 Shipston's draft Neighbourhood Plan has been given the green light to proceed to a public referendum. Following close inspection by an independent examiner, and a six week consultation period, the plan is on course for a public vote in the early summer.
The inspector raised a number of points which the Neighbourhood Plan team is working through. As a result, some policies and graphics in the plan are being amended or removed to ensure the considerations are taken on board.
Following completion of the updates, Stratford District Council will begin the process of organising a public referendum. The referendum is a simple yes or no vote regarding whether the town should adopt the Neighbourhood Plan. All adults registered to vote within the town will have the opportunity to have their say.
If adopted, the Neighbourhood Plan will become a material consideration in any new development proposed for the town. In addition, the town will receive 25% of the new Community Infrastructure Levy funds sourced from future new developments of over ten houses built in the town.
Look out for a more detailed insight into the key policies in the Neighbourhood Plan which will be published in the Forum prior to the referendum.
Exciting plans announced for the Ellen Badger Hospital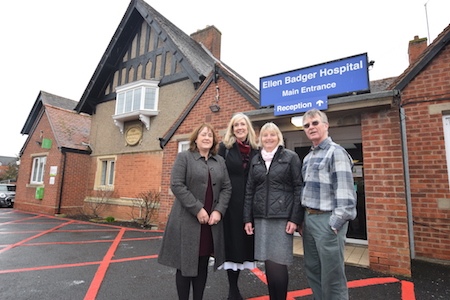 Exciting plans have been announced to develop and expand the Ellen Badger Hospital, bringing more services to Shipston.
Plans have been approved by South Warwickshire NHS Foundation Trust (SWFT) to develop a new, enhanced inpatient facility at the hospital. This £500,000 investment will help provide health services for the local community. Work started on the site in January 2018 and is expected to be complete by April 2018.
The refurbishment is the first phase of a longer term development plan for Ellen Badger Hospital. Working in partnership with the League of Friends of Ellen Badger Hospital, SWFT has just purchased a plot of land next to the hospital, which will allow more services to be delivered locally. To identify what services local residents would benefit from, SWFT will be inviting partners and members of the community to share their views and give feedback at dedicated events (to be announced).
The League of Friends is extremely supportive of these plans and has gifted £635,000 to SWFT to support this project.
Jayne Blacklay, Director of Development at SWFT said: "This is a very exciting time for Ellen Badger Hospital...It is fantastic that we are able to develop the site to improve services for the community of Shipston and surrounding areas."
Frances French, Chair of the League of Friends, said: "The League are absolutely delighted that SWFT has acquired this land. We are grateful both to John Peart and Percy Lomas whose legacies have made our contribution to this exciting opportunity possible."
Dr Gilder, Senior Partner at Shipston Medical Centre, said: "We are delighted to hear about the development at the Ellen Badger Hospital. Shipston Medical Centre will be working with South Warwickshire Foundation Trust to help identify services which will benefit our population. We will also continue to seek opportunities for the development of a new Medical Centre".
Pictured top right: Outside Ellen Badger Hospital (left-right): Dr Gilder, Senior Partner at Shipston Medical Centre, Jayne Blacklay, Director of Development at SWFT, Frances French, Chair of the League of Friends, Chris Thorogood, member of the League of Friends.
Nominations now sought for the Shipston Community Award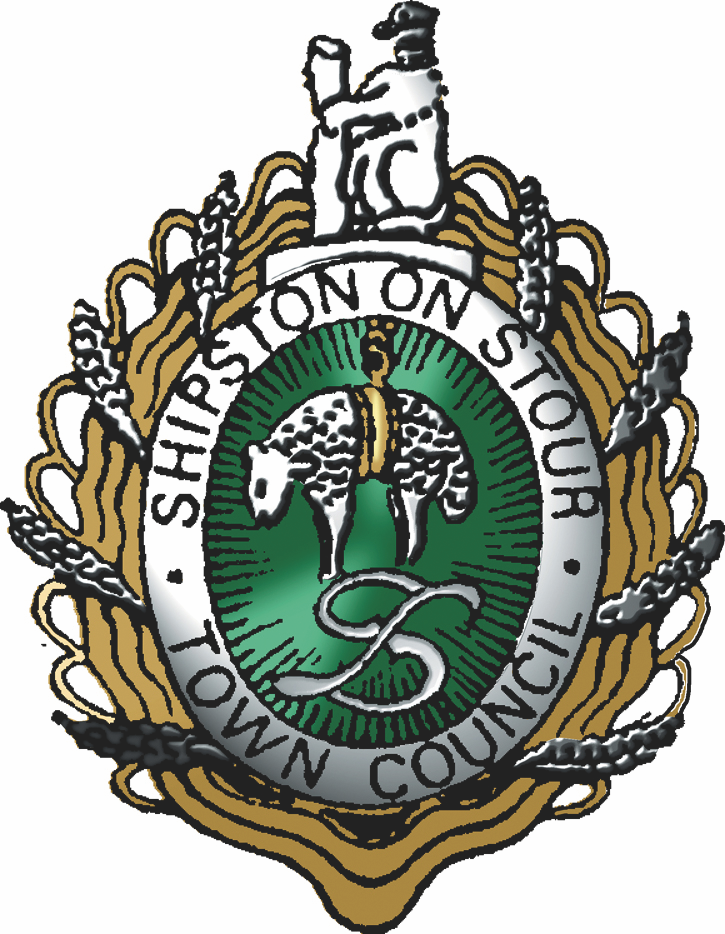 Shipston Town Council is calling on all residents to nominate their community heroes for the 2018 Shipston Award.
The Shipston Award recognises work done by volunteers to support the local community. Originally known as the Anne Sankey Medal, the award was created by former Mayor, Anne Sankey, who led the council in 1998 and was a fervent supporter of community initiatives.
Shipston owes a huge amount to those who volunteer their time to support local services and activities. From fundraising to running local clubs or events, the town is fortunate enough to have many examples of voluntary work. The Shipston Award gives the town an opportunity to recognise those efforts.
Examples of community initiatives include the many and varied events in the town, clubs and societies which provide services and activities for residents, and fundraising efforts to support local charities.
Last year the award was given to Tim Porter in recognition of his many years of service to the Shipston Proms, which will celebrate its 20th year this year.
If you know of someone who is going above and beyond to serve the local community, councillors want to hear from you.
To nominate, simply complete the nomination form on page 9 of the March 2018 Forum and send it in to the Town Clerk at New Clark House, West Street, Shipston. Alternatively, send an email to clerk@shipstononline.org containing the same information (see image below).
Nominations will be reviewed by councillors, with the winner being announced at the Annual Town Meeting on 19th April at Shipston High School.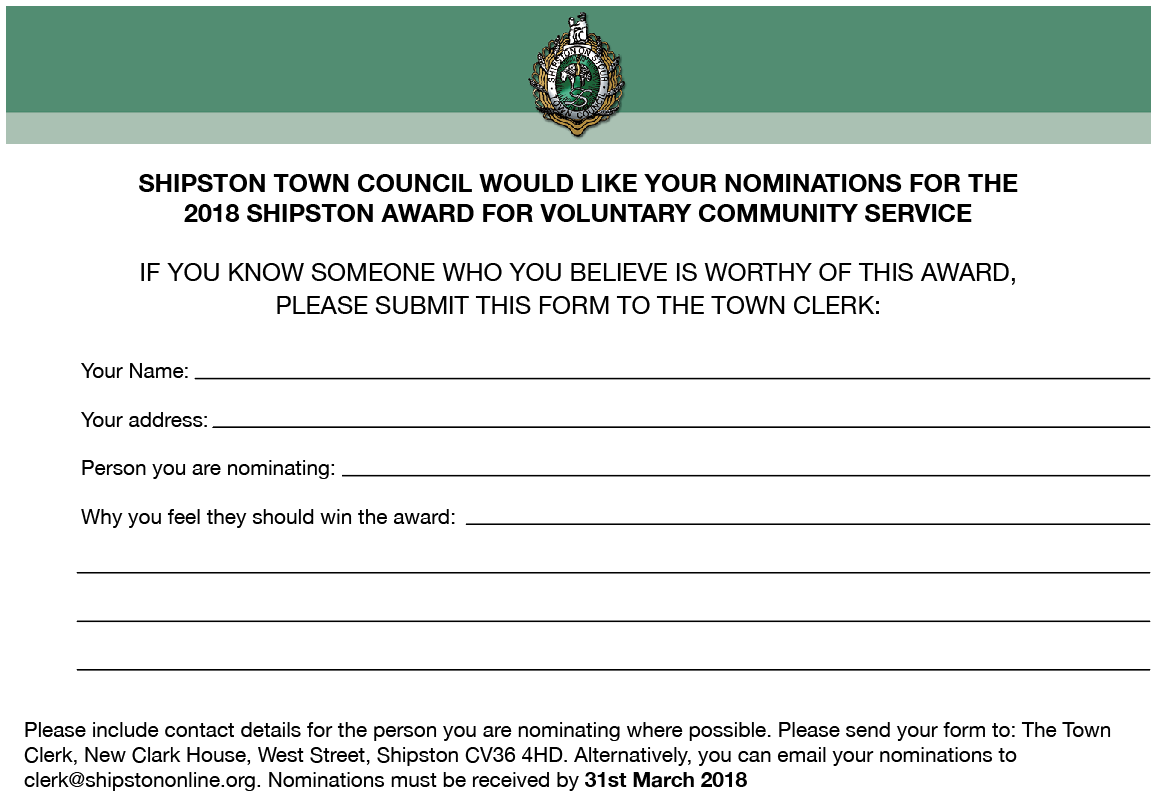 Shipston encouraged to take part in the Long Road to Ghana

A small group of determined volunteers is laying down a challenge for Shipston, surrounding villages and friends in aid of two great causes - Brain Tumour Research and Willing and Abel. In one week in June, the community is being asked to travel 4,000 miles - the equivalent distance of Shipston to Ghana - using human power only!
So why this particular challenge? Forum readers may remember the plight of Ethan Suglo (pictured) from a small village in Ghana who was born with a rare and life threatening condition. At just three years old, Ethan had life-saving and enhancing surgery at the John Radcliffe for a massive abdominal swelling in July 2016, made possible thanks to the enormous generosity of the local community, and the medical team at the hospital. Further surgery is now needed to give Ethan a normal life expectancy. The ambition is to top up what is left from the previous fundraising to cover the cost of Ethan's second surgery, due to take place in June.
Not content with supporting one charity, the 'Long Road to Ghana' campaign is also raising money for Brain Tumour Research. Brain tumours kill more children and adults under the age of 40 than any other cancer - yet just 1% of the national spend on cancer research has been allocated to this devastating disease. Following the tragic loss of a local friend to a brain tumour, and in support of others who are battling this challenging condition, help is needed to fund vital research to tackle this disease.
So how can you help? By getting out, getting active and contributing to the 4,000 mile challenge! Fundraising coordinator, Dr David Williams, said: "We have come up with a challenge that is accessible to all and we hope everyone will get involved. Our aim is for people to walk, run, swim, canoe, row, cycle (static or actual) – or any other transportation method you can think of - under your own power to clock up the 4000 miles from Shipston to Ethan's home in Akatsi, Ghana. We need cyclists, runners and walkers to cover the land and desert regions, and swimmers and canoeists to navigate The English Channel and the Mediterranean from Gibraltar to Africa.
"We can't guarantee the weather, but invite you to join us in this challenge so that you can make a difference to people with brain tumours and the children like Ethan that are supported by Willing & Abel. The journey starts on Sunday June 3rd and we hope to arrive in 'Ghana' on Saturday 9th June in the evening, with exciting plans for a finale at Shipston Rugby Club."
Clubs, businesses, residents and friends are encouraged to consider how they can contribute. Miles can be accumulated across the week and a minimum donation of just £5 per person (£1 for children) will ensure your miles are added to the total challenge. Plans are still in progress and updates will be shared via Facebook at www.facebook.com/ethansuglo25000/but you can also donate straightaway by visiting https://uk.virginmoneygiving.com/Ethan-Karl4000.
To find out more, email: longroadtoghana@gmail.com
Sheldon Bosley Hub hosts sports showcase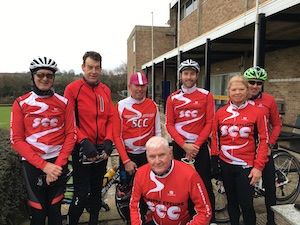 On Saturday 13th January, the Sheldon Bosley Hub was a hive of energetic activity as residents from in and around Shipston flocked to the venue to take part in its first 'New Year, New You' event.
The brainchild of Zumba Fitness Instructor, Rachel Tame, the event was designed to raise awareness of the wide variety of sports clubs and exercise classes available in the local area. As well as providing clubs and local instructors with an opportunity to showcase their activities, free 'taster' sessions were held throughout the day so people could try something new and find out which forms of exercise would work best for them.
Rachel Tame explained the thinking behind the event: "January is often a time when people start thinking about their health and fitness and are keen to find ways to get the new year off to a positive start. But committing to regular fitness can be a challenge, which is why it's important to find something you enjoy and that fits around your schedule.
"There are lots of small clubs and micro fitness businesses operating in Shipston, and we wanted to make it easier for people to find out who does what, when, and where. Putting on the 'New Year, New You' event gave everyone the opportunity to find out what's available, meet people from the different clubs and classes and even have a go at a new type of exercise. We were delighted with the response."
The event, which ran from 9:30am – 4pm, offered taster sessions in Zumba, Boxercise, Pole Dancing, Fit Steps, Pilates, Yoga, Line Dancing, Kung Fu and T'ai Chi. In addition, Shipston Cycling Club took willing participants for a spin around the local area while local running club, Hook Norton Harriers, encouraged local residents to join a four mile run around Shipston and Honington. Those who prefer competitive sports also had the opportunity to find out about Shipston Badminton Club and locally-based Shooters Netball Club.
Not content with simply raising awareness of fitness clubs and offering free taster sessions, the organisers also ran a charity refreshments stall, raising an impressive £250 for Shipston Home Nursing.
On its Facebook page, the Sheldon Bosley Hub said: "We would like to say a huge well done to Rachel Tame and all the fitness instructors for the amazing fitness day at the hub. A great new event for the hub and a great success. Thanks to all the participants in the sessions and we look forward to seeing you at one of the many classes or groups."
Mayor, Dan Scobie, said: "This kind of event takes a lot of effort to organise but is exactly the sort of occasion that helps bring the community together and gives small businesses and local clubs and societies the opportunity to reach more people. The benefits of exercise are well known and we are very fortunate to have such a wide variety of activities on offer in our town. Congratulations to all involved in this event."
Shipston Town Council freezes its precept for 2018/19
Shipston Town Councillors have unanimously voted to freeze the precept - the town council's proportion of the Council Tax - at last year's rates.
The town council's precept will be maintained at £232,000 for the year April 2018-March 2019. Taking into consideration changes in the council grant system, the average Band D council tax payer will see an overall increase of 22 pence compared with last year.
The town council's precept is used to fund a number of services including town cleansing, cemetery and allotment management, and maintenance of play areas. A planned reduction in council expenditure in 2018/19 of around £10,000 has enabled the town council to increase its support for community organisations by a similar amount, and set aside funds for larger projects to protect, maintain or improve the assets of the town.
Mayor, Dan Scobie, said: "It is essential that we spend residents' money wisely and our Finance Working Group has worked hard to ensure we can maintain high quality services and continue to support our community groups, without increasing the financial demand on our residents."
Shipston Town Council's precept is just one element of the Council Tax, which will also cover Stratford District Council, Warwickshire County Council and Warwickshire Police.
Shipston puts on a good show over the festive period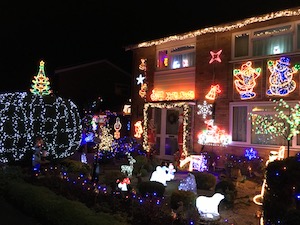 From stunning snowy scenes to woolly wonders, Shipston put on a fantastic show during the festive period.
As part of the preparations for the Victorian Evening, Shipston's talented knitters brought yarn bombing back to the town. Miniature penguins, Santas and robins adorned the bollards around the town. One of the most popular designs was the recreation of the late Walter Emms' cart – a unique creation for Shipston. Equally impressive was the knitted church, complete with parishioners!
Many residents also indulged their creative side when it came to Christmas lights. Farm Close once again put on a fantastic show, while one house on Donnington Road pulled out all the stops to put on a display in aid of Shipston's Community First Responders (pictured).
Mother Nature also had a hand in giving Shipston a festive makeover, with an early coating of snow on the 10th December. Despite causing chaos on the roads, there were some lovely snowy scenes caught on camera – many of which can still be seen on the Shipston Notice Board Facebook page.
Mayor, Dan Scobie, said: "It was wonderful to see the efforts residents and businesses went to in creating memorable festive scenes for us all to enjoy.
"Thank you to all those who had a hand in putting on such a great show at the end of 2017."
Highlights from a successful year for Shipston Area Flood Action Group
Natural Flood Management
2017 got off to a strong start with news that, with Environment Agency and Warwickshire County Council support, it had secured a £110k grant from DEFRA for its flood alleviation plans.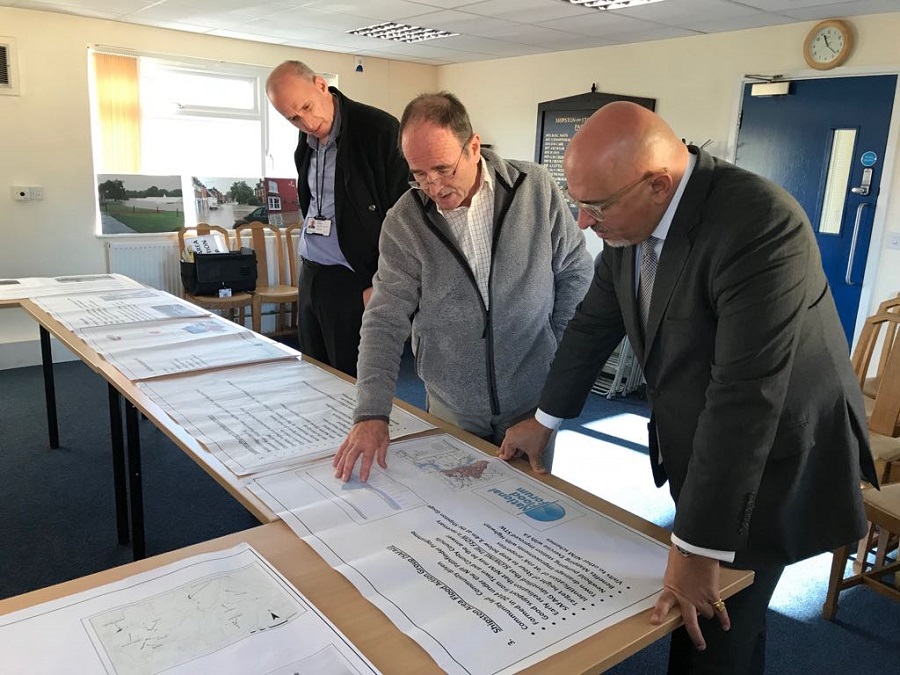 Project plans for the area, using Natural Flood Management (NFM) techniques had already been developed for SAFAG by the Department of Agroecology at Coventry University. These use natural materials to reduce run off, "slow the flow" and delay the effects of heavy rainfall entering the 36 tributaries that feed the River Stour, upstream of Shipston. They will also improve water quality, wildlife habitat and are significantly less expensive than hard engineering solutions, such as barriers.
The Stour Valley Catchment extends to 187 sq kms, within South Warwickshire, as well as parts of Oxfordshire and Gloucestershire, from where the largest watercourse, Knee Brook, emanates in the vicinity of Chipping Campden. It is estimated that some 36% of the water feeding the Stour comes from this source as it disperses run off from the hills in this part of the upper catchment, so it made sense to target this area as the first priority.
Partnership working
Thanks to the co-operation and huge support of farmers and landowners and with the dedicated planning and design work of a Project Officer from Coventry University, SAFAG has implemented over 60 NFM interventions across six estates and farms on the Cam, Blockley Brook, Paddlebrook and other feeds to the Knee Brook since the beginning of August.
With continued central and local government financial backing, support from landowners and farmers, and sponsorship from local businesses and housing developers, the Knee Brook project is well on track for completion in the first half of 2018. Once finished, over 200 natural flood defence measures will be in place and will be regularly monitored (both manually and remotely) for efficiency and maintenance requirements.
Hon. Philip Smith of Campden House Estate, who has been extremely supportive of the project, commented "This is just the sort of initiative that should be encouraged by government as it is 'bottom up', involving volunteers and experts in land drainage in collaboration with farmers and landowners to the benefit of towns and villages at risk of flooding."
Getting noticed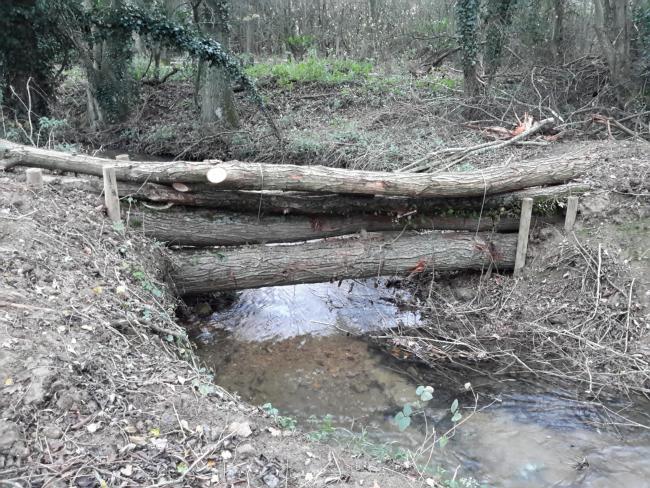 Natural Flood Management projects are being trialled across the UK and as SAFAG is in the vanguard of such schemes, the group has attracted keen interest and visits from the Executive Director of the Environment Agency and his senior management team. At the end of October 2017, Stratford MP Nadhim Zahawi joined a SAFAG meeting and visited some of the installations at Campden House. The group members are also working with Warwickshire County Council and the National Flood Forum in their efforts to establish more flood action groups across the county.
The efforts and determination of SAFAG also resulted in the group reaching the final six out of 196 nominations for a National Award in the 'Flood Re' Local Heroes Competition.
Mayor, Dan Scobie, said: "SAFAG is a group we should all be very proud of. The volunteers involved have become experts in flood management and it is fantastic to see their efforts recognised, not only in improvements to our flood defences, but in the positive feedback and interest from the Environment Agency and others. On behalf of the town council, I would like to thank all the members for their continued dedication to such an important issue for our town."
To find out more about flood prevention measures or to follow the progress of SAFAG in the future, visit:
www.shipstonfloodaction.org