July 2017
Xfest pulls in the crowds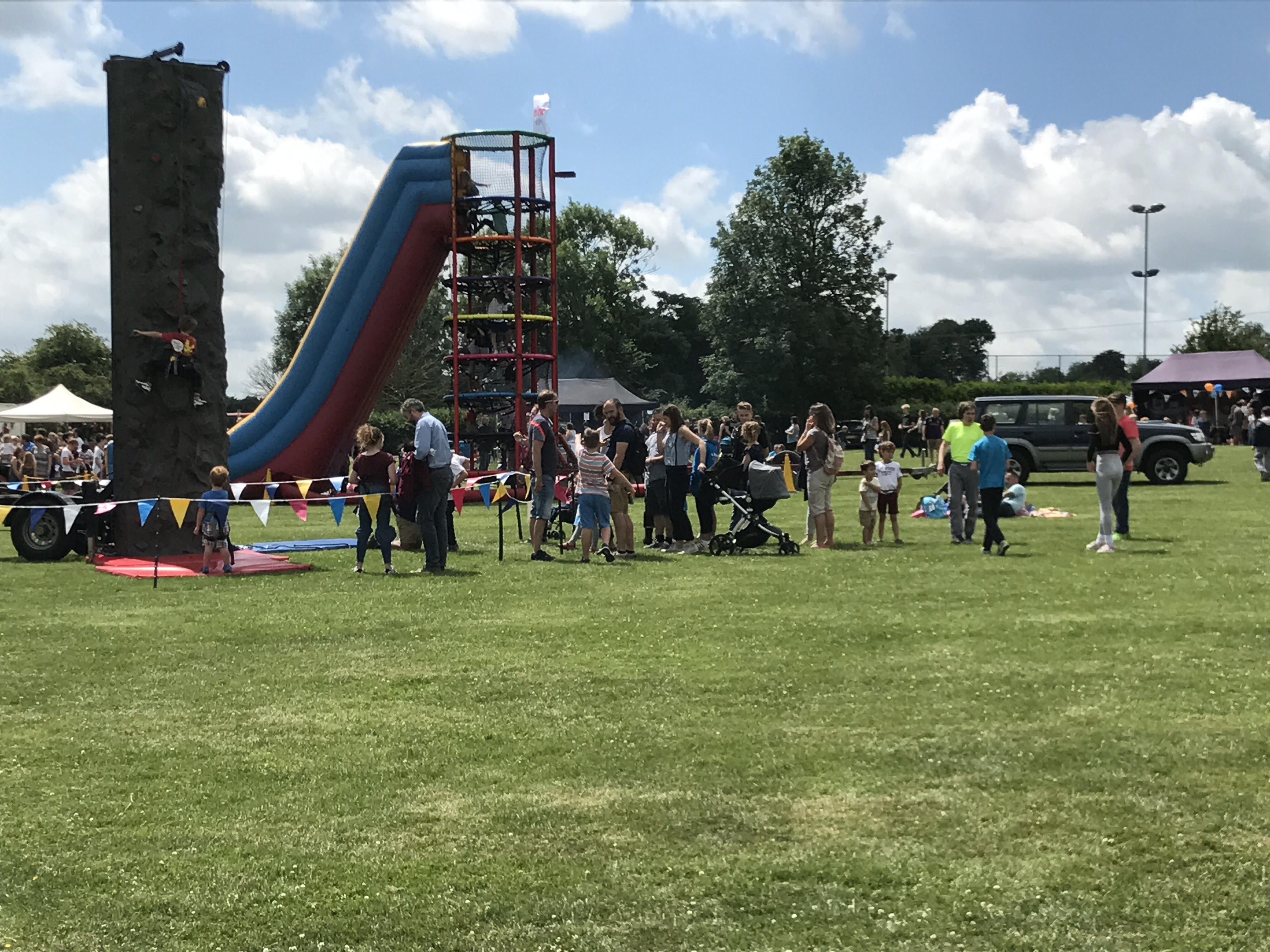 Saturday 24th June saw crowds flocking to Shipston High School playing fields to enjoy a host of free activities in this year's 'Xfest' event. 1000 people registered on arrival making it the biggest 'Xfest' event so far.
Organised by Shipston Youth Club, it is run every two years and has become a popular fixture in Shipston's calendar. Queues formed from the start of the day for the opportunity to climb 'Spider Mountain', have a go at Zorb ball walking, navigate on a Segway or scale a climbing wall. Several young local musicians provided the crowds with music for the day and the burger stall ran out of burgers and raised over £1,500 towards the cost of the event in the process.
A new focus this year were activities for younger families and, among the other attractions, face painting, balloon modelling and the bouncy castle proved a hit.
Daniel Pulham, chair of the Youth Club Management Committee, said "It is so encouraging to see yet another community event taking root in Shipston. After so many people have put in so much work to make this possible it was fantastic to see so many coming along and enjoying themselves'.
"The great thing about Xfest is that all the activities are free and that makes it possible for all to enjoy and join in. It would not have been possible without the help of an organising team from Shipston's Baptist Church and we have once again benefited from grants from both the Town Council and the County Council to which the 1000 strong crowd owe a huge thank you!"
Shipston Rocks throughout the 2017 Proms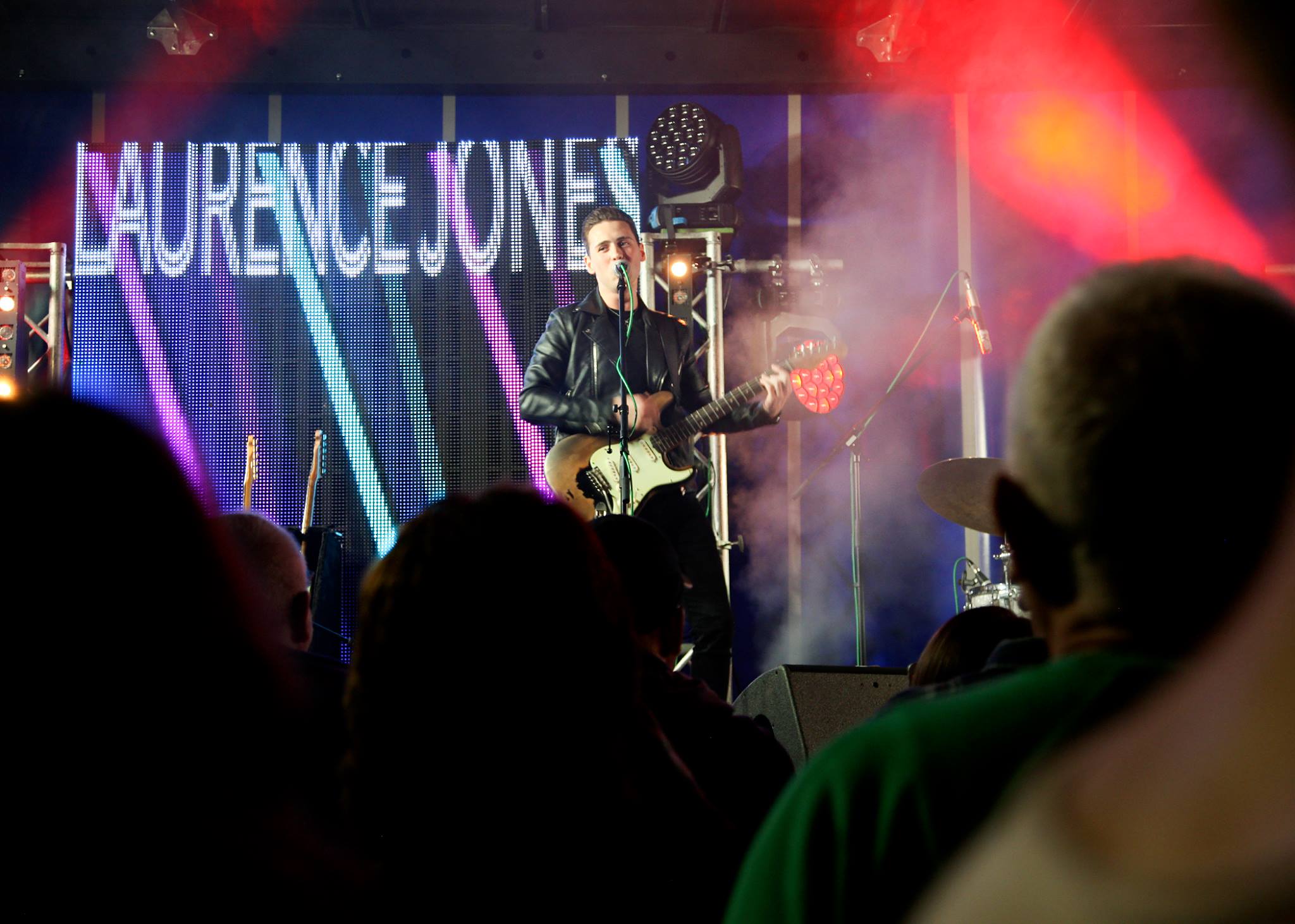 Shipston laid on another feast for music fans during this year's Proms fortnight.
The packed schedule of events offered something for everyone, from rock and roll fans to those with a more orchestral interest - and everything in between.
The Proms launched in spectacular style with tribute band, Abba Inferno, and Oxford-based, Vinyl Daze, playing to a packed Townsend Hall.
The Fame Contest followed, with On Crash Sunday (band), Greg Brice (solo), and Molly Hurwood (solo) winning their categories. As part of their win, they were all given a spot performing live on stage at the Last Night of the Proms.
Across the fortnight, a vast range of venues including cafes, pubs, churches, and parks hosted a wide variety of performances. In true Shipston Proms style, the aim was to make the events as accessible as possible. Many were free to attend.
The event culminated in the Last Night of the Proms, headlined by Shipston's own Laurence Jones who was delighted to perform for his 'home crowd'. Laurence commented: "Thank you so much for all the support you have given me over the years, from playing classical guitar concerts around the town, for winning the talent competition when I was 14, coming out to support my first ever band shows in the pubs, packing out the Townsend hall for my album launch night 2016, and finally for rocking out with us to headline the Shipston Proms."
Popular bands, Too Fat to Kidnap and Jupitronz, also performed, alongside the fame contest winners.
Mayor, Dan Scobie, said: "We are extremely fortunate to have such a wonderful musical fortnight in Shipston, organised entirely by volunteers. Thank you to all those involved."
To be a sponsor or 'Friend of The Proms' for next year's 20th Anniversary contact the organisers via: www.shipstonproms.org
Photo by Charlotte Wright
Lions Bookshop to close unless new premises can be found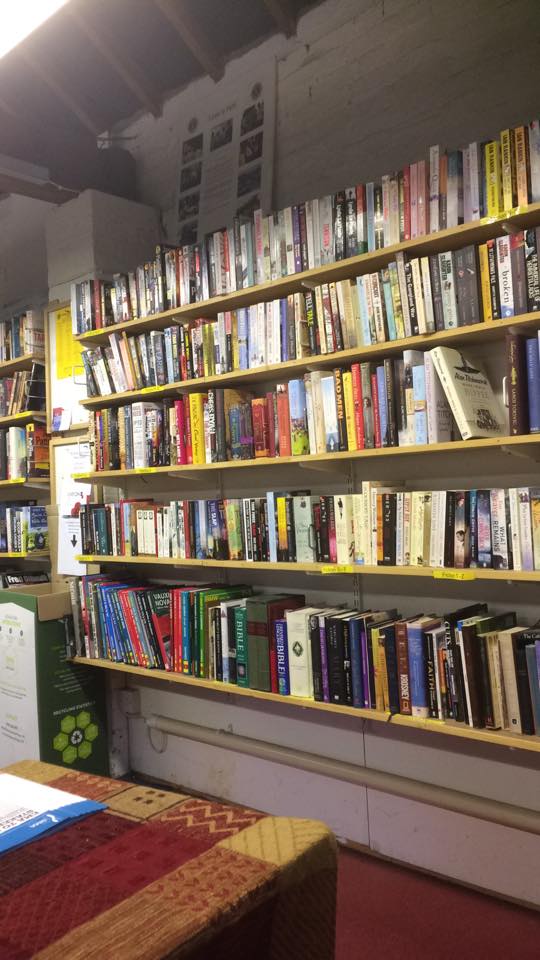 The Stour Valley Lions nearly new bookshop, which has served as Shipston's only book store for over ten years, is set to close in September. The landlord of the Coach House needs the building for other purposes, prompting the bookshop's closure.
Lions are now urgently seeking alternative premises in the town in order to keep a bookshop in Shipston. As well as providing a fantastic source of reading material for residents, profits from sales of the books are donated to Lions charities. In recent years, this has amounted to approximately £7,500 per annum.
Thanks to generous donations, the Lions bookshop has grown from a stock of just a few fiction books, to a selection of around 2,000. In addition to paper and hardback fiction books, the store also offers a range of non fiction, hobby and special interest literature as well as children's books. In addition to the Shipston store, the Lions also sell books online via Amazon.
David Squires from Stour Valley Lions, said: "We are very sad indeed at the prospect of losing our bookstore as it will impact so many residents as well as the charities we support. We strongly urge anyone who knows of any premises available in the town that might be suitable to come forward as soon as possible.
"We have been offered the opportunity of a few shelves in the new tourist information centre but we really need a larger building to be able to continue the diverse range our residents have become used to." David added.
Anyone with suggestions for possible locations should contact Lion David Squires urgently by email on ds@pinnegards.com.
The Lions would like to record their thanks to the landlord of the Coach House for allowing the bookstore to remain on the site up to now.
Ten years on from the fearsome floods of 2007
Ten years ago this month - on Friday 20th July 2007 to be precise - Shipston and many surrounding villages suffered the worst flooding ever recorded. The River Stour reached a level of 5.22m, and while the flooding was over within 12 hours, it left devastation in its wake. Approximately 130 homes and businesses were affected, as well as roads and other infrastructure.
Looking back, the then Mayor, Alan Noyce, said: "That day, and its aftermath, was traumatic for a lot of people. While the town council did all it could to help, I'm extremely grateful to the community for how they responded. A lot of people gave a lot of time to help friends and neighbours get back on their feet."
Since that day, much has been done to reduce the likelihood and impact of flooding, while contingency and emergency plans have been improved to ensure help is available when needed.
Councillor Fay Ivens leads the Emergency Response Team. "Following the 2007 floods, the town council's Emergency Plan has been completely revamped. When flooding is imminent, our contractors actively monitor river levels, distribute sandbags and offer reassurance to residents affected. In addition, we have a pool of people we can call on to move furniture should properties be affected in future. We also have a number of emergency centres we can call on to provide temporary accommodation, should that ever be necessary. To my knowledge only one property in, the town has been flooded since 2007."
Many other initiatives were progressed following the 2007 floods, including a flood fair to raise awareness of prevention measures, with Stratford District Council providing grants to some homeowners to help fund equipment. However, the most significant progress made to reduce flood risk has been the creation of the Shipston Area Flood Action Group (SAFAG) in 2014.
SAFAG has already completed property surveys, the publication of an Emergency Advice booklet for residents and a Town Flood Resilience Plan. Regular meetings with the major agencies have resulted in the clearance, repair and replacement of damaged road drains and a more frequent maintenance programme. Severn Trent Water has upgraded the capacity of the pumps at Newbold pumping station and undertakes more regular inspections.
SAFAG meets housing developers to agree schemes which minimise water run-off and is developing natural flood management schemes to reduce the frequency and impact of future flooding. Natural flood defences are more ecologically friendly, can help to reduce sediment and phosphate run off leading to improved water quality and the creation of wildlife habitats. They are also more cost effective and can be implemented in stages which is useful for funding purposes.
Len Grey, SAFAG member, said: "Our progress is attracting interest from senior members of government organisations. We have just hosted the Executive Director of the Environment Agency, who spent an afternoon understanding our progress and visiting our first natural flood management site. Close interest at this level will hopefully lead to greater practical and financial support."
Mayor, Dan Scobie, said: "I am extremely proud of our town – not only for the courageous way residents and businesses coped with the devastating floods in 2007, but for the way in which volunteers have sought ways to minimise flood risk in the future. I would particularly like to congratulate SAFAG on their achievements to date."
Proms creator, Tim Porter, wins Shipston Award
Tim Porter, the creative genius behind the Shipston Proms, was the worthy winner of the 2017 Shipston Award for community service.
Tim was nominated for the award in recognition of nearly twenty years devoted to promoting music across the town and local villages. Not only has Tim been the driving force behind the Proms, but he chaired the organising committee until 2015 and continues to be actively involved even now. With support from his musically talented family, Tim has helped ensure the Proms has always been an inclusive event, catering for a broad range of music tastes.
On presenting the award, former Mayor, Ronnie Murphy, said: "On behalf of fellow councillors and the town, I sincerely thank Tim for his boundless enthusiasm for the Shipston Proms. His energy and vision has made the event the success it is today."
Tim, who was in the US on a music tour at the time of the presentation, said: "I'd like to thank everybody for the Award. It's much appreciated, but obviously I couldn't have achieved so much without the help of so many people over the years. I'm particularly looking forward to the 20th Shipston Proms next year, and hoping that we can commemorate the occasion with something extra special."
Following the judging process, Shipston Town Councillors also wanted to congratulate fellow nominees, Tessa Hince, Danni Mooney and Hayley Ash, who were responsible for Shipston's first Community Christmas Lunch.
"We are very aware of how much work these ladies put in to making Christmas a wonderful experience for those who would otherwise have been alone. We would like to thank them for their hard work – they came a very close second when it came to deciding who should win the award." Ronnie added.
The Shipston Award is presented by the Town Council every year in recognition of an individual's voluntary contribution to the community.
Shipston Wool Fair hailed a great success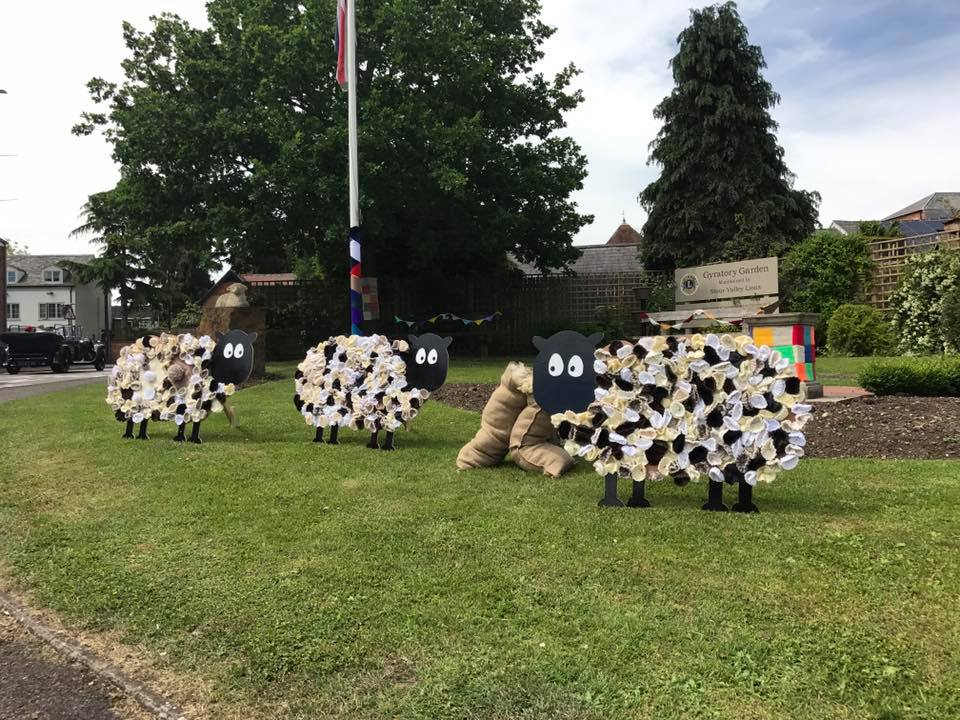 The 2017 Shipston Wool Fair Weekend has been hailed a tremendous success – despite some challenging weather at times.
Thanks to Shipston's first ever 'yarn-bombing', the visual impact of the wool fair was more striking than ever, with fantastic knitting adorning the main entrances to the town as well as trees, benches, and signposts in the centre. Among the favourites were the giant sheep on the gyratory, the maypole on London Road and the bicycle outside the Horseshoe Pub. But perhaps the most photographed display was 'Pedro' who was spotted quietly reading a copy of the Shipston Forum in the town centre, much to the delight of residents and visitors.
The Totally Locally Fair attracted a wide variety of craftspeople on the Saturday, with many people buying unique treats and gifts to take home. The Community Songs of Praise on the Sunday attracted a large audience. The free event was an opportunity for local community groups and individuals to perform music, songs and readings to the delight of all who attended. The collection was split between St Edmund's Church and Shipston Rotary's charity for the occasion – the fund to help those affected by the recent tragic event in Manchester.
Finally, the Wool Fair itself attracted crowds of people who came to marvel at the sheep shearing, take part in all the fun and games and enjoy the music. There were plenty of ice creams being sold despite the gloomy weather and the atmosphere was buzzing all day long.
Mayor, Dan Scobie, said: "I would like to congratulate all those who worked so hard to make the Wool Fair Weekend another great success. The yarn bombing really caught people's imagination and it was lovely to see the town looking so colourful."