2023
Shipston Museum is open!
Nearly 400 years ago Royalist Civil War soldiers marched through our Shipston streets. On Saturday 5th August a troop from Lord Hopton's Regiment of Foot re-enacted that event for another historic moment: the launch of the Shipston Museum. In the Town Square, the Town Crier's bell rang to mark the official opening with the soldiers marching to the West Street Museum's home in Old Clark House for the ceremony.
The crowds followed the soldiers to the front door where trustee Martin Russell thanked the Regiment and drummer Alice Free, while Trustee President Bekky Hillman introduced the Museum.
Dick Burge, who has long been associated with the Museum, performed the opening ceremony, reminding us of the Museum's long journey, starting with the Shipston on Stour and District Local History Society. At one point it was in the old School Room and then Sheep Street before moving to the home of his fellow curator Mike Ashley. It was Mike's dream to have a proper base for the growing collection. To him the finds and donations from local people were not just artefacts, but the story of Shipston and its surroundings.
Sadly Mike died before the dream could be fully realised, but it is still 'in the family' as daughters Rebecca Ashley and Justine Taylor are trustees. Dick recognised Mike's immense contribution before cutting the ribbon and announcing that the Museum was now well and truly open!
Nearly 100 visitors accepted the invitation to see the displays which included the story of the region from when giant mammoths were wandering in the ice tundra through to Roman times, the medieval town market and the now defunct Shipston railway. Most found it difficult to choose their favourite items among the many fascinating articles. For one man it was the Quaker bench which he admired as a carpenter, for another the maps had always been of interest. And for one little girl it was the handling room, where she was able to pick up Roman tiles and medieval dishes.
The Museum will be open on Saturdays and Sundays 1-4pm until the autumn. There's an opportunity not just to visit but also become more involved – either by supporting the Museum as a Friend or becoming a volunteer, either front-of-house to greet visitors, to help with administration, cataloguing or follow up research. To find out more please contact: shipstonmuseum@outlook.com
Town shows support for beds at Ellen Badger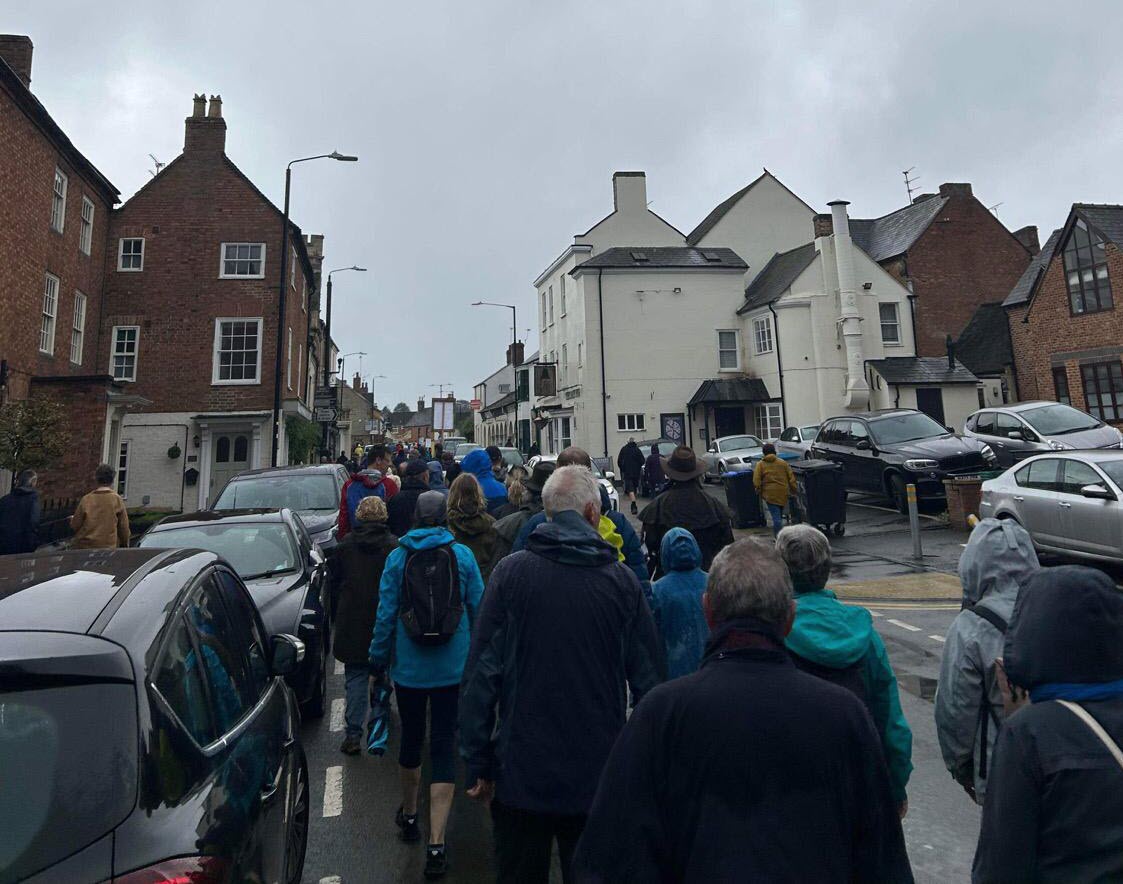 Hundreds of people from the town and the surrounding district marched through the streets of Shipston in protest against plans to rebuild the town's community hospital without inpatient beds.
The BBC reported that 'despite heavy rainfall, about 700 people turned out for the demonstration on 5th August, with many dressed as badgers in honour of the Ellen Badger hospital which served the community from 1896 until 2022.'
Tallest Sunflower Competition
Well done to everyone who entered Shipston on Stour Rotary Club's competition this year. We hope you enjoyed looking after your sunflowers - watering
them, watching them grow, and managing to keep them upright during the strong winds we have experienced this summer!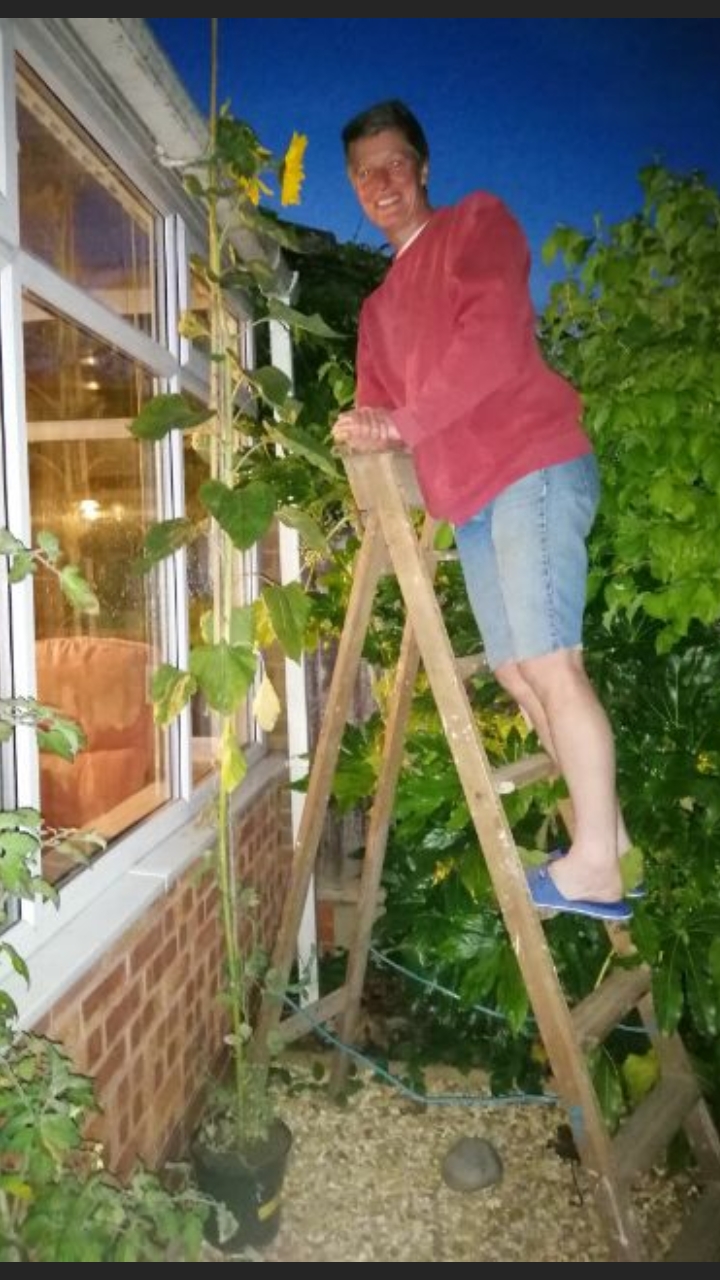 Congratulations to the winner of the over 16 years class...
**Teresa Brookes**
Teresa's sunflower measured an impressive 7ft 7 inches.
Teresa received a Certificate and £10 Amazon voucher.
Well done!
Congratulations to the winner of the 11 years and over class...
**Henry Bramble**
Henry's sunflower measured an amazing 8ft 5.5 inches.
Henry received a Certificate and a £10 Amazon voucher.
Well done!
Congratulations to the winner of the 11 years and under class....
**Emmie Bramble**
Emmie's sunflower measured an incredible 10ft 4.5 inches.
Emmy received a Certificate and a £10 Amazon voucher.
Well done!
The runner up was...
**Millie Yates**
Millie's sunflower measured an amazing 9ft 9 inches (exactly the same height as her entry last year!)
Well done!
The Benefits of Slowing Down - Road Safety in Shipston
Warwickshire Road Safety Partnership is raising awareness of how drivers and their families can save money and be better drivers at the same time.
One of the easiest ways to save money is to slow down and not speed because more speed = more spent on fuel. Driving at an appropriate speed for the conditions within the speed limit could save you money. Driving at 70mph will use up to 9% more fuel than at 60mph and up to 15% more fuel than driving at 50mph. Taking it up to 80mph can use up to 25% more fuel than at 70mph according to the AA.
Slowing down also brings benefits to the environment. National Highways research has found that slowing down just 10mph to 60mph from 70mph on our motorways reduces emissions, improves local air quality and has a positive impact on the environment.
More information available on facebook @WarwickshireRoadSafety
Shipston Town Museum Opens
The highly anticipated refurbishment of the Shipston Town Museum is to be unveiled on 5th August.
The ribbon will be cut by local historian David Burge at the Old Clark House (West Street car park) and it will be Shipston's first chance to see the revitalised museum, and learn about Shipston's rich past and historical DNA.
Did you know that Shipston once had 29 pubs? Not all at the same time, of course. Most have disappeared over the years but our oldest, The Black Horse Inn, has been serving ale to locals for at least 500 years. Identifying these pubs has been the task of Martin Russell who has put together a location map and pictures as a special display at the Shipston Museum. And there will soon a lot more there to discover about the town's buried past.
Proms 2023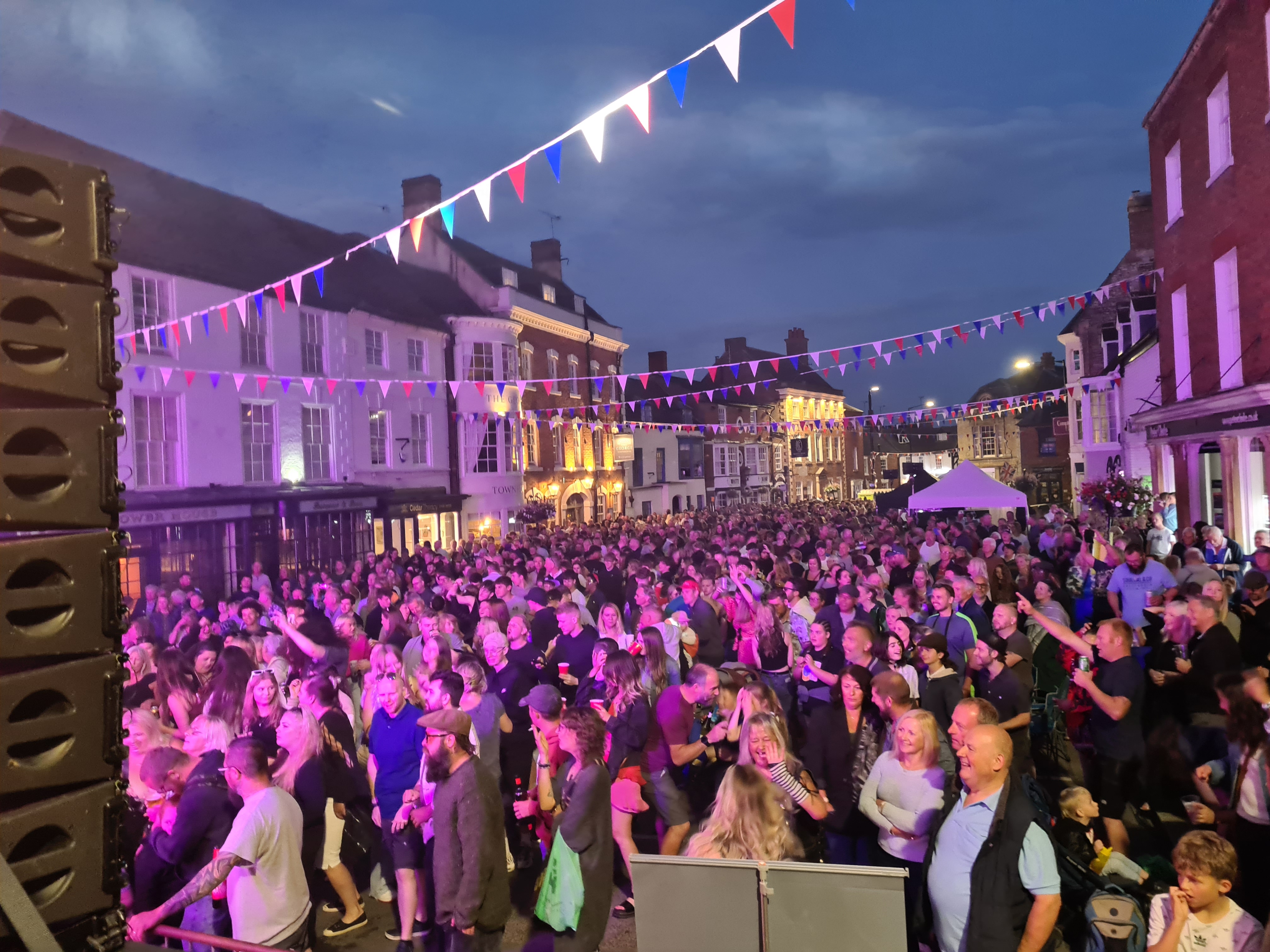 This year there were so many memorable acts - too many to mention here - but a huge thank you to everyone that took part or supported the Proms financially, by attending events or by volunteering. We would like to say thank you to all our venues in Shipston and the villages, Newbold, Cherington, Stourton, Whichford, Ilmington, Long Compton and Brailes, we hope you will join in again next year.
Any feedback will be much appreciated. So far, we have requests for Viennese waltzes and a return of the RPJ Band. This year, the worthy winners of our window display competition were the Post Office!
With the great array of music during the Proms there was so much to dip into, and most days was a big decision as to what to go and see. People were very generous with their support and filled the buckets and bought raffle tickets in their thousands, so much so that we ran out at the end of the first week! David Birch is leaving after over 20 years in the post as conductor and he will be missed.
There is always great talent on show in and around Shipston and this year was no exception. See the online or hard copy Forum for highlights from this year's Proms.
Work continues on the new Ellen Badger Hospital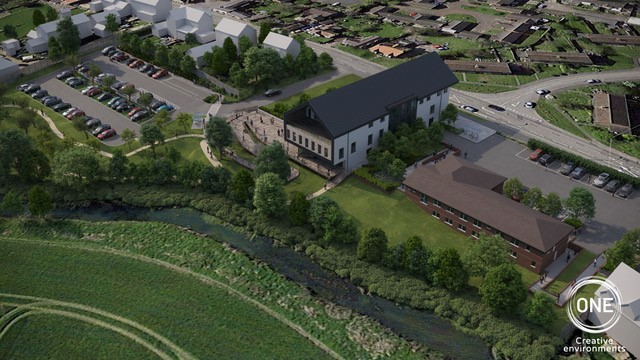 Following the demolition of the original building, the main contractors Speller Metcalfe have started on-site to create a modern, purpose-built hospital for the community of Shipston and the surrounding villages.
Recognising the rich history of the original building, the Trust have secured as many historical artefacts as possible which will be incorporated into the new hospital. All of the brick work from the demolished building is also being used as materials for the new build. This demonstrates the Trust's commitment to sustainability, which will be a key focus throughout this development.
Groundworks have now been completed to enable the building to start taking shape and over the coming months the local community will start to see the steel work going up, with the work expected to be completed next summer (2024).
The new site is going to provide enhanced clinical spaces for hospital and community services, bringing more specialties and clinics closer to the local communities in and around Shipston. All of the specialties that were previously run from the site will return and clinical and operational teams are continuing to identify other services. Returning services include: Heart Failure Nurses, Urology, Maternity, Health Visiting, Obstetrics and Gynaecology, Audiology, ENT, Physiotherapy, Ophthalmology, Specialist Parkinson's Disease Nurse. The development will also include the infrastructure to bring on-site mobile diagnostics and we are working with partners who run services such as the breast scanner to understand what their plans are.
Clinicians and operational teams continue to work together to identify other specialties that will run from the new site, and these will be shared as the project develops over the next year.
The Trust is also working closely with the Stour Health and Wellbeing Partnership to co-design the Health and Wellbeing Hub. This will be a community-led space that will offer a holistic range of activities to support the wellbeing of all age ranges within the local community. The out of hospital teams will also be part of this design work to understand how we incorporate the benefits from the day hospital into this space. To support the development of the Health and Wellbeing Hub, Stratford District Council have awarded £900,000 of community infrastructure levy funding to the project.
Dr Charles Ashton, Chief Medical Officer at South Warwickshire University NHS Foundation Trust, said: "It is fantastic to see work starting on site to develop a facility that will offer so many clinical services – making them more accessible for local people. There have been several factors that have resulted in changes to the design, plans and timescales, but despite those external influences the Trust has remained committed to investing in healthcare for Shipston and the local villages.
"As part of our Trust strategy, we know that keeping people well in their community for as long as possible supports better long-term outcomes for patients. Therefore, the services provided at the new Ellen Badger Hospital will help us to reduce unnecessary hospital admissions and help people to live longer lives, with fewer years of ill health."
Bob Armstrong, Chair of the Stour Health and Wellbeing Partnership's Trustee Board, said: "We have been working with the South Warwickshire University NHS Foundation Trust for some time on the design of the Health and Wellbeing Hub in the new Ellen Badger Hospital. Over the last twelve months we have run a number of activities in Shipston and the surrounding villages. These activities have given us a valuable insight into the potential health and wellbeing benefits for the Stour community from this type of facility."
Mark Hudgeon, regional director at Speller Metcalfe, said: "Having delivered a number of community hospitals on behalf of the NHS, we understand the importance of local residents being able to access these services – particularly those who reside in more rural areas. Speller Metcalfe is absolutely delighted to be a part of this scheme and we are looking forward to supporting the local community and the Trust to make it a reality."
Statement from Gerry Kelly (Town Mayor) on behalf of the Shipston Town Council regarding the Ellen Badger Hospital
"Shipston Town Council are responding to the disappointing outcome of the Ellen Badger bed review. Shipston Town Council have demanded the publishing of the bed review and a public consultation. We are awaiting a response from South Warwickshire University NHS Foundation Trust."
Recognition of outgoing councillors
Recently, both Pete Cox and Marianne Westwood stepped down as councillors – therefore Shipston Town Council felt it more than necessary to recognise the hard work, long evenings and patience both have put into serving Shipston.
The pair were presented with a token of thanks from the Town Council at the beginning of June's meeting.
Great Big Green Week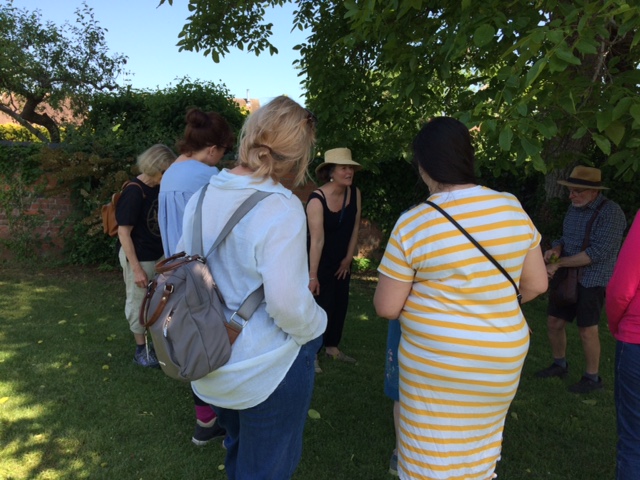 Shipston's Great Big Green Week had many fascinating walks and talks including information on electric bikes and eco-friendly building with walks around Cornmill Meadows and foraging around our town.
Thanks go to all who offered their time and expertise as well as many volunteers who helped organise the week.
The photo shows Katie Beswick talking about plants growing literally on our doorstep which can be used for various ailments, including lime tree leaves which make a relaxing tea, and goose-grass (sticky plant) which can be screwed up to put on nettle stings.
Coronation Celebrations in Shipston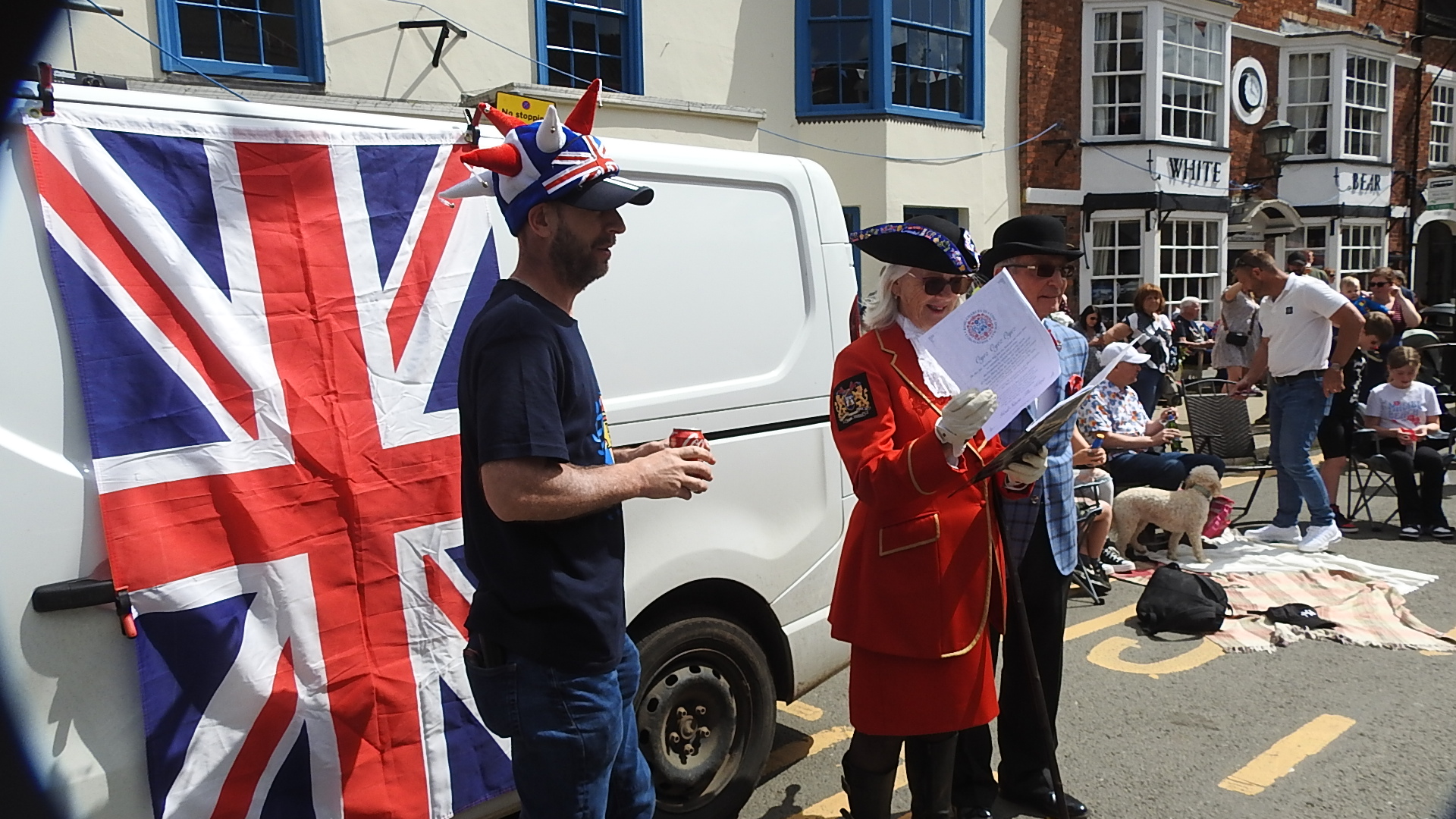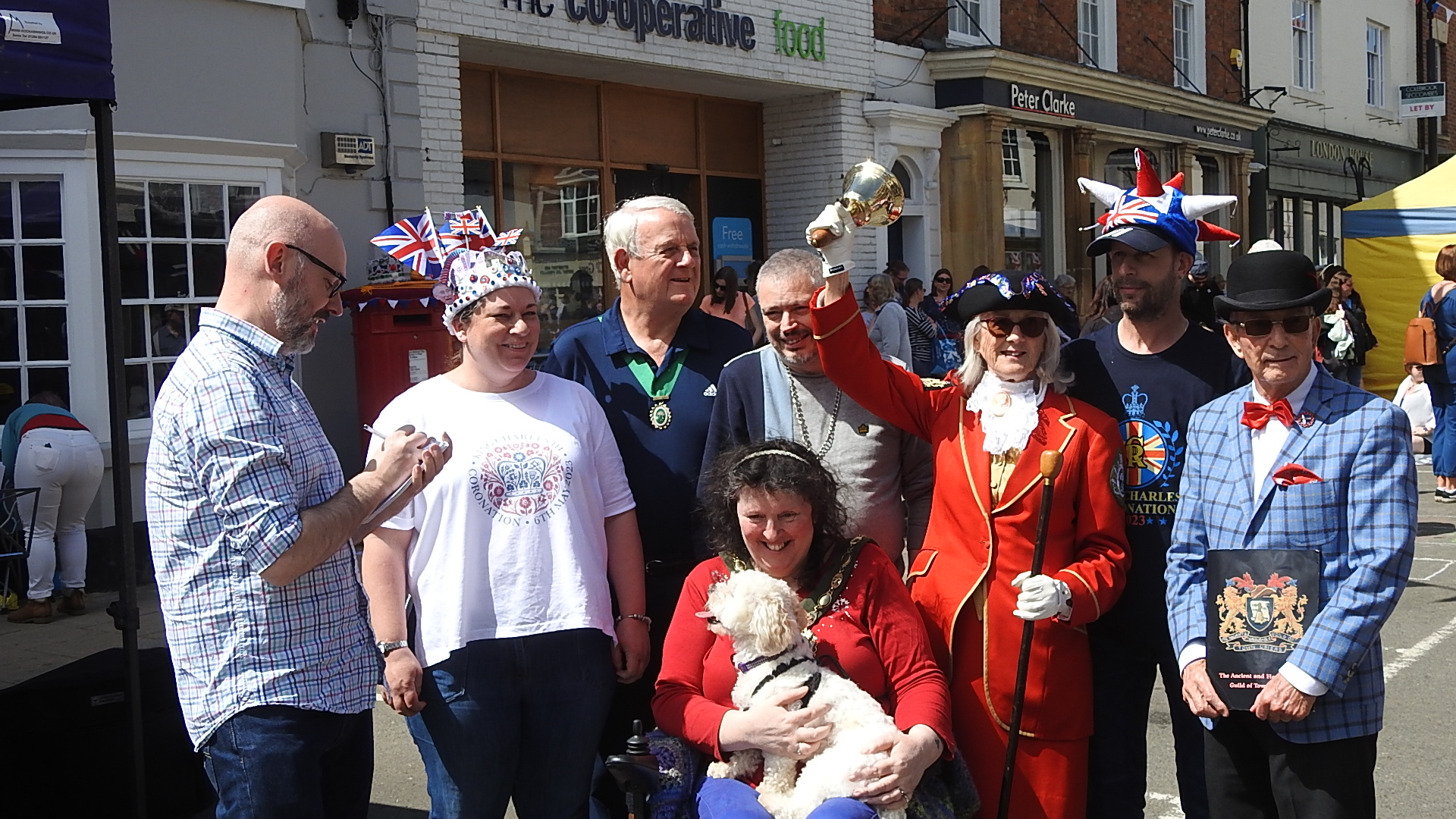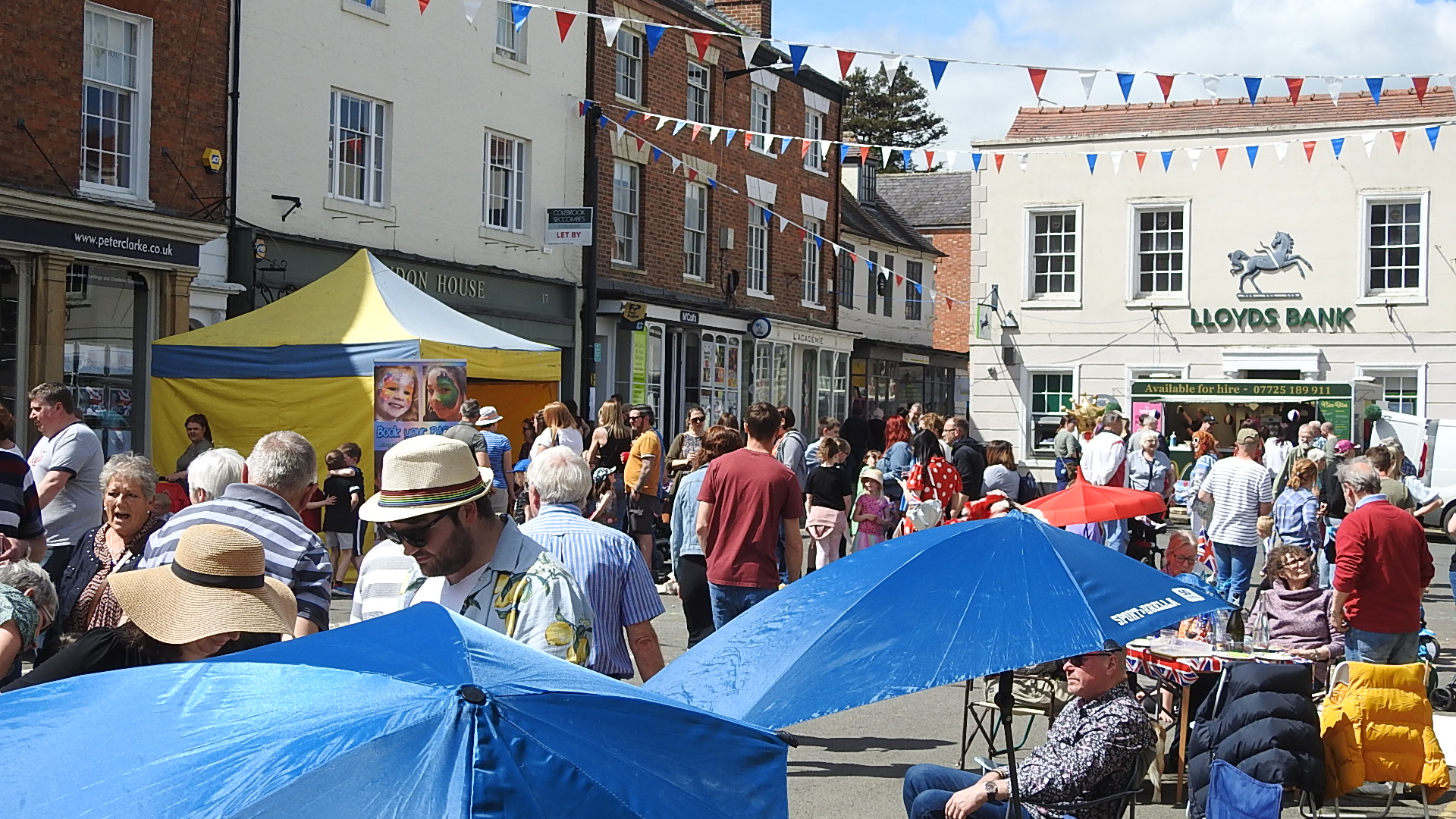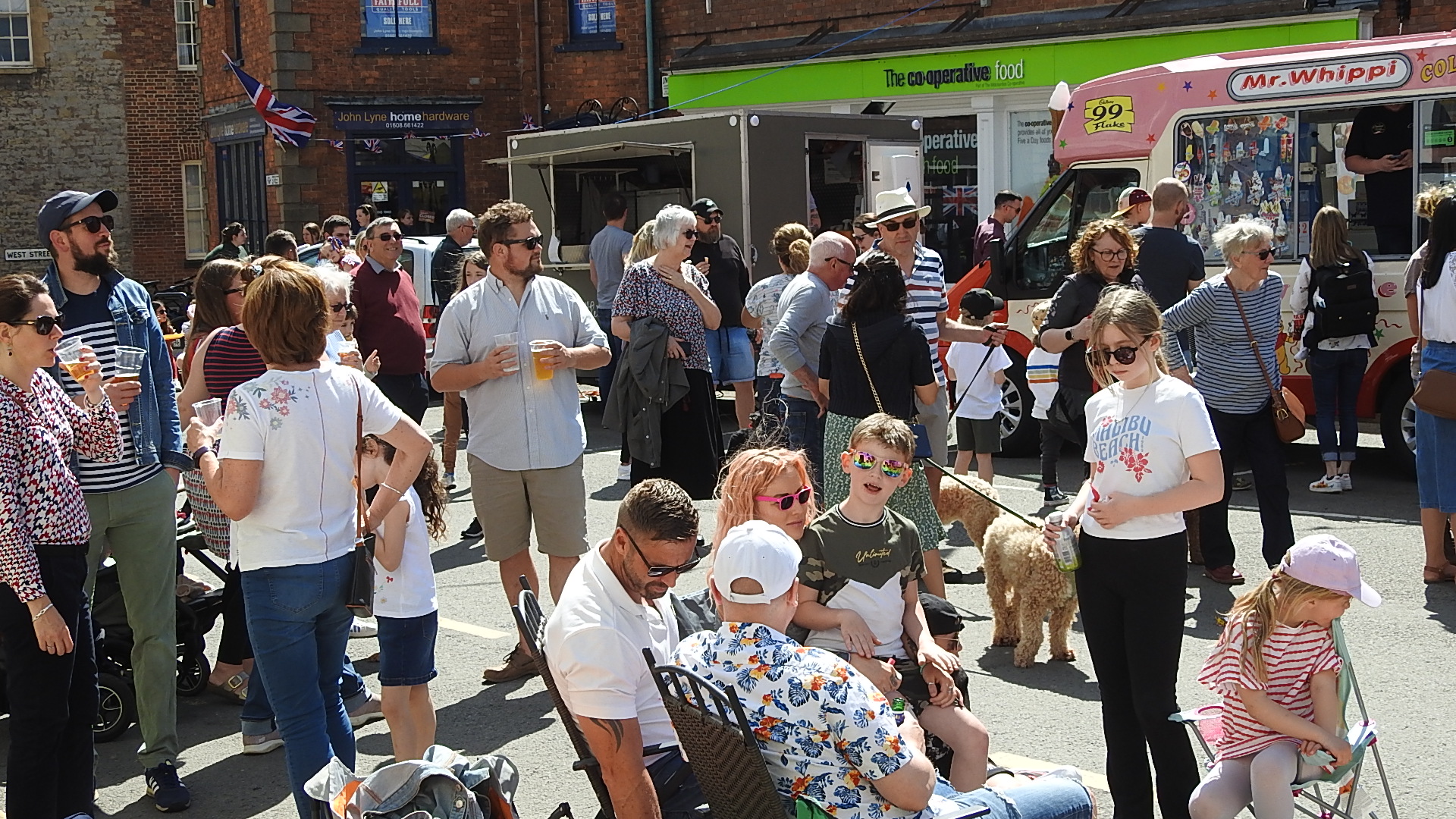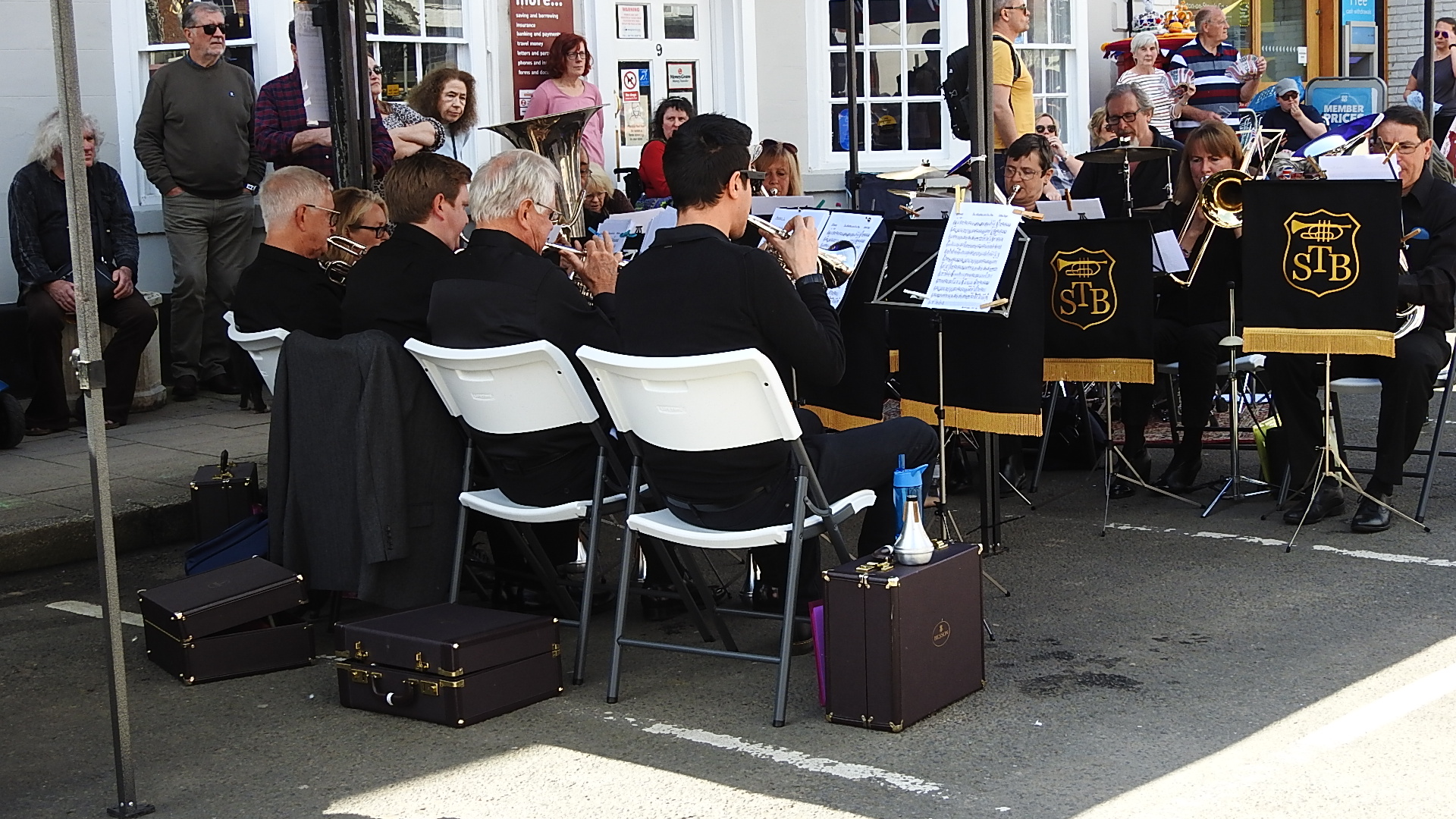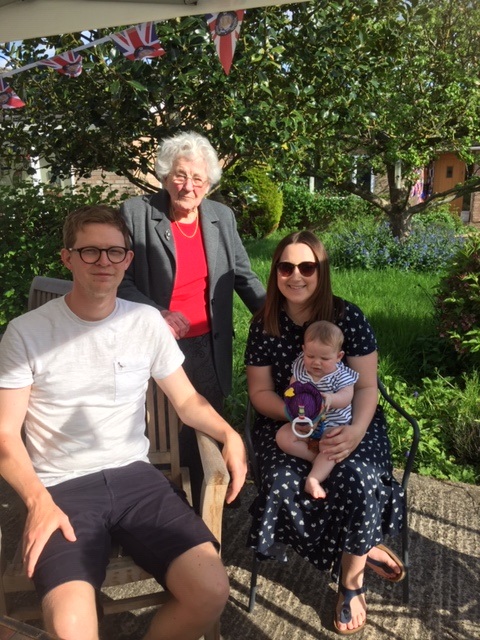 Big Help Out - Shipston's Rubbish people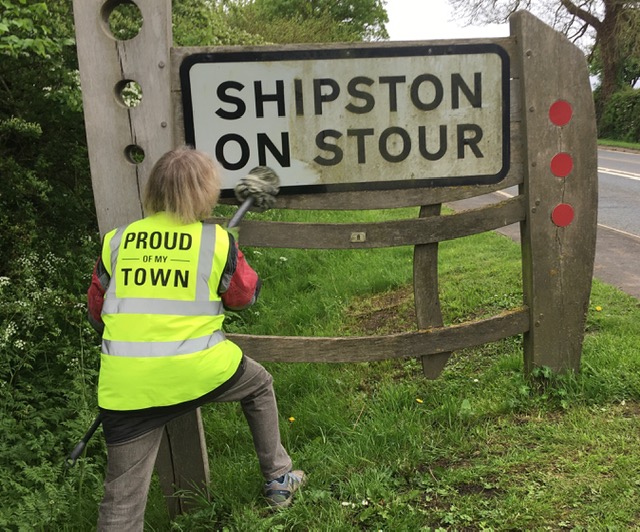 Many thanks to the many people who turned out for a couple of hours on Coronation Holiday Monday to volunteer to collect litter on the outskirts of the town to mark His Majesty the King's Coronation.
Huge amounts were collected and Shipston is now looking much more attractive.
Update on developing Ellen Badger Hospital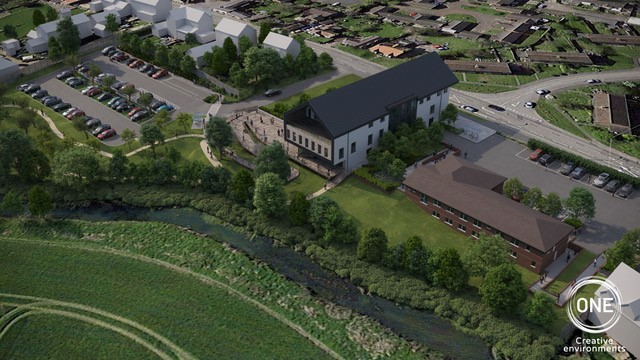 South Warwickshire University NHS Foundation Trust has been committed to developing the Ellen Badger Hospital site since 2018.
To kick start the development the League of Friends transferred a donation they received of £635,000 to enable the Trust to buy the land next to the hospital site. The purchase of this land has facilitated the development plans. The construction work is being funded by Trust capital money and £2.3million of national funding, which we obtained following a successful bid and a decision by the Trust to invest this in Shipston.
Since the proposals were initially discussed there have been several external factors that have contributed to changes in the design, plans and timescales. These include responding to and learning from Covid, funding within the wider health economy and increasing costs in the construction market.
Despite these challenges, the Trust is progressing with the plans and when complete there will be a range of services available on the site, with enhanced clinical spaces for hospital and community services.
The new hospital will offer a range of services, including:
•Car park with space for mobile diagnostics
•Health and Well-being Hub
•Shared spaces for Community Nursing and Health Visiting teams. There will be outpatients and treatment rooms for physiotherapy, specialist nurses and other health professionals
•Existing building will initially provide the day hospital, outpatient clinics and physiotherapy services, with flexibility for other services to be included in the future
Clinical and operational teams at SWFT are currently looking at which medical specialties will run clinics from Ellen Badger Hospital. As an organisation, we will also use health data to identify the most needed services for the local community.
Demolition of the old hospital building is now complete and work with the main contractor will begin in May 2023, with completion anticipated in Summer 2024.
We recognise the rich history of the Ellen Badger Hospital, unfortunately though it was not viable to restore the original building due to its age, condition and infrastructure meaning it would not meet future compliance regulations. We are retaining as much as possible and have done a detailed evaluation of all the historical artefacts which we will sensitively incorporate into the new build.
As part of this development, we are placing significant focus on sustainability. Therefore, where possible, we will be re-using and recycling materials and ensuring the building meets industry approved sustainability standards. This includes following BREEAM (Building Research Establishment Environmental Assessment Method) Excellent guidance. This is a recognised industry standard. We will also work towards reaching carbon net zero.
SWFT continues to work closely with Shipston Medical Centre and Coventry and Warwickshire's Integrated Care Board to progress the ambition of an integrated healthcare facility for the communities of Shipston and surrounding villages.
All parties are keen to explore all options to progress this and the construction work is being completed in such a way that integration with the Medical Centre in the future is possible.
For all up-to-date accurate information about the Ellen Badger Hospital development please visit: https://www.swft.nhs.uk/our-hospitals/ellen-badger-hospital/ellen-badger-hospital-development-plans.
Re-elected Councillors
The current sitting Councillors who have been re-elected unopposed are: Sarah Beckett, John Dinnie, Tony Booth, Ian Cooper, Jo Barker, Paul Tesh, Zoltan Kovari, Gerry Kelly and Hilary Kelly.
Christopher Howarth and Brian Cooper have been newly elected to council unopposed.
Coronation of King Charles III
Your Town Council Needs YOU!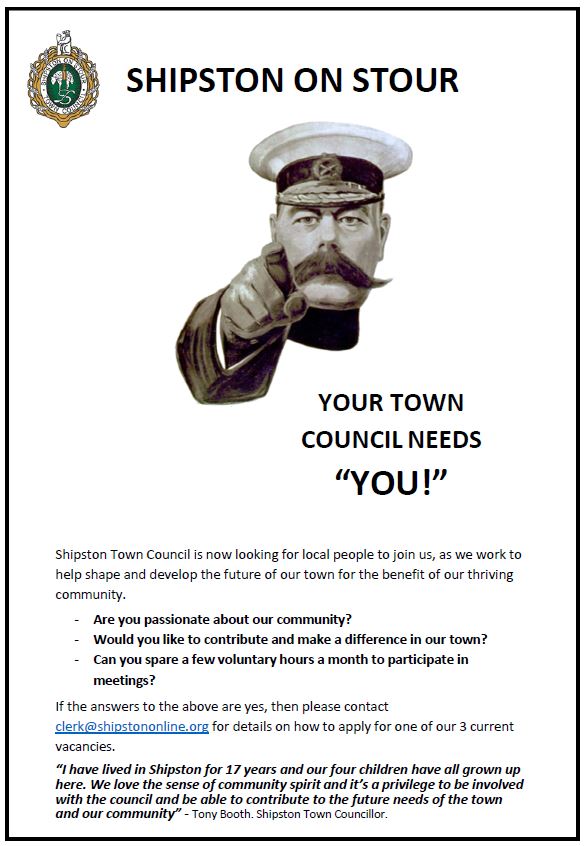 High levels of demand continue at Shipston Food Bank
The past year has been a busy one for Shipston Food Bank. Higher energy and food costs have meant that increasing numbers of households have been finding it difficult to afford food and other basic items and so we have had a steady stream of new customers week by week.
During the past twelve months we have helped 141 different households from Shipston and the nearby villages with emergency parcels of food and cleaning, laundry and toiletry items. We estimate that we have assisted at least 234 adults and 153 children over the course of the year.
At the same time, probably because of rising prices, donations of food and other items from members of the public have dropped off significantly and we have been spending increasing amounts each week on topping up our supplies – over £9200 in the past year.
Fortunately, because of very generous one-off and regular donations from local residents, businesses, charities, churches and other organisations, we remain in a healthy financial position to be able to continue to meet these and other costs. We are so grateful for this support, and also for the 20+ volunteers who give up their time to enable the Food Bank to operate. Thank you all so much!
Because of the amount of money that we are given, and our concern that we should be seen to be fully accountable in the way that we use it, we have recently become a not-for-profit Community Interest Company (CIC), which gives us formal legal status. We have always been a community venture, and our volunteers and supporters come from across the town and surrounding area, across the political spectrum (and of no political affiliation) and across faith groups (and of none). Our Directors are Rev. Sarah Edmonds (Chair), Ed Jackson (Treasurer), Fay Ivens, Jo Barker and David Freer.
If you need some help with feeding your household, come along to St Edmund's Church between 10.30am and 12.00 noon on a Saturday morning. You don't need a voucher or a referral.
We continue to welcome donations of food and other basic items. There are collection points in both the Co-ops and in Tesco, or you can leave things in the porch of St Edmund's between 9.00am and 5.00pm any day. Each week we post in each of the town's supermarkets and on our Facebook page (www.facebook.com/ShipstonFoodBank/) and our website (www.shipstonfoodbank.org.uk/), a list of the things we are particular short of.
For any enquiries about the Food Bank and its work, please contact our Administrator, Drina Heighton on 01295 680201 or at drinaheighton@gmail.com.
Micky and Linda Cornock loved by their town
The memorial plaque for Micky and Linda Cornock has now been installed on the bench where Micky was often spotted by Shipston residents observing the world go by.
Linda was one of the leading members of the Shipston Knitting & Crochet Group and also the instigator of the Yarnbombing Group, who have been responsible for decorating the town in eye-catching wool creations over the last few years.
Micky was the caretaker at the Shipston Junior & Infants School, also giving his time freely and generously to help out wherever he felt it was needed - particularly helping out around the Rugby & Sports clubs as he was an enthusiastic follower of all the Shipston sporting clubs.
They will both be missed dearly by the town.
March Update on Cornmill Meadows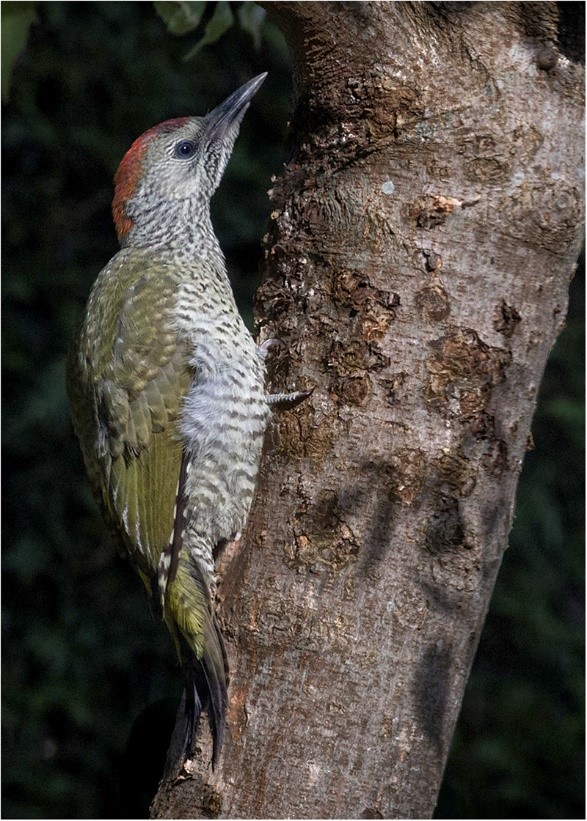 Following a meeting of volunteers who responded to the January Forum plea for help, a date was fixed to plant whips along the southern boundary of Cornmill Meadows under the direction of Warwickshire Wildlife Trust. Further volunteers came forward after the February appeal, and we are very grateful for all the offers of help we have received.
Locally nesting, this bird is a female green woodpecker. The green woodpecker is the largest of the 3 woodpeckers that breed in Britain. It is green on its upper body with a paler belly and red on the top of its head. They eat ants and use their strong beak to dig into ant colonies and eat the residents. Look out for them in your gardens or where the grass is shortish, where they will dig for ants.
My journey (so far) to become an on-call Firefighter by Tony Hill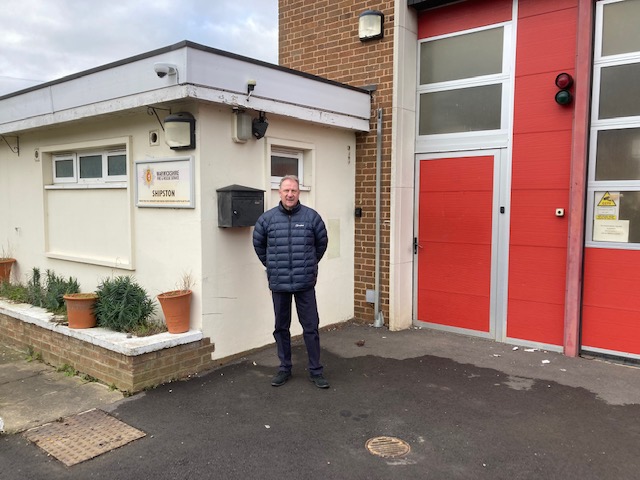 Well, who would have thought it? Of all the activities that I have taken part in throughout my life I think I may have saved the most fulfilling role till last as (hopefully) an On-call Firefighter!
A casual conversation with my hairdresser Claire in Shipston (who is the partner of "T", one of the crew members at Shipston Fire Station) made me aware how desperate the Fire & Rescue Service here in Shipston was for crew members. This certainly made me curious so that very Tuesday evening in October, which was drill night, I made my way to Shipston Fire Station. There I met Chris Townsend (Watch Commander), Sian (Crew Manager) together with the rest of the crew, Steve (who incredibly is also a Whole-time Firefighter in Kent!) Jack, Warren and of course "T" (Tristan).
How welcome they made me feel! It was immediately obvious to me that here was a very keen, professional, and enthusiastic squad that meets every Tuesday evening for 2-3 hours of theory and/or drill in the performance of certain simulated emergency scenarios. These have included, in the time that I have been going along on Tuesday evenings as an observer, search of a building and rescue of casualties reported (in which I played the role of the casualty in order to give it some authenticity) wearing Breathing Apparatus and blindfolded, rescue of a casualty from height using lines and ladders, accessing the third floor of the purpose-built drill tower by ladder with hose-line wearing breathing apparatus, swift water rescue simulation, setting up of a makeshift dam using a tarpaulin and a ladder framework to simulate an open source of water, where mains water is not available, and pumping from there to the fire appliance or firefighting branch (hose nozzle) via a hose-line using a light portable pump and setting up of a hazardous chemicals protective clothing and treatment station. Next week I shall be observing how the crew deal with a trapped driver in one of the donated car wrecks stored in the drill yard. This will involve use of the hydraulic "jaws of life" which cuts through steel like a knife through butter.
I have been asked to muck in on several occasions and, under supervision wearing PPE, I have run out hose-line and rolled up the hose after use and tried on a breathing apparatus set, to get a feel of what it would be like in the role. My learning curve is vertical, but I am soaking up information about firefighting like a sponge and I have been encouraged to ask questions of the team who have been only too pleased to impart their knowledge and experiences. I am beginning to slowly grasp the Firefighters technical language and use of the many acronyms in the Service.
Of course, there are however certain tests to pass before one can become a Firefighter. These are both physical strength tests and written tests involving standard numeracy and demonstration of understanding information provided. For me these take place in March of this year. This is the challenge I face since I do not have age on my side! Regardless, it has really given me a goal to aim at and what better reason to get me back in the gym three times a week knowing that one day I could possibly be involved collaboratively in saving a life!
I am certainly working hard to give it my best shot to pass the tests and hopefully to proudly take my place alongside "T" and the crew at Shipston Fire Station, call sign FS34 Papa 1. So how about joining me on this journey? Your Fire Station needs you!
Shipston Town Council Secures Future of Enterprise Centre
After more than a year of negotiating, Shipston Town Council has finally managed to complete the purchase of the Shipston Enterprise Centre (formerly Norgren Hub) from IMI plc. Cllr, Ian Cooper said that whilst it is great news that the Town Council has managed to secure the long term future of this asset for our local community, we should not expect to see any changes in the way the Shipston Enterprise Centre is run in the short or medium term. The council decision to purchase the site was to ensure the long term retention of the land and building for community use and to rule out further residential development on the site. Mayor Marianne Westwood said "we are all delighted that the Town Council has secured this purchase and in doing so ensures that the Enterprise Centre and sports facilities will be retained for use by our local community. We thank everyone that has been involved in the running of the centre over many years and hope that this continues". The current businesses and organisations that operate from the Enterprise Centre are not expected to be impacted by this change of ownership.